Business News
Armored Car Sales Jump as Drug War Batters Mexico

Luis Rojas - Reuters
go to original
December 31, 2010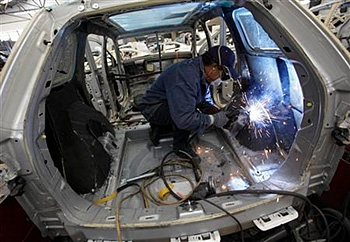 A welder works on a car to be fitted with armor plating at a garage in Mexico City December 15, 2010. (Reuters/Claudia Daut)
Mexico City - Armored cars and body armor in Mexico are no longer exclusively for government officials, foreign executives and the super rich, as a raging drug war spreads across the country, leading to a spike in orders.


Sales of armored vehicles rose 20 percent this year, the bloodiest in the government's four-year fight against the cartels, to 1,900 units, according to the Mexican Armored Car Association.


In a garage in Mexico City, technicians this month were busy fitting bulletproof glass and armor plating to vehicles ranging from luxury cars to humble family sedans.


"A couple of years ago (armored cars) were for wealthy businessmen or the powerful families of Mexico. Today the range of clients has grown because ordinary people now feel the same risks," said Fernando Echeverri, the head of specialist firm Ballistic, who runs the garage.


Mexico's worsening war between rival drug cartels and state security forces has killed more than 33,000 since late 2006, stoking fears among ordinary people, especially as civilian deaths grow in northern cities Monterrey and Ciudad Juarez.


Authorities say the vast majority of drug-related violence is not directed at ordinary citizens, but high-profile kidnappings and extortions have rattled middle-class citizens.


"It's a growing phenomenon," said Adalberto Santana, an expert on Latin American drug gangs. "When the state fails to fulfill a function ordinary people have to find their own alternatives."


Attacks on public officials increased in 2010 and mayors, political candidates and other regional politicians were all victims of drug cartels seeking to expand their influence. That violence has also spurred sales to municipalities and other non-traditional buyers of armored vehicles.


And while the most sophisticated armored vehicles, which cost more than $120,000, are out of reach of middle-class consumers, less costly protection, including bullet-resistant clothing, is being snapped up.


The Miguel Caballero company, which opened its doors in a swanky Mexico City neighborhood in 2006, specializes in the sale of protective clothing and it says sales are rising.


"Our customers are small businessmen and professionals who feel at risk but who don't have guards or an armored car," said Javier Di Carlo, a company spokesman. For the equivalent of $300 customers can pick up a light bullet-proof vest. Those with more to spend can buy a $4,000 leather jacket capable of stopping bullets fired by small handguns.


(Writing by Robert Campbell; editing by Robin Emmott and Eric Beech)

Tell a Friend
•
Site Map
•
Print this Page
•
Email Us
•
Top