Business News
Mexico Tycoon Slim Set for Mining, Real Estate Spinoffs

Cyntia Barrera Diaz - Reuters
go to original
December 28, 2010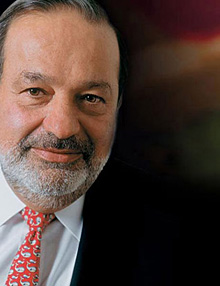 Carlos Slim
Mexico City - Mexican tycoon Carlos Slim is expected next week to list his mining and real estate companies, two growth sectors he is betting on as he expands the business empire that made him the world's richest man.


Slim will spin off Inmuebles Carso, which buys, sells and develops buildings for offices and malls, as well as Minera Frisco, focused on silver, lead, zinc and copper exploration.


The tycoon, whose fortune exceeds $50 billion, according to Forbes, wants to give more visibility to the businesses, which were under the umbrella of holding Grupo Carso, which also has manufacturing and retail operations.


Carso shareholders approved listing them separately in early November and both companies are set to list on the Mexican stock exchange on Jan. 6, according to respective filings before securities authorities this week.


Slim has ramped up mining projects in Mexico this year, taking advantage of high commodities prices and China's appetite for metals.


"Mining is seeing perhaps unusually high prices currently, and exports of these goods have become very attractive," the businessman said in Buenos Aires last month.


Minera Frisco and Inmuebles Carso both plan to subscribe 2.745 billion shares each in the market next week. Slim and family members will hold close to 79 percent of the companies' float after the listing, based on the most recent information.


Inmuebles Carso also develops hotels, including the Calinda chain, college campuses, hospitals and golf courses. The company plans to finish building malls next year in the states of San Luis Potosi, Tabasco and Veracruz.


Slim, often dubbed King Midas for his ability to turn any business he touches into profit, is not shy about spinning off companies that would do better on their own than within a larger more unwieldy group.


Ten years ago, he plucked cell-phone operator America Movil from his fixed-line giant Telefonos de Mexico to take advantage of new technology.


America Movil is now Slim's cash cow - the company posted a $1.85 billion profit in the third quarter alone - while Telmex has gradually waned as cheaper, more user-friendly cell phones cannibalize the core fixed-line market. Telmex is now focusing on Internet services to stay afloat.


Telmex also spun off its international operations, Telmex Internacional, a few years ago, but the company was brought back under America Movil earlier this year as Slim consolidated his key telecoms operations to save costs and better compete in the Latin American region.

Tell a Friend
•
Site Map
•
Print this Page
•
Email Us
•
Top