Travel & Outdoors
In Austria, It's Pronounced 'Fooking'

Iva Skoch - GlobalPost
go to original
December 13, 2010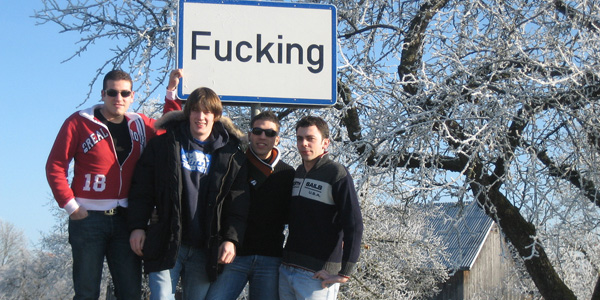 Tourists can't resist a photo with an Austrian road sign.
Related article: Austrians Not Amused

Fucking, Austria — It's safe to say that Lord Focko had no idea the village named after him would one day become a sanctuary for English-speaking sex tourists.


Since Focko's death some 600 years ago, the village's name has gone through various incarnations, from Fukching to Fugkhing, until settling in its current, widely popular spelling, Fucking.


"It is pronounced fooking," insists the woman at the area information center in the Austrian town of Braunau am Inn. Other than that, she doesn't have any information on the village, aside from a piece of firm, if mildly annoyed advice: "There is nothing to do in Fucking. There isn't even a hotel."


Turns out she is wrong on both counts. But not terribly wrong.


Only three types of tourists apparently venture to this area: those who want to take in the beautiful Alpine scenery, those who want to see Adolf Hitler's birthplace in Braunau, and those who want to visit Fucking, which tend to be the same sort of people interested in climbing the nearby mountain called Wank.


According to "Fucking Travel Tips" on the website Virtual Tourist, the number one thing to do in Fucking is "seeing the road signs," which summarizes the sightseeing potential of the village quite precisely. But the lack of excitement hasn't stopped hordes of primarily young British tourists from making a pilgrimage to pay their respects to Lord Focko each year.


Summertime is the prime season for sex tourists to visit and needle local conservative sensibilities by taking pictures of themselves in front of the Fucking road sign, often in various degrees of nudity or even during sexual intercourse.


The worst offenders steal the road sign as a souvenir. Fifteen have gone missing in a year. Producing new ones at approximately $500 a piece has been a significant budget burden for the village of 104 people.


According to the Fucking mayor, Franz Meindl, the village has made road signs more theft-resistant by fitting them in concrete. It has also installed CCTV cameras — although they are nowhere to be seen — to stop tourists from stealing the signs. But nothing seems to work.


To be sure, the German and Austrian countrysides are filled with town names that have entertained English-speakers for decades. Since low-cost airlines have provided an affordable way to travel to Europe's remote corners, the towns have become — to the utter horror of the locals — popular tourist destinations.


Lothar Lerch, who writes frequently about Fucking for Virtual Tourist, recommends a road trip from Kissing, Germany to Fucking, Austria. A direct route from Kissing to Fucking takes just over two hours. A suggested scenic route includes stops in Petting or Tittmoning. A detour through Condom, let alone Wedding, takes much longer.


Lerch documented his trip by taking numerous pictures of the road signs. He was surprised by the hostile reaction of locals.


"We thought that the Fucking locals are used to that but suddenly an elderly guy stopped his car just aside of us while we took some of these pics and he asked us in an unfriendly voice what we are going to do here because just recently again one of the road signs was stolen," wrote Lerch.


For those undeterred by grumpy locals, Lerch's recommended packing list includes "a lamp, a set of screwdrivers and wrenches (preferentially 17mm and 19mm) and a cordless angle grinder," as well as a suggestion to not come alone because somebody apparently always needs to "watch out for the dogs."


The village of Fucking, all three dozens houses of it, is quaint, but fiercely determined not to cater to tourists who are there because of the infamous road signs. There are no souvenir shops selling Fucking postcards and the last person in the village who tried to sell I (heart) Fucking T-shirts was forced by fellow villagers to stop capitalizing on good 'ole Fooking.


The only place in town that legitimately cashes in on Fucking's fame is a bed and breakfast called Gasthof Lindlbauer. Although it sits a few hundred feet behind the road sign marking the end of Fucking, it provides sex tourists with a handful of pleasant rooms decorated, somewhat discouragingly, with a sculpture of a crucified Jesus. But for those unwilling to fornicate outside by the Fucking sign, the guesthouse does provide a legal alternative.


The puerile humor, fortunately, doesn't end there.


Jo Lindlbauer, a self-described "great cooker" and a semi-professional artist, works at the guesthouse and pours what he calls a "good Fucking beer."


It is only a matter of time until the restaurant starts serving the new, controversial brew called "Fucking Hell," a type of pale lager, or "hell" in German. The European Patent Office first rejected the trademark, but was forced to approve it earlier this year after a German brewery claimed that Fucking Hell just means "lager from the village of Fucking."


Lindlbauer said the tourists they get are typically disappointed because they have great expectations for Fucking and all they find is a boring little village full of farmers.


"Sometimes, I think somebody should open up a nightclub or swingers club in Fucking," he said.


In that rebel spirit, Lindlbauer has a studio filled with his own erotic-imagery paintings and portraits of pop stars that he sometimes sells to souvenir-starved tourists. On the wall, he spray-painted a logo of the cigarette company Lucky Strikes, with the letters switched up to read "Fucky Likes." His paintings go from about $100 for a small rendition of a naked playmate to about $1,000 for a portrait of the artist formerly known as Prince.


"This might be the only Fucking village in the world," he said proudly and as far as he knows, he is the only Fucking artist. Although many an artist would kill to have his address, Lindlbauer hopes to leave Fucking behind one day and move to California.
Tell a Friend
•
Site Map
•
Print this Page
•
Email Us
•
Top