Editorials | September 2005
Mexican "Coyote" Smuggles Immigrants into the U.S.

Brenda Gazzar - DailyBulletin.com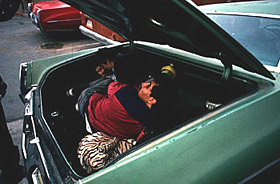 Many immigrants are smuggled in car trunks after making their way across the border. The crossing usually takes all night and most "pollos" make their way to drivers by early morning. They will travel in such fashion until their final destination, as far away as Texas, the state of Washington and beyond.

Fernando doesn't seem like the type of man who would be at the heart of an underground criminal enterprise that smuggles men, women and children into the United States for hard cash.


The short, bearded man is magnetic and jovial, somewhat like a favorite uncle. Plagued with an infirmity he believes was caused by stress, he became partially paralyzed on the right side of his body and now walks in slow, careful steps.


But Fernando, a "coyote" who asked that his last name not be used for fear of tipping off Mexican officials, has arranged for hundreds of illegal migrants to cross into Mexico's northern neighbor over the past dozen years - including many whose final destination has been the Inland Empire.


His line of work is not only lucrative, it's also an obvious source of pride.


"I knew what it was like to walk in the hills, how the (coyote) guides treat you," Fernando, then 55, said in an interview at his Tijuana home this spring. He used a coyote's services to work in Southern California many years ago. "When I had the opportunity to help people, I said, 'I'm going to help because I, too, went through this.'"


But Fernando's demeanor belies what experienced immigration agents say they have witnessed in the field: To make a buck, human smugglers and their employees not only have become more sophisticated and businesslike, but also more violent and ruthless.


Still, this multibillion-dollar global criminal enterprise is booming.


Today, Mexican smugglers can make up to $2,500, Ecuadoran smugglers up to $30,000 and Chinese smugglers up to $60,000 per person. "It's not Robin Hood, (or) do-gooders helping people make a living," said Kevin Jeffery, deputy special agent in charge for Immigration and Customs Enforcement in Los Angeles. "It's a money-making operation and extremely violent."


U.S. immigration officials often point to examples of cruelty. In October 2002, 11 illegal immigrants who had been smuggled into the country were found dead in a covered grain car in Iowa. Their bodies had been trapped at least four months.


In February 2004, Mexican nationals abducted and took hostage at gunpoint several illegal immigrants from a smuggling organization in Los Angeles. The hostages were held for two days while being threatened with death or harm unless the balance of their fees was paid.


And in June, 77 severely dehydrated men, women and children walking in the desert were rescued by Border Patrol agents west of Tucson, Ariz. Members of the group had to strong-arm the smuggler to take his cell phone and call 911 after he ignored their pleas for help.


Those who are too infirm or weak to keep up often are left behind to die, immigration officials say. Smugglers have been known to threaten to hurt relatives if they don't come up with extra smuggling fees imposed on them at the last minute.


And in recent years, "enforcers" - often used by Chinese container smugglers - are increasingly being hired on the border to keep immigrants in line, Jeffery said.


But others argue that human smugglers cannot be painted with such a broad brush. They are breaking the law, but not all are villainous.


People involved in smuggling range from family members who have made a few trips and are now helping other families - sometimes charging a fee for their services - to professional smugglers who do it full time, said David Kyle, co-editor of the book "Global Human Smuggling" and associate professor of sociology at UC Davis.


"One of the biggest misconceptions about smugglers around the world is that they all come from a similar background, basically all criminals who turn to smuggling," Kyle said. "There are a wide variety of people engaged in smuggling activities."


Stricter enforcement at the border has pushed people into areas of greater risk, causing illegal crossers to nearly always rely on smugglers to cross - even if they already know the route, Kyle said. This has driven up not only demand and prices, but also the chance for something to go awry.


As long as there is a demand from migrants who are willing to pay for the service, "there will be professional smugglers, ranging from low-level mom-and-pop operations doing what they said they are going to do, to more ruthless criminal organizations getting involved," Kyle said.


Fernando's Story: A Family Affair


Since he earns clients and repeat customers largely through recommendations, Fernando says it behooves him and his employees to treat them well.


If one of his clients dies - which he claims has never happened - he would have to answer to their relatives and risk his reputation.


"There are smugglers that just swindle people, take their money, they send them to the desert ... and because there are bad smugglers, they classify all of us" as such, he said disapprovingly.


His comfortable two-story home, on a hill in Tijuana's Liberty Colony, overlooks the fenced border, where coyotes no longer dare cross because of increased vigilance. Fernando's workers now lead his clients farther east, just outside the Mexican city of Tecate, then trek roughly 10 to 13 hours on foot through the mountains until they are picked up near Highway 94, which runs through San Diego County.


From there, they are taken to a "drop house" near San Diego, where they spend the night, and then are driven to their destinations the next day. Fees - up to $2,000 per person - are not collected until the immigrants make it across successfully.


Fernando allows migrants, who often travel from far-away places, to stay the night in a tiny guest room on his property before their journey, and even feeds them.


"It's very humble, but we give it from our hearts, so they don't spend money at a hotel, or for food," said Fernando's son, Alejandro.


At his home in April, Sergio Arellano of Hidalgo and his 15-year-old son were in the guest room, waiting to begin their illegal trek the next morning toward Riverside.


Arellano, who was going to paint houses in Riverside, had heard of Fernando from a friend in Hidalgo and used him once before. He trusted he and his son would be well taken care of.


"He's a person that always takes care of the people he takes," Arellano said. "We haven't had any problems with him."


Fernando also smuggled in Javier Lopez of Pomona, the main subject of a three-day series of stories the Daily Bulletin published in July as part of the yearlong Beyond Borders project.


Fernando's enterprise - which in Mexico is a felony - is a family affair.


He first learned the trade from his son's godparent after coming to Tijuana from Mexico City. He began to take care of the "pollos," the smugglees, in his house - offering them food and shelter as they prepared to cross over. He later became a driver, picking up the immigrants on the U.S. side and taking them to various destinations.


Today, Fernando has had his own clients for at least a dozen years. His son, Alejandro, who was 27 in April, also works as a coyote with his father; together they employ seven or eight other people.


His clients have ranged from girls as young as 13, to pregnant women in their third trimester, to illegal immigrants from Korea. He says he became a coyote for two reasons: "to help people and for the money."


Fernando is hesitant to discuss prices, but his fees apparently range from $1,500 to at least $2,000, according to the immigrants' circumstances. He keeps about 20 percent of the total fee, distributing the rest to his network of employees, he said. During the busy season, January to June, he might smuggle five or more people a week. Some weeks, he smuggles no one.


Fernando earns about $800 a week - a significant sum in a city where he bought his land and built his own house with money he earned as a "pollero." He has no mortgage payment.


"With $400 or $500 (a week), you live well, you eat well here in Mexico," he said.


But he and his son also recognize the risks. Fernando's Mexican passport was once confiscated from him after he was caught in the United States smuggling in a migrant. Alejandro was once imprisoned in San Diego after he was caught transporting a load of migrants.


Fernando doesn't concern himself with the fact that he is breaking the law. After all, "it's for their (immigrants') economic well-being," he says.


Mexican officials are a different matter. Fernando said he has been caught conducting business in Mexico at least six or seven times, and has coughed up large bribes - as much as $10,000 - to avoid jail time.


The Mexican police don't care that he earns a mere 20 percent a head, he said.


"They are corrupt," he said. "They are wretches."


It is because of the dangers involved with the Mexican police that Alejandro does not want to continue his father's business, Fernando said. It could die when he does.


"I have helped a lot of people," he said, surrounded by his wife, children and grandchildren in a living room paid for by his smuggling. "Hundreds during so many years."

Brenda Gazzar can be reached by email at brenda.gazzar@dailybulletin.com
Tell a Friend
•
Site Map
•
Print this Page
•
Email Us
•
Top