Entertainment
Around the Bay and Beyond
No matter what your interests are, Puerto Vallarta is always ready to entertain, offering a wide variety of entertainment options that will keep everyone amused. But it's up to you to decide how you want to spend your time here....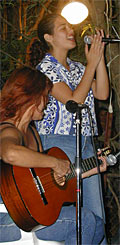 While every destination in Mexico has something to offer visitors, romantic Puerto Vallarta delivers something for everyone: beaches on a beautiful bay, great dining, a sizzling nightlife, movie theaters, cultural events, art galleries, excellent shopping, world-class golf and tennis, activities and excursions galore, and fun, fun, fun!


In Puerto Vallarta you can relax on a beautiful beach, play a round of championship golf, shop for Mexican handcrafts and dine in a wide variety of restaurants. There are also countless tours and activities to enjoy - from exciting jeep safaris and canopy tours in the tropical jungle to whale watching, sailing, snorkeling or scuba diving in Banderas Bay.


Visitors who appreciate cultural experiences will love the festivals and events hosted in Puerto Vallarta each year. A variety of cultural events, including the Gourmet Festival and an International Film Festival are designed for the cosmopolitan visitor, while Fishing, Tennis and Golf Tournaments are complemented by the Old Mexico flavor of this cozy seaside village.


And many visitors prefer to spend their days relaxing on the beach soaking up the warm tropical rays. Puerto Vallarta is a haven for weary vacationers who want nothing more than a good book, a tan and icy cold beers or margaritas delivered at regular intervals by an adept, and usually bilingual, waiter.

• B E L O W T H E F O L D •
Latest Bond Film Producer Denies Mexico Changed Script

Associated Press

The producer of the new James Bond thriller 'Spectre' denies that the script was changed to get incentives in Mexico. Officials in Mexico City have declined to comment on possible incentives offered on the movie, which began its Mexico filming last week.

---
Voice, Forever Plaid are Taking Vallarta By Storm

Daniel R. Mininni

If you haven't been to the ACT II Entertainment complex recently, you don't know what you're missing! In addition to the Main Stage theater productions listed here, there's a full line-up of musical entertainment going on in The Red Room Cabaret and Encore Piano Bar.

---
Fund Raiser to Save Vallarta Animals at Casa Yvonneka

BanderasNews.com

Casa Yvonneka will host its Third Annual Fund Raiser to save the dogs and cats of Puerto Vallarta on Sunday, March 29, 2015 at 6:00 pm. 100% of ticket sales will go directly to the non-profit organizations that save and care for neglected animals in the Banderas Bay area.

---
Democrats Abroad Wednesday Film: 'Which Way Home'

David Kamp

As part of their Every Wednesday Night Film series, the Costa Banderas Chapter of Democrats Abroad Mexico is proud to present this week's movie, 'Which Way Home.' This timely documentary will be shown at the International Friendship Club on Wednesday, March 25th at 7:00 pm.

---
Time to Eat! Vallarta Restaurant Week, May 15-31, 2015

BanderasNews.com

From May 15-31, 2015, Vallarta Restaurant Week will celebrate its 11th year as one of Puerto Vallarta's most important culinary events. And, with 35 of the Banderas Bay area's most recognized restaurants participating, this year's festival promises some memorable dining experiences.

---
'Anthology of Comedy' at Vallarta's Boutique Theatre

Catherine Beeghly

Puerto Vallarta resident, T.J. Hartung is an avid fan of classic comedy sketches, and he's put his favorites together for The Boutique Theatre's new original show, 'Anthology of Comedy.' Dinners will be served at 5 pm, with the curtain rising at 6 pm, on March 26, 27 and 28th.

---
'What a Drag' Raises $400,672 for Women's Shelter

Marie Callan

Some of Puerto Vallarta's finest men went out on a limb last Wednesday, donning garish make-up, wigs, dresses and high heels to compete in 'What a Drag!' - Vallarta's first-ever drag competition for straight guys - to raise money for the Banderas Bay Women's Shelter.

---
Enrique Iglesias's 'Sex and Love Tour' Heads to Mexico

EFE

Spanish singer Enrique Iglesias will perform in several Mexican cities in May as part of his 'Sex and Love Tour.' The Mexican leg of his tour will open on May 6 in Veracruz, before moving on to Tuxtla Gutierrez, Torreon, San Luis Potosi, Morelia, Queretaro and Tijuana.

---
Events Scheduled Throughout Riviera Nayarit in April

Riviera Nayarit CVB

Travelers visiting Riviera Nayarit next month will have an abundance of things to see and do, as the cuisine, adventure and cultural experiences that make 'Mexico's Pacific Treasure' such a sought-after destination will be showcased in a wide variety of festivals and tournaments.

---
Meet 'The Tamale Diva' at Puerto Vallarta's OTFM-TC

BanderasNews.com

Ready for something extraordinary? The Puerto Vallarta Old Town Farmers Market-Tianguis Cultural's 80+ 'make it, bake it, grow it' vendors are serving up must-sees, must-haves and must-tastes! Like Adriana Basail, who has added a 'tamale twist' to the OTFM-TC's international food menu.

---
D.F. Closes Some Historic Streets for James Bond Film

Associated Press

Officials in Mexico City says they will close off some parts of the historic downtown district to allow a production team to film parts of the new James Bond thriller, 'Spectre.' The city of 8 million people is known for its heavy traffic, which might otherwise interfere with filming.

---
OITNB's Lea DeLaria to Lead 2015 Vallarta Pride Parade

BanderasNews.com

Vallarta Pride 2015's board recently announced that the very talented comedian, jazz musician and 'Orange is the New Black' actress, Lea DeLaria, will be the 2015 Vallarta Pride Parade's Grand Marshal. She will also participate in 'Big Boo's Birthday Bash,' an exclusive party for women.

---
Paul Fracassi's 'Walk Like A Man' in The Red Room

Debbie White

Twenty-three year old singing sensation, Paul Fracassi, returns to Puerto Vallarta's Act II Stages during March with his hit show, 'Walk like a Man,' an exciting tribute to the legendary New Jersey-based recording stars Frankie Valli and The Four Seasons.

---
This Week at Daiquiri Dick's: Mexican Specialties

Laura Gelezunas

A rich, colorful, and incredibly unique use of flavors, Mexican cuisine is considered one of the most varied in the world. Through March 22, you can sample some of Mexico's authentic tastes in Puerto Vallarta as Daiquiri Dick's features 'The Flavors of Mexico' on their Weekly Special Menu.

---
'Rocky Mountain High-The Music of John Denver' at ACT II

Debbie White

John Denver has been gone for 17 years, but his music lives on and continues to be rediscovered and appreciated by new generations of music lovers. This month, Paul Aleman and Renee Armand will perform 'Rocky Mountain High-The Music of John Denver' in The Red Room.

---
ASPV Students Present Spring Musical, 'Into the Woods'

Eduardo Garcia

The American School of Puerto Vallarta (ASPV) is proud to present its spring musical production, 'Into the Woods.' The musical will have a three-day run on the ASPV stage in the primary school. The dates are March 19th, 20th and 21st at 7:00 pm each evening.

---
The Flavors of France in Vallarta at Daiquiri Dick's

Laura Gelezunas

Apart from its monuments and historical places, France is widely acclaimed around the globe for its fabulous cuisine. This week you can enjoy French cuisine here in Puerto Vallarta, thanks to Daiquiri Dick's Chef Ignacio Uribe, who has developed a menu reminiscent of a French café.

---
IV International Beach Polo Cup in Riviera Nayarit

Jorge Jiménez

As part of the national circuit of the Mexico Polo Tour presented by Tucané, the IV International Beach Polo Cup in the Riviera Nayarit returns to the Mexican Pacific March 13-15. This year, teams from Italy, Argentina, Canada, U.S. and Mexico will seek the crown in this Sport of Kings.

---
PV's Old Town Farmers Market: 'Let Them Eat Corn Flan!'

Erin Staley

The Puerto Vallarta Old Town Farmers' Market-Tianguis Cultural has a wealth of treasures and experiences to share with you this Saturday. Fill your eco-friendly bags with farm-to-table ingredients and 'make it, bake it, grow it' treasures, such as Maria Reyes' Corn Flan.

---
San Pancho Circo de los Niños to Benefit Entreamigos

Glades Castro Perreras

The Circo de los Niños de San Pancho, (San Pancho Children's Circus) a social and artistic program founded by the co-creator of Cirque du Soleil, Mr. Gilles St. Croix, will present their new show on March 19th & 20th at 7:30 pm, and on March 21st at 4 pm, in the new Bodega Circo.

---
PV's Straight Men Stand Up Against Domestic Violence

BanderasNews.com

On March 18th, some of Puerto Vallarta's finest men will compete in 'What A Drag!' - PV's first drag competition for straight guys - to raise money for the Banderas Bay Women's Shelter. The fun starts at 7 pm at Act II with an opening reception and the hilarious competition begins at 8 pm.

---
Becas Ball to be Followed by Breakfast at River Café

Polly G. Vicars

The 2015 Becas Ball was a huge success! Next for Becas Vallarta is the March Becas Breakfast at The River Café on Wednesday, March 18, at 9:30 am. This will be a delicious breakfast as only The River Café can provide and time for relaxing with friends, old and new - all for a good cause!

---
2015 Puerto Vallarta Mardi Gras Official Video Released

PVRPV.com

Puerto Vallarta's 2015 Mardi Gras celebration and impressive lineup of entries have been captured on video, so if you missed the city-sponsored, glittery, bead-hurling 2015 Vallarta Mardi Gras parade that hit the streets on February 17th, you can catch all of the action here!

---
15th Annual Puerto Vallarta International Film Festival

Guadalupe Daniela Moreno Wulff

The 30th edition of the Guadalajara International Film Festival has again opened its arms to Puerto Vallarta, the destination in the state of Jalisco with the greatest potential for tourism and culture. As such, the International Film Festival returns to PV March 11-20th.

---
Cashetta Brings Vegas-Style Entertainment to Vallarta

Debbie White

There's a fun, entertaining new show 'biz' act in town that is thrilling audiences with hilarious comedy, singing, magic and psychic readings. The Amazing Cashetta brings her 'Vegas' style performance to Puerto Vallarta for the month of March.

---
Site Map
•
Print this Page
•
Email Us
•
Top