Entertainment
Around the Bay and Beyond
No matter what your interests are, Puerto Vallarta is always ready to entertain, offering a wide variety of entertainment options that will keep everyone amused. But it's up to you to decide how you want to spend your time here....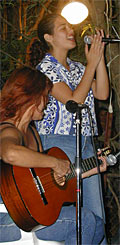 While every destination in Mexico has something to offer visitors, romantic Puerto Vallarta delivers something for everyone: beaches on a beautiful bay, great dining, a sizzling nightlife, movie theaters, cultural events, art galleries, excellent shopping, world-class golf and tennis, activities and excursions galore, and fun, fun, fun!


In Puerto Vallarta you can relax on a beautiful beach, play a round of championship golf, shop for Mexican handcrafts and dine in a wide variety of restaurants. There are also countless tours and activities to enjoy - from exciting jeep safaris and canopy tours in the tropical jungle to whale watching, sailing, snorkeling or scuba diving in Banderas Bay.


Visitors who appreciate cultural experiences will love the festivals and events hosted in Puerto Vallarta each year. A variety of cultural events, including the Gourmet Festival and an International Film Festival are designed for the cosmopolitan visitor, while Fishing, Tennis and Golf Tournaments are complemented by the Old Mexico flavor of this cozy seaside village.


And many visitors prefer to spend their days relaxing on the beach soaking up the warm tropical rays. Puerto Vallarta is a haven for weary vacationers who want nothing more than a good book, a tan and icy cold beers or margaritas delivered at regular intervals by an adept, and usually bilingual, waiter.

• B E L O W T H E F O L D •
Democrats Abroad Tuesday Night Film: 'Race'

David Kamp

As part of their Every Tuesday Night Film series, the Puerto Vallarta Chapter of Democrats Abroad Mexico is proud to present this week's movie, 'Race.' This 134 minute biographical sports drama will be shown at The Jazz Foundation in downtown Puerto Vallarta on January 17 at 7 pm.

---
PV's English-Language Radio Show Gets More Air Time

BanderasNews.com

The Good Morning Wake Up Show, hosted by Michael Nolen and broadcast on 104.3 FM from the University of Guadalajara's Puerto Vallarta campus, has become so popular that it has been extended to 2 hours. It is now being aired from 9:00 to 11:00 every Saturday morning.

---
Varla Jean Merman Opens at The Palm Puerto Vallarta

Juan Pablo Corona

The outrageous performer and purported love child of Ethel Merman and Ernest Borgnine, Varla Jean Merman (a.k.a. Jeffery Roberson), unveils a show of hilarious songs and fabulous costumes at The Palm Cabaret and Bar in Puerto Vallarta on January 11 at 9:30 pm.

---
Duende: A Luna Rumba Production Debuts in La Cruz

Debbie White

Geo Uhrich, the founder of one of the most unique and exciting groups to ever grace the stages of Puerto Vallarta and the Riviera Nayarit, Luna Rumba, has recently created a new band, Duende, which made its debut on January 7 at The Octopus's Garden in La Cruz.

---
Vallarta Yacht Club Style Show & High Tea Luncheon

Richard Williams

Vallarta Yacht Club will be hosting their 2017 Style Show and Luncheon on Wednesday, February 8th from 12:00-3:00 pm. You'll enjoy a 'high tea' style luncheon followed by a fashion show featuring creative clothing, jewelry and accessories from local and regional designers.

---
Democrats Abroad Film: 'The Brainwashing of My Dad'

David Kamp

As part of their Every Tuesday Night Film Series, the Costa Banderas Chapter of Democrats Abroad Mexico presents this week's movie, 'The Brainwashing of My Dad.' This 90 minute documentary will be shown at The Jazz Foundation in downtown Puerto Vallarta on January 10 at 7 pm.

---
Daiquiri Dick's Does Brunch With PuRR-fect Style

BanderasNews.com

On Tuesday, February 7, Daiquiri Dick's Restaurant is hosting an elegant brunch and fashion show to benefit PuRR Project, a non-profit feline shelter in Puerto Vallarta, Mexico. Join us for a 3-course brunch with mimosas, original fashions & jewelry, and a raffle for fabulous prizes.

---
Act II STAGES Kicks Off The New Year With New Shows

Daniel R. Mininni

If you haven't been to STAGES recently, you don't know what you've been missing! The biggest entertainment venue in the Banderas Bay area kicked off the New Year with sold out houses and record breaking attendance - and Act II Entertainment has lots more fun to come!

---
Daiquiri Dick's Special Menu Features World Flavors

Laura Gelezunas

The internationally inspired menu at Daiquiri Dick's is adding even more flare by having a bi-weekly special a la carte dinner menu in addition to their regular menu. From now through January 15, 2017, you can take your taste buds on a world tour - without leaving Puerto Vallarta!

---
The Top 10 Events in The Riviera Nayarit for 2017

Jorge Jiménez

The Riviera Nayarit is and always will be a destination offering a great variety of cultural, sports and artistic events. This year the destination celebrates its 10th anniversary and, in order to kick off the party, we'd like to share with you a chronological list of the Top 10 Events of 2017.

---
Adult BINGO at The Palm Cabaret Benefits PuRR Project

Marilyn Khan

On Monday, January 9, Amy Armstrong will host Adult Bingo to benefit PuRR Project at The Palm Cabaret and Bar Puerto Vallarta. With great prizes like tickets to shows at The Palm, bottles of adult beverages, edible underwear & adult water pistols, this is NOT your Grandma's Bingo!

---
Puerto Vallarta Gears Up for CarnavalPV 2017

Tim Longpré

Carnaval PV returns Tuesday, February 28, and it's going to be bigger and better than ever! Offering fun for all ages, Puerto Vallarta's Mardi Gras Parade parade will start at 8:00 pm in front of the Sheraton Hotel, head south along the Malecón and end just south of Los Muertos Pier.

---
Tribute Artist Bonnie Kilroe Returns to Banderas Bay

Debbie White

Tribute artist Bonnie Kilroe returns to Banderas Bay for two nights only presenting her incredible tribute to the 'Queens of Country Music.' Bonnie will be appearing at The Palm Cabaret Bucerias on Saturday, January 7th, and at El Rio BBQ in Puerto Vallarta on Thursday, January 12th.

---
Democrats Abroad Tuesday Film: 'Captain Fantastic'

David Kamp

As part of their Every Tuesday Night Film series, the Costa Banderas Chapter of Democrats Abroad Mexico is proud to present this week's movie, 'Captain Fantastic.' This 2016 American comedy-drama will be shown at The Jazz Foundation in downtown Puerto Vallarta on January 3 at 7 pm.

---
6th International Charro Championship at Arena Vallarta

María Francesca

From February 1-5 the best Charro teams from Mexico and the U.S. will gather at Arena Vallarta to compete in the 'Grand Premio 2017' Charro Championship. With daily competitions and traditional events, this a perfect way to experience the real Mexico.

---
El Cora Crocodile Sanctuary Updates Tourism Offerings

Riviera Nayarit CVB

The El Cora Crocodile Sanctuary, nestled between the El Quelele, La Cortada and La Vejiga lagoons to one side of the Flamingos Golf Club, is a natural area that has been upgraded with new experiences and services for Vallarta-Nayarit locals and visitors alike.

---
January Events Schedule for ExPats in Puerto Vallarta

Sara Wise

During the month of January, ExPats in Vallarta will be having 2 Happy Hour gatherings at Langostinos, a Wine and Appetizer evening, 2 Neighborhood Coffees and 2 Special Event Dinners. Getting out is great therapy for everyone and a chance to see old friends and make new ones!

---
Wednesday Night BINGO Games Support PuRR Project

Marilyn Khan

Donations and fund raising events are the only source of financing to provide food, shelter and veterinary care for the over 175 adorable cats and kittens at Puerto Vallarta's PuRR Project. You can help while having tons of fun playing Kitty BINGO on Wednesday, January 4 at Margarita Grill.

---
Horoscope: Let the Stars Guide You in 2017

Ron Morgan Properties

A new year is beginning and with it comes the opportunity to reflect upon ourselves and makes some positive changes. Even though living in Puerto Vallarta is always pretty great, we have resolutions perfectly suited for every sign of the zodiac, to help you live your best life in 2017.

---
Celebrating New Year's Eve in Puerto Vallarta

Banderas News Team

New Year's Eve and Puerto Vallarta are as natural party partners as Tequila and lime. Much like its rich cultural diversity, variety is the spice of life in the greater Banderas Bay area, and on December 31st, you'll find New Year's Eve celebrations for every taste and budget.

---
Act II Brings in the New Year with 4 Opening Nights

Daniel R. Mininni

Are you are looking for a place to bring in the New Year with style? Then head over to the south side of Puerto Vallarta, where Act II Entertainment will say goodbye to 2016 and hello to 2017 with an incredible line-up of music, theater and fun in in all three venues at STAGES.

---
Site Map
•
Print this Page
•
Email Us
•
Top