Entertainment
Around the Bay and Beyond
No matter what your interests are, Puerto Vallarta is always ready to entertain, offering a wide variety of entertainment options that will keep everyone amused. But it's up to you to decide how you want to spend your time here....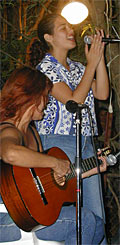 While every destination in Mexico has something to offer visitors, romantic Puerto Vallarta delivers something for everyone: beaches on a beautiful bay, great dining, a sizzling nightlife, movie theaters, cultural events, art galleries, excellent shopping, world-class golf and tennis, activities and excursions galore, and fun, fun, fun!


In Puerto Vallarta you can relax on a beautiful beach, play a round of championship golf, shop for Mexican handcrafts and dine in a wide variety of restaurants. There are also countless tours and activities to enjoy - from exciting jeep safaris and canopy tours in the tropical jungle to whale watching, sailing, snorkeling or scuba diving in Banderas Bay.


Visitors who appreciate cultural experiences will love the festivals and events hosted in Puerto Vallarta each year. A variety of cultural events, including the Gourmet Festival and an International Film Festival are designed for the cosmopolitan visitor, while Fishing, Tennis and Golf Tournaments are complemented by the Old Mexico flavor of this cozy seaside village.


And many visitors prefer to spend their days relaxing on the beach soaking up the warm tropical rays. Puerto Vallarta is a haven for weary vacationers who want nothing more than a good book, a tan and icy cold beers or margaritas delivered at regular intervals by an adept, and usually bilingual, waiter.

• B E L O W T H E F O L D •
Pearl Jam Sold Out Mexico City's Foro Sol

Consequence of Sound

Emotions were running high even before Pearl Jam kicked off their massive sold-out show at Mexico City's Foro Sol on Saturday. The nearly 3-hour gig marked the final night of the band's Latin America Tour, and the first time in four years they'd played the Mexican capital.

---
This Week's Line Up of Shows at Act II Entertainment

Marie Callan

If you haven't been to STAGES recently, you don't know what you're missing! Act II Entertainment is 'Raising The Bar in Puerto Vallarta Entertainment,' offering a full line-up of music, theater and fun this week in The Red Room Cabaret, on the Main Stage, and in the Encore Piano Bar.

---
This Week, Daiquiri Dick's Offers a Taste of Italy

Laura Gelezunas

Each region of Italy has its own traditional recipes that reflect the history and culture of that area, so to get a taste of it all, you'll have to do a lot of traveling. Unless you happen to be in Puerto Vallarta, Mexico this week, where Daiquiri Dick's Weekly Specials Menu features Italy.

---
Vallarta's Favorite Boy Band, Los Bambinos, is Back!

Lorena Sonrisas

On November 24, Los Bambinos took the stage for their premiere 'Kings of Rock n' Roll' Concert to an ovation of clapping hands and intense whistles from an animated audience at The Roxy Rock House, where they'll be performing every Tuesday evening from 8-10 pm through March 29.

---
ExPats in Vallarta December Happy Hours and Events

Sara Wise

ExPats in Vallarta, a totally social group with informal fellowship and assistance for Expat residents or visitors living, working, investing, or considering a move to Puerto Vallarta or the greater Banderas Bay area, has announced the events scheduled for the month of December.

---
Sea Monkey Hosts Luau for Puerto Vallarta's Purr Project

Marilyn Khan

On Friday, December 11th at 5 pm, Sea Monkey Restaurant will be hosting the Third Annual Puerto Vallarta Pig Roast and Luau on the Beach to Benefit PuRR Project. Tickets have been selling quickly since we first announced this year's event, so get yours before they sell out!

---
Vallarta Gay Men's Chorus 'Festival of Lights' Concert

pvmenschorus.org

On December 16, 17 and 18, at 7:00 pm, the Puerto Vallarta Gay Men's Chorus will light up the holidays with its 'Festival of Lights' concert, featuring music in Spanish, English, Latin and French with songs of the season from various countries and faiths on Act II's Main Stage.

---
No Way José! Restaurant Fires up for Best Season Yet!

Banderas News Team

José Alfredo welcomes our friends and family back to No Way José! Restaurant for what will be our best season ever! Here is just a 'taste' of the many exciting events, dishes, music and fun that Tu Casa en Vallarta has in store for you this year.

---
Campeonato Nacional de Caballos Bailadores, Nov 27-29

BanderasNews.com

If you are a horse lover, then you are going to want to be in Puerto Vallarta, Mexico from November 27-29, 2015 for the '9° Campeonato Nacional de Caballos Bailadores.' This weekend full of excitement for equestrian lovers will begin Friday with a parade down the Malecón.

---
Maggie Worsdale Puts The 'Broad' in Broadway at ACT II

Debbie White

Maggie Worsdale will be 'tramping it up' in Puerto Vallarta on November 25-27 at The Red Room Cabaret. In 'The Lady Is A Tramp,' Maggie opens with a powerhouse version of the song and radiates the sassy, brassy qualities of a true New York Cabaret singer throughout the show.

---
Democrats Abroad Weekly Film Series Resumes Dec. 2

Tobe Jensen

The Costa Banderas Chapter of Democrats Abroad Mexico is launching its 6th Annual Film Series on December 2, 2015. The popular series features first-run films shown at the International Friendship Club in downtown Puerto Vallarta on Wednesday nights at 7 pm through April 6, 2016.

---
Fifth Annual 'Motomania' Starts Today in San Blas

Riviera Nayarit CVB

Over two thousand motorcycles and more than three thousand bikers from about 15 Mexican states will congregate in San Blas, Nayarit from November 19-22 for the 5th Annual 'Motomania' bike fest. Activities include a motorcycle parade, Mexican wrestling (lucha libre) & live rock music.

---
Purr Project's November News and Upcoming Events

Shannon Campbell

The latest news and upcoming events for Purr Project, a non-profit, no-kill feline shelter just north of Puerto Vallarta, that provides homeless cats and kittens a recuperative stay with the ultimate goal of adopting them out to loving homes sterilized, vaccinated and disease free.

---
Live Music in Puerto Vallarta and Around Banderas Bay

BanderasNews.com

Puerto Vallarta is home to a thriving music scene with a variety of venues showcasing everything from Latin jazz to good old-fashioned rock n' roll. Each week, we will list live music events in PV and around Banderas Bay with a little help from our friend, local musician Randall Scott.

---
South Side Shuffle Offers Fun and Friendly Shopping

Banderas News Team

Every other Friday from 6 to 10 pm, Puerto Vallarta's Zona Romantica is bustling with activity, as locals and tourists alike head over to Basilio Badillo to do the South Side Shuffle. Now in its 6th year, the South Side Shuffle offers cocktails, music and the perfect excuse to shop!

---
7th Half Marathon & 10K in The Riviera Nayarit

Riviera Nayarit CVB

The 7th Riviera Nayarit Half Marathon & 10K is set to take place in Nuevo Vallarta on Saturday, November 21, 2015. This destination anchor event has shown the most growth out of the many activities taking place here, with 1,300 runners participating in this year's race.

---
Site Map
•
Print this Page
•
Email Us
•
Top