Entertainment
Around the Bay and Beyond
No matter what your interests are, Puerto Vallarta is always ready to entertain, offering a wide variety of entertainment options that will keep everyone amused. But it's up to you to decide how you want to spend your time here....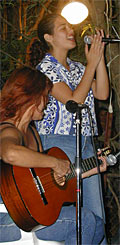 While every destination in Mexico has something to offer visitors, romantic Puerto Vallarta delivers something for everyone: beaches on a beautiful bay, great dining, a sizzling nightlife, Broadway quality stage plays, live music, movie theaters, cultural events, art galleries, excellent shopping, world-class golf and tennis, activities and excursions galore, and fun, fun, fun!


In Puerto Vallarta you can relax on a beautiful beach, play a round of championship golf, shop for Mexican handcrafts and dine in a wide variety of restaurants. There are also countless tours and activities to enjoy - from exciting jeep safaris and canopy tours in the tropical jungle to whale watching, sailing, snorkeling or scuba diving in Banderas Bay.


Visitors who appreciate cultural experiences will love the festivals and events hosted in Puerto Vallarta each year. A variety of cultural events, including the Gourmet Festival and an International Film Festival are designed for the cosmopolitan visitor, while Fishing, Tennis and Golf Tournaments are complemented by the Old Mexico flavor of this cozy seaside village.


And many visitors prefer to spend their days relaxing on the beach soaking up the warm tropical rays. Puerto Vallarta is a haven for weary vacationers who want nothing more than a good book, a tan and icy cold beers or margaritas delivered at regular intervals by an adept, and usually bilingual, waiter.

• B E L O W T H E F O L D •
Act II's Spring Entertainment Season Still Going Strong

Daniel R. Mininni

Act II is THE PLACE to go to see a show when you are in Puerto Vallarta, and its fabulous Spring Entertainment Season is still going strong to keep you entertained! Featuring live cabaret, improv comedy and drag shows, and an art show/auction, there is something for everyone at Stages.

---
No Such Thing as 'Low Season' in Puerto Vallarta

Adam Garcia

'High season' was officially over on Easter Sunday, April 1st, but that doesn't mean things slow down in Puerto Vallarta. Many weekly markets are still open, Pro tennis returns April 30, and Vallarta Pride rolls out May 20-27 for a week-long party with many events not just for the LGBTQ crowd.

---
Daiquiri Dick's Offers Vallarta a World of Flavors

Banderas News Team

When you crave a great meal by the ocean in casually elegant surroundings, there's no better place than Daiquiri Dicks in the Puerto Vallarta Romantic Zone. You will find it strikes just the right chord with its classy beach house feel and an innovative menu that features world flavors.

---
Francine Peters Art Show & Charity Auction at Act II

BanderasNews.com

On April 24, Act II Entertainment will host a one-night-only art show featuring local artist Francine Peters. Throughout the evening, Franny will be painting an original piece, which will be auctioned off at the end of the night. 50% of the proceeds will be donated to a Vallarta charity.

---
Vallarta Restaurant Week Extended to 25 Days in 2018

Puerto Vallarta Tourism Board

Home to over 300 restaurants, from Mexican cafes to fine-dining establishments offering international cuisine, Puerto Vallarta is one of Mexico's top culinary destinations. Foodies will find a bargain at 59 Banderas Bay eateries during Restaurant Week 2018, which will last 25 days.

---
12th Annual Puerto Vallarta Folkloric Dance Festival

Boardwalk Realty

Springtime, when everyone is in tune with feelings of renewal, Folkloric Dance Festivals take place all over Latin America, including Puerto Vallarta. This year our festival, the Festival Vallarta Azteca del Folclor Internacional, is set to take place May 10 through 20, 2018.

---
Woodstock '69 Playing Every Monday in April at Act II

Debbie White

The uber-talented musical duo of Rhonda Padmos and Don Pope have created a brand-new show this season that's sure to bring back lots of memories! It's called Woodstock '69, a festival of live music & peace, and it's playing on The Main Stage at Act II every Monday in April at 7 pm.

---
Vallarta Pride 2018 Celebrates PV's 100th Anniversary

eturbonews.com

From May 20 to 27, 2018, Puerto Vallarta's annual LGBTQ cultural celebration, Vallarta Pride, will bring a new level of camp to the city's celebration of the 100th anniversary of its founding with a '100 Reasons to Celebrate' theme featuring go-go boys and drag queens galore.

---
La Cruz to Host 3-5K Open Water Swimming Competition

Lorena Sonrisas

On April 21, 2018, the beach adjacent to the Marina Riviera Nayarit in La Cruz will host the 8th Riviera Nayarit Nado Seguro 3-5K Open Water Tournament. Swimmers ages 7 to 70 will compete in categories that range from professional and masters to recreational and disabled swimmers.

---
Act II Keeping Puerto Vallarta Entertained This Spring

Danny Mininni

Act II is celebrating its best season of entertainment yet, and there's still a whole lot more in store for Puerto Vallarta audiences! Spring is Swinging at Stages, with an incredible line up of internationally-known cabaret acts, world-class musicians and hilarious drag performances.

---
A Festival of Comedy, Circus & Street Arts, with a Cause

Yuliana García López

Vida Fest, a Festival of International Comedy, Circus and Street Arts, is set to take place April 13-15 at Los Arcos de Malecon in downtown Puerto Vallarta. The festival is a non-profit event which seeks to generate social awareness about the problem of suicide through cultural activities.

---
The 'Queen of Green,' Hedda Lettuce, in The Red Room

Debbie White

Back for a third season in Puerto Vallarta, Hedda Lettuce has a reputation of being outrageously funny, and last Friday night's show was a rollercoaster ride of laughs and crazy surprises! Don't miss the 'Queen of Green' on Thursdays & Fridays at 9:30 pm in The Red Room at Act II Stages.

---
Guayafest Brings Volkswagen Lovers to Riviera Nayarit

Banderas News Team

On April 21 & 22, 2018, the Main Plaza in Rincón de Guayabitos, Nayarit will be transformed into a playground for hundreds of Volkswagen vehicles from all over Mexico, as the TPC Bugs Club hosts the 19th edition of Guayafest, a family-friendly expo for lovers of these classic cars.

---
Kim Kuzma & Piel Canela Dinner Show at Coco's Kitchen

Debbie White

Coco's Kitchen will present 'Dinner & Evening With Kim Kuzma' on Saturday, April 14. Piel Canela, one of the most renowned bands in Puerto Vallarta, will accompany Kim for this magical night of music under the stars. The delicious 4-course dinner begins at 7 pm & the show starts at 8 pm.

---
Ruta Turistica Vallarta Bike Ride Hits the Road April 28

Ricardo Acerco

On May 31, 2018, Puerto Vallarta will celebrate its 100th anniversary as a municipality, which presents a unique opportunity to host some very special events. One such event is the Ruta Turistica Vallarta - Bahía de Banderas 30-100k bike ride, set to hit the road on April 28.

---
RHA Festival Announces Full Lineup for 2018 Edition

Grant Gilmore

More than 20 DJs from around the world will spin their house music at La Cruz de Huanacaxtle Marina this Memorial Day Weekend, as the RHA Electronic Music Festival returns to Riviera Nayarit for its second edition, May 25-26. Once you see the lineup, you won't want to miss it!

---
Act II Launches its First Spring Entertainment Season

Marie Callan

While many other cabarets and theaters around Banderas Bay have 'closed the curtain' for the season, Act II STAGES realizes that there are still a lot of people in Puerto Vallarta who are looking for entertaining things to do, so they've launched their first-ever Spring Entertainment Season!

---
14th Annual Vallarta Altruism Festival Set for May 6th

Banderas News Team

Scheduled to be held in the beachfront garden at the Marriott CasaMagna Resort on May 6, 2018, the 14th Annual International Altruism Festival promises to deliver a wonderful mix of charity, culture, entertainment, delicious food, and good energy to Vallarta residents and visitors.

---
Bucerías Oyster Festival Celebrates 18 Years April 8

Banderas News Team

Since oyster harvesting is the mainstay of the economy in Bucerias, Nayarit, every year after Easter this laid-back seaside community hosts an Oyster Festival - a celebration filled with music, food and fun. This year's celebration is set to take place on April 8, 2018 at Playa El Punto.

---
New Flavors of the World Menu at Daiquiri Dick's

Laura Gelezunas

World cuisines offer a great variety in terms of flavors, tastes and combinations. The chefs at Daiquiri Dick's have selected the top international cuisines to feature on their April 1-15 special dinner menu, so you don't have to leave Puerto Vallarta to savor the flavors of the world.

---
Vallarta Restaurant Week 2018 Bigger & Better Than Ever!

Juan Pablo Hernandez

Fifty-nine Puerto Vallarta and Riviera Nayarit restaurants will be participating in Restaurant Week 2018, which will implement a few changes this year. Most importantly, the festival will run from May 15-June 10, giving foodies 10 extra days to enjoy exquisite menus at reduced prices.

---
Act II Presents Renee Armand & Paul Aleman in 'Timeless'

Debbie White

For four seasons, Renee Armand and Paul Aleman have been coming to Puerto Vallarta to perform their hit shows, 'Rocky Mountain High' and 'Laurel Canyon,' in The Red Room Cabaret. This year, they are presenting a new show, 'Timeless,' which will make its debut at Act II STAGES April 3.

---
Weekends are Filled with Art and Music at La Isla

Puerto Vallarta Tourism Trust

The Art Village by La Isla is a great opportunity to meet some of the Banderas Bay region's most recognized artists, talk with them about their works, and perhaps even acquire some of their art to take home with you as a permanent reminder of your time here in Puerto Vallarta.

---
April 3 'TED Talk Tuesday' Features Barbara J. Harris

Catherine Beeghly

The Boutique Theatre will bring their popular educational discussion series to an end with the last 'TED Talk Tuesday' of the season on April 3. Vallarta resident and life coach Barbara J. Harris will share her expertise and insights as she present 'Believe It, Achieve It' from 10 am-12 pm.

---
The Palm Cabaret Closes 2017-2018 Season with a Bang!

Marie Callan

The Palm Cabaret has been entertaining Vallarta for years, and the 2017-2018 season was no exception. This year's line-up included some of PV's favorite acts: Amy Armstrong, Kim Kuzma, Nate Buccieri and Piel Canela, and you can see them all on March 30, the final night of the season.

---
'High Season' Shows Close, New Shows Coming to Act II

Danny Mininni

As the 'high' season in Puerto Vallarta starts to slow down, Act II's 'high season' shows begin to close. This week, we say goodbye to Rocky Horror, Sutton Lee Seymour, Dueling Drag Divas, Daniel Portela & Plaza Suite. Don't miss the 'Close of High Season Shows' party March 31.

---
Site Map
•
Print this Page
•
Email Us
•
Top