Entertainment
Around the Bay and Beyond
No matter what your interests are, Puerto Vallarta is always ready to entertain, offering a wide variety of entertainment options that will keep everyone amused. But it's up to you to decide how you want to spend your time here....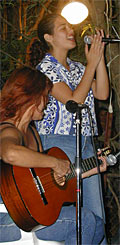 While every destination in Mexico has something to offer visitors, romantic Puerto Vallarta delivers something for everyone: beaches on a beautiful bay, great dining, a sizzling nightlife, movie theaters, cultural events, art galleries, excellent shopping, world-class golf and tennis, activities and excursions galore, and fun, fun, fun!


In Puerto Vallarta you can relax on a beautiful beach, play a round of championship golf, shop for Mexican handcrafts and dine in a wide variety of restaurants. There are also countless tours and activities to enjoy - from exciting jeep safaris and canopy tours in the tropical jungle to whale watching, sailing, snorkeling or scuba diving in Banderas Bay.


Visitors who appreciate cultural experiences will love the festivals and events hosted in Puerto Vallarta each year. A variety of cultural events, including the Gourmet Festival and an International Film Festival are designed for the cosmopolitan visitor, while Fishing, Tennis and Golf Tournaments are complemented by the Old Mexico flavor of this cozy seaside village.


And many visitors prefer to spend their days relaxing on the beach soaking up the warm tropical rays. Puerto Vallarta is a haven for weary vacationers who want nothing more than a good book, a tan and icy cold beers or margaritas delivered at regular intervals by an adept, and usually bilingual, waiter.

• B E L O W T H E F O L D •
Daiquiri Dick's 2014 Summer Sizzle Ends August 25th

Banderas News Team

There are just a few days left to enjoy flavors from around the world at one of Vallarta's favorite beachfront restaurants - Daiquiri Dick's. Don't miss your last chance to enjoy three irresistible courses of old favorites and new tastes for $299 pesos, through August 25th.

---
Vallarta Life: Keep Cool with Fresh Squeezed Limonada

Laura Gelezunas

If you are going to be living in Puerto Vallarta, you'll soon learn that there's nothing like a cold drink to keep you cool on a hot day. One of Mexico's favorite thirst quenchers is called 'limonada,' or limeade. Here's a quick and easy recipe for fresh squeezed limonada.

---
August 15 Vallarta Happenings & Upcoming Events
Banderas News Team

There's always so much going on in Puerto Vallarta and around Banderas Bay, it can be difficult to keep up with it all. Here's a look at some of this week's local happenings, some community announcements, and a couple of upcoming events that you won't want to miss.

---
Vallarta Botanical Gardens Cacao & Vanilla Celebration

Marie Callan

Come out and enjoy the Vallarta Botanical Garden's annual Rainforest Festival, where two important plant species native to the rain forests of Mexico, vanilla and chocolate, are being celebrated from August 19-31.

---
New Video Series Showcases Life in Puerto Vallarta

BanderasNews.com

Internet video is one of the most powerful marketing tools available because people are engaged with sights and sounds, more than words and photos alone can achieve. A Puerto Vallarta real estate agent is showcasing life in that city with a new video series, 'Vallarta Life.'

---
Mexico's West Coast THE Destination for the Stars

Elena Andreou

Riviera Nayarit and Puerto Vallarta, two stunningly diverse and picturesque regions on Mexico's Pacific Coast, have been host to a number of well-known celebrities over the past few months, solidifying their reputation as preferential destinations for the show biz world.

---
Superior Tours Launches New Website and New Services

BanderasNews.com

Puerto Vallarta's favorite tour and transportation company, Superior Tours, just keeps on growing! This week, they've introduced a new website; more tours in the Banderas Bay region, throughout Mexico and beyond; and most every other travel service you can imagine.

---
Cajun Cuisine Sizzles at Daiquiri Dick's Restaurant

Banderas News Team

In the mood for something a little spicy? Get yourself down to Daiquiri Dick's for some Ragin' Cajun Cuisine, as the Summer Sizzle Menu continues Louisiana-style! Through August 18th, enjoy a three-course meal that's pungent, peppery, and practically priced at just $299 pesos.

---
In Mexico, Dancing is One of Life's Greatest Pleasures

Josie Gonzalez

Ahhh to dance! This is one of life's greatest pleasures - and in Mexico, it is a way of life. It is a way of expressing yourself, a way of saying, 'I feel great, I look great, I like you, I enjoy your company,' Dancing makes you feel happy, attractive, ALIVE! Shall We Dance?

---
Kaiser Maximilian Offers Vallarta a Taste of Greece

Banderas News Team

This summer, in addition to the traditional Austrian cuisine that has made Kaiser Maximilian one of Puerto Vallarta's favorite restaurants, Owner / Chef Andreas Rupprechter is bringing back his special menu featuring dishes from Greece through August 30th, 2014.

---
TREG Announces 2nd House Hunters Int'l PV Charity Event

Timothy Real Estate Group

Timothy Real Estate Group starred in the first Puerto Vallarta episode of HGTV's 'House Hunters International' back in 2012. Since then, TREG has been featured in three more episodes, and is working on their second HHI screening and a 'Gilligan's Island' PV charity fundraiser event.

---
Puerto Vallarta Weekend & Upcoming Events

Banderas News Team

It might be hot outside, but even in the summertime, there's still so much going on in Puerto Vallarta and around Banderas Bay, it can be difficult to keep up with it all. Here's a look at some 'Very Cool' weekend and upcoming local events that you won't want to miss.

---
ACT II Summer Music Fest to Benefit Corazón de Niña

Banderas News Team

On Friday, August 15th at 6:00 pm, the ACT II Entertainment complex is hosting a 'Summer Music Fest,' an exciting evening of music, entertainment, fun and friendship to benefit Casa Hogar Corazón de Niña, a local non-profit children's shelter for young girls.

---
Summer's a Great Time to Visit Estero El Salado

Marie Callan

Puerto Vallarta, Mexico is a natural sanctuary, where rivers, jungles, mountain and sea come together to provide a wide variety of eco-tourism options and an endless array of outdoor adventures. One example is Estero El Salado, an urban eco-reserve in the city's Hotel Zone.

---
Site Map
•
Print this Page
•
Email Us
•
Top