Entertainment
Around the Bay and Beyond
No matter what your interests are, Puerto Vallarta is always ready to entertain, offering a wide variety of entertainment options that will keep everyone amused. But it's up to you to decide how you want to spend your time here....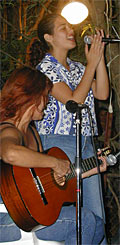 While every destination in Mexico has something to offer visitors, romantic Puerto Vallarta delivers something for everyone: beaches on a beautiful bay, great dining, a sizzling nightlife, movie theaters, cultural events, art galleries, excellent shopping, world-class golf and tennis, activities and excursions galore, and fun, fun, fun!


In Puerto Vallarta you can relax on a beautiful beach, play a round of championship golf, shop for Mexican handcrafts and dine in a wide variety of restaurants. There are also countless tours and activities to enjoy - from exciting jeep safaris and canopy tours in the tropical jungle to whale watching, sailing, snorkeling or scuba diving in Banderas Bay.


Visitors who appreciate cultural experiences will love the festivals and events hosted in Puerto Vallarta each year. A variety of cultural events, including the Gourmet Festival and an International Film Festival are designed for the cosmopolitan visitor, while Fishing, Tennis and Golf Tournaments are complemented by the Old Mexico flavor of this cozy seaside village.


And many visitors prefer to spend their days relaxing on the beach soaking up the warm tropical rays. Puerto Vallarta is a haven for weary vacationers who want nothing more than a good book, a tan and icy cold beers or margaritas delivered at regular intervals by an adept, and usually bilingual, waiter.

• B E L O W T H E F O L D •
Guadalajara Hosts 23rd International Mariachi Festival

Robert Einhorn

Each year, for 10 days, some 500 Mariachis converge on the city of Guadalajara, Mexico to take part in the International Mariachi Festival, the largest celebration of Mariachi music in the world. This year's event takes place Friday, August 26 through Sunday, September 4th.

---
Dionisio Theater Group Presents 'La Ley del Ranchero'

Banderas News Team

Dionisio Theater Group is celebrating its fourth season this month by presenting 'La Ley del Ranchero.' This award-winning Spanish-launguage play takes the Main Stage at Puerto Vallarta's largest entertainment venue, Act II STAGES, every Friday and Saturday night in August at 8 pm.

---
Archie's Wok Goes on Vacation August 21

Laura Gelezunas

In the mood for some bold and innovative cuisine influenced by the exotic flavors of Thailand, China, and the Philippines? Get your Archie's fix today! Archie's Wok, recognized as Puerto Vallarta's best Asian fusion restaurant, will close for vacation Aug 21 and reopen Oct 10th.

---
Vallarta's Festival Vibra Joven a Smashing Success

María Francesca

More than a thousand rock fans of all ages gathered at Puerto de Luna's Parota Park on Saturday to enjoy the 2016 Festival Vibra Joven, which was organized by the Puerto Vallarta Municipal Institute for Youth Care and featured Cirko Candela and Plastiko, along with four local bands.

---
Season 2 of 'Fear the Walking Dead' Filmed in Mexico

USA Today

After a half-season spent largely at sea, AMC's 'Fear the Walking Dead' resumes Season 2 Sunday on dry land. Mexico, where the drama was filmed this season, offers a variety of intriguing geographic settings, from a Pacific Ocean resort to hot, rugged desert to the city of Tijuana.

---
Democrats Abroad August Social Hour at Luna Azul

Democrats Abroad Mexico

The Costa Banderas Chapter of Democrats Abroad Mexico invites you to join them for a July 'Social Hour' on Tuesday, August 16, 2016 from 5-7 pm in the air-conditioned comfort of Luna Azul, Lazaro Cardenas 308, near the corner of Calle Constitucion, on PV's south side.

---
Daiquiri Dick's Summer Sizzle: World Flavors

Laura Gelezunas

Daiquiri Dick's Restaurant is known for its international cuisine and, during the Summer Sizzle, they are featuring a wide selection of tastes. Through August 22, World Flavors are on the special menu, which offers three courses for $350 pesos - or you can order your favorite a la carte.

---
ExPats in Vallarta August Happy Hours and Events

Sara Wise

ExPats in Vallarta, a totally social group with informal fellowship and assistance for Expat residents or visitors living, working, investing, or considering a move to Puerto Vallarta or the greater Banderas Bay area, has announced the events scheduled for the month of August.

---
Kaiser Maximilian Offers Mediterranean Menu in August

Laura Gelezunas

Though Kaiser Maximilian Restaurant is best-known for serving Puerto Vallarta residents and visitors exceptional Austrian fare, during the month of August this charming European-style café is also offering diners a taste of something different... mouth watering Mediterranean cuisine.

---
Trio Celebrates 19 Years of Serving Puerto Vallarta

Banderas News Team

On August 14, 1997 Trio opened its doors in Puerto Vallarta for the first time. In celebration of the restaurant's 19th anniversary year of serving 'Mediterranean Food Cooked with Love,' Trio is offering a 19% discount between 6 and 8 pm throughout the month of August.

---
CK Productions Summer Splash and Dance Concert

BanderasNews.com

Scheduled to be held on Wednesday, August 17th from 4:00 to 8:00 pm, CK Productions' Summer Concert Splash and Dance will be a truly fun summertime event that features a full three hours of live music, delicious Cuban food and swimming in the beautiful pool at Tacho's Park in El Pitillal.

---
San Sebastian Products & Services Expo at Plaza Caracol

Nuestras Noticias

Thirteen producers and entrepreneurs from the San Sebastian del Oeste region will showcase their products at Plaza Caracol in Puerto Vallarta this weekend. The public is invited to come out on July 29 & 30 to taste and buy regional goods and learn about the area's tours and services.

---
Daiquiri Dick's Summer Sizzle: The Flavors of Italy

Banderas News Team

Baby, it's HOT outside! Too hot to even THINK about cooking, much less spending hours standing over a steamy stove. Fortunately, the chefs at Daiquiri Dick's are serving up their a la carte Summer Sizzle menu, which features the Flavors of Italy through August 8th.

---
Only 3 More Shows in Act II's Summer Concert Series

BanderasNews.com

Act II Entertainment and its production team invite you to join them for the last three shows of their Summer Concert Series. Scheduled over the next three Saturdays at 7:00 pm, 'The Book of Job', 'Be Italian' and 'Broken English' star three of your favorite 'Voice of Vallarta' contestants.

---
IV Playa Platanitos Sea Turtle Festival, July 23-24

Riviera Nayarit CVB

Everyone is invited to come out to Playa Platanitos, Nayarit, where they will enjoy the nature tours and free shows - dancers, singers and music - that are part of the July 23-24 IV Sea Turtle Festival. While there, be sure to check out the new Hummingbird Garden next to the beach.

---
Traditional Corn Festival in Jala, Nayarit, August 6–15

BanderasNews.com

Every year during the first two weeks of August, the annual Sweet Corn Festival in Jala, Nayarit, a region where the largest corncobs in the world are grown, gives everyone a chance to experience a very Mexican tradition. This year's Feria del Elote is set for August 6–15.

---
Democrats Abroad July Social Hour at Luna Azul

Tricia Lyman

The Costa Banderas Chapter of Democrats Abroad Mexico invites you to join them for a July 'Social Hour' on Tuesday, July 26, 2016 from 5-7 pm in the air-conditioned comfort of Luna Azul, located at Lazaro Cardenas 308 on the south side of Puerto Vallarta.

---
Site Map
•
Print this Page
•
Email Us
•
Top