Entertainment
Around the Bay and Beyond
No matter what your interests are, Puerto Vallarta is always ready to entertain, offering a wide variety of entertainment options that will keep everyone amused. But it's up to you to decide how you want to spend your time here....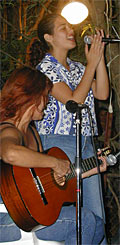 While every destination in Mexico has something to offer visitors, romantic Puerto Vallarta delivers something for everyone: beaches on a beautiful bay, great dining, a sizzling nightlife, movie theaters, cultural events, art galleries, excellent shopping, world-class golf and tennis, activities and excursions galore, and fun, fun, fun!


In Puerto Vallarta you can relax on a beautiful beach, play a round of championship golf, shop for Mexican handcrafts and dine in a wide variety of restaurants. There are also countless tours and activities to enjoy - from exciting jeep safaris and canopy tours in the tropical jungle to whale watching, sailing, snorkeling or scuba diving in Banderas Bay.


Visitors who appreciate cultural experiences will love the festivals and events hosted in Puerto Vallarta each year. A variety of cultural events, including the Gourmet Festival and an International Film Festival are designed for the cosmopolitan visitor, while Fishing, Tennis and Golf Tournaments are complemented by the Old Mexico flavor of this cozy seaside village.


And many visitors prefer to spend their days relaxing on the beach soaking up the warm tropical rays. Puerto Vallarta is a haven for weary vacationers who want nothing more than a good book, a tan and icy cold beers or margaritas delivered at regular intervals by an adept, and usually bilingual, waiter.

• B E L O W T H E F O L D •
Only 3 More Shows in Act II's Summer Concert Series

BanderasNews.com

Act II Entertainment and its production team invite you to join them for the last three shows of their Summer Concert Series. Scheduled over the next three Saturdays at 7:00 pm, 'The Book of Job', 'Be Italian' and 'Broken English' star three of your favorite 'Voice of Vallarta' contestants.

---
IV Playa Platanitos Sea Turtle Festival, July 23-24

Riviera Nayarit CVB

Everyone is invited to come out to Playa Platanitos, Nayarit, where they will enjoy the nature tours and free shows - dancers, singers and music - that are part of the July 23-24 IV Sea Turtle Festival. While there, be sure to check out the new Hummingbird Garden next to the beach.

---
Traditional Corn Festival in Jala, Nayarit, August 6–15

BanderasNews.com

Every year during the first two weeks of August, the annual Sweet Corn Festival in Jala, Nayarit, a region where the largest corncobs in the world are grown, gives everyone a chance to experience a very Mexican tradition. This year's Feria del Elote is set for August 6–15.

---
Democrats Abroad July Social Hour at Luna Azul

Tricia Lyman

The Costa Banderas Chapter of Democrats Abroad Mexico invites you to join them for a July 'Social Hour' on Tuesday, July 26, 2016 from 5-7 pm in the air-conditioned comfort of Luna Azul, located at Lazaro Cardenas 308 on the south side of Puerto Vallarta.

---
Daiquiri Dick's Summer Sizzle: The Flavors of France

Laura Gelezunas

Many foodies consider French cuisine the haute couture of the culinary world. Don't miss your chance to sample some of this exquisite fare right here in Puerto Vallarta, as Daiquiri Dick's Restaurant features the Flavors of France on their Summer Sizzle special dinner menu through July 25.

---
1st Annual Summer Beach Bash for Cheryl's Shoebox

Vicki Steuteville

To raise funds for school shoes and supplies for the 200+ primary and secondary students attending schools in Colonias Progresso, Lomas de Enmedio and El Satrillo, Cheryl's Shoebox will be hosting their 1st Annual Puerto Vallarta Summer Beach Bash on August 7 at Oasis del Holi Beach Bar.

---
Last Chance to See Some of Act II's Hot Summer Shows

BanderasNews.com

If you haven't been to Act II STAGES recently, don't walk - RUN! - to Vallarta's largest entertainment venue so you don't miss the opportunity to see some of the Summer's hottest shows - 'Broken English', 'The Book of Job' and 'Be Italian' - in the air-conditioned comfort of The Red Room.

---
'Dancing With The Stars' Comes to Riviera Nayarit

PRWeb

Travelers can become a dancing star on the golden shores of AAA Five-Diamond Grand Velas Riviera Nayarit during the third annual LaBlast Getaway November 30 through December 3, 2016 led by three-time World Dance Champion and 'Dancing With The Stars' alum, Louis Van Amstel.

---
Summer Camp at Entreamigos in San Pancho, Nayarit

BanderasNews.com

The Entreamigos Community Center in San Pancho recently announced its 2016 Summer Workshops for children ages 3-16. The camp will run from July 18 through August 5, and offer kids art, ecology and other workshops limited only by the imagination of the volunteer teachers.

---
Fun Ways to Beat the Heat at Galerías Vallarta

Banderas News Team

One of the best things about living year-round in Vallarta is the variety of activities and attractions available for family fun. But what is one to do when the temperature soars, or the sky opens up and pours? The answer is simple. Gather up the family and head over to Galerias Vallarta.

---
Food Park PV Gastro Bar an Innovative Concept in Dining

Lorena Sonrisas

Even though there are so many great restaurants in Puerto Vallarta, sometimes we all have a problem trying to agree with our family or friends on where to eat. The answer is simple, head over to Food Park PV Gastro Bar, an innovative concept in dining that offers something for every taste.

---
House Hunters International Films Vallarta Episode 10

Banderas News Team

Home & Garden Television just can't seem to get enough of Puerto Vallarta. Last weekend they filmed yet another episode of their wildly popular 'House Hunters International' series here, making this the 10th installment featuring our city and Timothy Real Estate Group.

---
Dwight Blake to Perform at The Jazz Foundation July 16

Debbie White

On July 16, international recording artist Dwight Blake will present his 'Memories of Motown' show at The Jazz Foundation on Puerto Vallarta's Malecón. With his sultry voice, Dwight masterfully communicates the music of great Motown artists like Marvin Gaye, Stevie Wonder and others.

---
Local Happenings & Weekend Events in & Around Vallarta

Banderas News Team

There's always so much going on in Puerto Vallarta and around Banderas Bay, it can be difficult to keep up with it all. Here's a look at some of this week's Puerto Vallarta news, a few community announcements and a couple of this weekend's events that you won't want to miss.

---
Act II Entertains Puerto Vallarta Audiences in July

Daniel R. Mininni

Seems the higher the temperatures climb outside, the hotter the entertainment gets inside the biggest entertainment venue in the Banderas Bay area - Act II STAGES. Here's a look at some of the cool ways to have fun they have planned for you over the next week - and beyond!

---
Fun Ways to Celebrate the 4th of July in Vallarta

Banderas News Team

In the U.S., it's traditional for families and friends to get together on the Fourth of July and celebrate. If you find yourself in Puerto Vallarta, Mexico on the USA's Independence Day, you can find plenty of 4th of July parties, along with lots of food and fun all around Banderas Bay.

---
Daiquiri Dick's All-American Summer Sizzle Menu

BanderasNews.com

You don't have to be an American to celebrate its Independence with great food and fun. Daiquiri Dick's chefs have created a 4th of July - and beyond - menu that's a backyard BBQ with international flair. This special All-American Summer Sizzle menu is being served from July 1st-11th.

---
10th Banderas Bay Marlin & Tuna Fishing Tournament

Banderas News Team

Fishing teams with up to four members per boat are invited to participate in the Bahía de Banderas Sport Fishing Club's 10th International Tuna and Marlin Fishing Tournament in Banderas Bay, which will take place July 14-16, 2016 at the Vallarta Yacht Club in the Paradise Village Marina.

---
July Brings New Shows, More Fun to Act II Entertainment

Daniel R. Mininni

The fun never stops at the biggest entertainment venue in the Banderas Bay area - Act II STAGES. And, with Bob's Karaoke Party every Wednesday night, the return of the PVGMC Movie Music Sing-Along, and three new shows opening, there's tons more fun to be had in July.

---
Puerto Vallarta to Host a Series of Fun Runs in July

María Francesca

Whether you are looking for a change of pace, a fun way to stay in shape, or a chance to 'strut your stuff' in friendly competition, Puerto Vallarta has something fun for everyone to enjoy in July. The city is revving up for a series of Fun Runs that are all about getting active and having fun.

---
Biblioteca Los Mangos' Super Summer Courses for Kids

Marie Callan

Have you ever thought that your sons or daughters have super powers? From July 18-August 12 Los Mangos Library will present not just another summer camp, but a 'We Are Heroes' Super Summer Course, which aims to help kids discover and develop their powers through fun activities.

---
'Summer on the Island' Courses for Children Ages 7-12

BanderasNews.com

Summer is about to begin and with it the school holidays. What better way for kids to spend them than in a fun and creative way? That is why the Vallarta Institute of Culture is offering Summer Courses on the Island for children ages 7-12 from July 18 through August 5, 2016.

---
It's Ba-ack! Summer Sizzle Returns to Daiquiri Dick's

BanderasNews.com

The temperatures are heating up and, with the return of their popular Summer Sizzle, so is the kitchen at Daiquiri Dick's Restaurant. Get ready to take your taste buds on a world tour without leaving Puerto Vallarta! The first leg of the journey begins in Asia, and runs through June 30.

---
Nayarit Ocean Fest at B Nayar Village & Resort

Penny Isabel

Mark your calendars for June 26! The First Annual Nayarit Ocean Fest at B Nayar Village & Resort is promising to be an event you really don't want to miss. The mission of the event is to celebrate the ocean and collaborate on how to protect the beautiful Bay of Banderas at our doorstep.

---
Site Map
•
Print this Page
•
Email Us
•
Top