Entertainment
Around the Bay and Beyond
No matter what your interests are, Puerto Vallarta is always ready to entertain, offering a wide variety of entertainment options that will keep everyone amused. But it's up to you to decide how you want to spend your time here....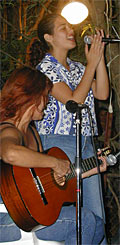 While every destination in Mexico has something to offer visitors, romantic Puerto Vallarta delivers something for everyone: beaches on a beautiful bay, great dining, a sizzling nightlife, Broadway quality stage plays, live music, movie theaters, cultural events, art galleries, excellent shopping, world-class golf and tennis, activities and excursions galore, and fun, fun, fun!


In Puerto Vallarta you can relax on a beautiful beach, play a round of championship golf, shop for Mexican handcrafts and dine in a wide variety of restaurants. There are also countless tours and activities to enjoy - from exciting jeep safaris and canopy tours in the tropical jungle to whale watching, sailing, snorkeling or scuba diving in Banderas Bay.


Visitors who appreciate cultural experiences will love the festivals and events hosted in Puerto Vallarta each year. A variety of cultural events, including the Gourmet Festival and an International Film Festival are designed for the cosmopolitan visitor, while Fishing, Tennis and Golf Tournaments are complemented by the Old Mexico flavor of this cozy seaside village.


And many visitors prefer to spend their days relaxing on the beach soaking up the warm tropical rays. Puerto Vallarta is a haven for weary vacationers who want nothing more than a good book, a tan and icy cold beers or margaritas delivered at regular intervals by an adept, and usually bilingual, waiter.

• B E L O W T H E F O L D •
2020 Puerto Vallarta Hook the Cure Event Goes Virtual
Gary Green

In 2020, fundraising events look a little bit different from the way they used to. Hook the Cure powered by IOTEC is no exception. This year's 15th annual outing, usually held at Villa Premiere Boutique Hotel in Puerto Vallarta, will be held virtually this November.

---
Restaurant Week is Delightful at Kaiser Maximilian
Marie Callan

Restaurant Week gives everyone a chance to sample some of the best food in Puerto Vallarta at exceptional prices, which makes it a great time to visit Kaiser Maximilian. Dining there is always delightful, but through Oct 10 they're serving a special 3-course menu for $466 pesos.

---
Aguascalientes Artisan Paola Rangel is Corazón Vallarta
Sandra Cesca

Shortly after I moved here in 2008, I happened on a woman selling whimsical paintings of hearts as I strolled along the Malecón, Puerto Vallarta's boardwalk along the ocean. Her name was Paola and she had moved here in 2003 from Aguascalientes looking for a new opportunity.

---
Puerto Vallarta News Brief and Local Information
Banderas News Team

With the COVID-19 pandemic dominating the world's news and social media channels, it can be difficult to find out what's happening in Puerto Vallarta and around Banderas Bay, so here's a look at some of the latest local news and headlines.

---
Celebrate Mexico's Independence with Chile en Nogada
Luis Antonio

From its historic beginnings to the colors of the Mexican flag, Chile en Nogada has all the ingredients needed to make it one of Mexico's most patriotic dishes. Here's a relatively easy recipe for the star of most Mexican Independence Day feasts.

---
16th Edition of Restaurant Week Begins September 15th
Juan Pablo Hernandez

Are you ready to eat? The 16th edition of Restaurant Week starts September 15th and continues through October 10th at 49 restaurants in Puerto Vallarta and the Riviera Nayarit. During the festival, participating eateries offer innovative 3-course menus at reduced prices.

---
Seven Traditional Breakfast Recipes from Velas Resorts
BanderasNews.com

Enjoy a taste of Mexico at home with traditional Mexican breakfast recipes from Velas Resorts. The award-winning resort collection, with luxury properties in Los Cabos, Riviera Maya, Riviera Nayarit and Puerto Vallarta, shares easy-to-make, flavorful dishes for every day of the week.

---
Organic Select Expands to Better Serve Puerto Vallarta
Claire Makley

The Organic Select store, bakery, and restaurant has been a mainstay in Vallarta for 8 years. Recently, owners Krystal Frost and Ana Rios announced an expansion of operations to serve a broader clientele with more offerings and greater variety, under the name Versalles Market by Organic Select.

---
The Show Must Go On: Guanajuato Int'l Film Festival
BanderasNews.com

The Guanajuato International Film Festival has come up with innovative ways, including a virtual campus, digital film screenings, drive-in & picnic movies and an Aquacinema, to make its 23rd edition live up to expectations - despite the coronavirus pandemic.

---
Puerto Vallarta, Mexico News and Local Information
Banderas News Team

With the COVID-19 pandemic dominating the world's news and social media channels, it can be difficult to find out what's going on in Puerto Vallarta, the State of Jalisco, and around the Republic, so here's a look at some of the latest local news and happenings.

---
Site Map
•
Print this Page
•
Email Us
•
Top