Entertainment
Around the Bay and Beyond
No matter what your interests are, Puerto Vallarta is always ready to entertain, offering a wide variety of entertainment options that will keep everyone amused. But it's up to you to decide how you want to spend your time here....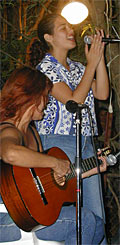 While every destination in Mexico has something to offer visitors, romantic Puerto Vallarta delivers something for everyone: beaches on a beautiful bay, great dining, a sizzling nightlife, movie theaters, cultural events, art galleries, excellent shopping, world-class golf and tennis, activities and excursions galore, and fun, fun, fun!


In Puerto Vallarta you can relax on a beautiful beach, play a round of championship golf, shop for Mexican handcrafts and dine in a wide variety of restaurants. There are also countless tours and activities to enjoy - from exciting jeep safaris and canopy tours in the tropical jungle to whale watching, sailing, snorkeling or scuba diving in Banderas Bay.


Visitors who appreciate cultural experiences will love the festivals and events hosted in Puerto Vallarta each year. A variety of cultural events, including the Gourmet Festival and an International Film Festival are designed for the cosmopolitan visitor, while Fishing, Tennis and Golf Tournaments are complemented by the Old Mexico flavor of this cozy seaside village.


And many visitors prefer to spend their days relaxing on the beach soaking up the warm tropical rays. Puerto Vallarta is a haven for weary vacationers who want nothing more than a good book, a tan and icy cold beers or margaritas delivered at regular intervals by an adept, and usually bilingual, waiter.

• B E L O W T H E F O L D •
Weekend Brunch at Si Señor Beach on Playa Los Muertos

Laura Gelezunas

Si Señor Beach Restaurant on Vallarta's famous Playa Los Muertos is serving a delicious Mexican-style brunch every Saturday and Sunday from 9 am to 1 pm. Once you have experienced brunch Si Señor style, this awesome weekend meal becomes less of a treat and more of a necessity.

---
Essence of Cuisine Cooking Class, January 28

BanderasNews.com

Are you at a lost as to what to prepare for your guests and family when they come to visit? Join Dolores of Essence of Cuisine on January at 5:30 pm and learn how to make some of the most delicious and easy to prepare breakfast dishes that Mexican cuisine has to offer.

---
2015 Vallarta Mardi Gras Registrations Set New Record

Tim Longpré

Over the past several years, one of the most anticipated events of the season has been Vallarta's annual Mardi Gras Parade. This year's glittery, bead-hurling parade will be held on Tuesday, February 17th - and, with over 30 entries registred, it'll be bigger & better than ever!

---
Daiquiri Dick's Does Brunch With PuRR-fect Style

Media Diva International

High fashion near the high sea takes place at Daiquiri Dick's Restaurant, Olas Altas #314, on January 27th at 10:30 am. This is the second year for the PuRR Project Fashion Show and Brunch. Elegant, tropical clothing and accessories will be modeled throughout the restaurant.

---
Guadalajara Artist Luis Valui Opens at Galleria Dante

Claire Guarniere

An art exhibition by Guadalajara artist Luis Valui opens at Galleria Dante on Friday, January 23, as part of this week's Southside Shuffle. Stop by Puerto Vallarta's largest and most eclectic art gallery from 6-10 pm to meet the artist and enjoy complimentary cocktails.

---
Sourdough Bread Comes to the Old Town Farmers Market

Erin Staley

'Make it, bake it, grow it' market fun awaits this Saturday! The Puerto Vallarta Old Town Farmers' Market-Tianguis Cultural features over 90 vendors with locally grown produce, one-of-a-kind artisan products, live music, on-site services and of course, ready-to-eat goodies.

---
4th Annual 'Taste of La Cruz' at Marina Riviera Nayarit

Landon Hollander

In three short years Taste Of La Cruz has become a destination event for the Riviera Nayarit, many visitors planning their vacations to include the annual exhibition, which will take place this year on Saturday, January 24th, 2015 from 3:00 until 7:00 pm.

---
Second Edition Puerto Vallarta Guidebooks Have Arrived!

BanderasNews.com

The Second Editions of two popular guidebooks by local author Sandra Cesca have arrived from the printers! 'Walking Puerto Vallarta and beyond' has been updated to 150 pages of full-color photos, and 'Tropical Plants and Walks of Puerto Vallarta' has been updated to include new plants.

---
Daiquiri Dick's Weekly Special Features Mexican Cuisine

Laura Gelezunas

When in Mexico, sample authentic Mexican cuisine. There is no better place to try it than at Daiquiri Dick's Restaurant, where you can enjoy this week's special menu, which features The Flavors of Mexico, right on Puerto Vallarta's famous Los Muertos Beach.

---
Sunset at the Beach with Musical Comedy Duo Amy & Freddy

Debbie White

As I watch artists present their shows I'm not just entertained, but I usually feel a level of curiosity that goes beyond their music. So it was with anticipation that I headed toward one of the beach bars in Bucerías to spend an hour talking with the musical comedy duo, Amy and Freddy.

---
Nacho Daddy: Drop in, Eat, Drink, Party!

BanderasNews.com

Known as THE place to go for affordable nightlife on the South side of Puerto Vallarta, Nacho Daddy Mexico is where locals, ex-pats and tourists from across the globe gather to drink, eat, dance, listen to great music, watch football and have a rip-roaring good time.

---
Nine Day Festival Honors Bucerías' Patron Saint

Banderas News Team

The festival of Our Lady of Peace, the patron Saint of Bucerias, began on January 16th and continues through the 24th. Besides the carnival which takes place at the plaza, there are daily processions of various local organizations, fireworks, and nightly entertainment.

---
IFC Monday Night Hollywood Classics Film Series

Sue MacGregor

The Puerto Vallarta International Friendship Club (IFC) continues its Monday Night Movies this season with an exciting 'Hollywood Classics' movie series. All of these blockbuster films, stretching back to 1940, won 'Best Picture' Oscars the year they were released.

---
Volunteers Needed for Vallarta's 2015 Mardi Gras Parade

Tim Longpré

The glitter and glow of the 2015 Mardi Gras season has officially begun, and here in Puerto Vallarta event sponsor are gearing up for another glittery, bead-hurling parade. A Street Team volunteer planning meeting is scheduled on January 20 from 6-7 pm at Andale Restaurant. Join us!

---
Gay Vallarta Bar-Hopping Tours Celebrate 4th Anniversary

BanderasNews.com

The Gay Vallarta Bar-Hopping Tour recently celebrated their 4th Anniversary as the hottest ticket in La Zona Romantica (Puerto Vallarta's 'Gayborhood') for a custom-designed evening of cocktails and VIP access to the city's hot spots, bars and clubs.

---
Taste the 'Food of the Gods' at Vallarta's OTFM-TC

Erin Staley

If the very mention of chocolate makes you salivate, then your taste buds will be divinely satiated with Xocodiva's Artisan Chocolates. Get them, and all sorts of 'make it, bake it, grow it' goods and services, every Saturday at Vallarta's Old Town Farmers' Market-Tianguis Cultural.

---
This Week on the ACT II Entertainment Main Stage

Daniel R. Mininni

This week's line up of theatrical productions on the Main Stage at Puerto Vallarta's ACT II Entertainment complex include: two classic episodes of the uproarious TV show, 'The Golden Girls'; the closing weekend of 'The Musical Comedy Murders of 1940'; and Week 6 of 'The Voice Of Vallarta.'

---
Ninth Puerto Vallarta Writers' Conference, March 6-8th

Bill Jory

If there is a book inside you bursting to get out, the ninth Puerto Vallarta Writers' Conference will be the place to release it. Scheduled to be held March 6-8 at Biblioteca Los Mangos, the conference will concentrate on helping writers get their ideas from their brain to the printed page.

---
Bi-Weekly Kitty BINGO Games Return to Margarita Grill

Marilyn Khan

The bi-weekly BINGO games that support Puerto Vallarta's no-kill feline shelter, Purr Project, have moved back to the Margarita Grill on the corner of Basilio Badillo and Piño Suarez in Old Town. Join us this Wednesday for a fun-filled evening of playing Kitty BINGO for fabulous prizes!

---
'The Interview' Hits Mexican Theaters February 6th

Richard Dangler

On Feb. 6th, Sony Pictures will release 'The Interview,' starring Seth Rogen and James Franco, in 200 movie theaters across Mexico. Although the release is modest by Mexican standards, the controversial movie gets an added boost when it debuts across the UK on the same day.

---
The Wonderful World of Miss Conception in The Red Room

BanderasNews.com

Miss Conception, female delusionist extraordinaire, will premiere her new show, 'The Wonderful World of Miss Conception' on January 15 in The Red Room at Act II Stages. Kevin Levesque has been bringing his 'alter ego comedy queen' to sold-out audiences in Puerto Vallarta since 2012.

---
Fashion with Passion at River Cafe on January 17

Barb Bremner

Deja New is presenting a Fashion Charity Luncheon at The River Café with all proceeds going to Pasitos de Luz, which provides full-time, loving day care, nutrition and therapy to Puerto Vallarta children with acute physical or psychological illnesses at no cost to their families.

---
2015 Mardi Gras Parade Grand Marshalls Announced

Tim Longpré

Puerto Vallarta's Annual Mardi Gras Parade will hit the streets on Tuesday, February 17, 2015 at 8 pm. This city-sponsored parade will start in front of the Municipal Stadium and travel south along the world-famous Malecón, through 'Old Town' to Olas Altas and on to Los Muertos Pier.

---
Now Showing on the Main Stage at ACT II Entertainment

Daniel R. Mininni

If you haven't been to the ACT II Entertainment complex on Vallarta's South side recently, you don't know what you're missing! In addition to the Main Stage productions listed here, there's a full line-up of musical entertainment going on in The Red Room Cabaret and Encore Piano Bar.

---
MexPup Hosts Fundraiser for Vallarta Street Dogs

BanderasNews.com

The Spanish Experience Center will be hosting a MexPup fundraiser on January 21st from 6:30-10 pm. The $200 Peso per person event will feature all-you-can-eat pork tacos, live entertainment, raffles and a silent auction to help MexPup continue rescuing street dogs in Puerto Vallarta.

---
2015 National Charro Championship News & Events

Adán Leyva Avalos

Among the activities of the Organizing Committee of the Fourth National Charro Championship Grand Premio 2015, to be held from the 29th January to February 1st at Arena Vallarta, is the selfless support to non-profit institutions, such as the Red Cross.

---
Vallarta's OTFM-TC is Calling All Pie Lovers!

Erin Staley

From farm-to-table produce and artisan foods to hand-blown glass and custom made beachwear, the Old Town Farmers' Market-Tianguis Cultural features the best of Vallarta. Some of the most delicious market must-have's are the Leek and Thistle Pie Company's meat & fruit pies.

---
Galleria Dante Presents Martin del Campo & Navarro

Gena Guarniere

Exhibitions by artists Miguel Angel Martin del Campo & Juan Carlos Navarro open at Galleria Dante on January 9, as part of this week's Southside Shuffle. Stop by Vallarta's largest and most eclectic art gallery to meet the artists and enjoy complimentary cocktails from 6-10 pm.

---
Learn Vallarta Offers New Rural Organic Farm Walk

Sandra Cesca

If you are wondering what it's like in the rural countryside away from busy Puerto Vallarta, take a day and enjoy the beauty and fresh mountain air of quiet El Tuito on Learn Vallarta's new Rural Organic Farm Walk. Walk through town, then the countryside, to visit a working farm.

---
Site Map
•
Print this Page
•
Email Us
•
Top