Entertainment
Around the Bay and Beyond
No matter what your interests are, Puerto Vallarta is always ready to entertain, offering a wide variety of entertainment options that will keep everyone amused. But it's up to you to decide how you want to spend your time here....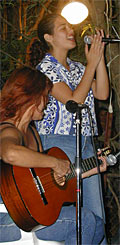 While every destination in Mexico has something to offer visitors, romantic Puerto Vallarta delivers something for everyone: beaches on a beautiful bay, great dining, a sizzling nightlife, Broadway quality stage plays, live music, movie theaters, cultural events, art galleries, excellent shopping, world-class golf and tennis, activities and excursions galore, and fun, fun, fun!


In Puerto Vallarta you can relax on a beautiful beach, play a round of championship golf, shop for Mexican handcrafts and dine in a wide variety of restaurants. There are also countless tours and activities to enjoy - from exciting jeep safaris and canopy tours in the tropical jungle to whale watching, sailing, snorkeling or scuba diving in Banderas Bay.


Visitors who appreciate cultural experiences will love the festivals and events hosted in Puerto Vallarta each year. A variety of cultural events, including the Gourmet Festival and an International Film Festival are designed for the cosmopolitan visitor, while Fishing, Tennis and Golf Tournaments are complemented by the Old Mexico flavor of this cozy seaside village.


And many visitors prefer to spend their days relaxing on the beach soaking up the warm tropical rays. Puerto Vallarta is a haven for weary vacationers who want nothing more than a good book, a tan and icy cold beers or margaritas delivered at regular intervals by an adept, and usually bilingual, waiter.

• B E L O W T H E F O L D •
Kaiser Maximilian Celebrates 23 Years, Restaurant Week

Banderas News Team

Kaiser Maximilian is celebrating 23 years as one of the city's finest restaurants so, in addition to participating in Vallarta Restaurant Week 2018, which runs through June 10th, they'll be serving their special $466 peso, three-course menu for lunch and dinner through June 14th.

---
Vallarta Pride Week Full of Fun at Act II Entertainment

Daniel R. Mininni

Act II Entertainment is THE Place to go when you are in Puerto Vallarta - especially during Pride Week 2018! From May 19-27, Act II is bringing you a week packed with great entertainment, like Steve Grand, Mama Tits, Hedda Lettuce and this spring's funniest musical, Nunsense A-Men!

---
Memorial Day Event for Veterans at Steve's Sports Bar

Stan Francis

For most North Americans, Memorial Day is an annual holiday to honor all who died while defending their nation and its values. Here in Puerto Vallarta, the American Legion Post 14 will host a free Memorial Day event for veterans on May 28 from 11:00 am to 3:00 pm at Steve's Sports Bar.

---
Treat All Your Senses to Restaurant Week at River Café

María Francesca

Restaurant Week is the perfect time to discover, or re-discover, The River Café. Nestled on the banks of the Rio Cuale in downtown Puerto Vallarta, this elegant restaurant has been delighting diners with the sights and sounds of nature, live music and innovative cuisine since 1996.

---
Five-Course Gourmet Dinner to Benefit Pasitos de Luz

Yolanda Sánchez Santiago

On Saturday, May 26, Asociación Culinaria Vallartense, a group of talented Mexican chefs, will be cooking up a fabulous five-course gourmet dinner at Barrio Bistro to raise funds for Pasitos de Luz, a Puerto Vallarta non-profit organization founded by mothers of disabled children.

---
In Vallarta, Celebrating Diversity is a Matter of Pride

Jim Lee

Vallarta Pride 2018 is just around the corner. Highlights include the annual Pride Parade, Block Party and Drag Derby; Adam & Steve's Pool Party for men only and a Pink & Proud Party for women only; an LGBT Art Walk and a Casino Night, and many community activities & cultural events.

---
Puerto Vallarta Hosts Sea Turtle Art Contest for Kids

Lorena Sonrisas

May 23 is World Turtle Day, an annual observance to help people celebrate and protect turtles and their disappearing habitats around the world. Here in Puerto Vallarta, the city is hosting a 'Create Your Sea Turtle,' and all local school children ages 9-16 are invited to participate.

---
Puerto Vallarta Celebrates 100th Anniversary May 25-31

Marie Callan

On May 31, 2018, Puerto Vallarta will commemorate the municipality's Centennial and the city's 50th anniversary. A week-long celebration will mark this historical milestone with a series of very special musical, cultural, artistic, gastronomic and sporting events, set to take place from May 25-31.

---
7th Jarretaderas Surf Fishing Tournament, May 20, 2018

Riviera Nayarit CVB

The 7th Jarretaderas Fishing Tournament is set to take place at the mouth of the Ameca River near Nuevo Vallarta on May 20th. The event was designed not only to promote surf fishing in the Banderas Bay area, but also to bring the community together for a day of family fun.

---
'You Are Here: Cartographies of a Destination' at OPC

Pilar Perez

Every year in May, the Office of Cultural Projects organizes an exhibition dedicated to Puerto Vallarta to celebrate the city's and the gallery's anniversary. This year's exhibit, 'You Are Here: Cartographies of a Destination,' opens May 26, 2018 and continues through August 25.

---
Derby City Burgers Might Just Be the Best in Mexico

Kathryn Gregory

If you're looking for the best burger in Mexico, it might just be the one served up by Kentucky native Walter Thomas at Derby City Burgers in Puerto Vallarta. The menu boasts mouthwatering burgers, chicken sandwiches, french and sweet potato fries, salads, wings and more.

---
Spring Entertainment Season Still Sizzling at Act II

Daniel R. Mininni

Close to the beach, restaurants and bars in the Romantic Zone, Act II is THE PLACE to go when you are in Puerto Vallarta. Here's a look at what Stages has planned to keep you entertained this week - and beyond! - including their exciting line-up of Pride Week (May 19-27) shows.

---
José Alfredo's Big Birthday Bash at No Way José!

Julie Guerrero

José Alfredo's Birthday Bash is just around the corner so, if you are in Puerto Vallarta, make plans now to come to No Way José! on May 19 to eat, drink, laugh, sing, dance and be happy! With live music by Zoe & Leon, special surprises and the NWJ! party energy, you don't want to miss this!

---
1st Riviera Nayarit Rock Festival Set for June 9, 2018

Norma Hernández

Spanish rock fans can now put the 1st Riviera Nayarit Rock Festival on their calendar for June 9, 2018. The event will be held at the Hard Rock Hotel concert venue in Nuevo Vallarta with the participation of Mexican band Panteón Rococó as the headliner, plus three local bands.

---
ExpoKids 2018 Offers Vallarta Families Tons of Fun

Marie Callan

The 5th ExpoKids Vallarta is set to be held at Puerto de Luna's Parota Park on May 12 & 13 from 3-9 pm. In addition to showcasing all of the latest children's products and services, this family-friendly event offers workshops, activities and shows that'll keep everyone entertained.

---
Daiquiri Dick's Serving Mother's Day Brunch May 10-13

Laura Gelezunas

From Thursday, May 10 through Sunday, May 13, Daiquiri Dick's Restaurant will be serving up a special Mother's Day brunch between 10:30 am and 2:30 pm. With fabulous food and terrace, patio and beach dining available, it's a great way to show Mom how much she means to you.

---
Ballet de Jalisco Presents 'Don Quijote' at Teatro Vallarta

Lorena Sonrisas

In honor of the 100th Anniversary of Puerto Vallarta, Ballet de Jalisco will present 'Don Quijote' on Saturday, May 19 at Teatro Vallarta. 30 young dancers will perform this ballet, directed by Dariusz Blajer, whose staging of Don Quixote won the Las Lunas del Auditorio 2017 Best Show award.

---
PVGMC Pride Concert: 'Show Me Broadway' May 23 at Act II

BanderasNews.com

The Puerto Vallarta Gay Men's Chorus is proud to announce plans for its annual Gay Pride concert on May 23 at Act II Stages. This year's show is called 'Show Me Broadway,' and features the music of some of Broadway's most well-known musicals, and three very special guest performers.

---
Two Ways to Celebrate Mother's Day at The River Café

María Francesca

Show Mom your love by treating her to a fabulous Mother's Day brunch or dinner at The River Café. On Thursday, May 10, 'El Dia de la Madre,' this landmark restaurant on the banks of the Rio Cuale in downtown Puerto Vallarta is going the extra mile to make the day extra special.

---
2018 Vallarta Fashion Awards – Fashion for a Cause

Lorena Sonrisas

If you are a fashion enthusiast, there's an event coming up that you won't want to miss: The 2018 Vallarta Fashion Awards. Set to be held at 7:00 pm on May 18 at Club Regina Puerto Vallarta, four Mexican designers will present their latest collections - for a good cause.

---
Treat Mom to a Delicious Meal at Kaiser Maximilian

Marie Callan

Taking Mom out for a delicious meal that she doesn't have to cook is one of the best ways to show Mom your appreciation, so make plans now to pamper your Mom during the extended Mother's Day celebration at Kaiser Maximilian Restaurant in Puerto Vallarta's Romantic Zone.

---
Act II Sets the Bar for Spring Entertainment in Vallarta

Melissa Tropp

Puerto Vallarta finally has a 'Spring Entertainment Season,' thanks to the much-loved Act II Stages venue. This brand-new season features the best in live cabaret, music, comedy, stage plays & drag shows, and new acts are continuing to open every week throughout the month of May!

---
Puerto Vallarta, Riviera Nayarit Let The Good Times Roll

María Francesca

The Puerto Vallarta and Riviera Nayarit tourism boards are focused on attracting new markets by promoting the natural attractions and cultural events that appeal to travelers young and old. And the destinaton's new promotional video, 'Let The Good Times Roll,' does just that.

---
TED Talk Tuesdays Continue to Inspire at The Boutique

Catherine Caldera

'Reflections on the Eve of Vallarta Pride 2018: Heading toward year-long tourism, and positive social change,' is the topic of the next TED Talk Tuesday. William Hevener, the Director of ACT LGBT, will present this socially relevant discussion at 10 am on May 15 at The Boutique Theatre.

---
Volunteers Needed for May 25, 2018 Pulpito Drag Derby

Tom Swale

Volunteers are needed for this year's Pulpito Drag Derby, set to be held from 5-9 pm on May 25, as part of the 2018 Vallarta Pride celebrations. Now in its fifth year, Puerto Vallarta's annual 'Running Of The Drag Queens' is part block party, part ANA fundraiser, and 100% fun!

---
Site Map
•
Print this Page
•
Email Us
•
Top