Entertainment
Around the Bay and Beyond
No matter what your interests are, Puerto Vallarta is always ready to entertain, offering a wide variety of entertainment options that will keep everyone amused. But it's up to you to decide how you want to spend your time here....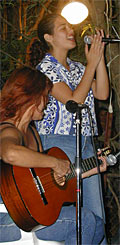 While every destination in Mexico has something to offer visitors, romantic Puerto Vallarta delivers something for everyone: beaches on a beautiful bay, great dining, a sizzling nightlife, movie theaters, cultural events, art galleries, excellent shopping, world-class golf and tennis, activities and excursions galore, and fun, fun, fun!


In Puerto Vallarta you can relax on a beautiful beach, play a round of championship golf, shop for Mexican handcrafts and dine in a wide variety of restaurants. There are also countless tours and activities to enjoy - from exciting jeep safaris and canopy tours in the tropical jungle to whale watching, sailing, snorkeling or scuba diving in Banderas Bay.


Visitors who appreciate cultural experiences will love the festivals and events hosted in Puerto Vallarta each year. A variety of cultural events, including the Gourmet Festival and an International Film Festival are designed for the cosmopolitan visitor, while Fishing, Tennis and Golf Tournaments are complemented by the Old Mexico flavor of this cozy seaside village.


And many visitors prefer to spend their days relaxing on the beach soaking up the warm tropical rays. Puerto Vallarta is a haven for weary vacationers who want nothing more than a good book, a tan and icy cold beers or margaritas delivered at regular intervals by an adept, and usually bilingual, waiter.

• B E L O W T H E F O L D •
San Pancho Music Festival Celebrates its 16th Year

Chris Parsons

The 2016 San Pancho Music Festival will be held Friday, February 26th through Sunday, February 28th in San Francisco, Nayarit. This year the Music Festival will feature performing artists from the Riviera Nayarit region, as well as musicians from the United States, Canada and Mexico.

---
3rd Annual Taste of Lo De Marcos Set for February 21

Alonso Diaz

The 3rd Annual Taste of Lo De Marcos, to be held at the Centro de Fiestas Los Delfines on Sunday, February 21, 2016 from 3-8 pm, will feature local restaurants, artisanal booths and live music, with proceeds benefiting local non-profits Amigos de Lo de Marcos and Comité de Acción Ciudadana.

---
Treat Your Valentine to Something Sweet from OTFM-TC

Erin Staley

What better way to kick off Valentine's Day than to stroll through Puerto Vallarta's Old Town Farmers Market-Tianguis Cultural? Meet up with your sweetie, and enjoy a day of 'make it, bake it, grow it' shopping, live music, and plenty of 'sweet stuff,' like Xocodiva Artisan Chocolates.

---
Valentine's Day is for Sweethearts at Daiquiri Dick's

Laura Gelezunas

What better way to celebrate Valentine's Day than to enjoy an intimate evening of wining, dining and romancing? Treating that special someone to a fabulous Valentine's Day dinner at Daiquiri Dick's is one of the best ways to make your sweetheart feel special.

---
CarnavalPV a Menagerie of Energy, Song & Colors

Tim Longpré

The 2016 CarnavalPV Parade was a celebration of life, energy and joy, treating the more than 35,000 residents and tourists that lined the 3 kilometer route to an unforgettable night filled with glitter, feathers, beads, paper mache, sequins, music and pageantry.

---
Valentine's Day at the Marriott for Corazón de Niña

Banderas News Team

What better way to celebrate Valentine's Day than an intimate evening overlooking Banderas Bay at the CasaMagna Marriott Resort? This year while wining, dining, and romancing that special someone you can also help out the abused and abandoned children at Corazón de Niña.

---
Celebrate Mardi Gras in Vallarta at Daiquiri Dick's

Laura Gelezunas

Vallarta's Carnaval celebration extends into the kitchen at Daiquiri Dick's Restaurant. Executive Chef Ignacio Uribe, Chef de Cuisine Hugo Mejia and Sous Chef Rogelio Garcia have assembled a festive menu so you can get into the Mardi Gras mood with delicious food, through February 10.

---
Valentine Weekend at Tu Casa en Vallarta, No Way José!

José Alfredo Gonzalez

What better way to celebrate Valentine's Day than to enjoy an intimate evening of wining, dining and romance at Tu Casa en Vallarta? No Way Jose! invites you to join them for three evenings of live music and magic, along with a special Valentine's Day menu for lovers, February 12-14th.

---
Act II Presents Chi Chi Rones in 'Steel Cojones'

Debbie White

Internationally acclaimed entertainer and Emmy Award-Winner, Chi Chi Rones returns to Puerto Vallarta at Act II STAGES' Red Room for her 5th season with her one WoMan show - 'Steel Cojones.' With shows on February 16th and 23rd, this is a theatrical experience you won't soon forget!

---
Purr Project Offers Cat Lovers 'Superior' Vallarta Tours

Marilyn Khan

You've heard many times about the 150+ cats and kittens living happily at the Purr Project Ranch. Now you can meet them! Superior Tours Vallarta is now offering visits to the shelter in 10-passenger air-conditioned vans every other Wednesday. There are still seats available for Feb. 10.

---
Wine and Dine Your Valentine at Kaiser Maximilian

Media Diva International

Are you spending Valentine's Day in Puerto Vallarta? You can celebrate this sweetheart of a holiday with a romantic dinner at Kaiser Maximilian. Executive Chef Juan Carlos Palomer has created a tempting special a la carte menu with some wonderful selections especially for the occasion.

---
#Roxyfitness Run+SUP+Yoga Event in Nuevo Vallarta

Riviera Nayarit CVB

The Riviera Nayarit will be the first destination in Mexico to host the #Roxyfitness Run+SUP+Yoga, an exclusive event for women who like the sporting life. The event will take place on the beach at the Hard Rock Hotel Vallarta in Nuevo Vallarta on March 26, 2016.

---
Treat Your Valentine to Heriko Jewelry from OTFM-TC

Erin Staley

Valentine's Day is just around the corner, and the Puerto Vallarta Old Town Farmers Market-Tianguis Cultural has extraordinary gifts that say, 'I Love You!' From freshly cut flowers and artisan chocolates to distinctive jewelry, you'll find something to win the heart of your loved one.

---
Ron Morgan Properties' Guide to the Tropical Stars

RonMorgan.net

The night sky shines a bit brighter over Banderas Bay. Laura Gelezunas, a Real Estate Agent at Ron Morgan Properties is happy to share her guide to the tropical stars. Many believe these heavenly bodies are key to making the most of life in Puerto Vallarta, Mexico.

---
'Both Sides Now' Opens on Act II's Main Stage

Debbie White

'Both Sides Now,' featuring the incredible music of Joni Mitchell and starring Canadian singer, Jenny Allen, accompanied by the Don and Rhonda Band, opens on the Main Stage of Act II Entertainment on February 3 at 7 pm. You can see it every Wed in February & on Tuesdays in March.

---
California Dreamin' Held Over Through the End of March

Banderas News Team

Due to the enormous popularity of the show, California Dreamin', a tribute to the music of the famed 60's group, The Mamas and The Papas, has been held over. It will continue to be performed in Puerto Vallarta on Act II's The Main Stage every Monday through the end of March.

---
June Rosen Lopez Valentine's Jewelry Party, Feb 11 & 12

BanderasNews.com

June Rosen Lopez is opening up her home gallery in the Romantic Zone of Puerto Vallarta on Feb 11 and 12 from 1-8 pm for her Third Annual Valentine's Day party! Everyone is invited to stop by and see her new jewelry collection, visit with friends, and find a Valentine's Day gift or two.

---
Carnaval Season is a Great Time to be in Vallarta

Tim Longpré

Carnaval season is here and what a great time to be in Puerto Vallarta! Beads, candy, king cake, and all things that incite excitement and wonder to newcomers and 'old faithfuls' alike. No matter where you choose to watch the parade along the 3-km route, safety is our first & foremost concern.

---
'El Diablo' Leads Legends of Vallarta Night Tour

BanderasNews.com

How about a new way to experience Puerto Vallarta's Old Town? Sounds inviting, right? Come and join El Diablo and his friends on the Downtown Vallarta by Night Tour for a really unique experience... a magical and mysterious way in which to feel and get to know the city.

---
ExPats in Vallarta February Happy Hours and Events

Sara Wise

ExPats in Vallarta, a totally social group with informal fellowship and assistance for Expat residents or visitors living, working, investing, or considering a move to Puerto Vallarta or the greater Banderas Bay area, has announced the events scheduled for the month of February.

---
Sordid Lives ... A Black Comedy About White Trash

Debbie White

Back by popular demand, Act II Entertainment is reprising Del Shores' hit play. After a 6 week sold-out run 3 years ago, Puerto Vallarta has spoken and 'Sordid Lives' returns on February 4th with a HUGE Opening Night Party at 6 pm. Come dressed as 'white trash' for a chance to win great prizes.

---
Site Map
•
Print this Page
•
Email Us
•
Top