Entertainment
Around the Bay and Beyond
No matter what your interests are, Puerto Vallarta is always ready to entertain, offering a wide variety of entertainment options that will keep everyone amused. But it's up to you to decide how you want to spend your time here....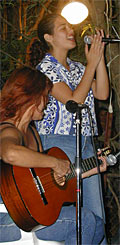 While every destination in Mexico has something to offer visitors, romantic Puerto Vallarta delivers something for everyone: beaches on a beautiful bay, great dining, a sizzling nightlife, Broadway quality stage plays, live music, movie theaters, cultural events, art galleries, excellent shopping, world-class golf and tennis, activities and excursions galore, and fun, fun, fun!


In Puerto Vallarta you can relax on a beautiful beach, play a round of championship golf, shop for Mexican handcrafts and dine in a wide variety of restaurants. There are also countless tours and activities to enjoy - from exciting jeep safaris and canopy tours in the tropical jungle to whale watching, sailing, snorkeling or scuba diving in Banderas Bay.


Visitors who appreciate cultural experiences will love the festivals and events hosted in Puerto Vallarta each year. A variety of cultural events, including the Gourmet Festival and an International Film Festival are designed for the cosmopolitan visitor, while Fishing, Tennis and Golf Tournaments are complemented by the Old Mexico flavor of this cozy seaside village.


And many visitors prefer to spend their days relaxing on the beach soaking up the warm tropical rays. Puerto Vallarta is a haven for weary vacationers who want nothing more than a good book, a tan and icy cold beers or margaritas delivered at regular intervals by an adept, and usually bilingual, waiter.

• B E L O W T H E F O L D •
Festival Sayulita 2020: Movies, Music, Drink and Life
Banderas News Team

The 7th Annual Festival Sayulita, a unique gathering for lovers of Art, Movies, Music, Drink and Life, is set to be held Jan 31 to Feb 3, 2020. Sayulita is ideal for this celebration, because this Magical Town on the Riviera Nayarit is a place where life is lived to its fullest.

---
Bohemia Viva Hits The Sweet Spot in Puerto Vallarta
Debbie White

Over the years, BohemiaViva has won the hearts of music lovers in Puerto Vallarta. I had the privilege of experiencing their new show, 'Gravity,' last week at The Palm Cabaret, and am looking forward to their Valentine's Day concert, 'Desde el Corazon' on February 14.

---
'Spay-ghetti Dinner' Benefits Cuale Spay & Neuter Clinic
Glenda Bland

Coco's Kitchen will host a 'Spay-ghetti and No Balls' Dinner on March 5th to benefit the Cuale Spay Neuter Clinic, a volunteer project that's working to reduce the number of unwanted animals in Puerto Vallarta through free monthly sterilization clinics.

---
Act2PV Delivers Consistently Excellent Entertainment
BanderasNews.com

Act2PV has worked hard to provide Puerto Vallarta audiences with consistently excellent entertainment in an elegant, comfortable setting. Presenting a variety of top-notch shows, seven nights a week, this 5-star venue is on par with any theater in North America.

---
9th MexPup Fundraiser for Puerto Vallarta Street Dogs
BanderasNews.com

The Spanish Experience Center will host the 2020 MexPup fundraiser on Jan. 29 from 6:30-10 pm. The $350 Peso event will feature tasty tacos, live entertainment, raffles and a silent auction for great prizes. Proceeds will help MexPup continue rescuing Puerto Vallarta street dogs.

---
Take Your Taste Buds on a World Tour at Daiquiri Dick's
Banderas News Team

Take your taste buds on a world tour and you don't even have to leave Puerto Vallarta to do it! Daiquiri Dick's is known for its international cuisine, and their latest bi-weekly dinner specials menu offers a wide selection of flavors through January 31, 2020.

---
February FUNdraisers for R.I.S.E. Children's Shelter
Lisa Manoogian

Last weekend's bazaar was a huge success. Thank you, Puerto Vallarta, for supporting the children at Refugio Infantil Santa Esperanza! February will be fantastic, with two fun events planned: the Int'l Food Festival at Fidencio's and the RISE for Fashion luncheon at Di Vino Dante.

---
Avocados From Mexico Return to Super Bowl in 2020
andnowuknow.com

Avocados From Mexico is returning to the Big Game for the sixth year in a row to not only fill viewers' bellies, but entertain during the Super Bowl with a new, humorous 30-second commercial that celebrates the American avocado obsession on Sunday, February 2, 2020.

---
Exploring the Saturday Market on Vallarta's Libramiento
Paco Ojeda

Several open air markets take place in Puerto Vallarta on different days of the week, but perhaps the most noticeable is the Saturday tianguis that takes place along the Libramiento. It may not look like much as you are driving by, but the tianguis extends around an entire block.

---
Puerto Vallarta Ceviche & Aguachile Festival, January 26
BanderasNews.com

Make plans now to come out to Lazaro Cardenas Park on Sunday, January 26, for the Ninth Festival del Ceviche y Aguachile. You'll enjoy two of Puerto Vallarta's most traditional dishes, complemented by live entertainment, at this family-friendly event. Admission is free.

---
Site Map
•
Print this Page
•
Email Us
•
Top