Entertainment
Around the Bay and Beyond
No matter what your interests are, Puerto Vallarta is always ready to entertain, offering a wide variety of entertainment options that will keep everyone amused. But it's up to you to decide how you want to spend your time here....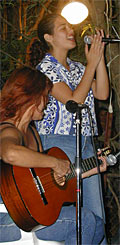 While every destination in Mexico has something to offer visitors, romantic Puerto Vallarta delivers something for everyone: beaches on a beautiful bay, great dining, a sizzling nightlife, Broadway quality stage plays, live music, movie theaters, cultural events, art galleries, excellent shopping, world-class golf and tennis, activities and excursions galore, and fun, fun, fun!


In Puerto Vallarta you can relax on a beautiful beach, play a round of championship golf, shop for Mexican handcrafts and dine in a wide variety of restaurants. There are also countless tours and activities to enjoy - from exciting jeep safaris and canopy tours in the tropical jungle to whale watching, sailing, snorkeling or scuba diving in Banderas Bay.


Visitors who appreciate cultural experiences will love the festivals and events hosted in Puerto Vallarta each year. A variety of cultural events, including the Gourmet Festival and an International Film Festival are designed for the cosmopolitan visitor, while Fishing, Tennis and Golf Tournaments are complemented by the Old Mexico flavor of this cozy seaside village.


And many visitors prefer to spend their days relaxing on the beach soaking up the warm tropical rays. Puerto Vallarta is a haven for weary vacationers who want nothing more than a good book, a tan and icy cold beers or margaritas delivered at regular intervals by an adept, and usually bilingual, waiter.

• B E L O W T H E F O L D •
Vegas-style Summer Entertainment at Act II Stages

Daniel R. Mininni

Puerto Vallarta has seen a huge surge in summer tourism this year. It seems that people have chosen our town as their favorite vacation spot. They've also discovered that, with excellent entertainment choices every Wednesday night, Act II is THE PLACE to go for cool summer fun.

---
Cheryl's Shoebox 3rd Annual Summer Bash, August 5

Marie Callan

To raise funds for shoes for Puerto Vallarta students and and supplies for local after-school programs, Cheryl's Shoebox is hosting their 3rd Annual Summer Bash on August 5 at Babel Bar on La Isla Rio Cuale. Come enjoy a great afternoon of fun, games, live music & more - for a good cause!

---
Pop-Up Wine Bar + Art Exhibition Walk-Through at OPC

Lorena Sonrisas

Uncork Mexico has partnered with Puerto Vallarta's Taller OPC - Oficina de Proyectos Culturales to offer an evening of wine and art on July 25. You'll enjoy Mexico's most delicious wines and a guided walk-through of the 'You Are Here: Cartographies of a Destination' exhibition.

---
Sizzling Deals on Summer Meals at Daiquiri Dick's

Banderas News Team

Puerto Vallarta's favorite restaurant, Daiquiri Dick's, is offering sizzling deals on summer meals with the return of their bi-weekly Summer Sizzle menu, which offers diners their choice of dishes from three delectable courses (appetizer, entree and dessert), for just $399 pesos.

---
'Qulture' Artists' Co-Op & Jazz Bistro to Open in August

Jim Lee

'Qulture,' a unique venue that will blend art, music and food in one beautiful setting, is set to open next month in the heart of Old Town Puerto Vallarta. The Galería, featuring local artists in individual studio/galleries, and a gift shop will open in mid-August, followed by a bistro and a bar.

---
ACT II Offers Summer Fun, Plans Winter Season Shows

BanderasNews.com

There's always something going on at Act II STAGES. Cool Summer fun can be had every Wednesday night with Us Two and their live band at 7:30, and Bob's Karaoke Party at 8:00; and preparations for the Winter season, which opens Oct. 31 with 'Little Shop of Horrors,' are in the works.

---
Five Courses. Five Wines. Unlimited Entertainment!

Julie Guerrero

Award-winning Vallarta favorite, No Way José! Restaurant/Bar, invites you to come to Tu Casa en Vallarta on Saturday, July 14 for 'Mexico in Your Wine Glass,' a very special evening that perfectly pairs Mexico's finest wines, contemporary cuisine and live entertainment.

---
World Chocolate Day Fiesta at Vallarta's Hotel Mercurio

María Francesca

July 7th is World Chocolate Day! If the very mention of chocolate makes you salivate, then come experience the 'Food of the Gods' the way that only Hotel Mercurio, Puerto Vallarta's Favorite Gay Hotel, serves up one of the world's most popular and sought-after treats.

---
Warique Restaurant Hosts Summer Benefit for R.I.S.E.

María Francesca

With summer here, many of our local charities are in need of extra help, so on July 19 from 6-10 pm, Warique Restaurant on the south side of Puerto Vallarta will be hosting a Summer Benefit for the Refugio Infantil Santa Esperanza. All proceeds will benefit the R.I.S.E. education fund.

---
Riviera Nayarit Shines Brighter Than Ever This Summer

Lorena Sonrisas

Less than an hour from Puerto Vallarta, Riviera Nayarit, Mexico's Pacific Treasure, is poised to take center stage this summer with two exciting events that highlight the region's culture and cuisine - the Punta Mita Beach Festival and the Masters of the Kitchen Culinary Fest.

---
Us Two Premiers Country Music Show, July 4th at Act II

Daniel R. Mininni

Looking for something fun to do on the 4th of July? Join 'Us Two' at Act II for a preview of their 2019 season Country Music show. Come enjoy the best of Country music with songs from Shania Twain, Kenny Rogers, John Denver, Jimmy Buffet, Linda Ronstadt and more, on July 4 at 7:30 pm.

---
ExPats in Vallarta July 2018 Happy Hours and Events

Sara Wise

In July ExPats in Vallarta, a totally social group offering informal fellowship and assistance for expat residents and visitors, will be hosting Happy Hour Gatherings every Tuesday from 5-7 pm and two Special Dinners on Thursdays July 12th and 26th. Make your reservations now!

---
Puerto Vallarta to Celebrate 2nd Annual Mango Festival

Dennis A. Rike

Make plans now to come out to Lazaro Cardenas Park on Saturday, July 7th from 4-10 pm and celebrate the sweetest produce of the summer - mangoes! You'll enjoy various dishes made with the 'King of Tropical Fruit,' provided by local restaurants, complemented by live entertainment.

---
Site Map
•
Print this Page
•
Email Us
•
Top