Entertainment
Around the Bay and Beyond
No matter what your interests are, Puerto Vallarta is always ready to entertain, offering a wide variety of entertainment options that will keep everyone amused. But it's up to you to decide how you want to spend your time here....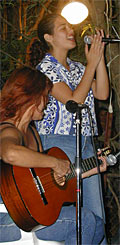 While every destination in Mexico has something to offer visitors, romantic Puerto Vallarta delivers something for everyone: beaches on a beautiful bay, great dining, a sizzling nightlife, movie theaters, cultural events, art galleries, excellent shopping, world-class golf and tennis, activities and excursions galore, and fun, fun, fun!


In Puerto Vallarta you can relax on a beautiful beach, play a round of championship golf, shop for Mexican handcrafts and dine in a wide variety of restaurants. There are also countless tours and activities to enjoy - from exciting jeep safaris and canopy tours in the tropical jungle to whale watching, sailing, snorkeling or scuba diving in Banderas Bay.


Visitors who appreciate cultural experiences will love the festivals and events hosted in Puerto Vallarta each year. A variety of cultural events, including the Gourmet Festival and an International Film Festival are designed for the cosmopolitan visitor, while Fishing, Tennis and Golf Tournaments are complemented by the Old Mexico flavor of this cozy seaside village.


And many visitors prefer to spend their days relaxing on the beach soaking up the warm tropical rays. Puerto Vallarta is a haven for weary vacationers who want nothing more than a good book, a tan and icy cold beers or margaritas delivered at regular intervals by an adept, and usually bilingual, waiter.

• B E L O W T H E F O L D •
No Way José! End of Season Fiesta on Friday, May 29

Julie Guerrero

No Way José! brings another amazing season to a close with a classic NWJ! Fiesta. Join the team at Tu Casa en Vallarta on May 29 as they say 'hasta la vista' with food, fun and friends, live music, and the traditional End-of-Season piñata in the street.

---
Puerto Vallarta Father's Day 5k Run - Join the Fun!

Banderas News Team

Running Riviera Nayarit invites all fathers and single mothers who also play the role of 'Dad,' to participate in the 1st Annual 5k Father's Day Race, which will be held in the Puerto Vallarta Hotel Zone on Sunday, June 14th.

---
CINCO Punta Mita ArtExpo Features Young Mexican Artists

Live Punta Mita

CINCO Punta Mita invites all Punta Mita, North Shore and Banderas Bay area residents to join them on Saturday, May 30th to enjoy a glass of wine and enjoy an art expo featuring the works of young Mexican artists, Haadra López Trejo and Luis Ocádiz

---
Riviera Nayarit Mountain Bike Race in Punta de Mita

Riviera Nayarit CVB

The Jalisco Mountain Bike Sports League and Club Velo Bike — with the support of the Riviera Nayarit CVB's Groups and Events Department — invite riders to the 2nd Annual Riviera Nayarit Mountain Bike Race in Punta de Mita on Saturday, May 30th.

---
Pride Parade Will Demonstrate our Community's UNITY

VallartaPride.com

The 2015 Vallarta Pride festivities not only celebrate the LGBT community, but also those who decide to live life without prejudices. The largest showcase to demonstrate the UNITY of our society will be the Vallarta Pride Parade on May 23rd, starting at 5:00 pm.

---
Ángeles en Libertad Collecting Bottlecaps for Cancer

Sofía de Vega

Ángeles en Libertad invites everyone to participate in this year's plastic bottlecap and aluminum pull-tab collection campaign. An entertaining awareness- and fund- raising event will be held at Los Arcos del Malecón on June 27 that includes musicians, singers, clowns, dance and variety shows.

---
Grupo Ecologista de Nayarit Sea Turtle Drawing Contest

Riviera Nayarit CVB

Grupo Ecologista de Nayarit has extended an invitation for all kids ages 6-12 to enter their Third Save the Sea Turtles Drawing Contest, which seeks to raise children's awareness about this endangered species and the need for its preservation.

---
Restaurant Week - and Beyond! at Kaiser Maximilian

Laura Gelezunas

Kaiser Maximilian is celebrating 20 years as one of the city's finest restaurants, so in addition to participating in Vallarta Restaurant Week 2015, they'll be serving their special 3-course menu for lunch and dinner for $299 peso through June 15th.

---
6th Annual Riviera Nayarit Wind Festival in Bucerías

Marie Callan

Kitesurfers from all over Mexico are ready to hit the beaches of Riviera Nayarit as they prepare for three days of spectacular kitesurfing during the 2015 Festival del Viento (Wind Festival), scheduled to be held May 22-24th in Bucerias, Mexico.

---
Restaurant Week at No Way José! Supports Local Charity

Banderas News Team

What better place to enjoy Vallarta Restaurant Week than at Tu Casa en Vallarta? Award-winning Mexican restaurant, No Way José! is offering a scrumptious three course menu for just $299 pesos, and donating a portion of the proceeds to Cheryl's Shoebox.

---
Meet Laura & The Kitchenettes at the Party in the Park

Banderas News Team

After the Vallarta Pride Parade, be sure to stop by Lazaro Cardenas Park, where you can meet the stars of Ron Morgan Properties' popular 'Recipes and Real Estate' video series, Laura Gelezunas and The Kitchenettes, on Saturday, May 23rd from 6 to 11 pm.

---
Puerto Vallarta Anniversary Celebrations May 21-31st

Banderas News Team

From May 21-31, 2015, Puerto Vallarta will commemorate its 47th anniversary as a city and 97th as a municipality in an annual celebration that includes cultural events such as concerts and dance performances, photo exhibitions, food festivals and fireworks.

---
2015 Vallarta Restaurant Week at Si Señor Beach

Laura Gelezunas

There's great food and a vibrant atmosphere at Si Señor Beach Restaurant. They serve dishes with explosive, authentic Mexican flavors, and Vallarta Restaurant Week gives everyone a chance to sample this upscale Mexican cuisine at a very reasonable price.

---
Site Map
•
Print this Page
•
Email Us
•
Top