Entertainment
Around the Bay and Beyond
No matter what your interests are, Puerto Vallarta is always ready to entertain, offering a wide variety of entertainment options that will keep everyone amused. But it's up to you to decide how you want to spend your time here....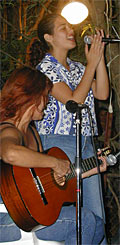 While every destination in Mexico has something to offer visitors, romantic Puerto Vallarta delivers something for everyone: beaches on a beautiful bay, great dining, a sizzling nightlife, movie theaters, cultural events, art galleries, excellent shopping, world-class golf and tennis, activities and excursions galore, and fun, fun, fun!


In Puerto Vallarta you can relax on a beautiful beach, play a round of championship golf, shop for Mexican handcrafts and dine in a wide variety of restaurants. There are also countless tours and activities to enjoy - from exciting jeep safaris and canopy tours in the tropical jungle to whale watching, sailing, snorkeling or scuba diving in Banderas Bay.


Visitors who appreciate cultural experiences will love the festivals and events hosted in Puerto Vallarta each year. A variety of cultural events, including the Gourmet Festival and an International Film Festival are designed for the cosmopolitan visitor, while Fishing, Tennis and Golf Tournaments are complemented by the Old Mexico flavor of this cozy seaside village.


And many visitors prefer to spend their days relaxing on the beach soaking up the warm tropical rays. Puerto Vallarta is a haven for weary vacationers who want nothing more than a good book, a tan and icy cold beers or margaritas delivered at regular intervals by an adept, and usually bilingual, waiter.

• B E L O W T H E F O L D •
Xiutla Folkloric Ballet: 21 Years of Promoting Vallarta

NotiVallarta.com

To celebrate its twenty-first anniversary of promoting Mexican culture in general, and Puerto Vallarta in particular, to the world, the Ballet Folklorico Xiutla recently announced a series of activities to commemorate its birthday on Monday, July 27.

---
Tita Briseno Wins Sister Cities' Vallarta Poetry Contest

Puerto Vallarta Municipal Government

Tita Briseno Castaneda won first place in a poetry exchange contest honoring Puerto Vallarta organized by the municipal government and the Sister Cities Committee to promote fellowship amongst the cities of Highland Park; Modena, Italy; and Yerucham, Israel.

---
Cinema CUC Presents Disney's 'Big Hero 6' this Friday

Alan Yamil Hinojosa

As part of the CinemaCUC movie series, Centro Universitario de la Costa will present a free matinee showing of 'Big Hero 6,' a superhero comedy produced by Walt Disney Animation Studios, on Friday, July 24 at 1 pm in the Juan Luis Cifuentes auditorium.

---
Daiquiri Dick's Offers Puerto Vallarta a Taste of Italy

Laura Gelezunas

During the Summer Sizzle at Daiquiri Dick's, you can visit a different country every week without leaving Puerto Vallarta. From July 23-27, Italy is the chosen culinary destination. Enjoy three courses, and choices for each course, for $299 pesos.

---
9th Annual Banderas Bay Marlin and Tuna Tournament

Riviera Nayarit CVB

The Bahia de Banderas Sport Fishing Club recently announced that the 9th International Tuna and Marlin Fishing Tournament in Banderas Bay will take place at the Vallarta Yacht Club in the Paradise Village Marina on July 24th and 25th, 2015.

---
Sea Turtle Hatching Season About to Begin in Jalisco

Alan Yamil Hinojosa

In late July, sea turtle season will begin in Jalisco's Costa Alegre, so environmental academics and researchers from the UdeG's Sustainable Development of Coastal Areas education department are inviting everyone to join in their conservation activities.

---
Discovering El Nogalito's Enticing Attractions

Boardwalk Realty

Not much has changed since we first visited El Nogalito many years ago but, since then, this small community nestled in the foothills of the Sierra Madre approximately twenty minutes south of Puerto Vallarta has added some very enticing attractions.

---
Special Summer Menus at Si Señor Beach Restaurant

Media Diva International

There's more to Mexican food than tacos and tequila. That's why this summer, Puerto Vallarta's Si Senor Beach Restaurant is rolling out some special menus that offer a variety of different dishes, two food courses and one beverage, for only $259 pesos.

---
'Summer on the Island' Courses Registration Extended

NotiVallarta

To give more children between the ages of 7 and 12 the opportunity to join in the 'Summer on the Island' courses and activities organized by the municipal government of Puerto Vallarta, the registration date has been extended until Friday, July 17th.

---
This Week at Daiquiri Dick's: The Flavors of Thailand

Laura Gelezunas

For this week's Summer Sizzle at Daiquiri Dick's, the chefs have created a wonderful menu that offers Vallarta diners a Taste of Thailand. This special 3-course menu with choices for each course will be served July 16-20th from 5-11 pm for just $299 pesos.

---
Summer Fun is Heating Up at Act II Entertainment

BanderasNews.com

Ok, so it's hot outside, but that doesn't mean there's nothing cool to do in Vallarta. ACT II Entertainment has a great line-up of music, theater and amusement throughout the Summer in the air-conditioned comfort of the Red Room Cabaret, Main Stage Theater, and Encore Piano Bar.

---
July 24 is National Tequila Day in the United States

Lorena Sonrisas

July 24 is National Tequila Day in the United States and, according its official Facebook page, the most appropriate thing to do is to celebrate the holiday with a tequila toast. But first, a little tequila history...

---
3rd Playa Platanitos Sea Turtle Festival, July 18-19

Jorge Jiménez

The general public is invited to the 3rd Sea Turtle Festival in Playa Platanitos on July 18-19, 2015, which has been generating interest with its slogan 'Ecología + Diversión = Únete a la Protección' (Ecology + Fun = Join in the Conservation!)

---
Daiquiri Dick's Hot Summer Deals Continue in July

Laura Gelezunas

If you think of Daiquiri Dick's exclusively for romantic dinners and special occasions, think again! This month, in addition to their weekly Summer Sizzle menu, 'Puerto Vallarta's Favorite Restaurant' is offering Hot Summer deals almost every day!

---
Summer Camp at Entre Amigos in San Pancho

Riviera Nayarit CVB

EntreAmigos Community Center in San Pancho will hold its 2015 Summer Camp from July 20th through August 7th. At this summer camp kids ages 3-15 will enjoy sports, arts, cooking, science, swimming and exploring an endless number of activities.

---
Site Map
•
Print this Page
•
Email Us
•
Top