Entertainment
Around the Bay and Beyond
No matter what your interests are, Puerto Vallarta is always ready to entertain, offering a wide variety of entertainment options that will keep everyone amused. But it's up to you to decide how you want to spend your time here....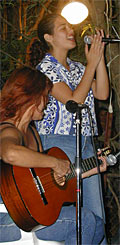 While every destination in Mexico has something to offer visitors, romantic Puerto Vallarta delivers something for everyone: beaches on a beautiful bay, great dining, a sizzling nightlife, movie theaters, cultural events, art galleries, excellent shopping, world-class golf and tennis, activities and excursions galore, and fun, fun, fun!


In Puerto Vallarta you can relax on a beautiful beach, play a round of championship golf, shop for Mexican handcrafts and dine in a wide variety of restaurants. There are also countless tours and activities to enjoy - from exciting jeep safaris and canopy tours in the tropical jungle to whale watching, sailing, snorkeling or scuba diving in Banderas Bay.


Visitors who appreciate cultural experiences will love the festivals and events hosted in Puerto Vallarta each year. A variety of cultural events, including the Gourmet Festival and an International Film Festival are designed for the cosmopolitan visitor, while Fishing, Tennis and Golf Tournaments are complemented by the Old Mexico flavor of this cozy seaside village.


And many visitors prefer to spend their days relaxing on the beach soaking up the warm tropical rays. Puerto Vallarta is a haven for weary vacationers who want nothing more than a good book, a tan and icy cold beers or margaritas delivered at regular intervals by an adept, and usually bilingual, waiter.

• B E L O W T H E F O L D •
Freshly Baked Goodness at Puerto Vallarta's OTFM-TC

Erin Staley

If you're visiting sunny Puerto Vallarta, be sure to stop by the city's favorite weekend attraction: the Old Town Farmers Market-Tianguis Cultural. While you're there, be sure pick up a loaf or two of Hans Casanova's freshly-baked, healthy and hearty, Chilean whole wheat bread.

---
AMC Doubles Number of Households Reached in Mexico

Georg Szalai

AMC Networks has doubled the number of households they reach in Mexico, striking new agreements with most all of the of cable systems throughout the country, including Megacable and Telecable as well as Televisa's Sky Mexico, the country's largest pay TV operator.

---
'House Hunters International' Charity Auction & Raffle

Taniel Chemsian

One of the most incredible things about being involved with the House Hunters International Charity Event is the chance to see the wonderful giving spirit of the Puerto Vallarta community. For the first time this year we will be having a Silent Auction and at least 80 raffle prizes.

---
The Red Room Cabaret Season Opener Party, Nov 23

Daniel R. Mininni

Act II Stages is gearing up for a great Winter season, and they can't wait to show you what's in store! On November 23, everyone in Puerto Vallarta is invited to this season's Grand Opening Party at The Red Room Cabaret, located inside the Act II Stages Entertainment complex.

---
Democrats Abroad Weekly Film Series Resumes December 3

David Kamp and Judy Snow

The Costa Banderas Chapter of Democrats Abroad Mexico is launching its Fifth Annual Film Series on a new night and at a new location. This year, the weekly films will be shown on Wednesday nights at 7:00 pm at the International Friendship Club in downtown Puerto Vallarta.

---
US Presidential Visits to Mexico Exhibit Opens at OPC

Pilar Perez

Deborah Aschheim's 'Bienvenidos Los Presidentes,' a multidisciplinary exhibition about collective memory and mythology that blends archival research, community interviews, and a broad range of source material with drawings, photographs, and video, opens at Vallarta's OPC Nov 26th.

---
Sea Monkey Hosts 'Luau' in Support of PuRR Project

Marilyn Khan

On Friday, December 12th at 5 pm, Sea Monkey Restaurant will be hosting the Second Annual Pig Roast & Luau on the Beach to benefit Puerto Vallarta's no-kill feline shelter, PuRR Project. This year's event includes a special Polynesian dance performance by Academia Danza de Moorea.

---
Hairspray 3 Raises $79,936 to Help SETAC Fight AIDS

Tim Wilson

Over 300 SETAC supporters gathered at Mantamar Beach Club on November 8th for Hair Spray Night 3, a fabulous Fashion Show full of creativity and talent. Ten local stylists and make-up artists participated in the event, which raised $79,936 pesos to help fight AIDS in Puerto Vallarta.

---
Festival Gourmet Theme Night at Kaiser Maximilian

Laura Gelezunas

Kaiser Maximilian's XX Vallarta Festival Gourmet Chef's Theme Night Dinner, entitled 'New York, New York,' will feature Chef Chris Bradley and the iconic foods of New York City on Tuesday, November 18 at 8 pm. This is one Festival Gourmet event that you do not want to miss!

---
Puerto Vallarta Celebrates Mexican Revolution Day

Lorena Sonrisas

Puerto Vallarta will be filled with the sights, sounds & flavors of Mexico this week as the city celebrates the 104th anniversary of the Mexican Revolution. The celebrations begin with the official observance and parade on November 17th and continue from November 20-22.

---
Daiquiri Dick's 9th Annual Puerto Vallarta Pet Picnic

Laura Gelezunas

Get ready for a doggone good time! The 9th Annual Pet Picnic returns to Daiquiri Dick's on December 6th at 11 am. Grab your four-legged friend and head to the restaurant's patio overlooking Los Muertos Beach on the South side of Puerto Vallarta for a howling good time.

---
Cirque du Soleil to Open Theme Park in Nuevo Vallarta

Mary Forgione

Montreal-based Cirque du Soleil has partnered with resort developer Grupo Vidanta to open a first-of-its kind theme park in Nuevo Vallarta. The park will feature a common storyline, performances by Cirque artists, and an outdoor arena for as many as 5,000 spectators.

---
Puerto Vallarta, Mexico is a Food Lover's Paradise

Russell Faulkner

One of Mexico's most popular destination for food culture and world-class restaurants, Puerto Vallarta has a vibrant culinary scene - second only to Mexico City. If dining out for every meal is your idea of a dream vacation, PV has something delicious for every taste and budget.

---
The Berries are Back at PV's Old Town Farmers Market

Erin Staley

With Puerto Vallarta's Old Town Farmers Market-Tianguis Cultural in full swing again, we are delighted to fill our bags with 'make it, bake it, grow it' goodies. So what's at the top of our shopping list this week? Juicy, just-picked strawberries and blackberries from Frutas Frescas!

---
Kaiser Maximilian Welcomes Gourmet Festival Guest Chef

Laura Gelezunas

It is time to celebrate culinary excellence at the 20th Annual Festival Gourmet. Chefs from all over the world have gathered in Vallarta to cook at area restaurants from November 13-23. Kaiser Maximilian is featuring Executive Chef Chris Bradley from Untitled Restaurant in NYC.

---
Tweeting Gone Wild: Birdwatching at Las Alamandas

Ed Placidi

Mexico's Costalegre is home to about 270 species of birds. Las Alamandas' bird watching tours are individually planned to fulfill each guest's expectations and preferences. On the excursions, guests may hike forest trails, visit sweet-water lagoons and sail to island rookeries.

---
Rain Couldn't Stop Vallarta's IX i madonnari Festival

Marie Callan & Tim Wilson

After 3 days of hard work on the part of the participants, including dealing with Friday night's rain, the ninth edition of the Puerto Vallarta 'I Madonnari' Festival ended on Sunday, November 9th, with awards given in the adults, teenagers and children's categories.

---
Thanksgiving in PV? Let Daiquiri Dick's Do the Cooking!

Laura Gelezunas

There are those of us who enjoy the eating part of Thanksgiving more than the cooking part. If you don't feel like turning on the oven and heating up the house, especially in Puerto Vallarta, you can get your turkey fix at Daiquiri Dick's Restaurant several ways.

---
VYC Junior Sailing Fundraiser a Cirque du Solei Dinner

Ibis de Teresa

The Vallarta Yacht Club Junior Sailing Program is holding their bi-annual fundraiser on November 15 - the weekend of the Regatta de la Revolución, November 15th & 16th. The event begins at 5:30 pm and the price of dinner tickets is $350 pesos for adults and $175 pesos for children under 12.

---
ACT LGBT Presents 'Facebook & Digital Marketing Trends'

Mijo! Brands

Puerto Vallarta's LGBT Association of Commerce and Tourism has organized a free informative session, entitled 'Facebook and Digital Marketing Trends for 2015,' and presented by Carlos Guzman of Ooh! Marketing at The Red Room at ACT II Stages on Tuesday, November 11th at 6:30 pm.

---
Purr Project Offers Cat Lovers 'Superior' Tours!

Marilyn Khan

You've heard many times about the 150+ cats and kittens living happily at the Purr Project Ranch. Now you can meet them! Superior Tours Vallarta is now offering visits to the feline shelter in roomy, 10-passenger air-conditioned vans, every other Wednesday throughout the season.

---
2nd Taste of Nuevo Vallarta and 14th Chili Cook-Off

Richard Williams

On December 6th from 4-8 pm, the Marina Nuevo Vallarta Malecón will host the Vallarta Yacht Club's 2nd Taste of Nuevo Vallarta and 14th Annual Chili Cook-off. Make plans now to enjoy music, competitive chili sampling, and 'tastes' from some of the Banderas Bay area's finest restaurants.

---
PV's Winter Theater Season Underway at Act II STAGES

Marie Callan

Puerto Vallarta's theater season officially opened on October 25th with the return of funny man and playwright Del Shores in the Main Stage Theater - but ACT II Entertainment is just getting warmed up for a winter theater season bursting with vitality and verve.

---
Dine OUT November 11 to Support PV Men's Chorus

Puerto Vallarta Men's Chorus

One of the easiest fundraisers in all of Puerto Vallarta is just around the corner! On Tuesday, November 11th, you can Dine OUT at participating Old Town restaurants and bars, while supporting Mexico's only gay men's choral group, the Puerto Vallarta Men's Chorus.

---
Vallarta's OTFM-TC Presents Artisans of Madre Selva

Erin Staley

As a registered non-profit association, the Puerto Vallarta Old Town Farmers Market-Tianguis Cultural supports other local organizations - like Artisans of Madre Selva, a cooperative of once-underprivileged women who, thanks to New Beginnings, are now successful entrepreneurs.

---
The Dog House & Encuentros Pizza to Open New Location

Tim Longpré

The Dog House and Encuentros Pizza are proud to announce the opening of a new location on November 20th - inside Act II Stages' second floor main entrance, where they'll be serving some of Vallarta's best dogs, sausages and pizza before, during, and after the great performances.

---
What Does November Have in Store for You?

Media Diva International

The winter season is beginning and many are looking to the stars to guide them through this holiday period. Everyone here at Banderas News is pleased to present you with a guide to the stars over the Bay of Banderas. Puerto Vallarta residents and visitors have never had it so good!

---
Ninth Annual Festival I Madonnari Puerto Vallarta

Banderas News Team

The ninth edition of Festival I Madonnari will be held in Puerto Vallarta from November 7-9, 2014. Using the pavement as their canvas and chalk as their medium, 'i Madonnari,' or street painters, will transform the streets and sidewalks of Puerto Vallarta into beautiful works of art.

---
International Gourmet Festival Celebrates 20 Years

BanderasNews.com

From November 13-23, 2014, Puerto Vallarta's XX International Gourmet Festival will host a number of spectacular culinary events, guest chefs and signature menus for you to devour. Celebrating its 20th Anniversary, this year's event will be even more incredible than usual.

---
Site Map
•
Print this Page
•
Email Us
•
Top