Entertainment
Around the Bay and Beyond
No matter what your interests are, Puerto Vallarta is always ready to entertain, offering a wide variety of entertainment options that will keep everyone amused. But it's up to you to decide how you want to spend your time here....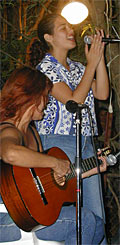 While every destination in Mexico has something to offer visitors, romantic Puerto Vallarta delivers something for everyone: beaches on a beautiful bay, great dining, a sizzling nightlife, movie theaters, cultural events, art galleries, excellent shopping, world-class golf and tennis, activities and excursions galore, and fun, fun, fun!


In Puerto Vallarta you can relax on a beautiful beach, play a round of championship golf, shop for Mexican handcrafts and dine in a wide variety of restaurants. There are also countless tours and activities to enjoy - from exciting jeep safaris and canopy tours in the tropical jungle to whale watching, sailing, snorkeling or scuba diving in Banderas Bay.


Visitors who appreciate cultural experiences will love the festivals and events hosted in Puerto Vallarta each year. A variety of cultural events, including the Gourmet Festival and an International Film Festival are designed for the cosmopolitan visitor, while Fishing, Tennis and Golf Tournaments are complemented by the Old Mexico flavor of this cozy seaside village.


And many visitors prefer to spend their days relaxing on the beach soaking up the warm tropical rays. Puerto Vallarta is a haven for weary vacationers who want nothing more than a good book, a tan and icy cold beers or margaritas delivered at regular intervals by an adept, and usually bilingual, waiter.

• B E L O W T H E F O L D •
ExPats in Vallarta May 2016 Happy Hours and Events

Sara Wise

ExPats in Vallarta, a totally social group with informal fellowship and assistance for Expat residents or visitors living, working or investing in Puerto Vallarta or around Banderas Bay, or those considering it, has announced this month's schedule of events.

---
Children's Fishing Tournaments in the Riviera Nayarit

Jorge Jiménez

Two fun, friendly & free fishing competitions for kids are taking place in the Riviera Nayarit this weekend - the 2nd Annual Children's Fishing Tournament at La Cruz Marina on Saturday, April 30th, and the 2nd Annual Children's Surf Fishing Tournament in San Blas on Sunday, May 1st.

---
Last Chance to Enjoy the OTFM-TC's 7th Season

Erin Staley

April 30th is the last shopping day of the Puerto Vallarta Old Town Farmers Market-Tianguis Cultural's 7th season, so be sure to come out to Lazaro Cardenas Park this Saturday to stock up on all of your favorite 'make it, bake it, grow it' products. The OTFM-TC's 8th season begins Nov 5.

---
Cirque du Soleil Theme Park to Open in Nuevo Vallarta

Lorena Sonrisas

During Tianguis Turístico 2016, held this week at Expo Guadalajara, Cirque du Soleil CEO Daniel Lamarre gave attendees more details about their new theme park, which will be built in Nuevo Vallarta, and centered around their newest show 'Luzia: A Waking Dream of Mexico.'

---
Free Estero El Salado Boat Tours on Children's Day

María Francesca

On Saturday, May 30, in celebration of El Día del Niño, the Estero el Salado will be giving the children of Puerto Vallarta free one-hour boat tours through the estuary. Aboard 'La Aventurera' kids can learn about the eco-reserve's great diversity of wildlife and 3 species of mangrove.

---
Salty Dog Voyages: Banderas Bay Luxury Yacht Cruises

Marie Callan

If you want to explore the natural wonders of Puerto Vallarta's Banderas Bay, but don't want to take a typical 'Booze Cruise,' then Salty Dog Voyages are perfect for you! Climb aboard Salty Dog's 58-foot Azimut yacht for a truly luxurious day on the water that you will never forget.

---
Grant Maloy Smith 'Crossing The Border' at Casa Karma

Debbie White

CK Productions is thrilled to present a late season show on Wednesday, May 11 featuring Grant Maloy Smith, a renowned singer/songwriter who is a master of American Roots music. The setting for this spectacular event will be Casa Karma Boutique Resort on Puerto Vallarta's southern shores.

---
It's Going To Be a Busy May in The Riviera Nayarit

Jorge Jiménez

May in the Riviera Nayarit means plenty to do for visitors and locals alike. Sailing competitions and kite surfing take over the waves and bikes thread their way through the mountain trails, while back in town there are plenty of cultural festivities - plus the 2016 edition of Restaurant Week.

---
Steve Aoki Thrills Crowd at Mexico City Movie Premiere

LatinTimes.com

Steve Aoki surprised Mexican fans Friday during the red carpet premiere of Fernando Lebrija's new movie, 'Guatdefoc.' The internationally recognized DJ signed autographs, took photos, and showed no inhibition when chatting with followers screaming his name outside the venue.

---
Benito Santos' 2017 Cruise Collection at Grand Velas

PRWEB

On June 10, 2016 renowned Mexican fashion designer Benito Santos will introduce his 2017 Cruise Collection at the AAA Five Diamond Grand Velas Riviera Nayarit Resort. The runway show kicks off a four week pop-up shop selling his designs and an exhibit on his work in the fashion industry.

---
9-Day 'La Santa Cruz' Festivities Kick Off April 24

Lorena Sonrisas

The Festival of the Patron Saint of La Cruz commences on Sunday, April 24th with the 5th annual Opening Celebration Parade at 6:30 pm. This is the kickoff for a nine day religious celebration filled with parades, music, food, and fireworks in La Cruz de Huanacaxtle, Nayarit.

---
Luna Rumba to Perform Benefit Concert for Willie Royal

Debbie White

Over the past twenty-five years, one of the most celebrated duos on the world music scene has been Willie and Lobo. Willie Royal is suffering from Alzheimer's disease, and needs help to cover medical expenses, so Luna Rumba will perform a benefit concert on May 7 at The Palm.

---
Daiquiri Dick's Special Menu Features World Flavors

Media Diva International

The internationally inspired menu at Daiquiri Dick's is adding even more flare by having a bi-weekly special a la carte dinner menu in addition to their regular menu. From now through April 30, 2016, you can take your taste buds on a world tour - without leaving Puerto Vallarta!

---
Only 2 More Chances to Enjoy the OTFM-TC's 7th Season

Erin Staley

The last shopping day of the Puerto Vallarta Old Town Farmers Market-Tianguis Cultural's 7th season is April 30, so be sure to come out to Lazaro Cardenas Park this Saturday to browse the 90+ booths filled with high-quality 'make it, bake it, grow it' products and services.

---
Spring / Summer Season of Entertainment at Act II
Daniel R. Mininni

The dedication of the management and staff, and their shared vision of what STAGES brings to Puerto Vallarta, is evident all year-round in the quality entertainment Act II provides for both expats and nationals. Here's what's happening this month at the biggest entertainment venue in the bay.

---
Riviera Nayarit Salsa and Mambo Festival, April 21-24

María Francesca

Now in it's fourth year, the Riviera Nayarit Salsa and Mambo Festival is among the top 25 in the world as well as the top three in all of Mexico - it's also the only one of its kind in Latin America to operate under the all-inclusive format. This year's event is set for April 21-24, 2016.

---
A Day of Farm Work, Food & Fun in the Country

Sandra Cesca

Tropical America, a 50 acre working palm and tropical plant ranch just outside of Mezcales, needs volunteers to do numerous tasks around the farm. Learn Vallarta offers you the chance to enjoy a day of farm work, food and fun in the beautiful farm country on April 27th from 9 am to 5 pm.

---
2016 Fiestas de Mayo de La Parroquia de La Santa Cruz

Benjamin Martínez

If you would like to experience a true Mexican tradition in Old Town Puerto Vallarta, then come join in all the festivities during the Fiestas De Mayo being held outside of Parroquia de la Santa Cruz in Colonia Emiliano Zapata from Saturday, April 23 until Friday, May 3, 2016.

---
Dinner & a Show with Kim Kuzma at Coco's Kitchen

Debbie White

Coco's Kitchen in Puerto Vallarta's Zona Romantica is excited to present Dinner & an Evening With Kim Kuzma and gentlemen from her Acustico band on Wednesday, April 20th. A fabulous four-course dinner begins at 7:00 pm with the show starting at 8:00 pm.

---
Cinco de Mayo Cocktail Recipes from Velas Resorts

PRWEB

Mexico's 'Beyond All-Inclusive, Beyond All-Compare' Velas Resorts rolls out Cinco de Mayo cocktails for guests staying at its luxury resorts in Puerto Vallarta, Riviera Maya and Riviera Nayarit on May 5. For those unable to travel, Velas Resorts shares its Cinco de Mayo cocktail recipes.

---
7th Annual Riviera Nayarit Wind Festival in Bucerías

Marie Callan

Kitesurfers from all over Mexico are ready to hit the beaches of the Riviera Nayarit as they prepare for three days of spectacular kitesurfing during the 2016 Festival del Viento (Wind Festival), scheduled to be held May 20–22, 2016 in Bucerías, Mexico.

---
Site Map
•
Print this Page
•
Email Us
•
Top