Entertainment
Around the Bay and Beyond
No matter what your interests are, Puerto Vallarta is always ready to entertain, offering a wide variety of entertainment options that will keep everyone amused. But it's up to you to decide how you want to spend your time here....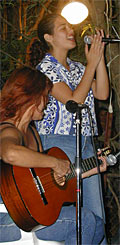 While every destination in Mexico has something to offer visitors, romantic Puerto Vallarta delivers something for everyone: beaches on a beautiful bay, great dining, a sizzling nightlife, Broadway quality stage plays, live music, movie theaters, cultural events, art galleries, excellent shopping, world-class golf and tennis, activities and excursions galore, and fun, fun, fun!


In Puerto Vallarta you can relax on a beautiful beach, play a round of championship golf, shop for Mexican handcrafts and dine in a wide variety of restaurants. There are also countless tours and activities to enjoy - from exciting jeep safaris and canopy tours in the tropical jungle to whale watching, sailing, snorkeling or scuba diving in Banderas Bay.


Visitors who appreciate cultural experiences will love the festivals and events hosted in Puerto Vallarta each year. A variety of cultural events, including the Gourmet Festival and an International Film Festival are designed for the cosmopolitan visitor, while Fishing, Tennis and Golf Tournaments are complemented by the Old Mexico flavor of this cozy seaside village.


And many visitors prefer to spend their days relaxing on the beach soaking up the warm tropical rays. Puerto Vallarta is a haven for weary vacationers who want nothing more than a good book, a tan and icy cold beers or margaritas delivered at regular intervals by an adept, and usually bilingual, waiter.

• B E L O W T H E F O L D •
Live Entertainment is ALIVE AGAIN in Puerto Vallarta!
Marsha Ross

Act2PV is thrilled to announce that live entertainment has returned to Puerto Vallarta! For the past eight months, no one knew what the future held for the entertainment industry. But, based on the past two weeks at Act2PV, people love having their entertainment back... SAFELY!

---
'ROCKSTAR' Debuts Nov 28 at The Palm Cabaret & Bar
BanderasNews.com

Opening on Saturday, November 28 at 8:00 pm, 'ROCKSTAR,' starring 'American Idol' finalist Effie Passero and the star of 'Queen Live,' Roy Gomez-Cruz, will be performed on Tuesday, December 1 at 6:30 pm, and on Saturday nights at 8:00 pm all season long, at the Palm Cabaret.

---
'Queen Live Forever' Returns to The Palm Cabaret & Bar
Debbie White

The Palm Cabaret is thrilled to welcome back entertainment director, Mark Rome, who last February introduced Puerto Vallarta audiences to 'Queen Live Forever.' This tribute show, starring Roy Gomez Cruz as Freddie Mercury, returns Nov. 28 & continues every Fri at 6:30 pm & Sat at 9:30 pm.

---
Three Popular Puerto Vallarta Walking Tours Resume
BanderasNews.com

Puerto Vallarta Walking Tours owner, operator and tour guide, Sandra Cesca, recently announced that three of her most popular walks have resumed, with your safety in mind. These private tours allow small groups to learn more about this fascinating town and the Mexican culture.

---
Act2PV Entertaining Puerto Vallarta 7 Nights a Week
Marsha Ross

If you are visiting Puerto Vallarta and looking for something fun to do, head over to Act2PV! With live entertainment seven nights a week, this beautiful 5-star venue has something for everyone to enjoy in a safe environment that goes beyond mandated Covid protocols.

---
Cheko Ruiz and The Big Band Debut at The Palm Cabaret
BanderasNews.com

Get ready for a Gypsy music party filled with romance and excitement, all inspired by delicious Latin beats. Join Cheko Ruiz and The Big Band for their opening show on Sunday, November 22 at 6:30 pm at The Palm Cabaret and Bar, celebrating 21 years in Puerto Vallarta.

---
Kaiser Maximilian Gives Thanks for 25 Years in Vallarta
Marie Callan

Kaiser Maximilian is celebrating 25 years as one of Puerto Vallarta most popular fine dining restaurants. Owner Andreas Rupprechter and his friendly staff are showing their patrons gratitude by offering some great specials from past Gourmet Festivals through December 15.

---
An Untraditional Thanksgiving Dinner at No Way José!
Julie Guerrero

Not in the mood for a traditional American Thanksgiving Dinner this year? Make plans now to celebrate this U.S. holiday at 'Tu Casa en Vallarta,' No Way José! You'll enjoy a delicious 3-course award-winning meal, a welcome margarita, and a 2-hour live Mariachi concert.

---
Thanksgiving Dinner on the Beach at Daiquiri Dick's
Banderas News Team

Holidays are a wonderful time to get together with family and friends and, if you are in Puerto Vallarta, Daiquiri Dick's is the perfect place to celebrate. Especially on November 26, when the restaurant will be serving a special Thanksgiving Dinner Menu right on Los Muertos Beach.

---
Let Daiquiri Dick's Cook Your Thanksgiving Dinner
BanderasNews.com

One way to make Thanksgiving a true holiday is to let Daiquiri Dick's do the cooking. Whether you are a small group or a large family, this popular Puerto Vallarta restaurant is cooking up everything you could ever want in a Thanksgiving dinner, and offering it to go! Order by November 20.

---
Site Map
•
Print this Page
•
Email Us
•
Top