Entertainment
Around the Bay and Beyond
No matter what your interests are, Puerto Vallarta is always ready to entertain, offering a wide variety of entertainment options that will keep everyone amused. But it's up to you to decide how you want to spend your time here....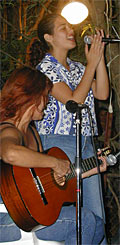 While every destination in Mexico has something to offer visitors, romantic Puerto Vallarta delivers something for everyone: beaches on a beautiful bay, great dining, a sizzling nightlife, movie theaters, cultural events, art galleries, excellent shopping, world-class golf and tennis, activities and excursions galore, and fun, fun, fun!


In Puerto Vallarta you can relax on a beautiful beach, play a round of championship golf, shop for Mexican handcrafts and dine in a wide variety of restaurants. There are also countless tours and activities to enjoy - from exciting jeep safaris and canopy tours in the tropical jungle to whale watching, sailing, snorkeling or scuba diving in Banderas Bay.


Visitors who appreciate cultural experiences will love the festivals and events hosted in Puerto Vallarta each year. A variety of cultural events, including the Gourmet Festival and an International Film Festival are designed for the cosmopolitan visitor, while Fishing, Tennis and Golf Tournaments are complemented by the Old Mexico flavor of this cozy seaside village.


And many visitors prefer to spend their days relaxing on the beach soaking up the warm tropical rays. Puerto Vallarta is a haven for weary vacationers who want nothing more than a good book, a tan and icy cold beers or margaritas delivered at regular intervals by an adept, and usually bilingual, waiter.

• B E L O W T H E F O L D •
Democrats Abroad Every Tuesday Film Series: 'Mud'

David Kamp and Judy Snow

As part of their Every Tuesday Night Film series, the Costa Banderas Chapter of Democrats Abroad presents 2013's award winning drama, 'Mud'. This documentary-style film will be shown on March 11th, at 7 pm at the Paradise Community Center on the South side of Vallarta.

---
Old Town Farmers' Market Captures Your Scents-ibilities

Erin Staley

This Saturday, while you're enjoying sunny Puerto Vallarta, stop by the OTFM-TC and lose yourself in the scents-ibilities of farm-to-table produce, artisan foods, one-of-a-kind clothing & accessories and home décor at this 'make it, bake it, grow it' market.

---
Fast Eddie Hosts Barbecue Benefit for Corazón de Niña
Banderas News Team

On Sunday, March 9th at 2 pm, 'Fast Eddie' will host a Texas Size Barbecue at La Cuiza, with entertainment by The Texas Embassy Blues Band and appearances by other performers, to benefit Corazón de Niña, a non-profit shelter for abused 12+ year-old girls in Puerto Vallarta.

---
2014 Carnaval Vallarta Delighted 15,000 Spectators

Tim Longpré

You didn't have to be a statistics expert or be equipped with a turnstile to see that Puerto Vallarta's 2014 Carnaval / Mardi Gras parade was a huge success - for organizers, downtown business and the 15,000 spectators who reveled in the fun.

---
Jorge Coste & Luis Valui Open at Galleria Dante

Claire Guarniere

Exhibitions by artists Jorge Coste and Luis Valui open at Galleria Dante on Friday, March 7th, as part of this week's Vallarta Southside Shuffle. Stop by to meet the artists and enjoy complimentary cocktails from 6-10 pm.

---
Spencer Day to Perform Dinner Show at No Way Jose!

Marie Callan

Dress to impress and head on out to 'Tu Casa in Vallarta' on March 12 for an exclusive dinner/show starring Spencer Day! For just $650 pesos, you'll enjoy a No Way José! award-winning 3-course meal and an up-close-and-personal show by one of the world's most beloved crooners.

---
ExPats in Vallarta March Happy Hours and Events

Sara Wise

During the month of March, Expats in Vallarta will be having two Happy Hour gatherings, three Wine and Appetizer evenings, two Neighborhood Coffees, and a Special Event dinner. Come on down, enjoy a couple of cool ones, see some old friends and make some new ones!

---
Cuaron First Mexican to Win 'Best Director' at Oscars

Yemeli Ortega

Alfonso Cuaron is the first Mexican and the first Latin American director to win an Oscar for best director. Cuaron's film 'Gravity,' a technical achievement with a powerful narrative, also won several other Oscars in technical categories at Sunday's Academy Awards ceremony.

---
Purr Project BINGO Starring the PV Men's Chorus

Marilyn Khan

Join us for another evening of fun on Wednesday, March 5, when a small group from the PV Men's Chorus will take the microphone at half-time during Wednesday night BINGO at Margarita Grill. Proceeds will benefit PuRR Project, Puerto Vallarta's no-kill feline shelter.

---
Riverfest 2014 Promises Good Food and Great Music

Chris Jacobs

El Rio BBQ and Pasitos de Luz have announced the 3rd Annual Riverfest to benefit the special needs children of Puerto Vallarta will be held on Saturday, March 8 from 12-7 pm. Come out and enjoy live music from some of Banderas Bay's best musicians - not to mention Vallarta's best BBQ!

---
Christina Aguilera Gets Engaged in Riviera Nayarit

Riviera Nayarit CVB

On Valentine's Day, Christina Aguilera's boyfriend surprised her with a beautiful engagement ring in Punta de Mita according to the post on her Twitter account. The image of their clasped hands with the ring front and center was in several Mexican and US media publications.

---
CANAMEX Flamingos Riviera Nayarit Cup 2014

Riviera Nayarit CVB

The CANAMEX Flamingos Riviera Nayarit Cup 2014 is a North American supremacy tournament held among teams from the United States, Canada, and Mexico. Prizes to go to the holes-in-one for this second edition of the tournament include a Honda CR-V and a golf cart.

---
Banderas Bay Jazz Allstars Coming to La Cruz Marina

Landon Hollander

On Tuesday, March 11th at 7:00 pm, Marina Riviera Nayarit will host a special 'Evening Under The Stars' featuring the Banderas Bay Jazz Allstars performing on the Xiriki Amphitheater stage at the Marina in La Cruz de Huanacaxtle, Nayarit.

---
2014 Becas Ball: Too Much of a Good Thing is Fabulous!

Polly G. Vicars

If you look in my dictionary under 'Fabulous' you will find 'Becas Ball.' Our presidents Mariel and Carlos Fregoso have been working or months to make the March 8 Becas Ball live up to my dictionary entry. There are so many reasons for this, but let me give you just a few...

---
Art Show and Breakfast Buffet to Support Purr Project

Marilyn Khan

On Wednesday, March 12 at 10 am, an 'Artful Event' will be held at Old Town Bistro, where you can enjoy a breakfast buffet and art show while helping raise funds for the care of the 150+ cats and kittens residing at PuRR Project, a no-kill feline sanctuary north of Puerto Vallarta.

---
2014 Millonario National Charro Championship Vallarta

Adán Leyva

From Feb 27 through March 2 the best Charro teams in Mexico will gather at the Miguel 'Prieto' Ibarría Rodeo Grounds in Puerto Vallarta for the 2014 Millonario National Charro Championship. With daily competitions and traditional events, this a perfect way to experience the real Mexico.

---
Demetro's Burro Statue to be Unveiled February 28th

T. Callan

All art lovers and friends are invited to join local sculptor Jim Demetro on the west side of the gazebo in Lazaro Cardenas Park on Friday, February 28 at 6:30 pm for the unveiling of his latest bronze sculpture, 'Andale Bernardo,' which he is donating to the City of Puerto Vallarta.

---
14th San Pancho Music Festival Feb. 28th - Mar. 2nd

Chris Parsons

The 14th annual San Pancho Music Festival will be held Friday, February 28th through Sunday, March 2nd at the Plaza del Sol in San Francisco, Nayarit, Mexico. And, as always, because of the gracious contributions of the performing artists, there is no charge to the public.

---
Three Amazing Sailing Events Coming to Banderas Bay

Riviera Nayarit CVB

Incredible scenery, fantastic racing, and great camaraderie await participants and spectators during the 3 sailing events coming to Banderas Bay in March. The Biennial Mexico Race, the Regatta Copa Mexico, and the MEXORC are sure to captivate all types of sailing enthusiasts.

---
'Emergente' Alternative Art Expo at Los Mangos Library

Yumi Yamada

On March 15, the Puerto Vallarta Public Library will open its doors to fill the night with light, art, movement, color, and creative energy, as they celebrate the second edition of Emergente, an exposition of alternative art - art as you may have never seen it before in this city.

---
Fun from A to Z at Vallarta's Old Town Farmers Market

Erin Staley

This week, we honor the late, great Shirley Temple (1928-2014) with our own 'make it, bake it, grow it' version of 'Animal Crackers in My Soup.' See how many letters you can find this Saturday at Puerto Vallarta's Old Town Farmers' Market-Tianguis Cultural.

---
Art Benefit for Puerto Vallarta Children with Cancer

Barbara Peters

The Old Town Bistro and Galería Vallarta are hosting an art exposition on February 21 to benefit CANICA, a support center for Puerto Vallarta children with cancer. The featured artist is Pat Haley, who will be donating 10% of his sales for the treatment of these precious children.

---
March 'Essence of Cuisine' Cooking Classes

BanderasNews.com

During your visit to Puerto Vallarta why not join Dolores Brittingham at Essence of Cuisine to learn how to make a four-course Mexican meal? The next classes will be held at Dolores' home in in 'Old Town' Puerto Vallarta on March 6th, 13th and 20th at 6:30 pm.

---
Finding Your Own Imagery in Art with Sheila Seguin

Dana Zeller-Alexis

Sheila Seguin will begin teaching at ART VallARTa in Puerto Vallarta on Wednesday nights, starting February 19th 4:30-7:00 pm. Not only is Sheila a visual artist, but she is also a wonderful teacher, whose own work is provocative, thoroughly creative and expressive.

---
5th Annual Punta Sayulita Longboard and SUP Classic

Banderas News Team

The 5th Annual Punta Sayulita Longboard and SUP Classic is set for March 7th – 9th. Benefitting the 'Reef Check' and 'Punta Sayulita Foundations,' the top surfers and stand-up paddlers in the world return to compete in surfing contests and exciting offshore SUP races.

---
Three Artists Open at Galleria Dante this Friday

Claire Guarniere

On Friday, February 21 from 6-10 pm, during this week's South Side Shuffle, a cocktail reception will open three special art exhibits by Israel Zzepda, David Moreno Zepeda and Francisco Xavier Zepeda at Galleria Dante, Basilio Badillo #269 in Puerto Vallarta's Romantic Zone.

---
Site Map
•
Print this Page
•
Email Us
•
Top