Entertainment
Around the Bay and Beyond
No matter what your interests are, Puerto Vallarta is always ready to entertain, offering a wide variety of entertainment options that will keep everyone amused. But it's up to you to decide how you want to spend your time here....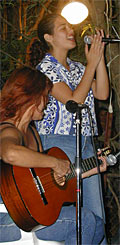 While every destination in Mexico has something to offer visitors, romantic Puerto Vallarta delivers something for everyone: beaches on a beautiful bay, great dining, a sizzling nightlife, movie theaters, cultural events, art galleries, excellent shopping, world-class golf and tennis, activities and excursions galore, and fun, fun, fun!


In Puerto Vallarta you can relax on a beautiful beach, play a round of championship golf, shop for Mexican handcrafts and dine in a wide variety of restaurants. There are also countless tours and activities to enjoy - from exciting jeep safaris and canopy tours in the tropical jungle to whale watching, sailing, snorkeling or scuba diving in Banderas Bay.


Visitors who appreciate cultural experiences will love the festivals and events hosted in Puerto Vallarta each year. A variety of cultural events, including the Gourmet Festival and an International Film Festival are designed for the cosmopolitan visitor, while Fishing, Tennis and Golf Tournaments are complemented by the Old Mexico flavor of this cozy seaside village.


And many visitors prefer to spend their days relaxing on the beach soaking up the warm tropical rays. Puerto Vallarta is a haven for weary vacationers who want nothing more than a good book, a tan and icy cold beers or margaritas delivered at regular intervals by an adept, and usually bilingual, waiter.

• B E L O W T H E F O L D •
'Day To Night' Golf Tournament, Auction & Casino Night

Eduardo Garcia

The American School of Puerto Vallarta has just announced 'Day to Night,' a golf tournament, auction and casino night fundraising event, to benefit the school's 'Leer y Crecer' community service project. The event will take place on Saturday, April 18 at Flamingos Golf Course.

---
Fallen Fruit's ¡Estas Como Mango! Opens at OPC in May

BanderasNews.com

The California-based art collaboration known as 'Fallen Fruit' will open ¡Estas Como Mango! at Puerto Vallarta's Oficina de Proyectos Culturales in May. This exhibition of contemporary art and public practice will be the first exhibition by the collective in Mexico.

---
Win a Trip to ISA World SUP Championship in Mexico

Liliana Lara Guzmán

Head over to the Riviera Nayarit's Facebook page from April 15-30, 2015 and enter to win an all-expenses paid trip in Sayulita, including airfare and all-inclusive accommodations for 5 days and 4 nights from May 14-17, during the ISA World SUP & Paddleboard Championship.

---
Bohemia Viva Dinner Show in 'Tu Casa en Vallarta'

Julie Guerrero

Join the darlings of the live music scene in La Zona Romantica, Argentinian duo Andrea Mottura and Luis Lujan, (a.k.a. Bohemia Viva,) in their first dinner show in 'Tu Casa en Vallarta' - No Way Jose! - on Wednesday, April 22nd at 7:00 pm.

---
Punta Mita Gourmet & Golf Special Guest: Lorena Ochoa

Live Punta Mita

The V Punta Mita Gourmet & Golf Classic, scheduled to be held April 30th-May 3rd, is thrilled to announce the return of LPGA legend and former top female golfer in the world, Mexico's own Lorena Ochoa, who will be an honored guest at the event.

---
Concurso: 'American Idol for Mexican Opera Singers'

Debra Scott

Every spring, dozens of young and undiscovered opera singers descend on San Miguel de Allende to sing their lungs out for the chance to be among the ten finalists in the 'Concurso,' an event dubbed 'American Idol for Mexican opera singers.'

---
Come Celebrate Chris Kenny's Birthday at El Rio BBQ

Catherine Beeghly

Popular Puerto Vallarta entertainer Chris Kenny is wrapping up her season performing at El Rio BBQ Bar with a birthday bash on April 15. Kenny warmly invites past and present fans, as well as new friends, to come and celebrate with her.

---
Guayafest Brings 350 Volkswagens to Riviera Nayarit

Riviera Nayarit CVB

On April 18 & 19, the Plaza de Rincón de Guayabitos will be transformed into a playground for hundreds of Volkswagen vehicles from all over the Mexican Republic at the 6th annual Guayafest, a family-friendly expo for lovers of these classic cars.

---
Enjoy the 'Chef's Favorites' Menu at Daiquiri Dick's

Laura Gelezunas

Daiquiri Dick's is the only restaurant in Puerto Vallarta that offers a weekly special menu in addition to their regular a la carte menu. There is a different theme every week, whether it be a country, world region or, like this week, the chef's favorites, through April 19th.

---
Act II Stages: PV's Choice for Non-Stop Entertainment

Daniel R. Mininni

If you haven't been to Vallarta's ACT II Entertainment complex recently, you don't know what you're missing! This Spring, there's a full line-up of theater, music, and entertainment going on in The Red Room, on the Main Stage, and at Encore Piano Bar.

---
Exciting Events Confirmed for 2015 Vallarta Pride

VallartaPride.com

The third edition of 'Vallarta Pride,' the city's annual gay pride festival, will be held from May 17-25, 2015, and its organizing committee is proud to announce the confirmation of the first events honoring the LGBT community of Puerto Vallarta.

---
Vallarta Yacht Club Casino Night on April 18th

Ibis de Teresa

Join your friends at Vallarta Yacht Club on April 18th for Casino Night. Play all your favorite games, including Black Jack, Roulette and Texas Hold-em - for a good cause! All proceeds from this fun-filled event will go towards funding the VYC's Junior Sailing Program.

---
Riviera Nayarit Salsa and Mambo Festival, April 23-26

Maria Francesca

Dance classes and workshops, presentations by the most prestigious international dancers, contests, parties, and concerts are all part of the fun that the return of the Salsa & Mambo Festival will bring to Nuevo Vallarta, Nayarit from April 23-26, 2015.

---
Act II Entertainment is Rocking April and Beyond

Debbie White

Act II Entertainment's The Red Room Cabaret has extended more shows into April, and added a few new acts as well. So all of you 'Snowbirds' still have time to see some outstanding entertainment before heading up North - and all of us locals have a lot to look forward to this month!

---
Second Annual Pulpito Drag Derby to Run May 21

Amapas Neighborhood Association

The first Pulpito Drag Derby was such a hit with locals and tourists alike that the Amapas Junta Vecinal is staging a rematch on Thursday, May 21. This year's event will kick off Vallarta Pride and spill seamlessly into its Opening Party - like an Amapas block-party on steroids.

---
Last Chance to Play Purr Project BINGO 'til November

Marilyn Khan

Join us at Margarita Grill on Wednesday, April 8, and help us celebrate the end of a very successful season of PuRR Project BINGO. Yep, it's your last chance to play Kitty BINGO until next November. In addition to some fun halftime silliness, we have great prizes!

---
ExPats in Vallarta April Happy Hours and Events

Sara Wise

ExPats in Vallarta, a totally social group with informal fellowship and assistance for Expat residents or visitors living, working or investing around Vallarta or considering it, has announced their April schedule of events.

---
Last Breakfast of Becas' 2014-2015 Fund Raising Season

Polly G. Vicars

Don't miss Becas Vallarta's 2014-2015 season finale fundraiser - Breakfast at Coco's Kitchen on April 15th at 9:30 am. Coco, always a magnificent hostess, is planning a great menu, and there will be an array of great prizes for the raffle and exciting silent auction items. Join us!

---
This Week, Daiquiri Dick's Serves Up Peruvian Cuisine

Laura Gelezunas

Recently there has been a revival of interest in native Peruvian foods, so Daquiri Dick's Executive Chef Ignacio Uribe and Sous Chef Jugo Mejia have created a special dinner menu that you can enjoy right here in Puerto Vallarta from March 30 to April 5, 2015.

---
Do You Have Your Easter Bonnet Ready? Hop To It!

Logan Miller

Do you have your Easter bonnet ready? If not, you'd better hop to it! Casa Cupula brings an old tradition to Puerto Vallarta with their Second Annual Easter Bonnet Party and Brunch, scheduled to take place at Taste Restaurant on Sunday, April 5, 2015 from 10:00 am to 2:00 pm.

---
Bucerías Oyster Festival Celebrates 15 Years April 12

Banderas News Team

Since oyster harvesting is the mainstay of the economy in Bucerias (which means 'Place of the Divers') Nayarit, every year after Easter this laid-back seaside community hosts an Oyster Festival - a celebration filled with music, partying and plenty of food and fun.

---
Latest Bond Film Producer Denies Mexico Changed Script

Associated Press

The producer of the new James Bond thriller 'Spectre' denies that the script was changed to get incentives in Mexico. Officials in Mexico City have declined to comment on possible incentives offered on the movie, which began its Mexico filming last week.

---
Voice, Forever Plaid are Taking Vallarta By Storm

Daniel R. Mininni

If you haven't been to the ACT II Entertainment complex recently, you don't know what you're missing! In addition to the Main Stage theater productions listed here, there's a full line-up of musical entertainment going on in The Red Room Cabaret and Encore Piano Bar.

---
Fund Raiser to Save Vallarta Animals at Casa Yvonneka

BanderasNews.com

Casa Yvonneka will host its Third Annual Fund Raiser to save the dogs and cats of Puerto Vallarta on Sunday, March 29, 2015 at 6:00 pm. 100% of ticket sales will go directly to the non-profit organizations that save and care for neglected animals in the Banderas Bay area.

---
Democrats Abroad Wednesday Film: 'Which Way Home'

David Kamp

As part of their Every Wednesday Night Film series, the Costa Banderas Chapter of Democrats Abroad Mexico is proud to present this week's movie, 'Which Way Home.' This timely documentary will be shown at the International Friendship Club on Wednesday, March 25th at 7:00 pm.

---
Site Map
•
Print this Page
•
Email Us
•
Top