Entertainment
Around the Bay and Beyond
No matter what your interests are, Puerto Vallarta is always ready to entertain, offering a wide variety of entertainment options that will keep everyone amused. But it's up to you to decide how you want to spend your time here....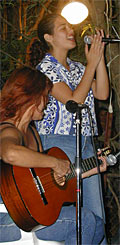 While every destination in Mexico has something to offer visitors, romantic Puerto Vallarta delivers something for everyone: beaches on a beautiful bay, great dining, a sizzling nightlife, movie theaters, cultural events, art galleries, excellent shopping, world-class golf and tennis, activities and excursions galore, and fun, fun, fun!


In Puerto Vallarta you can relax on a beautiful beach, play a round of championship golf, shop for Mexican handcrafts and dine in a wide variety of restaurants. There are also countless tours and activities to enjoy - from exciting jeep safaris and canopy tours in the tropical jungle to whale watching, sailing, snorkeling or scuba diving in Banderas Bay.


Visitors who appreciate cultural experiences will love the festivals and events hosted in Puerto Vallarta each year. A variety of cultural events, including the Gourmet Festival and an International Film Festival are designed for the cosmopolitan visitor, while Fishing, Tennis and Golf Tournaments are complemented by the Old Mexico flavor of this cozy seaside village.


And many visitors prefer to spend their days relaxing on the beach soaking up the warm tropical rays. Puerto Vallarta is a haven for weary vacationers who want nothing more than a good book, a tan and icy cold beers or margaritas delivered at regular intervals by an adept, and usually bilingual, waiter.

• B E L O W T H E F O L D •
Celebrate July 4th in Puerto Vallarta at Nacho Daddy

BanderasNews.com

If you are an American and find yourself in Puerto Vallarta this weekend, you can celebrate the 4th of July at Nacho Daddy Mexico. They're throwing a red hot Independence Day party with food and drink specials all day and live music by Sylvie & The Zippers at 8:30 pm.

---
Dante & Di Vino: Two Must-Visit Places Under One Roof

Banderas News Team

Galleria Dante and Di Vino Dante, though two separate businesses, are both located in an old hacienda style villa in Old Town Puerto Vallarta. There's always something new to experience here, so even if you've visited in the past, it is always worth another visit.

---
The 4th of July Sizzles at Daiquiri Dick's Restaurant

Laura Gelezunas

You don't have to be an American to celebrate its Independence Day with great food and fun. The chefs at Daiquiri Dick's have created a special menu that's a backyard BBQ with international flair, served right on Vallarta's Los Muertos Beach July 1st-8th.

---
Summer Fun at Puerto Vallarta's ACT II Entertainment

Daniel R. Mininni

Get ready for a Summer full of fun at Puerto Vallarta's ACT II Entertainment! There's always something entertaining happening at STAGES, whether it be on the Main Stage, in The Red Room Cabaret or at the Encore Piano Bar. Join in the fun!

---
Puerto Vallarta DIF Offers Kids Fun Summer Courses

Lorena Sonrisas

The System for Integral Family Development and the Centro de Capacitación of Puerto Vallarta invite all parents to enroll their children in summer courses that allow young children to have some good healthy fun with other kids in a safe environment.

---
Captain Morgan Promotes Sayulita in the United States

Jorge Jiménez

Sayulita, a 'hippie chic' surfing village on Mexico's Riviera Nayarit, was chosen as a location for the latest commercial touting Captain Morgan's newest drinks. It is now showing on TV screens throughout the United States and on social media channels.

---
CUCosta Saturdays in Science: The Wonders of the World

María Francesca

This weekend, come out to the Juan Luis Cifuentes Lemus auditorium at CUCosta, where the University of Guadalajara and the Mexican Academy of Sciences will present 'Maravillas del Mundo en Clave del Sol,' a musical presentation of The Wonders of the World.

---
Nayarit Chef Betty Vázquez to Judge Master Chef Mexico

Riviera Nayarit CVB

Chef Betty Vazquez, Culinary Ambassador for the Riviera Nayarit, was named as one of three judges for the first-ever 'Master Chef Mexico,' which will air on Tv Azteca for 16 consecutive Sundays starting June 28, and throughout Latin America on Discovery Home & Health starting July 9.

---
Vallarta Celebrates National Botanical Garden Day

Vallarta Botanical Gardens

Mexico's National Botanical Garden Day will be celebrated this year on July 2. Here in the Banderas Bay area, Vallarta Botanical Gardens has won international accolades as a highlight of any trip to Puerto Vallarta, so what better place to celebrate the day?

---
Puerto Vallarta Begins La Isla Rio Cuale Renovations

NotiVallarta

La Isla Rio Cuale is a beautiful natural area that offers visitors entertaining, educational and cultural activities. This cool and refreshing oasis in the heart of downtown Vallarta is a great place to spend an afternoon - and it just keeps getting better!

---
Mouth Watering Mediterranean Menu at Daiquiri Dick's

Laura Gelezunas

Savor the flavors of the world, without ever leaving Puerto Vallarta! Daiquiri Dick's Summer Sizzle continues this week with mouth-watering Mediterranean meals on their special 3-course menu, with choices for each course, for $299 pesos from June 24-29.

---
Hook the Cure Tournament Returns to Puerto Vallarta

Cystic Fibrosis Foundation

The Tenth Annual Hook the Cure powered by IOTEC will return to Puerto Vallarta, Mexico on November 5, 2015. The four-day catch-and-release offshore tournament, an official event of the Redbone Celebrity Series, will benefit the Cystic Fibrosis Foundation.

---
Mario Lopez Enjoys Family Vacation in Puerto Vallarta

Daily Mail UK

Mario Lopez spent Father's Day on a family vacation in Puerto Vallarta, Mexico. Lopez documented his week-long trip for his fans and followers on social media, with the majority of the photos taken at the beach with his loved ones - which included 7 kids!

---
Site Map
•
Print this Page
•
Email Us
•
Top