Entertainment
Around the Bay and Beyond
No matter what your interests are, Puerto Vallarta is always ready to entertain, offering a wide variety of entertainment options that will keep everyone amused. But it's up to you to decide how you want to spend your time here....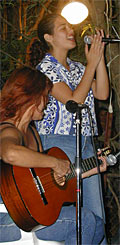 While every destination in Mexico has something to offer visitors, romantic Puerto Vallarta delivers something for everyone: beaches on a beautiful bay, great dining, a sizzling nightlife, movie theaters, cultural events, art galleries, excellent shopping, world-class golf and tennis, activities and excursions galore, and fun, fun, fun!


In Puerto Vallarta you can relax on a beautiful beach, play a round of championship golf, shop for Mexican handcrafts and dine in a wide variety of restaurants. There are also countless tours and activities to enjoy - from exciting jeep safaris and canopy tours in the tropical jungle to whale watching, sailing, snorkeling or scuba diving in Banderas Bay.


Visitors who appreciate cultural experiences will love the festivals and events hosted in Puerto Vallarta each year. A variety of cultural events, including the Gourmet Festival and an International Film Festival are designed for the cosmopolitan visitor, while Fishing, Tennis and Golf Tournaments are complemented by the Old Mexico flavor of this cozy seaside village.


And many visitors prefer to spend their days relaxing on the beach soaking up the warm tropical rays. Puerto Vallarta is a haven for weary vacationers who want nothing more than a good book, a tan and icy cold beers or margaritas delivered at regular intervals by an adept, and usually bilingual, waiter.

• B E L O W T H E F O L D •
Vallarta to Host 2015 International Meeting of Clowns

puertovallarta.gob.mx

From May 18-21, 2015, Puerto Vallarta will host the 2015 International Meeting of Clowns, organized by the Mexican Association of Clowns Without Borders, through support provided by the municipal government and the efforts of Juan Pablo Vazquez Balleza, better known as 'Papos.'

---
July 25 Puerto Vallarta Weekend & Upcoming Events

Banderas News Team

Even in the summertime, there's so much going on in Puerto Vallarta and around Banderas Bay, it can be difficult to keep up with it all. Here's a look at some of this weekend's happenings, plus a not-to-be-missed upcoming event that you'll want to mark on your calendar.

---
Netflix to Track Down and Kill Blockbuster in Mexico

Adam Epstein

Netflix, which was partially responsible for Blockbuster's demise in the US, now has an aggressive plan to extend its reach in Mexico. If successful, Netflix could steal most of Blockbuster's clientele in Mexico, and Blockbuster doesn't really have anywhere else to go.

---
ART VallARTa Creative Clay Cooking Classes & Workshops

Banderas News Team

This October, ART VallARTa will be reopening with weekly classes and events. And, since food is Art when prepared with heart and soul, owner Nathalie Herling will be conducting 'The Art of Creative Clay Cooking' classes and workshops in the studio's Mexican tile ART Kitchen.

---
Daiquiri Dick's Offers Vallarta a Taste of Italy

Laura Gelezunas

During the Summer Sizzle at Daiquiri Dick's Restaurant in Puerto Vallarta, Mexico, you can visit a different country every week. From July 23-28, Italy is the chosen culinary destination. Enjoy three courses and choices for each course, plus a complimentary drink, for only $299 pesos.

---
Roger Corman Featured at Guanajuato Int'l Film Fest

Eric Ortiz Garcia

The 2014 Guanajuato International Film Festival promises to be both exciting and surprising, especially thanks to the fact that the event will pay homage to B movie king Roger Corman. Corman, 88, will also be attending - his first ever appearance at a Mexican film festival.

---
Vallarta's Xiutla Folkloric Ballet Celebrates 20 Years

Vallarta Opina

To thank the community that has helped them become the worthy representative of Puerto Vallarta that they are today, the Xiutla Municipal Folkloric Ballet will celebrate its 20 year anniversary with a Gala Show at Teatro Vallarta on July 27th at 1:00 pm.

---
Save 50% On Main Courses at Kaiser Maximilian

Banderas News Team

July is a great time to visit Kaiser Maximilian. Every Tues-Sat through July 26, this popular restaurant on the southside of Puerto Vallarta offers Early Bird Specials on selected entrées from their regular dinner menu. From 12-6 pm, you'll save 50% off the regular prices!

---
Puerto Vallarta Orchestra School's 1st Summer Concert

Francisco Juarez

This Friday, July 18th, at 8:15 pm, the String Ensemble of the Puerto Vallarta Orchestra School will offer us a delightful concert in which they welcome new young members, as well as bid farewell to members that will continue their professional studies outside Puerto Vallarta.

---
The Flavors of Australia at Daiquiri Dick's Restaurant

Marie Callan

Anyone who loves Asian food will not want to miss this week's Summer Sizzle menu at Daiquiri Dick's. Called 'The Flavors of Australia,' the dishes are inspired by MasterChef Australia's 2010 winner, Adam Liaw, whose family influences were Malaysian, Chinese, Singapore and Japanese.

---
Special Summer Opportunities with the PV Garden Club

Bonnie Mott

We hope you are enjoying your summer wherever you are. If you are in Puerto Vallarta and would like to be invited to occasional socials, garden visits, or weekly trimming and weeding of our trees and plants, join the Vallarta Garden Club for some Summer fun in the sun!

---
25th Puerto Vallarta Pro Tennis Tournament July 23-26

Rodrigo Lopez Becerril

The 25th edition of the Puerto Vallarta Pro Tennis Tournament will be played from July 23 to 26 at the Sheraton Buganvilias Tennis Club. In addition to twenty-four professionals playing for a $25,000 pesos purse, there will be an amateur tournament for children and teens.

---
Puerto Vallarta Animal Shelter Kids' Summer Courses

PrensaGlobal.com

Offering children ages 6-11 fun activities that encourage creativity, knowledge, caring for animals and the environment, as well as self-protection measures, the Centro de Acopio Animal de Puerto Vallarta's 'Cursos de Verano 2014' (2014 Summer Courses) begin on July 21st.

---
Actor & Comedian Chris Tucker Visits Puerto Vallarta

BanderasNews.com

Popular actor and comedian Chris Tucker, known for his role in the 'Rush Hour' trilogy, and other blockbuster films like 'Money Talks' and 'The Fifth Element,' recently enjoyed 3 days in Puerto Vallarta with his son and girlfriend, FOX 5 Atlanta commentator, Cynné Simpson.

---
Mexico Travel Channel to Showcase Puerto Vallarta

Fernando Álvarez

The production team of TV's Mexico Travel Channel recently spent 5 days filming in Puerto Vallarta as part of a 'Rincones de Mi Tierra' (Corners of My Land) project. The 5 episode series will soon be broadcast online as well as on the national cable television channel.

---
Site Map
•
Print this Page
•
Email Us
•
Top