Entertainment
Around the Bay and Beyond
No matter what your interests are, Puerto Vallarta is always ready to entertain, offering a wide variety of entertainment options that will keep everyone amused. But it's up to you to decide how you want to spend your time here....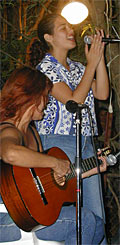 While every destination in Mexico has something to offer visitors, romantic Puerto Vallarta delivers something for everyone: beaches on a beautiful bay, great dining, a sizzling nightlife, Broadway quality stage plays, live music, movie theaters, cultural events, art galleries, excellent shopping, world-class golf and tennis, activities and excursions galore, and fun, fun, fun!


In Puerto Vallarta you can relax on a beautiful beach, play a round of championship golf, shop for Mexican handcrafts and dine in a wide variety of restaurants. There are also countless tours and activities to enjoy - from exciting jeep safaris and canopy tours in the tropical jungle to whale watching, sailing, snorkeling or scuba diving in Banderas Bay.


Visitors who appreciate cultural experiences will love the festivals and events hosted in Puerto Vallarta each year. A variety of cultural events, including the Gourmet Festival and an International Film Festival are designed for the cosmopolitan visitor, while Fishing, Tennis and Golf Tournaments are complemented by the Old Mexico flavor of this cozy seaside village.


And many visitors prefer to spend their days relaxing on the beach soaking up the warm tropical rays. Puerto Vallarta is a haven for weary vacationers who want nothing more than a good book, a tan and icy cold beers or margaritas delivered at regular intervals by an adept, and usually bilingual, waiter.

• B E L O W T H E F O L D •
Act2PV: 'Best Performing Arts Venue in Banderas Bay'
Marsha Ross

If you are visiting Puerto Vallarta and looking for something fun to do, head over to Act2PV! With live entertainment seven nights a week, this beautiful 5-star venue has something for everyone to enjoy in a safe environment that goes beyond mandated Covid protocols.

---
Kim Kuzma Dinner Show Fridays at The Grill at CK's
Debbie White

Kim Kuzma, one of Puerto Vallarta's best known, funniest and most loved Divas of Song, has returned for her 16th season of shows in La Zona Romantica. This year, Kim and her band are performing 'Popstarz' on Mondays at The Palm, and an 'Acustico' style show at The Grill at CK's / Coco's Kitchen on Friday nights.

---
'The Greatest Show on Earth', Wednesdays at Act2PV
Gary R. Beck

Puerto Vallarta entertainment writer Gary R. Beck, who attended last Wednesday's FREE performance of 'The Greatest Show on Earth' at Act2PV's new Starlight Cabaret, tells us more about this not-to-be-missed evening of exceptional entertainment - that includes free appetizers!

---
Vallarta Garden Club January Meeting & Presentation
David Muck

On Tuesday, January 19 at 4:30 pm CST, the Puerto Vallarta Garden Club will have a membership meeting and special presentation featuring Ethnobotanist, Emrys Stromberg, who will speak about the Sacred Land of the Huichol. Incanto will host this engaging event, which will be both online and in person.

---
Luis Villanueva & El Mariachi Alegría at No Way José!
Julie Guerrero

Puerto Vallarta favorites Luis Villanueva and El Mariachi Alegría have so delighted our family of friends with their recent performances at Tu Casa en Vallarta, they will be returning to No Way José! for Dinner Shows on Sunday, January 17, Sunday, February 7 and Sunday, February 28.

---
Act2PV Rolls Out a Whole New Style of Entertainment
Marsha Ross

Act2PV has worked very hard to present Puerto Vallarta audiences with consistently excellent shows in a safe and comfortable setting. And now, they've rolled out a whole new style of entertainment. On Wednesdays at 9:00, Act2PV stars offer a FREE performance and the staff serves up FREE appetizers!

---
Faride Talamas Sings Streisand and Midler at Act2PV
Gary R. Beck

Singer Faride Talamas brings the beloved music of two of the world's most iconic stars, Barbra Streisand and Bette Midler, together in 'Hello Barbra! Hello Bette!' This unforgettable cabaret show - complete with a Live Band! - plays Wednesdays at 7:00 pm at Act2PV.

---
Act2PV Welcomes the New Year with Sensational Shows
BanderasNews.com

Act2PV will close this year 'On Top of The World' with Puerto Vallarta audiences safely enjoying two sensational shows in their rooftop/outdoor theater, The Starlight Cabaret. They'll be closed Jan 1st, but will return on the 2nd with the best in live entertainment - 7 nights a week!

---
Branden & James Bring Two New Shows to The Palm
Debbie White

Returning to The Palm Cabaret and Bar for their 5th season, Puerto Vallarta favorites, cello and vocal duo Branden & James, are back with 2 brand-new shows, 'The Lady Gaga Songbook,' every Wednesday night at 6:30 pm, and 'Broadway at the Beach' on Sunday nights at 8:00 pm.

---
Say 'Adios' to 2020 with Festive Champagne Cocktails
María Francesca

No matter what you're doing this December 31 - whether you're watching a New Year's movie, planning 2021 resolutions, or hosting a quarantine NYE party with members of your immediate household - you'll want to have one of these festive champagne cocktails in hand.

---
Site Map
•
Print this Page
•
Email Us
•
Top