Entertainment
Around the Bay and Beyond
No matter what your interests are, Puerto Vallarta is always ready to entertain, offering a wide variety of entertainment options that will keep everyone amused. But it's up to you to decide how you want to spend your time here....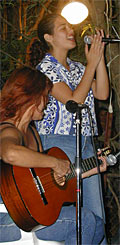 While every destination in Mexico has something to offer visitors, romantic Puerto Vallarta delivers something for everyone: beaches on a beautiful bay, great dining, a sizzling nightlife, movie theaters, cultural events, art galleries, excellent shopping, world-class golf and tennis, activities and excursions galore, and fun, fun, fun!


In Puerto Vallarta you can relax on a beautiful beach, play a round of championship golf, shop for Mexican handcrafts and dine in a wide variety of restaurants. There are also countless tours and activities to enjoy - from exciting jeep safaris and canopy tours in the tropical jungle to whale watching, sailing, snorkeling or scuba diving in Banderas Bay.


Visitors who appreciate cultural experiences will love the festivals and events hosted in Puerto Vallarta each year. A variety of cultural events, including the Gourmet Festival and an International Film Festival are designed for the cosmopolitan visitor, while Fishing, Tennis and Golf Tournaments are complemented by the Old Mexico flavor of this cozy seaside village.


And many visitors prefer to spend their days relaxing on the beach soaking up the warm tropical rays. Puerto Vallarta is a haven for weary vacationers who want nothing more than a good book, a tan and icy cold beers or margaritas delivered at regular intervals by an adept, and usually bilingual, waiter.

• B E L O W T H E F O L D •
December Fun at Vallarta's Boutique Dinner Theatre

Catherine Beeghly

Here's what's playing this month at the Boutique Dinner Theatre in Puerto Vallarta: Mikki Prost launches a new show; T.J. Hartung puts an original twist on Charles Dickens' classic, 'A Christmas Carol,' and more exciting dinner-and-a-show entertainment upstairs at Nacho Daddy.

---
Toys for Tots Vallarta Fundraisers This Weekend

Jerry Lafferty

The Toys for Tots December fundraisers are always among the most popular seasonal events in Puerto Vallarta. This year, the Golf Scramble will be played on December 10th at Vista Vallarta course, and the Gala Dinner Dance will be held on the 11th at CasaMagna Marriott Resort.

---
Line Up of Tribute Shows at Luna Lounge Bucerías

Debbie White

With each new season, Luna Lounge continues to bring in first class, musical tribute shows. Their delicious dinners, satisfying drinks and extraordinary entertainment draw folks from all over the Puerto Vallarta area and have helped to put Bucerias on the map for evening fun.

---
Wednesday Night BINGO Games Support Purr Project

Marilyn Khan

PuRR Project now has over 175 adorable cats and kittens in residence. Donations and fund raising events are the only source of financing to provide food, shelter and veterinary care for these rescued animals, so come play BINGO with us on Wednesday, December 7 at Margarita Grill.

---
Vallarta Garden Club Meeting & Wine Reception at OPC

vallartagardenclub.com

In a town that relies on tourism, the Puerto Vallarta Garden Club's mission of 'Beautifying Vallarta' makes all other endeavors here more successful. Join us at the Oficina de Proyectos Culturales for our December Membership Meeting & Wine Reception on the 15th from 5-7 pm.

---
Amy & Friends Every Tuesday at The Palm Cabaret Bucerías

Debbie White

This week, Amy Armstrong began her regular Tuesday night show, 'Amy & Friends,' at The Palm Cabaret and Bar Bucerias. She was joined by Luis and Andrea of 'Bohemia Viva' fame, who entertained the audience with their amazing vocals, totally in sync harmonies, timing and stage presence.

---
This Weekend's Events & Happenings in Puerto Vallarta

Banderas News Team

There's always so much going on in Puerto Vallarta and around Banderas Bay it can be difficult to keep up with it all. In fact, there's so much going on over the next few days that we're skipping over the news this week so we can tell you about all of this weekend's not-to-be-missed events.

---
Democrats Abroad Presents 'The Man Who Knew Infinity'

David Kamp

As part of their Every Tuesday Night Film series, the Costa Banderas Chapter of Democrats Abroad Mexico is proud to present 'The Man Who Knew Infinity.' This a 2015 British biographical drama will be shown at The Jazz Foundation in downtown Puerto Vallarta on December 6th at 7:00 pm.

---
Free Jazz Concert at The Breakers Bucerias, December 4

Andrea Jupina

After their first successful fundraiser concert, 'The Jazz Awakens,' at Act II Stages in Puerto Vallarta last Sunday, the Salty Paw Jazz Orchestra has announced that they'll be giving a free concert at the Breakers Beach Restaurant and Bar in Bucerias on Sunday, December 4th.

---
Vallarta-Nayarit Whale Watching Season Opens December 1

María Francesca

Puerto Vallarta, Mexico offers many ecological tours, but nothing compares to the thrill of whale watching on Banderas Bay. The 2016-2017 whale watching season officially opens December 1, giving everyone a chance to discover the wonderful world of whales while vacationing in Vallarta.

---
Let the Stars Help You with Your Christmas Shopping

Ron Morgan Properties

The holiday season is here, so why not let the stars help you with your Christmas shopping list in Puerto Vallarta this year? Ron Morgan Properties has gift suggestions perfectly suited for every sign in the zodiac, because even Santa could use a little help now and then.

---
All-New Shows and Ongoing Favorites at Act II STAGES

Corie DuChateau

The fun never ends at STAGES, where you can enjoy high-quality live entertainment every night of the week! From award-winning musicals & plays to captivating cabaret acts and the most outrageously entertaining drag shows, Act II Entertainment has something for everyone.

---
Site Map
•
Print this Page
•
Email Us
•
Top