Entertainment
Around the Bay and Beyond
No matter what your interests are, Puerto Vallarta is always ready to entertain, offering a wide variety of entertainment options that will keep everyone amused. But it's up to you to decide how you want to spend your time here....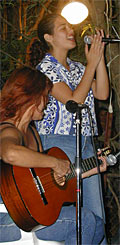 While every destination in Mexico has something to offer visitors, romantic Puerto Vallarta delivers something for everyone: beaches on a beautiful bay, great dining, a sizzling nightlife, movie theaters, cultural events, art galleries, excellent shopping, world-class golf and tennis, activities and excursions galore, and fun, fun, fun!


In Puerto Vallarta you can relax on a beautiful beach, play a round of championship golf, shop for Mexican handcrafts and dine in a wide variety of restaurants. There are also countless tours and activities to enjoy - from exciting jeep safaris and canopy tours in the tropical jungle to whale watching, sailing, snorkeling or scuba diving in Banderas Bay.


Visitors who appreciate cultural experiences will love the festivals and events hosted in Puerto Vallarta each year. A variety of cultural events, including the Gourmet Festival and an International Film Festival are designed for the cosmopolitan visitor, while Fishing, Tennis and Golf Tournaments are complemented by the Old Mexico flavor of this cozy seaside village.


And many visitors prefer to spend their days relaxing on the beach soaking up the warm tropical rays. Puerto Vallarta is a haven for weary vacationers who want nothing more than a good book, a tan and icy cold beers or margaritas delivered at regular intervals by an adept, and usually bilingual, waiter.

• B E L O W T H E F O L D •
San Pancho Days Honor San Francisco's Patron Saint

Lorena Sonrisas

If you're looking for an authentic taste of Mexican culture, head north of Puerto Vallarta to San Francisco, Nayarit. From September 25 to October 4 this small village, better known as 'San Pancho,' will celebrate a nine-day festival honoring its namesake, Saint Francis of Assisi.

---
Films Selected to Represent Mexico at Oscars and Goyas

EFE

Jonas Cuaron's film 'Desierto' (Desert) and David Pablos' 'Las elegidas' (The Chosen Ones) have been chosen to represent Mexico in early 2017 at the next editions of the Oscars and Goya Awards, respectively, the Mexican Academy of Cinematic Arts and Sciences, or AMACC, said.

---
2016-2017 Centro Historico ArtWalk Starts October 26

Lorena Sonrisas

Art lovers can explore numerous artistic offerings during the Puerto Vallarta Centro Historico ArtWalk, a self-guided tour of 8 downtown galleries with cocktail exhibitions that can be enjoyed every Wednesday evening from 6-10 pm from October 26, 2016 through May 31, 2017.

---
El Grito de Dolores: Mexico's Cry of Independence

Banderas News Team

Every year on September 16, the first and most significant episode of Mexico's history - Independence from Spain - is celebrated. The annual celebrations really begin at 11 pm on the 15th with the 'El Grito' ceremony. But what's the story behind Mexico's Cry of Independence?

---
Vallarta Int'l Festival Gourmet Returns November 11-20

The News

The International Gourmet Festival is one of a handful of events that has put Puerto Vallarta on the map, and keeps people coming back year after year. The 22nd edition of the Festival will take place November 11-20 and extends from Puerto Vallarta along the Rivera Nayarit to Tepic.

---
National Charro Day Celebrations in Puerto Vallarta

María Francesca

On September 14th, Charro Associations throughout Mexico celebrate National Charro Day with competitions, exhibitions, parades and parties that extol and ratify their commitment to this truly Mexican tradition. Here in Puerto Vallarta, the celebrations start at 10:00 am.

---
Alfonso Cuarón to Shoot His Next Film in Mexico

BanderasNews.com

Alfonso Cuaron, the director behind 'Children of Men' and 'Gravity,' is returning to Mexico this fall to start shooting a new, untitled project. He will be directing and also writing the film, which depicts a year in the life of a middle-class family in Mexico City in the early 1970s.

---
The Events Are Back On in The Riviera Nayarit!

Marc Murphy

The cuisine, adventure and cultural experiences that make the Riviera Nayarit such a highly sought-after destination will be emphasized this Fall through the wide variety of festivals and tournaments scheduled throughout the destination known as 'Mexico's Pacific Treasure.'

---
Mexico's 3rd Broadcaster Set to Launch Mid-September

Variety

The historic rupture of Mexico's decades-old TV duopoly of Televisa and Azteca is set for mid-September when Mexico's third broadcasting channel launches. Run by GEA's media unit Grupo Imagen Multimedia, the new channel will be competing for Mexico's lucrative $1.5 billion ad market.

---
Tianguis Lo De Marcos Prepares for its Third Season

BanderasNews.com

The Tianguis Lo de Marcos will reopen its doors for its third season on November 5, 2016. Held on Saturdays from 9 am - 2 pm, this weekly event offers Vallarta-Nayarit locals and visitors another year of shopping pleasures and loads of treasures in beautiful Lo de Marcos, Nayarit.

---
Puerto Vallarta 2016 Fiestas Patrias Schedule of Events

María Francesca

September, known in Mexico as 'El Mes de la Patria' (The Month of Our Nation), is a great time to visit Puerto Vallarta. From September 12th through 16th, the city will host a series of colorful, lively and patriotic celebrations commemorating Mexico's Independence from Spain.

---
The 8th Vallarta-Nayarit Gastronómica Gets Cooking

Jorge Jiménez

As part of the joint efforts to promote Puerto Vallarta and Riviera Nayarit as a single - and extraordinary - destination, the 8th Vallarta-Nayarit Gastronomica, a long weekend of gourmet events celebrating the art of eating, drinking and living well, is set for October 23-26, 2016.

---
2016 Puerto Vallarta Day of the Dead Festival Events

Banderas News Team

Set to take place Oct 28-Nov 2, this year's Dia de Los Muertos Festival in Puerto Vallarta promise to be frightfully fun, with Day of the Dead altars and Catrina displays; parades, music and dance performances; a spooktacular street party, and death-themed movie screenings.

---
TREG's 3rd House Hunters International Charity Event

BanderasNews.com

Get your tickets now for Timothy Real Estate Group's 2016 'House Hunters International' Puerto Vallarta charity fundraiser. This 'Night Of Latin Stars' will take place on November 21 at Casa Karma and will benefit Asilo San Juan de Diego, Vallarta Botanical Gardens and Corazón de Niña.

---
3rd National Guayabitos Beach Volleyball Tournament

Riviera Nayarit CVB

Some of Mexico's best volleyball players will come together at Playa Rincon de Guayabitos in the Riviera Nayarit on September 10 and 11 to compete for the $30 thousand pesos in prizes to be won at the 3rd National Guayabitos Beach Volleyball Tournament.

---
PV Celebrates Mexico's Independence... with Tacos!

María Francesca

Celebrate Mexico's Independence Day with family, food and fun at Lazaro Cardenas Park on Friday, September 16, 2016 from 4-11 pm, as Puerto Vallarta hosts the 2nd edition of the Feria del Taco. This year's Taco Fair will feature 20 restaurants, live music and pre-Hispanic food workshops.

---
September's Horoscope... with a Refreshing Twist

Ron Morgan Properties

Have your nights out been a little lackluster? Perhaps the problem isn't your luck, it's your libation. For September, Ron Morgan Properties' real estate agent Marco Mata has given his monthly horoscope a refreshing twist - it's designed to help you find the perfect cocktail for your zodiac sign.

---
ExPats in Vallarta September 2016 Happy Hour & Events

Sara Wise

ExPats in Vallarta, a totally social group with informal fellowship and assistance for Expat residents or visitors living, working or investing in or around Puerto Vallarta, or those considering it, has several events scheduled for September. Don't miss the fun, mark your calendars now!

---
Site Map
•
Print this Page
•
Email Us
•
Top