Entertainment
Around the Bay and Beyond
No matter what your interests are, Puerto Vallarta is always ready to entertain, offering a wide variety of entertainment options that will keep everyone amused. But it's up to you to decide how you want to spend your time here....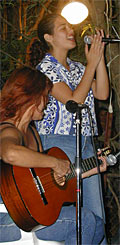 While every destination in Mexico has something to offer visitors, romantic Puerto Vallarta delivers something for everyone: beaches on a beautiful bay, great dining, a sizzling nightlife, Broadway quality stage plays, live music, movie theaters, cultural events, art galleries, excellent shopping, world-class golf and tennis, activities and excursions galore, and fun, fun, fun!


In Puerto Vallarta you can relax on a beautiful beach, play a round of championship golf, shop for Mexican handcrafts and dine in a wide variety of restaurants. There are also countless tours and activities to enjoy - from exciting jeep safaris and canopy tours in the tropical jungle to whale watching, sailing, snorkeling or scuba diving in Banderas Bay.


Visitors who appreciate cultural experiences will love the festivals and events hosted in Puerto Vallarta each year. A variety of cultural events, including the Gourmet Festival and an International Film Festival are designed for the cosmopolitan visitor, while Fishing, Tennis and Golf Tournaments are complemented by the Old Mexico flavor of this cozy seaside village.


And many visitors prefer to spend their days relaxing on the beach soaking up the warm tropical rays. Puerto Vallarta is a haven for weary vacationers who want nothing more than a good book, a tan and icy cold beers or margaritas delivered at regular intervals by an adept, and usually bilingual, waiter.

• B E L O W T H E F O L D •
Entertainment Season Still Going On Strong at Act2PV
Marsha Ross

Entertainment season in Puerto Vallarta is going on strong at Act2PV, the 'Best Performing Arts Venue in Banderas Bay.' This week's lineup includes the return of two popular shows, a movie under the stars, a live stream of the hilarious 'What A Drag!' charity event, and all of your favorite acts.

---
Sutton Lee Seymour 'The Life of the Party' at The Palm
Debbie White

Fasten your seat belts and get ready to laugh your cares away with NYC's Drag Darling, Sutton Lee Seymour! She's back for her 6th Season in Puerto Vallarta, and invites you into her wacky world of song, dance and comedy every Tuesday & Friday at The Palm Cabaret.

---
Three More Chances to See Miss Conception at The Palm
BanderasNews.com

If you are in Puerto Vallarta and have not yet seen 'The Immaculate Miss Conception 2.0' at The Palm Cabaret, you only have three more chances to see this fabulous show. Join Miss Conception as she sings, acts and dances her way into your heart on March 4, March 8 and March 11 at 8 pm.

---
'Duo Voce' Concert at Our Lady of Guadalupe, March 11
Debbie White

Kim Kuzma and Enrique de Allende will perform 'Duo Voce' at The Church of Our Lady of Guadalupe in Puerto Vallarta on March 11 at 8:30 pm. This spectacular concert was originally planned for last March, but the Covid pandemic forced the performance to be postponed.

---
'What A Drag' 2021 to Benefit Vallarta Women's Shelter
Marie Callan

The organizers of 'What A Drag' had to be creative to present the 7th edition of Puerto Vallarta's annual drag competition for straight men in a safe & socially distanced way. In addition to very limited seating at Teatro Vallarta, several local venues will live stream the March 14 event.

---
Puerto Vallarta Home to Three World-Class Golf Courses
Diego Sancho

With the Sierra Madre Mountains and the Mexican Pacific providing a stunning tropical backdrop, golfing in Puerto Vallarta is truly a spectacular experience. Here, we take a look at three golf courses that those who love to hit the links won't want to miss.

---
There's Always Something Great to See at Act2PV!
Marie Callan

With three closing nights, the Golden Globes live streaming on the largest screen in Old Town and continuing shows, there's a lot going on at Act2PV this week! So, If you are visiting Puerto Vallarta and looking for something fun to do, head over to Act2!

---
Free 'Native Roots' Video Course and Teachers Guide
BanderasNews.com

The non-profit Center for Traditional Medicine, in collaboration with Eat the Change and the Center for World Indigenous Studies, has launched a free video course for teens, their parents, and educators that explores the application of Indigenous science and wisdom to the problems of climate change.

---
Dueling Drag Divas Wednesdays & Sundays at The Palm
BanderasNews.com

The Dueling Drag Divas, New York Times acclaimed impressionist Jo Anna and Emmy Award Winner Chi Chi Rones, have returned to Puerto Vallarta, where they are performing an All New Show every Wednesday and Sunday night at 8:00 pm, at The Palm Cabaret.

---
'Raise for R.I.S.E.' - A COVID Friendly Fundraiser
Lisa Manoogian

On Sunday, March 7, 2021 from 5:00 to 7:00 pm, Broadway entertainer and Puerto Vallarta Chef Sol Rose will host 'Off the Menu,' a virtual culinary event to benefit the Refugio Infantil Santa Esperanza (R.I.S.E.) children's shelter in Puerto Vallarta.

---
Site Map
•
Print this Page
•
Email Us
•
Top