Entertainment
Around the Bay and Beyond
No matter what your interests are, Puerto Vallarta is always ready to entertain, offering a wide variety of entertainment options that will keep everyone amused. But it's up to you to decide how you want to spend your time here....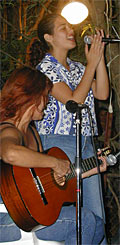 While every destination in Mexico has something to offer visitors, romantic Puerto Vallarta delivers something for everyone: beaches on a beautiful bay, great dining, a sizzling nightlife, movie theaters, cultural events, art galleries, excellent shopping, world-class golf and tennis, activities and excursions galore, and fun, fun, fun!


In Puerto Vallarta you can relax on a beautiful beach, play a round of championship golf, shop for Mexican handcrafts and dine in a wide variety of restaurants. There are also countless tours and activities to enjoy - from exciting jeep safaris and canopy tours in the tropical jungle to whale watching, sailing, snorkeling or scuba diving in Banderas Bay.


Visitors who appreciate cultural experiences will love the festivals and events hosted in Puerto Vallarta each year. A variety of cultural events, including the Gourmet Festival and an International Film Festival are designed for the cosmopolitan visitor, while Fishing, Tennis and Golf Tournaments are complemented by the Old Mexico flavor of this cozy seaside village.


And many visitors prefer to spend their days relaxing on the beach soaking up the warm tropical rays. Puerto Vallarta is a haven for weary vacationers who want nothing more than a good book, a tan and icy cold beers or margaritas delivered at regular intervals by an adept, and usually bilingual, waiter.

• B E L O W T H E F O L D •
Mamas in PV Party at El Rio BBQ Bar in Paso Ancho

BanderasNews.com

On Saturday, April 26, starting at 12 noon, Mamas in PV will throw a huge party to celebrate the little ones in a family friendly gathering with surprises, activities and tons of fun for kids of all ages at El Rio BBQ Bar & Restaurant in Puerto Vallarta's Colonia Paso Ancho.

---
Puerto Vallarta Launches Vacation Getaway Sweepstakes

Gustavo Rivas-Solis

The Puerto Vallarta Tourism Board has launched three promotional campaigns targeting the family, romance, and LGBT travel niche markets. From now until September 30, 2014, you can enter any one of three sweepstakes for your chance to win the vacation of your dreams!

---
Spring and Summer Specials at Daiquiri Dick's

Marie Callan

Puerto Vallarta's Spring and Summer months are made for entertaining, but who wants to spend their time standing over a hot stove? Especially now that Daiquiri Dick's is bringing back their nightly specials that will get you out of the kitchen and on to the beach!

---
Democrats Abroad Presents 'Chasing Ice' on Earth Day

David Kamp and Judy Snow

In recognition of Earth Day 2014, the Costa Banderas Chapter of Democrats Abroad Mexico will present 'Chasing Ice' on April 22 at 7 pm at the Paradise Community Center. While there, US citizens can also get voter registration assistance from Democrats Abroad volunteers.

---
Special New Series 'Treasure Hunt Mexico' Announced

Herbert J. Kellner

The new original TV series 'Treasure Hunt Mexico' introduces recreational treasure hunters to the best places where treasure can be found, targeting areas such as islands formerly used as hiding places by famous pirates, old gold mines, mystic towns, rivers, and ruins.

---
Marina Riviera Nayarit in La Cruz Celebrates Earth Day

Katrina Liana

Celebrate Earth Day on Tuesday, April 22nd at Marina Riviera Nayarit. The La Cruz Earth Day celebrations, sponsored by The Marina Poolside Deli, offer outdoor fun for all ages that includes a beach clean-up, great food and drink, games, live music, and even a bonfire!

---
Riviera Nayarit Hosts Open Water Swimming Competition

Lorena Sonrisas

The fourth annual Aguas Abiertas Open Water Swimming Competition organized by Nado Seguro has been announced, and it is scheduled to take place on May 17, 2014 at Marina Riviera Nayarit in La Cruz de Huanacaxtle. Come watch some of the most important athletes in Mexico compete!

---
Democrats Abroad Tuesday Film: 'The Impossible'

David Kamp and Judy Snow

As part of their Every Tuesday Night Film series, the Costa Banderas Chapter of Democrats Abroad Mexico is proud to present this week's movie, 'The Impossible.' This 2012 heart-stopping film will be shown at the Paradise Community Center on April 15th, at 7:00 pm.

---
Old Town Farmers' Market Keeps the Celebrations Going

Erin Staley

This week Mexico will be celebrating Semana Santa. If you're in Vallarta, be sure to stop by the Old Town Farmers' Market-Tianguis Cultural for a whirlwind of fun. With live music, international edibles, and unique arts & crafts, we've got it all to keep the celebrations going.

---
2014 Puerto Vallarta Mardi Gras Video Released

Tim Longpré

Puerto Vallarta's widely beloved 2014 Mardi Gras celebration and impressive lineup of entries have been captured on video by Christian Arias and Elidé Hernández. The Media-Pro production is available to view on the event website, mardigraspv.com.

---
Puerto Vallarta Bugambilia Festival May 9-11, 2014

Kimberley Bennett

Now in its second edition, the Bugambilia Festival showcases what Puerto Vallarta is all about; a sense of community, remarkably friendly folks, a vibrant culture, good times, great food, and incredible natural beauty. Join us May 9-11, 2014 to explore and enjoy springtime in Vallarta.

---
Vallarta to Host its First FIVB Beach Volleyball Open

FIVB.org

Puerto Vallarta is preparing to host the first FIVB Puerto Vallarta Beach Volleyball Open from May 6th-11th. While this will be the first FIVB international event in Vallarta, it will be the fifth time that Mexico has hosted a FIVB Beach Volleyball World Tour event.

---
10th Annual Vallarta Altruism Festival Set for May 4

Banderas News Team

Scheduled to be held in the beachfront garden at the Marriott CasaMagna Resort in Marina Vallarta on May 4th, the 10th International Altruism Festival promises to deliver a wonderful mix of charity, culture, entertainment, delicious food, and good energy. Reserve your tickets TODAY!

---
IFC Celebrates Another Successful Season April 13

Janie Albright Blank

The Puerto Vallarta International Friendship Club will celebrate another successful season of serving the community with a buffet brunch at Casa Fantasia on Sunday, April 13th at 10 am. Come learn more about the IFC's charitable programs and what they've accomplished this year.

---
The Legendary Tom Coster to Perform at the VYC

Richard Williams

The Vallarta Yacht Club is again honored to welcome jazz keyboardist and award winning composer Tom Coster, who will perform a dinner show on April 21 at 6 pm. Tom has been performing for over 50 years and has played with and/or composed for many groups, including Carlos Santana.

---
Site Map
•
Print this Page
•
Email Us
•
Top