Entertainment
Around the Bay and Beyond
No matter what your interests are, Puerto Vallarta is always ready to entertain, offering a wide variety of entertainment options that will keep everyone amused. But it's up to you to decide how you want to spend your time here....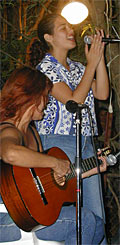 While every destination in Mexico has something to offer visitors, romantic Puerto Vallarta delivers something for everyone: beaches on a beautiful bay, great dining, a sizzling nightlife, Broadway quality stage plays, live music, movie theaters, cultural events, art galleries, excellent shopping, world-class golf and tennis, activities and excursions galore, and fun, fun, fun!


In Puerto Vallarta you can relax on a beautiful beach, play a round of championship golf, shop for Mexican handcrafts and dine in a wide variety of restaurants. There are also countless tours and activities to enjoy - from exciting jeep safaris and canopy tours in the tropical jungle to whale watching, sailing, snorkeling or scuba diving in Banderas Bay.


Visitors who appreciate cultural experiences will love the festivals and events hosted in Puerto Vallarta each year. A variety of cultural events, including the Gourmet Festival and an International Film Festival are designed for the cosmopolitan visitor, while Fishing, Tennis and Golf Tournaments are complemented by the Old Mexico flavor of this cozy seaside village.


And many visitors prefer to spend their days relaxing on the beach soaking up the warm tropical rays. Puerto Vallarta is a haven for weary vacationers who want nothing more than a good book, a tan and icy cold beers or margaritas delivered at regular intervals by an adept, and usually bilingual, waiter.

• B E L O W T H E F O L D •
Exciting News, Incredible Shows at Act II Entertainment

Daniel R. Mininni

If you love live music and theater, there's no better place to go in Puerto Vallarta than Act II, where superstars and rising stars will entertain you every night. Here's a look at this week's lineup, and some exciting news about Act II star, Diana Villamonte.

---
Denita Asberry in 'Shade of Soul' at The Palm Cabaret

Alex Bourgeau

The Palm Cabaret continues to provide Puerto Vallarta with spectacular entertainment. This weekend, Denita Asberry brings the kind of charisma portrayed only by real legends Aretha Franklin and Tina Turner in her tribute show, 'Shades of Soul,' for 4 shows only!

---
Garza Blanca to Host Stand Up Paddle Race Jan 26-27

Garza Blanca Resort

Enjoy sunny skies, salty surf and the thrill of competition in Puerto Vallarta on January 26 and 27, 2019, as the Garza Blanca Preserve and Vallarta SUP & Surf host a Stand Up Paddle Race, with three different competitions open to everyone 12 years of age and older.

---
It's Whale Watching Season in Vallarta-Nayarit!

María Francesca

Discover the extraordinary world of whale watching on your Puerto Vallarta vacation! Each year from December to March, Banderas Bay and the waters off the coast of Vallarta-Nayarit offer some of the most spectacular whale watching opportunities in the world.

---
TWO Artists to Exhibit at Galleria Dante this Friday

BanderasNews.com

Last week, we reported that Emilio Rama would open at Galleria Dante on Friday, December 14. What we didn't tell you is that he'll be joined by artist Nicolas 'Nick' Gomez. Be sure to stop by and meet both artists, view their works, and enjoy complimentary cocktails from 6-10 pm.

---
PV Cultural Department to Pay Tribute to Jim Demetro

Marie Callan

The Puerto Vallarta Cultural Department will pay tribute to Jim Demetro, the creator of many of the city's most iconic public sculptures, on Friday, December 14 at 6:30 pm in Lazaro Cardenas Park. Afterwards, the Xiutla Folkloric dancers will perform at 7:30 pm.

---
IFC Home Tours 'A Wonderfully Different Thing To Do'

International Friendship Club

One of the most popular tourist activities in all of Puerto Vallarta is the IFC Home Tour. So put on your walking shoes, grab your camera, and get ready to enjoy a fun-filled day of discovery, while giving a helping hand to the less fortunate in the Banderas Bay area.

---
RISE Revolution Through Education Fundraiser, Dec. 15

María Francesca

On December 15, Demetro Gallery will host a benefit to help cover the costs of educating the children at Refugio Infantil Santa Esperanza in Puerto Vallarta. Attendees will enjoy the perfect combination of food, fun and friendship, with all proceeds going to the RISE education fund.

---
Act II Celebrates Four Critically Acclaimed Shows

BanderasNews.com

As the only 5-Star venue in Puerto Vallarta, Act II is celebrating its biggest and best season ever! 'Little Shop of Horrors', 'Nunsense A-Men', 'Twist & Shout,' and 'Cinderella, The Musical' are getting rave reviews - and two new shows are opening this week!

---
Toys for Tots Vallarta Getting into the Christmas Spirit

VallartaNavyLeague.org

The Toys for Tots December fundraisers are always among the most popular seasonal events in Puerto Vallarta. This year, the Golf Tournament will be played on Saturday, December 8 at the Vista Vallarta course, and the Gala Dinner on the 9th at CasaMagna Marriott Resort.

---
Puerto Vallarta Garden Club Sunset Reception, Dec. 11

David Muck

Puerto Vallarta Garden Club members are invited to grab some friends and join us on December 11 for a sunset reception in the Molino de Agua garden. Uncork Mexico will offer a variety of Mexican wines and Jim Eckardt Catering will prepare appetizers to pair with the wine.

---
Theater, Music & More at Nacho Daddy / The Boutique

Catherine Caldera

As we head into the holiday season, The Boutique Theater and Nacho Daddy invite everyone to come out and have some fun! With new shows, movies, TED Talks and more, along with the best bands in Puerto Vallarta playing most every night, there's something fun for everyone!

---
Emilio Rama Art Exhibit Opens Dec. 14 at Galleria Dante

Claire Guarniere

On Friday, December 14 from 6-10 pm, a cocktail reception will open an art exhibition by Emilio Rama at Galleria Dante, Basilio Badillo #269, in Puerto Vallarta's Romantic Zone. Be sure to stop by and meet him while you're out doing next week's South Side Shuffle.

---
Vallarta Botanical Garden Chocolate & Vanilla Festival

Lorena Sonrisas

On January 11 Vallarta Botanical Garden will celebrate two plant species native to Mexico: Chocolate and Vanilla. Make plans now to come out and learn more about these botanical treasures while enjoying tours, tastings, food specials, Folkloric dance performances, and more.

---
Daiquiri Dick's Special Menu Features World Flavors

Laura Gelezunas

Take your taste buds on a world tour and you don't even have to leave Puerto Vallarta to do it! Daiquiri Dick's Restaurant is known for its international cuisine, and their bi-weekly dinner specials offer a wide selection of tastes through December 15, 2018.

---
Puerto Vallarta Chamber Orchestra Christmas Concerts

Patricia Jamison

Puerto Vallarta Chamber Orchestra Christmas Concerts are scheduled to take place on Sunday, December 16 in Puerto Vallarta and on Monday, December 17 in Nuevo Vallarta. The PVCO's holiday concerts have become an annual tradition, and this year's show promises to be extra-special.

---
Site Map
•
Print this Page
•
Email Us
•
Top