Entertainment
Around the Bay and Beyond
No matter what your interests are, Puerto Vallarta is always ready to entertain, offering a wide variety of entertainment options that will keep everyone amused. But it's up to you to decide how you want to spend your time here....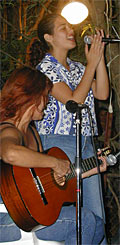 While every destination in Mexico has something to offer visitors, romantic Puerto Vallarta delivers something for everyone: beaches on a beautiful bay, great dining, a sizzling nightlife, movie theaters, cultural events, art galleries, excellent shopping, world-class golf and tennis, activities and excursions galore, and fun, fun, fun!


In Puerto Vallarta you can relax on a beautiful beach, play a round of championship golf, shop for Mexican handcrafts and dine in a wide variety of restaurants. There are also countless tours and activities to enjoy - from exciting jeep safaris and canopy tours in the tropical jungle to whale watching, sailing, snorkeling or scuba diving in Banderas Bay.


Visitors who appreciate cultural experiences will love the festivals and events hosted in Puerto Vallarta each year. A variety of cultural events, including the Gourmet Festival and an International Film Festival are designed for the cosmopolitan visitor, while Fishing, Tennis and Golf Tournaments are complemented by the Old Mexico flavor of this cozy seaside village.


And many visitors prefer to spend their days relaxing on the beach soaking up the warm tropical rays. Puerto Vallarta is a haven for weary vacationers who want nothing more than a good book, a tan and icy cold beers or margaritas delivered at regular intervals by an adept, and usually bilingual, waiter.

• B E L O W T H E F O L D •
Festival Sayulita 2015: Movies and Music in Mexico

Sara Lieberman

Cinephiles looking to enjoy a film with their feet in the sand can do so from January 14 to 18 at the second Festival Sayulita, a five-day culture and food fest in the chilled-out coastal town of Sayulita, 45 minutes north of Puerto Vallarta, Mexico.

---
Christmas Dinner at Restaurants in Puerto Vallarta, Mexico

Banderas News Team

Spending the holidays in Vallarta? Whether you are in the mood for traditional Christmas fare or want to try something a little different, we've listed Puerto Vallarta area restaurants that are serving up holiday meals that'll keep you out of the kitchen - and in a festive mood!

---
Vallarta-Nayarit Classic Rock Festival Recap

Gary W. Lichtenstein

The setting, weather, sound system, and performances by legendary rock groups were all rockin' at the Vallarta-Nayarit Classic Rock Festival. Held in the Sunset Garden adjacent to the Hard Rock Hotel Vallarta in Nuevo Vallarta, attendees enjoyed three days of 'Rock and Roll Heaven.'

---
Holiday Shopping at Old Town Farmers Market

Erin Staley

Who needs big box retailers when you can shop local from Vallarta-based vendors for the holidays? At the Puerto Vallarta Old Town Farmers Market-Tianguis Cultural, over 80 'make it, bake it, grow it' vendors will help you 'get your shop on' this holiday season.

---
Celebrate Christmas Eve with Dinner at Kaiser Maximilian

Laura Gelezunas

Kaiser Maximilian Restaurant in the heart of Vallarta's Zona Romantica will be celebrating Christmas on December 24th with a splendid holiday dinner. Executive Chef Juan Carlos Palomera and his team have developed a memorable four-course menu for $550 pesos per person.

---
Waterside Art Shows on Marina Nuevo Vallarta Malecón

Riviera Nayarit CVB

Every Saturday from 9 am to 12 noon, the 'Waterside Art Show' along the Marina Nuevo Vallarta boardwalk reinforces cultural tourism in the Riviera Nayarit. Now in its fourth year, the art show features mostly local artists creating painting and sculpture installations.

---
Wednesday Night BINGO Games Support Purr Project

Marilyn Khan

Help us put some pesos in Purr Project's 'kitty' by joining us beside the pool under the beautiful new indoor palapa at Los Arcos Hotel on Olas Altas in Old Town Vallarta every other Wednesday at 5 pm for a fun-filled evening of playing Kitty BINGO!

---
Enjoy Christmas Dinner on the Beach at Daiquiri Dick's

Laura Gelezunas

When it comes to a wonderful Christmas meal, the sky is the limit and your choice will mark the holiday. Let the crash of the waves and ocean breeze be the back drop for your Christmas dinner at Daiquiri Dick's Restaurant, right on Los Muertos Beach in Puerto Vallarta, Mexico.

---
Vallarta-Nayarit Classic Rock Festival Underway

Gary W. Lichtenstein

The Vallarta-Nayarit Classic Rock Festival, a rock fest like nothing seen before in the Banderas Bay region, continues this weekend in the Hard Rock Hotel Vallarta's Sunset Garden with performances by some of the greatest musicians from the 60s, 70s and 80s.

---
Becas Vallarta December & January Event Schedule

Polly G. Vicars

The first Becas Vallarta Breakfast of the season, at Vitea, was a sold out success. Our next event is the December 17th breakfast at Restaurant La Palapa on beautiful Los Muertos Beach. Festivities will begin at 9:30 am with breakfast, a raffle and a large silent auction.

---
Upcoming Shows at Nuevo Vallarta's Stage and Forum

D. White

If you live or are currently vacationing in Puerto Vallarta or Riviera Nayarit, there is a new entertainment venue this season. Stage and Forum Theatre, Nuevo Vallarta's newest stage, is introducing some of Puerto Vallarta's top rated shows to their Nayarit residents and visitors.

---
A Star Studded Line Up at The Red Room Cabaret

Nancy Page

If you love live music, there's no better place to go in Puerto Vallarta than The Red Room at the Act II STAGES entertainment complex, where both superstars and rising stars are ready to entertain you every night of the week. Here's a sampling of this month's upcoming shows...

---
IFC Begins 30th Season of Puerto Vallarta Home Tours

Janie Albright Blank

This season marks thirty years since the International Friendship Club started offering Puerto Vallarta Home Tours as a way to raise funds to support the fledgling Cleft Palate Clinic. For 2014-15, the IFC Home Tours will run every Tuesday and Wednesday morning through March.

---
Artists Present 'Icons' Exposition at Di Vino Dante

Gena Guarniere

On Thursday, December 11th, Di Vino Dante will welcome artists Mary Jane Miller and Valentin Gomez, who'll be giving a free 30 minute slide presentation on 'Icons,' followed by a 15 minute Q&A and a preview of the art show to follow at Vallarta's Galleria Dante on Friday night.

---
ACT II Main Stage: 'Walk Like A Man' & 'Vallarta Voice'

Daniel R. Mininni

The 2014/15 theater season is in full swing at the ACT II Entertainment complex. December 7th-28th sees the return of 'The Voice of Vallarta' and the premier of 'Walk Like A Man,' a tribute to the hugely popular New Jersey-based recording stars Frankie Valli & The Four Seasons.

---
Santana Adds Guadalajara Show to 'Corazon' Tour

AFP

Latin rock superstar 'Santana' has announced that the band will extend the 'Corazon' tour through Europe, the southern United States, and Mexico. The Mexico dates include Monterrey, Mexico City, and Guadalajara, where the band will play with fellow arena-fillers 'Journey.'

---
Volcanes Kids Sing Christmas Carols at Pulpito Plaza

Nick Maston

On December 5th & 6th, Garbo Piano Bar and The Swedes Bar & Bistro welcomed students from Colonia Volcanes to sing Christmas Carols at Pulpito Plaza. The students will repeat this show on December 17 at 7 pm. Come listen on your way to dinner - it is free & open to the public.

---
Religious Icon Art Exhibit at Galleria Dante

Claire Guarniere

On Friday, December 12th from 6-10 pm, during this week's South Side Shuffle, a cocktail reception will open a very special exhibit featuring religious icons by artists Mary Jane Miller and Valentin Gomez at Puerto Vallarta's largest fine art gallery, Galleria Dante.

---
International Fireworks Festival Schedule of Events

Banderas News Team

In addition to giving pyrotechnical showmen the chance to showcase their various disciplines and specialties, the Dec 25-31, 2014 International Fireworks Festival in Puerto Vallarta will deliver a variety of cultural activities, including music, dance and theatrical performances.

---
Whale Watching Season Begins in the Bay of Banderas

Banderas News Team

Whale watching season officially starts again on December 8th as hundreds of Humpback whales arrive off the coast of Puerto Vallarta. Their annual migration from the cold waters of Alaska brings them to the Bay of Banderas, where they will raise their young in our warm waters.

---
Beta Sigma Phi Bucerías Christmas Boutique December 13

Melinda Wilker

If you haven't started your Christmas shopping yet, head out to Bucerías on Saturday, December 13th for the Beta Sigma Phi Christmas Boutique, where you can find wonderful gifts for everyone on your list. The focus of the Boutique is unique, hand-crafted items and homemade treats.

---
PV Poker Tour Fundraiser for Puerto Vallarta Charities

American Legion Post 14

On Saturday, December 13th, the American Legion Post 14 of Puerto Vallarta will hold their Annual 'P.V. Poker Tour Fundraiser,' a charity event benefiting Corazón de Niña, Torpedos American Football - Youth Sports and American Legion Community Relations Projects.

---
Puerto Vallarta Chamber Orchestra's Winter Concert

BanderasNews.com

For many, the Puerto Vallarta Chamber Orchestra's annual holiday concerts have become an annual tradition since the ensemble's inception in 2005. This year's concert will be held at Teatro Vallarta on December 14 at 4:30 pm, preceded by a performance by the SYNG! Choir at 4:00 pm.

---
First Annual 'Vallarta Open' Tennis Tournament

Fernando Alvarez

From December 4-7th, Puerto Vallarta will welcome athletes from all over Mexico, who will gather at the Sheraton Buganvilias Resort for the first edition of the 'Vallarta Open 2014' professional tennis tournament. Local amateurs, both adults and children, are invited to participate.

---
New Vendors are a Big Hit at Vallarta's OTFM-TC

Erin Staley

The Puerto Vallarta Old Town Farmers Market-Tianguis Cultural is proud to introduce eighteen new vendors with exciting ware and fare! Stop by Lazaro Cárdenas Park on PV's South side this Saturday from 9:30 am to 2 pm to discover what they have in store for you.

---
'Miss BumBum' Contest - Seeking Mexico's Best Behinds

Fox News Latino

Now that Brazil has crowned its 2014 'Miss BumBum' winner, cast your eyes toward Mexico, where a group of gorgeous Mexicanas will flaunt their well-shaped tushes for their version of the notorious competition to find the most attractive female bottom is just getting started.

---
What Does December Have in Store For You?

Banderas News Team

The holiday season is upon us and many are looking to the stars for guidance during this time of year. The Banderas News Team's Monthly Horoscope gives you a guide to making the best of December 2014 - and the end of another year in beautiful Puerto Vallarta, Mexico.

---
TREG Event Raises $275,000 for Puerto Vallarta Charities

Marie Callan

Thanks to everyone's generous participation, Timothy Real Estate Group's Second 'House Hunters International' Screening and Charity Event, which was held at Mantamar Beach Club on November 24th, raised $275,000 pesos to aid four Puerto Vallarta non-profit organizations.

---
ExPats in Vallarta December Happy Hours and Events

Sara Wise

During the month of December, ExPats in Vallarta will be having one Happy Hour gathering on Tuesday, December, 16th at Langostinos. Wine and Appetizer evenings are scheduled for Friday, December 12th in the Marina area and on Saturday, December 27th in the Hotel Zone.

---
Vallarta-Nayarit Classic Rock Festival, Dec. 11-14

Richard Dangler

With the majestic Banderas Bay as the backdrop, the 'Vallarta-Nayarit Classic Rock Festival' will take place from Dec. 11-14. This 3 day show will feature some of the music industry's top vintage heavyweights - complete with 'all-world' staging. You don't want to miss this!

---
Essence of Cuisine: A Frida & Diego Dining Experience

Marie Callan

In the 1930s, Diego Rivera and Frida Kahlo often hosted festive dinner parties at their Mexico City home. On December 22, you can catch a glimpse of those days of dining with Frida and Diego, right here in Puerto Vallarta, at Dolores Brittingham's Essence of Cuisine cooking class.

---
Site Map
•
Print this Page
•
Email Us
•
Top