Entertainment
Around the Bay and Beyond
No matter what your interests are, Puerto Vallarta is always ready to entertain, offering a wide variety of entertainment options that will keep everyone amused. But it's up to you to decide how you want to spend your time here....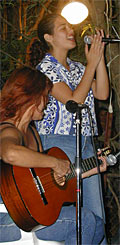 While every destination in Mexico has something to offer visitors, romantic Puerto Vallarta delivers something for everyone: beaches on a beautiful bay, great dining, a sizzling nightlife, movie theaters, cultural events, art galleries, excellent shopping, world-class golf and tennis, activities and excursions galore, and fun, fun, fun!


In Puerto Vallarta you can relax on a beautiful beach, play a round of championship golf, shop for Mexican handcrafts and dine in a wide variety of restaurants. There are also countless tours and activities to enjoy - from exciting jeep safaris and canopy tours in the tropical jungle to whale watching, sailing, snorkeling or scuba diving in Banderas Bay.


Visitors who appreciate cultural experiences will love the festivals and events hosted in Puerto Vallarta each year. A variety of cultural events, including the Gourmet Festival and an International Film Festival are designed for the cosmopolitan visitor, while Fishing, Tennis and Golf Tournaments are complemented by the Old Mexico flavor of this cozy seaside village.


And many visitors prefer to spend their days relaxing on the beach soaking up the warm tropical rays. Puerto Vallarta is a haven for weary vacationers who want nothing more than a good book, a tan and icy cold beers or margaritas delivered at regular intervals by an adept, and usually bilingual, waiter.

• B E L O W T H E F O L D •
'Evening Under the Stars' to Benefit Vallarta SPCA

Janice Gonzalez

Tickets are now on sale for an extraordinary Evening Under the Stars. The annual fund raiser for the SPCA de Puerto Vallarta, this special event will be held at Puerto del Cielo, the gorgeous event room across from the main entrance to Hacienda San Angel, on November 26, 2016.

---
Hook the Cure Tournament Returns to Puerto Vallarta

Richard Dangler

Fishing and golfing enthusiasts are heading to Puerto Vallarta, Mexico for a long weekend of fun, frivolity, and entertainment at the 11th edition of the Cystic Fibrosis Foundation's premiere fishing, golf and spa outing, 'Hook the Cure Powered by IOTEC,' set to take place Nov. 3-6.

---
Daiquiri Dick's Special Menu Features A Taste of Asia

BanderasNews.com

Don't miss your chance to sample the internationally inspired dishes on the Fall/Winter Weekly Specials Menu at Daiquiri Dick's Restaurant in sunny Puerto Vallarta, Mexico. Every week you can visit a different country, and from October 24-30, Asia is the chosen culinary destination.

---
November Brings Top-Notch Events to Riviera Nayarit

Jorge Jiménez

Travelers visiting the Riviera Nayarit next month will have an abundance of things to see and do, as the cuisine, adventure and cultural experiences that make 'Mexico's Pacific Treasure' such a sought-after destination continue with top-notch festivals and tournaments scheduled.

---
South Side Shuffle Offers Fun and Friendly Shopping

Banderas News Team

Starting Friday, November 18, 2016, and every other Friday through April 21, 2017, Puerto Vallarta's Zona Romantica will come to life from 6 to 10 pm as locals and tourists alike head over to Basilio Badillo and Constitution streets to do the South Side Shuffle.

---
Celebrate Día de Los Muertos at El Arrayán Restaurant

Banderas News Team

Now is a great time to visit one of Puerto Vallarta's most popular Mexican restaurants - El Arrayan Cocina Tradicional. The chefs are proud of Mexican traditions, and the Day of the Dead is one of their favorites, so they've prepared a special Dia de Los Muertos menu that's 'to die for!'

---
NWJ! Hosts PV's First Murder Mystery Dinner Theatre

Banderas News Team

No Way Jose!, La Zona Romantica's favorite Mexican contemporary restaurant, together with Bodie Kellogg and Murder in Mexico, will present the first murder mystery dinner theatre in Vallarta starting in November 2016, but they're offering us a sneak peek on October 26 and 27.

---
CK Productions Presents Second Splash & Dance Concert

Chris Kenny

Scheduled to be held on Wednesday, October 26, 2016 from 4:00 to 8:00 pm, CK Productions' Splash and Dance 2 will be a fun and truly unique event that features two of Vallarta's best bands playing live music, an appetizer buffet and swimming in the beautiful pool at Tacho's Park in El Pitillal.

---
ACT II Stages Ready for The Best Season in PV History!

BanderasNews.com

Act II Stages is gearing up for the best season of entertainment that Puerto Vallarta has ever seen! Between high-quality theater productions, internationally-known cabaret acts, special concerts and a slew of other entertaining events, there's something for everyone.

---
Fourth Annual Southside Pub Crawl Set for February 7

Trip Advisor

The Cheeseheads' fourth annual 'Southside Pub Crawl' is set to take place on Tuesday, February 7, 2017. For those not familiar with this event, it is a friendly gathering of PV fanatics that spend an afternoon walking around the south side of Puerto Vallarta and visiting different 'pubs.'

---
Watch Round 3 of the US Presidential Debate in Vallarta

Democrats Abroad Mexico

The Costa Banderas Chapter of Democrats Abroad Mexico invites you to join us in watching the third U.S. Presidential Debate on October 19 at Nacho Daddy in Puerto Vallarta's Romantic Zone. Join us for another bout of Hillary Clinton vs. Donald Trump. Will this be a 'knock out' round?

---
Special Tasting Event at Taste Restaurant@Casa Cupula

Kennedy Furtado

Puerto Vallarta's Taste Restaurant has reopened for the season offering new dishes demonstrating a passion for Creative Mexican Cuisine. Everyone is invited to come experience a variety of 6-8 Tastes for only $199 pesos per person at a special tasting event on October 21, 2016.

---
Vallarta Celebrates The Day of the Dead Oct 29-Nov 2

Banderas News Team

Set to take place Oct 29-Nov 2, this year's Día de Los Muertos Festival in Puerto Vallarta promise to be frightfully fun, with Day of the Dead altars and Catrina displays; music and dance performances; street parties and parades; and other 'spooktacular' events throughout the city.

---
Riviera Nayarit Hosts 3rd 5-10K Guayabitos Race

Jorge Jiménez

The 3rd Guayabitos 5-10K Race is ready to go in Rincon de Guayabitos on Sunday, October 16. With cash awards totaling 42,000 pesos to be split among the winners of the event's three categories - the traditional 5 and 10 K, and a colorful 3k run - this is one race you don't want to miss!

---
October is Frighteningly Fun at Galerías Vallarta

Banderas News Team

One of the best things about living in Puerto Vallarta is the variety of activities and attractions available for family fun. There's always something fun to do at Galerías Vallarta - especially during October, when the mall celebrates its 9th anniversary and El Dia de Los Muertos.

---
The Kinsey Sicks Kick Off Season 4 at Act II Stages

Daniel R. Mininni

Act II Stages is about to begin its fourth year in Puerto Vallarta, and this season's line-up is amazing! In addition to some fresh new talent, many of our favorites are returning, starting with a 5-show-run of The Kinsey Sicks' hilarious 'Electile Dysfunction,' which opens October 25.

---
Latin Stars Team Up for US-Mexico Border Concert

Fox News Latino

Top names in Latin music will perform next week at the US-Mexico border in a live-broadcast concert hosted by Univision. The 'RiseUp As One' concert will celebrate 'the connectedness of our world and the positivity that occurs through empathy, respect and openness to one another.'

---
'Heckler's Delight' Returns to Taste October 9 & 19

Banderas News Team

'The Donald' made another unexpected appearance in Mexico on September 26. Actually, it was Casa Cupula owner, Don Pickens, cleverly disguised as Trump for 'Heckler's Delight' at Taste Restaurant, where two more FUN-tastic debate watching parties will be held on October 9 & 19th.

---
'Married and Looking on Rocket Fuel' at Act II, February 7-9

Daniel R. Mininni

Act II Stages is absolutely thrilled to welcome the sensational Lorena Peril, and her sidekick/hubby, Ray Jon Narbaitz, back to Puerto Vallarta this season. From February 7-9, 2017, this Dynamic Duo will present their new show, 'Married and Looking on Rocket Fuel,' for 3 shows only.

---
'Del Acstracto Ranchero al Naquismo Mágico' at OPC

Pilar Perez

'Del acstracto ranchero al naquismo mágico,' an art exhibit curated by Carmen Villoro, will open at Puerto Vallarta's Oficina de Proyectos Culturales (OPC) on Saturday, October 8 from 7-9 pm. This exhibition includes installation, painting, and graphic works by Mexican artist Gil Garea.

---
Tianguis Lo de Marcos Plans Opening Day Excitement

BanderasNews.com

Returning to the Riviera Nayarit for its third season on November 5, 2016, Tianguis Lo De Marcos will feature the works of over 50 talented artisans, including growers of organic produce and makers of hand blown glass, clothing, unique artisan items, fresh baked goods, salsas and more.

---
ExPats in Vallarta October 2016 Happy Hours and Events

Sara Wise

ExPats in Vallarta, a totally social group with informal fellowship and assistance for Expat residents or visitors living, working or investing in or around Puerto Vallarta, or those considering making the move to Mexico, has announced this month's fun-filled schedule of events.

---
El Arrayán Mexican Cooking Classes Resume October 10

BanderasNews.com

The entire team at El Arrayan Restaurant in Puerto Vallarta, Mexico is happy to announce that the 2016-2017 season of their Traditional Mexican Cooking Classes will begin on October 10, 2016 and be held every Monday, Thursday and Saturday through the end of March 2017.

---
No Way José! Ushers in Season 8 on October 7

BanderasNews.com

Award-winning Puerto Vallarta favorite, No Way Jose! Restaurant/Bar, invites you to help celebrate the opening of their doors for Season 8 on Friday, October 7, 2016. In addition to all of the menu favorites, guests will enjoy exciting weekly specials and a new vegan menu this season.

---
Site Map
•
Print this Page
•
Email Us
•
Top