Entertainment
Around the Bay and Beyond
No matter what your interests are, Puerto Vallarta is always ready to entertain, offering a wide variety of entertainment options that will keep everyone amused. But it's up to you to decide how you want to spend your time here....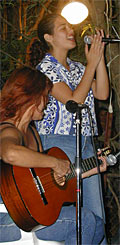 While every destination in Mexico has something to offer visitors, romantic Puerto Vallarta delivers something for everyone: beaches on a beautiful bay, great dining, a sizzling nightlife, movie theaters, cultural events, art galleries, excellent shopping, world-class golf and tennis, activities and excursions galore, and fun, fun, fun!


In Puerto Vallarta you can relax on a beautiful beach, play a round of championship golf, shop for Mexican handcrafts and dine in a wide variety of restaurants. There are also countless tours and activities to enjoy - from exciting jeep safaris and canopy tours in the tropical jungle to whale watching, sailing, snorkeling or scuba diving in Banderas Bay.


Visitors who appreciate cultural experiences will love the festivals and events hosted in Puerto Vallarta each year. A variety of cultural events, including the Gourmet Festival and an International Film Festival are designed for the cosmopolitan visitor, while Fishing, Tennis and Golf Tournaments are complemented by the Old Mexico flavor of this cozy seaside village.


And many visitors prefer to spend their days relaxing on the beach soaking up the warm tropical rays. Puerto Vallarta is a haven for weary vacationers who want nothing more than a good book, a tan and icy cold beers or margaritas delivered at regular intervals by an adept, and usually bilingual, waiter.

• B E L O W T H E F O L D •
Enjoy Canadian Thanksgiving Dinner at Daiquiri Dick's

Media Diva International

Canadian Thanksgiving dinner kicks off the holiday season at Daiquiri Dick's Restaurant in Puerto Vallarta. But you don't have to be Canadian to dig into this bountiful meal. Everyone is welcome to enjoy a turkey dinner with all the trimmings or other goodies on October 12 starting at 5 pm.

---
Puerto Vallarta Plans Día de Los Muertos Extravaganza

Marie Callan

The Puerto Vallarta Tourism Board is working with the producers of Vallarta Pride to extend its traditional Day of the Dead festivities into a 5-day cultural festival that will include a series of events and activities intended to make this year's celebrations unforgettable.

---
New Season of Fun at Nacho Daddy / Boutique Theatre

Catherine Beeghly

The streets of the Zona Romantica in Puerto Vallarta are getting cooler and busier, and Nacho Daddy owners Sean Moore and Tammy Prust are excited to greet new and returning patrons. 'We're going to have more fun than humans are allowed to have,' Moore says.

---
Riviera Nayarit Hosts 2nd 5-10K Guayabitos Race, Oct 11

Riviera Nayarit CVB

The 2nd 5-10K Guayabitos Race will take place on October 11th at 7 am, with the start and finish lines at the Hotel Decameron Los Cocos in Rincon de Guayabitos. The competition will include 5 categories, among them youths, masters and open, divided into men's and women's divisions.

---
X Festival 'i Madonnari' Puerto Vallarta November 20-22

Banderas News Team

The X Festival I Madonnari will be held in Puerto Vallarta from November 20-22, 2015, when 'i Madonnari,' or street painters, will transform the walk ways in Vallarta's Municipal Plaza into beautiful works of art, using the pavement as their canvas and chalk as their medium.

---
Island Time Music & Fishing Fest, Isla Mujeres, Mexico

Banderas News Team

Jerrod Niemann, Kellie Pickler, Love & Theft and LOCASH are among the stars headed to Mexico for the Island Time Music and Fishing Fest this winter. The event runs February 15 through 20 on the island of Isla Mujeres and coincides with the winter migration of sailfish to the island.

---
Daiquiri Dick's Weekly Specials: The Flavors of Mexico

Laura Gelezunas

When in Mexico, sample authentic Mexican cuisine. There is no better place to try it than at Daiquiri Dick's Restaurant in Puerto Vallarta, where a variety of regional favorites are featured on their Weekly Specials Menu from October 4-12, 2015.

---
Season's First ExPats in Vallarta Happy Hour, Oct. 20

Sara Wise

ExPats in Vallarta, a totally social group with informal fellowship and assistance for Expat residents or visitors living, working or investing around Vallarta or considering it, will be having their first Happy Hour of the season at Langostinos on Tuesday, October 20 from 5-7 pm.

---
Tianguis Lo de Marcos Plans Opening Day Excitement

BanderasNews.com

Scheduled to reopen November 7, Tianguis Lo De Marcos will feature the works of over 40 talented Artisans, including growers of organic produce and a Food Court with a handful of select providers selling an impressive selection of culinary items you are not likely to find elsewhere.

---
Davannayoga Presents an Evening With Sebastian Siegel

Anna Laurita

On October 16 at 7 pm, Davannayoga, a traditional-style yoga school in Puerto Vallarta, will host a special evening with Sebastian Siegel on contemporary applications of Not Mistaking the Finger for the Moon, including a screening of his acclaimed documentary, 'Awakening World.'

---
Celebrate Oktoberfest in Mexico at Kaiser Maximilian

Laura Gelezunas

It is October, and you know what that means... it's time for Oktoberfest! Here in Puerto Vallarta, European Chef Andreas Rupprechter is serving up an Oktoberfest menu in addition to the traditional Austrian cuisine that has made Kaiser Maximilian one of PV's favorite restaurants.

---
What Does October Have in Store for You?

October 2015

The night sky shines a bit brighter over Banderas Bay. Laura Gelezunas, a Puerto Vallarta Real Estate Agent with Ron Morgan Properties, is happy to share her guide to the tropical stars with you. Many believe these heavenly bodies are key to making the most out of life in Mexico.

---
Luis Miguel to Perform in Puerto Vallarta November 15

Lorena Sonrisas

Mexican singer and international icon, Luis Miguel will perform a live concert at the Puerto Vallarta International Convention Center on Sunday, November 15th as part of his 'Mexico 2015' tour, which started in January in Puebla, and will resume on November 12th in Monterrey.

---
FIVB Beach Volleyball World Tour Coming to Vallarta

Banderas News Team

The best beach volleyball on the planet will be played in Mexico's most friendly destination next month. From October 6-11th, the FIVB Beach Volleyball World Tour will bring 224 professional players from 14 countries to our city to compete in the 2015 edition of the Puerto Vallarta Open.

---
Sister Flor Captivates 'MasterChef Mexico' Viewers

BBC.com

Known as 'The Wonder Nun,' 67-year-old Sister Florinda Ruiz has captivated both 'MasterChef Mexico' audiences and judges with not only her seasonings but, according to her opponents, also her charm during the first Mexican edition of the reality television show.

---
2016 NFL Regular Season Games: Mexico or Germany?

Palm Beach Post

While the NFL ponders eventually placing a franchise a London, the league will decide in the next 6-8 weeks whether to hold regular season international games in 2016 outside of the United Kingdom. An NFL executive said the league is considering Mexico and Germany as possibilities.

---
Vallarta Restaurants Prepare for 21st Gourmet Festival

Puerto Vallarta Tourism Board

Puerto Vallarta, Mexico's leading culinary beach destination, is ready to once again host the International Gourmet Festival. Now in its 21st edition, the annual food and wine event is taking place at restaurants and resorts in the greater Banderas Bay area from November 16-22, 2015.

---
Site Map
•
Print this Page
•
Email Us
•
Top