Entertainment
Around the Bay and Beyond
No matter what your interests are, Puerto Vallarta is always ready to entertain, offering a wide variety of entertainment options that will keep everyone amused. But it's up to you to decide how you want to spend your time here....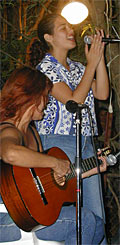 While every destination in Mexico has something to offer visitors, romantic Puerto Vallarta delivers something for everyone: beaches on a beautiful bay, great dining, a sizzling nightlife, Broadway quality stage plays, live music, movie theaters, cultural events, art galleries, excellent shopping, world-class golf and tennis, activities and excursions galore, and fun, fun, fun!


In Puerto Vallarta you can relax on a beautiful beach, play a round of championship golf, shop for Mexican handcrafts and dine in a wide variety of restaurants. There are also countless tours and activities to enjoy - from exciting jeep safaris and canopy tours in the tropical jungle to whale watching, sailing, snorkeling or scuba diving in Banderas Bay.


Visitors who appreciate cultural experiences will love the festivals and events hosted in Puerto Vallarta each year. A variety of cultural events, including the Gourmet Festival and an International Film Festival are designed for the cosmopolitan visitor, while Fishing, Tennis and Golf Tournaments are complemented by the Old Mexico flavor of this cozy seaside village.


And many visitors prefer to spend their days relaxing on the beach soaking up the warm tropical rays. Puerto Vallarta is a haven for weary vacationers who want nothing more than a good book, a tan and icy cold beers or margaritas delivered at regular intervals by an adept, and usually bilingual, waiter.

• B E L O W T H E F O L D •
64th Sailfish & Marlin Tournament, November 13-16
Richard Dangler

The 2019 Puerto Vallarta International Sailfish and Marlin Fishing Tournament is scheduled to take place in the waters of Banderas Bay Nov. 13-16. Now in its 64th year, this is one of the Mexican Pacific's most prestigious sportfishing tournaments, attracting anglers from all over the world.

---
A Page in the Sun Bookstore/Café Has a New Home
Paco Ojeda

A Page in the Sun, the venerable bookstore/café on the South Side of Puerto Vallarta, has a new location, thanks to a fortuitous alliance with local sculptor, Jim Demetro. The new bookstore/gallery opened last week, and Paco Ojeda checked it out so he could give us the scoop.

---
Free Malecón Sculpture Tours on Tuesdays & Thursdays
Banderas News Team

The free Tuesday morning and Thursday evening Puerto Vallarta Malecon Sculpture Tours, created and conducted by Galería Pacifico owner Gary Thompson, return for the 14th season this month. Morning tours will be held every Tuesday at 9:30 am and evening tours on Thursdays at 6:00 pm.

---
Sold-Out Shows Start the 2019/2020 Season at Act2PV
Marsha Ross

Act2PV has begun its 7th exciting season with excitement, anticipation, new friends (and old), and Sold-Out shows! And, with three more shows opening this week, the 2019/2020 season at this 5-star venue continues to bring 'The Best of the Best' entertainment to Puerto Vallarta.

---
'Frida & Diego V' Animal FUNdraiser at Casa Yvonneka
Marie Callan

Tickets are on sale now for one of the holiday season's most popular events - Casa Yvonneka's annual Frida FUNdraiser for Puerto Vallarta Animals. The fifth edition of this fabulous costume party with a cause will be held on Dec. 7 at Casa Yvonneka, a luxurious villa overlooking Banderas Bay.

---
Thanksgiving in PV? Let Daiquiri Dick's Do the Cooking!
Laura Gelezunas

There are those of us who enjoy the eating part of Thanksgiving more than the cooking part. If you don't feel like turning on the oven and heating up the house, especially here in Puerto Vallarta, you can get your turkey fix at Daiquiri Dick's Restaurant - or order it to go!

---
Thanksgiving Dinner in Puerto Vallarta at The River Café
Lorena Sonrisas

Are you spending Thanksgiving in Puerto Vallarta? On November 28, The River Café will be serving a fabulous four-course holiday dinner that's sure to seduce the most passionate foodie, complemented by impeccable service, live music and the sights and sounds of nature.

---
Vallarta Botanical Garden Wins Garden Tourism Award
Neil Gerlowski

The recipients of the 2019 Garden Tourism Awards were announced on November 5 at the North American Garden Tourism Conference in Victoria, Canada, and Vallarta Botanical Garden was once again distinguished as one of the 'Top 10 North American Gardens Worth Travelling For.'

---
The Palm to Kick Off 20th Season of Shows November 18
Alex Bourgeau

November 18 marks the beginning of a new season of entertainment at The Palm Cabaret. Celebrating its 20th year in Puerto Vallarta, the opening night show will feature Miss Conception, Lady Zen, Piel Canela, Spencer Day and other PV favorites, and benefit the RISE children's shelter.

---
SETAC Celebrates 10 Years of Serving Puerto Vallarta
Robert M. Schley

SETAC, Puerto Vallarta's LGBT Wellness Center, is celebrating 10 years of operations with a party free to the Community at Industry nightclub on Saturday, November 16, from 7:00-10:00 pm. DJs will play dance music throughout the night, and all are welcome to attend.

---
Site Map
•
Print this Page
•
Email Us
•
Top