Entertainment
Around the Bay and Beyond
No matter what your interests are, Puerto Vallarta is always ready to entertain, offering a wide variety of entertainment options that will keep everyone amused. But it's up to you to decide how you want to spend your time here....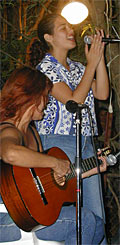 While every destination in Mexico has something to offer visitors, romantic Puerto Vallarta delivers something for everyone: beaches on a beautiful bay, great dining, a sizzling nightlife, movie theaters, cultural events, art galleries, excellent shopping, world-class golf and tennis, activities and excursions galore, and fun, fun, fun!


In Puerto Vallarta you can relax on a beautiful beach, play a round of championship golf, shop for Mexican handcrafts and dine in a wide variety of restaurants. There are also countless tours and activities to enjoy - from exciting jeep safaris and canopy tours in the tropical jungle to whale watching, sailing, snorkeling or scuba diving in Banderas Bay.


Visitors who appreciate cultural experiences will love the festivals and events hosted in Puerto Vallarta each year. A variety of cultural events, including the Gourmet Festival and an International Film Festival are designed for the cosmopolitan visitor, while Fishing, Tennis and Golf Tournaments are complemented by the Old Mexico flavor of this cozy seaside village.


And many visitors prefer to spend their days relaxing on the beach soaking up the warm tropical rays. Puerto Vallarta is a haven for weary vacationers who want nothing more than a good book, a tan and icy cold beers or margaritas delivered at regular intervals by an adept, and usually bilingual, waiter.

• B E L O W T H E F O L D •
El Arrayán Restaurant Celebrates El Día de Los Muertos

BanderasNews.com

Every year on November 1 and 2, Mexicans celebrate Día de los Muertos in honor of their deceased loves ones. Here in Puerto Vallarta, El Arrayán is serving a traditional menu and erecting an altar as part of the Asociación Vallarta Centro's 'Pasaporte del Festival de Muertos.'

---
Charity Bingo Resumes at Nacho Daddy November 12th

Kathleen Palmer

Are you ready for some BINGO? We are delighted to announce that Nacho Daddy Restaurant & Bar in Puerto Vallarta's Zona Romántica is hosting the new season of the ever-popular Charity BINGO in support of two very special local charities: Pasitos de Luz and Colina Spay & Neuter Clinic.

---
SEMARNAT Establishes 2014-2015 Whale Watching Season

El Sol de Nayarit

Each year from December to March, the waters off the coast of Puerto Vallarta offer some of the most spectacular whale watching in the world. SEMARNAT recently announced the 2014-15 whale watching season in the Banderas Bay region will begin on Dec 8 and end March 23.

---
ART VallARTA Sugar Skull Making Workshop, October 29

artvallarta.com

Come to ART VallARTa at 10 am on Wednesday, October 29th and learn how to make edible Sugar Skulls for your El Día de los Muertos Altar in Puerto Vallarta, Mexico. ART VallARTa is a collaborative art space located at Pilitas #213, just off Olas Altas in the heart of the Romantic Zone.

---
Arrecifes Hosts 5th Annual Vallarta Concierge Festival

Marie Callan

On Friday, November 7th at 7 pm, Arrecifes Restaurant in the Puerto Vallarta Westin Resort and Spa will be hosting the 5th Annual Asociación de Concierges Región Pacifico (Pacific Region Concierge Association) 'Festival del Concierge' to benefit two local charities: Pasitos de Luz and Canica.

---
IFC Opens the Season with Brunch at Casa Fantasia

Janie Albright Blank

To start off the 2014-2015 Season the Puerto Vallarta IFC is hosting a Brunch at Casa Fantasia on November 11. President Dan Grippo will present an update on our Cleft Palate program, educational programs, and other charitable giving activities that have continued over the summer.

---
Ozzy Announces 'Ozzfiesta' in Riviera Maya, Mexico

Richard Dangler

If you have ever fantasized about enjoying a tequila on a Mexican beach while watching Ozzy Osbourne tear up the stage, your dreams are about to become a reality. Announcing 'Ozzfiesta,' a 5 day event to take place next May at the Hard Rock Hotel in Riviera Maya, Mexico.

---
ACT II Entertainment Presents Del Shores' Sordid Best

Banderas News Team

The 2014-2015 theater season officially opens in Puerto Vallarta with the return of funny man and playwright, Del Shores who'll present 'My Sordid Best' on the ACT II Main Stage on Oct 25 & Nov 1; and the international premiere of his award-winning movie, 'Southern Baptist Sissies,' Nov 1.

---
No Way José! 6th Annual Season Kick-Off Party, Nov. 2nd

BanderasNews.com

Vallarta's favorite Restaurant/Bar, No Way José!, will be celebrating El Día de Los Muertos and the re-opening of the No Way José! Terrace on November 2 with a classic No Way José! fiesta. Julie, José Alfredo and the NWJ! team invite you to help them kick off Season 6 with a bang!

---
Hard Rock Vallarta Hosts 5K Run for Breast Cancer

Ubardo Aguilar

As part of their Third Annual 'Pinktober' campaign, the Hard Rock Hotel Vallarta will be hosting a 5K 'run for the cause' on Sunday, October 19th at 8 am. The $290 pesos registration fees benefit Grupo Bennu, a non-profit organization that supports Banderas Bay area women with cancer.

---
American School of Puerto Vallarta's 'Spook du Soleil'

Eduardo Garcia

Come one and all to the fantastic Halloween event at the American School of Puerto Vallarta! Scheduled to take place on October 30th from 6-11 pm, this year's theme is 'Spook du Soleil,' so there will be lots of color, amazing shows and fun for all ages.

---
1st Annual Guayabitos Bike Fest October 17-19, 2014

Riviera Nayarit CVB

The 1st Annual Guayabitos Bike Fest 2014, scheduled to be held from October 17-19, promises plenty of fun for the entire family. Expect a night ride, beach activities, a BMX and antique bike exhibit, mountain routes, street rides for every skill level, and more.

---
TREG's 2014 House Hunters International Charity Event

Timothy Real Estate Group

Don't miss Timothy Real Estate Group's 2nd House Hunters International Charity Event benefiting Becas Vallarta, Make-A-Wish Foundation, Asilo San Juan Diego and the Vallarta Botanical Gardens. The 'Gilligan's Island' themed-event will be held on November 24 at Mantamar Beach Club.

---
Celebrate Oktoberfest in Vallarta at Kaiser Maximilian

Laura Gelezunas

With around 6 million visitors from all around the world converging on Munich in October every year, Oktoberfest is the largest festival in the world. In Puerto Vallarta, you can celebrate Oktoberfest all month long with authentic German food and spirits at Kaiser Maximilian Restaurant.

---
Hairspray Night Supports SETAC's Fight Against Aids

Marie Callan

Get ready to be dazzled by outrageous hairstyles as 'Tu Centro Comunitario,' the SETAC Community Center, brings 'Hair Spray Night' back to Puerto Vallarta on November 8. This runway spectacular will support SETAC and their fight against HIV and AIDS in the Banderas Bay area.

---
Daiquiri Dick's is Open & Ready for High Season

BanderasNews.com

After a brief vacation spent 'spiffing up' the restaurant and giving the chefs a chance to do some experimenting with possible new menu items and specials, Daiquiri Dick's is open and ready for another great season of serving Puerto Vallarta residents and visitors.

---
Sea Turtles Assisted Survival in Puerto Vallarta

Thalia Martinez

To prevent turtle eggs poaching and baby turtles deaths from human activities, there are five important turtle sanctuaries in Puerto Vallarta and surrounding areas. All of them have turtle research & conservancy projects run by Marine specialists. Visit one of them with Superior Tours.

---
'Purgatorio' Screened in Tijuana Next to Border Fence

Rodrigo Reyes

Mexico City's non-fiction filmmaker Rodrigo Reyes recounts playing his latest feature in Tijuana and ponders the real-world value of issue-driven documentaries. 'Purgatorio: A Journey Into the Heart of the Border' was released in theaters last weekend in New York City.

---
Fall Events & Holiday Celebrations in Puerto Vallarta

Banderas News Team

Between exciting events and competitions; colorful fiestas, parades and traditional celebrations; not to mention fine cuisine and live music, the Fall and Winter seasons are a great time to visit Puerto Vallarta, where the local community welcomes tourists to join in all of the festivities.

---
Pink Cocktail for Breast Cancer Awareness at Amerimed

Pamela Thompson

To mark the start of breast cancer awareness month, Healthcare Resources Puerto Vallarta will host a Pink Cocktail Party in the Hospital Amerimed lobby on October 7th at 7:30 pm. We hope you will be able to stop by to help us honor breast cancer survivors and spread awareness.

---
ExPats in Vallarta October Happy Hours and Events

BanderasNews.com

ExPats in Vallarta, a totally social group with informal fellowship and assistance for Expat residents or visitors living, working or investing around Puerto Vallarta (and those considering making PV their home,) has announced this month's schedule of events.

---
Sammy Hagar Moves Birthday Bash From Cabo to Vegas

Diego Sancho

Sammy Hagar was forced to cancel the 2014 edition of his annual 'Birthday Bash' at his Cabo Wabo Cantina after Hurricane Odile ravaged Cabo San Lucas on September 14th. But the Red Rocker has scheduled an event in Las Vegas to replace the Los Cabos extravaganza.

---
CUC Presents 'Nuestro Amigo Americano' Oct 2-3

Marie Callan

Vallarta's Centro Universitario de la Costa invites everyone to enjoy free screenings of 'Nuestro Amigo Americano,' a documentary about John Huston's life and work in Mexico. The film will be shown at 11 am on Oct 2 in the CUC Auditorium, and 8:30 pm Oct 3 at Los Arcos del Malecon.

---
Bob Bruneau Celebrity Roast at Encore Piano & Wine Bar

pvmenschorus.org

The Puerto Vallarta Men's Chorus invites you to a 'Celebrity Roast' and party to honor Bob Bruneau as he retires from his two years as Artistic Director. The festivities begin on Saturday, October 4, at 7 PM, in the Encore Piano & Wine Bar (no host) with Act II's Danny Mininni as MC.

---
New Tianguis to Open in Lo de Marcos on November 1

Alonzo Diaz

The new Tianguis will open in Lo De Marcos, Nayarit on Saturday, November 1st, and it promises to offer Banderas Bay area locals and visitors lots of pleasures and loads of treasures to discover in a small, but upscale, outdoor shopping plaza at Luis Echeverria #9.

---
Vallarta's Galería Contempo Reopens October 1, 2014

Rodolfo Choperena Tiemann

Galería Contempo, one of Puerto Vallarta's favorite art galleries showcasing contemporary artwork, paintings and bronze statues, is delighted to present two new artist for the upcoming high season, which begins with the gallery's reopening on Wednesday, October 1, 2014.

---
Site Map
•
Print this Page
•
Email Us
•
Top