Entertainment
Around the Bay and Beyond
No matter what your interests are, Puerto Vallarta is always ready to entertain, offering a wide variety of entertainment options that will keep everyone amused. But it's up to you to decide how you want to spend your time here....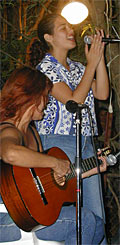 While every destination in Mexico has something to offer visitors, romantic Puerto Vallarta delivers something for everyone: beaches on a beautiful bay, great dining, a sizzling nightlife, movie theaters, cultural events, art galleries, excellent shopping, world-class golf and tennis, activities and excursions galore, and fun, fun, fun!


In Puerto Vallarta you can relax on a beautiful beach, play a round of championship golf, shop for Mexican handcrafts and dine in a wide variety of restaurants. There are also countless tours and activities to enjoy - from exciting jeep safaris and canopy tours in the tropical jungle to whale watching, sailing, snorkeling or scuba diving in Banderas Bay.


Visitors who appreciate cultural experiences will love the festivals and events hosted in Puerto Vallarta each year. A variety of cultural events, including the Gourmet Festival and an International Film Festival are designed for the cosmopolitan visitor, while Fishing, Tennis and Golf Tournaments are complemented by the Old Mexico flavor of this cozy seaside village.


And many visitors prefer to spend their days relaxing on the beach soaking up the warm tropical rays. Puerto Vallarta is a haven for weary vacationers who want nothing more than a good book, a tan and icy cold beers or margaritas delivered at regular intervals by an adept, and usually bilingual, waiter.

• B E L O W T H E F O L D •
Biblioteca Los Mangos' Super Summer Courses for Kids

Marie Callan

Have you ever thought that your sons or daughters have super powers? From July 18-August 12 Los Mangos Library will present not just another summer camp, but a 'We Are Heroes' Super Summer Course, which aims to help kids discover and develop their powers through fun activities.

---
'Summer on the Island' Courses for Children Ages 7-12

BanderasNews.com

Summer is about to begin and with it the school holidays. What better way for kids to spend them than in a fun and creative way? That is why the Vallarta Institute of Culture is offering Summer Courses on the Island for children ages 7-12 from July 18 through August 5, 2016.

---
It's Ba-ack! Summer Sizzle Returns to Daiquiri Dick's

BanderasNews.com

The temperatures are heating up and, with the return of their popular Summer Sizzle, so is the kitchen at Daiquiri Dick's Restaurant. Get ready to take your taste buds on a world tour without leaving Puerto Vallarta! The first leg of the journey begins in Asia, and runs through June 30.

---
Nayarit Ocean Fest at B Nayar Village & Resort

Penny Isabel

Mark your calendars for June 26! The First Annual Nayarit Ocean Fest at B Nayar Village & Resort is promising to be an event you really don't want to miss. The mission of the event is to celebrate the ocean and collaborate on how to protect the beautiful Bay of Banderas at our doorstep.

---
Pulpito Drag Derby Doubles Fun, Attendance, Profits

Amapas Neighborhood Association

Thanks to many generous sponsors and great crowd participation, the third annual Pulpito Drag Derby, which kicked off the 2016 edition of Vallarta Pride, netted $50,200 pesos for street improvements and lighting in the Pulpito area, plus an additional $5,000 pesos for SETAC.

---
Celebrate July 4th/Canada Day with a Vallarta Adventure

Stan Francis

Looking for a different and exciting way to celebrate the 4th of July or Canada Day in Puerto Vallarta? The American Legion is sponsoring a special Rhythms of the Night spectacular on Saturday, July 2, and Vallarta Adventures is offering a one-time-only price for this special event.

---
Summer 'Sailstice' 2016 at Marina Riviera Nayarit

Katrina Liana

In the northern hemisphere, the summer solstice is usually celebrated on the 21st of June, but this year in La Cruz de Huanacaxtle, it will be celebrated on Saturday, June 18 with an Umbrella Downwind Regatta and SUP 'Starship' Rally through Marina Riviera Nayarit.

---
Wagen Volks Club's 2016 VW Festival in Riviera Nayarit

BanderasNews.com

Are you a Volkswagen fan? If so, head out to Marina Riviera Nayarit in La Cruz de Huanacaxtle on June 18 & 19, 2016 for Riviera Fest. Now in it's 5th year, Wagen Volks Club's annual festival showcases many variations of everyone's favorite car, and provides a great afternoon of family fun.

---
'Despertar Contigo' Taping in Vallarta-Nayarit

Jorge Jiménez

The cast and crew of 'Despertar Contigo' is currently in the Banderas Bay region, shooting upcoming episodes of the popular Spanish-language soap opera. The filming began in Puerto Vallarta in late May and has moved on to Sayulita and Nuevo Vallarta, where they will tape through June 12.

---
Fourth Annual Punta Mita Beach Festival, July 7-10

BanderasNews.com

From July 7-10, 2016, the St. Regis Punta Mita Resort will host the Fourth Annual Punta Mita Beach Festival - a weekend full of fun in the sun that includes surfing, stand up paddle, beach yoga, fine cuisine, exquisite cocktails, live music, great parties, and much more.

---
'Bachelor in Paradise' Filming Season 3 in Sayulita

BanderasNews.com

Can't wait for the 'Bachelor in Paradise' drama-fest to begin this summer? Filming for the third season of ABC's summer reality show begins this week at Playa Escondida in Sayulita, Mexico, where last season's contestants spent three weeks looking for love while exploring Vallarta-Nayarit.

---
11th Annual Motofiesta Rolls into Rincón de Guayabitos

Jorge Jiménez

This weekend, the Riviera Nayarit will welcome approximately 13,000 bikers on over 9,500 motorcycles from all over the country and beyond, as the Guayabitos Motofiesta celebrates it's 11th edition. This year's event is set to take place from June 3-5 - and it promises to be a fun ride!

---
Daiquiri Dick's Special Menu Features World Flavors

Media Diva International

The internationally inspired menu at Daiquiri Dick's is adding even more flare by having a bi-weekly special a la carte dinner menu during the summer. From June 1 to 13, 2016 it is a variety of World Flavors. Take your taste buds on a world tour - without leaving Puerto Vallarta!

---
Los Bambinos in 'The Kings of Rock n Roll' August 3

Lorena Sonrisas

'Los Bambinos,' the very popular four-brother local band that is often found entertaining at Olas Altas and Romantic Zone area venues, will return to the Roxy Rock House in Old Town Vallarta on August 3 for an encore performance of last season's hit show, 'The Kings of Rock n Roll.'

---
56th Int'l Sport Fishing Tournament in San Blas

Riviera Nayarti CVB

From June 1-5, 2016, the 56th International Sport Fishing Tournament in San Blas will assemble approximately 200 angling enthusiasts from all over the world, who will vie to catch the largest sailfish, marlin and dorado - and win fabulous prizes!

---
No Way José! Wraps Up Another Spectacular Season

Julie Guerrero

Award-winning Puerto Vallarta Restaurant, No Way Jose!, invites you to enjoy this year's Restaurant Week Menu as they celebrate the closing another amazing season as 'Tu Casa en Vallarta' with their last dinner service of the season on Sunday, May 29 from 4:00 pm to 11:00 pm.

---
Events Galore this June in Mexico's Pacific Treasure

Jorge Jiménez

The Riviera Nayarit Convention and Visitors Bureau's Groups and Events Department recently announced the list of events on the Destination's calendar for June, which will take place in different locations from Nuevo Vallarta all the way to the Isla de Mexcaltitán.

---
Restaurant Week is a Great Time to Enjoy Archie's Wok

Media Diva International

Archie's Wok helped establish the culinary foundation of Puerto Vallarta and continues to be one of Banderas Bay's most beloved eating establishments. Don't miss your chance to sample the Pan-Asian dishes on Archie's Restaurant Week menu, which offers 3 courses for $229 pesos.

---
Celebrating El Día De La Marina in Puerto Vallarta

Adam García

A great time to honor the bay we all love is Dia de la Marina, observed annually on June 1st, when sailing competitions, tournaments, parades and fireworks are scheduled throughout the day. The first Navy Day was celebrated in Mexico in 1942 and Vallarta followed suit in 1949.

---
Fun & Friendship Come Together at Act II STAGES

Daniel R. Mininni

Between the closing night of the PVGMC's 'Dance All Night' Vallarta Pride Concert Series, weekly Karaoke and Music Sing Alongs, and a new show starring three of your Voice of Vallarta favorites coming in June, the fun never ends at the biggest entertainment venue in the Bay - Act II STAGES.

---
Mariachi Institute Coming to Chacala this June

Jerry Van Eeckhout

The Chacala Mariachi Institute is set to take place June 11-19, 2016 at Mar de Jade Resort in Chacala, Nayarit. This intensive 8 day course provides music teachers and college music education majors the training and materials necessary to become successful mariachi educators.

---
3rd Riviera Nayarit Mountain Bike Race, May 28

BanderasNews.com

400 participants are preparing for the Third Riviera Nayarit Mountain Bike Race, an intense, one-of-a-kind biking competition that combines beach tracks and mountain trails. The race, which is open to riders from 4 to 59 years, starts at 3 pm on May 28 in Litibú-Higuera Blanca.

---
ExPats in Vallarta June Happy Hour Gatherings

Sara Wise

ExPats in Vallarta, a totally social group offering informal fellowship and assistance to Expat residents or visitors living, working or investing in Puerto Vallarta and around Banderas Bay, will be hosting two happy hour gatherings in June at Langostinos on Los Muertos Beach.

---
Puerto Vallarta Anniversary Celebrations May 26-31st

Marie Callan

From May 26-31, 2016, Puerto Vallarta will commemorate its 98th anniversary as a municipality and 48th year as an official city with 'May Fest 2016,' a week-long celebration that includes cultural events, concerts, dance performances & fireworks. Here's a sneak peek at the events.

---
Site Map
•
Print this Page
•
Email Us
•
Top