Entertainment
Around the Bay and Beyond
No matter what your interests are, Puerto Vallarta is always ready to entertain, offering a wide variety of entertainment options that will keep everyone amused. But it's up to you to decide how you want to spend your time here....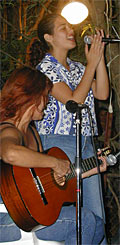 While every destination in Mexico has something to offer visitors, romantic Puerto Vallarta delivers something for everyone: beaches on a beautiful bay, great dining, a sizzling nightlife, Broadway quality stage plays, live music, movie theaters, cultural events, art galleries, excellent shopping, world-class golf and tennis, activities and excursions galore, and fun, fun, fun!


In Puerto Vallarta you can relax on a beautiful beach, play a round of championship golf, shop for Mexican handcrafts and dine in a wide variety of restaurants. There are also countless tours and activities to enjoy - from exciting jeep safaris and canopy tours in the tropical jungle to whale watching, sailing, snorkeling or scuba diving in Banderas Bay.


Visitors who appreciate cultural experiences will love the festivals and events hosted in Puerto Vallarta each year. A variety of cultural events, including the Gourmet Festival and an International Film Festival are designed for the cosmopolitan visitor, while Fishing, Tennis and Golf Tournaments are complemented by the Old Mexico flavor of this cozy seaside village.


And many visitors prefer to spend their days relaxing on the beach soaking up the warm tropical rays. Puerto Vallarta is a haven for weary vacationers who want nothing more than a good book, a tan and icy cold beers or margaritas delivered at regular intervals by an adept, and usually bilingual, waiter.

• B E L O W T H E F O L D •
Two Artist Exhibit Opens at Galleria Dante This Friday

Gena Guarniere

Exhibitions by artists Miguel Angel Martin del Campo and Juan Carlos Navarro open at Galleria Dante on Friday, January 22, as part of this week's South Side Shuffle. Stop by Vallarta's largest and most eclectic art gallery to meet the artists and enjoy complimentary cocktails from 6-10 pm.

---
Puerto Vallarta Chamber Orchestra March 2019 Concerts
Klaus Liebetanz

Don't miss the Vallarta Chamber Orchestra's final concerts of the season on March 3 at the American School in Marina Vallarta and on March 4 at Salon Paraiso in Nuevo Vallarta. Both concerts, featuring Grammy award winning cellist Donald Moline, start at 7:00 pm.

---
The Palm Cabaret Loves Entertainment... and it Shows!

Alex Bourgeau

The Palm Cabaret & Bar loves to entertain Puerto Vallarta – and it shows! If you're a fan of top-notch Cabaret/Night Club acts, great lighting and sound and an attentive staff, The Palm has it all! Join us this week as we say goodbye to some amazing acts, and welcome new ones.

---
Circo de los Niños de San Pancho 2019 Performances

Marie Callan

The Circo de los Niños de San Pancho, a social and artistic program founded by the co-creator of Cirque du Soleil, Mr. Gilles St. Croix, will present their new show from March 20th through 23rd at 7:30 pm at the Circo Bodega in San Francisco, Nayarit (aka San Pancho.)

---
Vallarta Restaurant Week to Celebrate 15th Anniversary

Vallarta Lifestyles

Vallarta Lifestyles Media Group has officially begun preparations for Restaurant Week which, from May 15-June 10, 2019, will celebrate its 15th year of offering diners the opportunity to enjoy special, 3-course, fixed-price menus at participating Banderas Bay area restaurants.

---
Act II Entertainment Makes February Fantastically Fun!

Daniel R. Mininni

Puerto Vallarta has become an 'entertainment destination,' and Act II is THE PLACE to go for the best in live cabaret, music, comedy, stage plays and drag shows. Here's a look at what's happening at Stages this week, including 'Avenue Q' auditions and two new shows opening!

---
Netflix to Open Office, Produce More Shows in Mexico

Variety

In a much-anticipated move, giant streaming service Netflix has confirmed the launch of a Mexico City office this year. The company also has more than 50 projects in different stages of production in Mexico, some original content, others co-productions.

---
Amy Armstrong Returns to Nacho Daddy for Encore

María Francesca

After selling out every show during her month-long run in January at Nacho Daddy, everyone's favorite 'Diva Loca,' Amy Armstrong, who is known for having 'the voice of an angel and the mouth of a sailor,' returns to Puerto Vallarta for one night only on Wednesday, February 20 at 9:00 pm.

---
Daiquiri Dick's Makes Valentine's Day Memorable

Laura Gelezunas

Whether you're dreaming of a romantic evening with your significant other, or living it up with a Girls' Night Out, gather up your loved ones and head over to Los Muertos Beach on the south side of Puerto Vallarta for a superb Valentine's dinner at Daiquiri Dick's Restaurant.

---
Last Chance to 'Connect with Mexico' at The Boutique

Lorena Sonrisas

This week will be your last chance to 'Connect with Mexico' at Vallarta's Boutique Theatre. Each week focused on a specific topic, and on Thursday, Feb. 14, Carlos Navarro will wrap up the series with 'A Mexico Collage,' covering a little of everything about this wonderful country.

---
7th Annual Puerto Vallarta Charity Chili Cook-Off

Jay Sadler Project

The seventh annual Puerto Vallarta Charity Chili Cook-Off, featuring chili recipes from some 18 popular PV area bars, restaurants and sponsors, along with live music by local bands, will be held on Saturday, February 23 from 1:00-5:00 pm at El Rio Bar and Grill in Paso Ancho.

---
Act II Bings Top-Notch Entertainment to Puerto Vallarta

Daniel R. Mininni

If you love live music and theater, there's no better place to go in Puerto Vallarta than Act II, where superstars and rising stars will entertain you every night. Here's a look at the exciting lineup of live cabaret, stage plays, and drag shows playing at Stages this week.

---
Wine and Dine Your Valentine at Kaiser Maximilian

María Francesca

This Valentine's Day, treat your loved one to a night of wining and dining at Kaiser Maximilian, in the heart of the Puerto Vallarta Romantic Zone. In addition to your choice of innovative dishes from a four-course menu, the restaurant offers an extensive selection of fine wines.

---
BohemiaViva Valentine's Concert at The Palm Cabaret

Margarita Bonita

If you are spending Valentine's Day in Puerto Vallarta, make plans now to see 'Desde El Corazón,' BohemiaViva's special concert presentation to celebrate the day of love, affection and friendship, at The Palm Cabaret on Wednesday, February 13th at 6:30 and 9:30 pm.

---
Mexico Explained, in Plain English, at The Boutique

Lorena Sonrisas

Do you have questions about Mexico, its people or customs? You don't need to learn Spanish to 'Connect with Mexico,' just come to The Boutique Theatre on the south side of Puerto Vallarta every Thursday at 11:00 am for 'Mexico explained, in plain English.'

---
'Little Shop of Horrors' Extended by Popular Demand

Marie Callan

Act II continues to enthrall audiences with its exciting lineup of entertainment, but one show in particular is taking Puerto Vallarta by storm! 'Little Shop of Horrors,' the must-see show of the season, has been extended by popular demand. Now playing Mondays & Thursdays at 7:00 pm.

---
Beef Dip Week & Beyond at the Palm Cabaret & Bar

Alex Bourgeau

The Palm Cabaret & Bar is proud to be part of the Beef Dip family events. It's a great time to be in Puerto Vallarta and, with artists from all over the world taking our stage, there's something for everyone. Here's what's happening during Beef Dip Week - and beyond!

---
Marc Galipeau Exhibit Opens Feb. 8 at Galleria Dante

Claire Guarniere

On Friday, February 8 from 6:00-10:00 pm, a cocktail reception will open an art exhibition by Canadian artist Marc Galipeau at Galleria Dante in Puerto Vallarta's Romantic Zone. Be sure to stop by and meet the artist while you're out doing this week's South Side Shuffle.

---
Riverfest 8 Vallarta Music Festival March 2-3, 2019

Barb Bremner

The 8th Annual Riverfest to benefit the special needs children of Puerto Vallarta will be held at El Rio BBQ on March 2 & 3, 2019. Make plans now to come enjoy live music from some of Banderas Bay's best musicians, along with fabulous food and fun - all for a good cause!

---
4 Fabulous Shows Opening in February at Act II Stages

Daniel R. Mininni

Act II is celebrating their best season of entertainment yet and, with four star-studded shows opening this month and Nunsense, A-Men! performances lending a helping hand to the Banderas Bay Womens Shelter, Puerto Vallarta can look forward to a Fabulous February at STAGES!

---
DA Film Series: Academy Awards Best Picture Nominees

Democrats Abroad Costa Banderas

From February 3-23, Democrats Abroad Costa Banderas will present 'Academy Award Month,' featuring 8 of 2018's best films - all of which have been nominated for Best Picture Oscars - followed by an Oscar Party on the 24th! The venue will be Incanto in downtown Puerto Vallarta.

---
Art Exhibition by Angeline Kyba Opens February 7

BanderasNews.com

Don't miss the opening reception of Angeline Kyba's newest art works on Thursday, February 7, from 6-9 pm. Everyone is invited to come to the artist's home studio in downtown Puerto Vallarta to celebrate the opening of the exhibition, which features 40 + oil paintings.

---
ExPats in Vallarta February 2019 Events Schedule

Sara Wise

ExPats in Vallarta, a totally social group offering informal fellowship and assistance for Expat residents, or visitors considering living, working or investing in Puerto Vallarta, has announced next month's schedule of events. Here's what's happening in February.

---
Duende: Expect the Unexpected at The Palm Cabaret & Bar

Alex Bourgeau

Playing at The Palm Puerto Vallarta Feb 8 & Mar 15, Duende is a musical phenomenon. Together, these three multi-talented performers explore the very spirit of music: blending genres such as Classical, Celtic, Pop, Rock, Spanish and Gypsy into a fusion that is a joy to witness.

---
Grammy Award-Winner to Perform IAMPV Benefit Concerts

BanderasNews.com

Grammy Award-winning cellist, Don Moline, accompanied by talented pianist, Jean-Guy Comeau, will perform fundraising concerts for IAMPV (Instituto de Artes Musicales Puerto Vallarta) on Jan. 31 and Feb. 2. Both evenings will begin with 6 pm cocktails followed by a 7 pm concert.

---
PV's Straight Men 'Come Out' Against Domestic Violence

Banderas News Team

On Sunday, March 10, some of Puerto Vallarta's finest men will take the stage at Teatro Vallarta to compete in 'What a Drag!' Tickets are on sale now for this hilarious drag competition for straight men that raises money for victims of domestic violence in the Banderas Bay area.

---
Site Map
•
Print this Page
•
Email Us
•
Top