Entertainment
Around the Bay and Beyond
No matter what your interests are, Puerto Vallarta is always ready to entertain, offering a wide variety of entertainment options that will keep everyone amused. But it's up to you to decide how you want to spend your time here....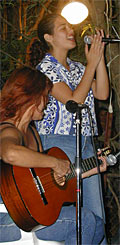 While every destination in Mexico has something to offer visitors, romantic Puerto Vallarta delivers something for everyone: beaches on a beautiful bay, great dining, a sizzling nightlife, movie theaters, cultural events, art galleries, excellent shopping, world-class golf and tennis, activities and excursions galore, and fun, fun, fun!


In Puerto Vallarta you can relax on a beautiful beach, play a round of championship golf, shop for Mexican handcrafts and dine in a wide variety of restaurants. There are also countless tours and activities to enjoy - from exciting jeep safaris and canopy tours in the tropical jungle to whale watching, sailing, snorkeling or scuba diving in Banderas Bay.


Visitors who appreciate cultural experiences will love the festivals and events hosted in Puerto Vallarta each year. A variety of cultural events, including the Gourmet Festival and an International Film Festival are designed for the cosmopolitan visitor, while Fishing, Tennis and Golf Tournaments are complemented by the Old Mexico flavor of this cozy seaside village.


And many visitors prefer to spend their days relaxing on the beach soaking up the warm tropical rays. Puerto Vallarta is a haven for weary vacationers who want nothing more than a good book, a tan and icy cold beers or margaritas delivered at regular intervals by an adept, and usually bilingual, waiter.

• B E L O W T H E F O L D •
Oktoberfest: Good Food, Good Deeds, Good Times

Dennis A. Rike

On November 12th, the Puerto Vallarta Navy League and Banderas Bay's American Legion Post 14 are hosting their annual Oktoberfest fundraiser at Hacienda Alemana on the South side of Puerto Vallarta. This event is a great way to kick-off the new season in a spirit of fun and service.

---
International Xtreme Riders Roar into Puerto Vallarta

Andres Sepulveda

If you are a fan of extreme sports, you won't want to miss the International Xtreme Riders event at the Explanada Armando Villaseñor motocross track in Puerto Vallarta on Nov 16. In addition to Freestyle motocross and BMX bike exhibitions, you can meet famous freestyle riders.

---
Old Town Farmers Market-Tianguis Cultural is Ba-ack!

Erin Staley

Puerto Vallarta's Old Town Farmers Market-Tianguis Cultural kicks off their sixth season on November 1st at 9:30 am with a ribbon-cutting ceremony and over 80 vendors selling everyone's favorite 'make it, bake it, grow it' products to Saturday shoppers at Lazaro Cárdenas Park.

---
1st Puerto Vallarta Mariachi Festival, November 20-22

Lorena Sonrisas

From November 20-22, Puerto Vallarta, Mexico will host the inaugural Mariachi PV Fest, an event designed to promote the tradition of Mariachi and Mexican culture on a local, national and international level, while supporting local charities and commemorating the Mexican Revolution.

---
Celebrate Mexico's Day of the Dead at Daiquiri Dick's

Marie Callan

Skip the usual Halloween tricks, and head over to Daiquiri Dick's Restaurant on Puerto Vallarta's famous Los Muertos Beach, where they've taken a cue from Mexico's Day of the Dead to create a Día de Los Muertos menu with traditional dishes and ghoulishly good Halloween treats.

---
Marina Vallarta Golf Classic to Benefit Los Mangos

Adriana Garcia

Los Mangos Library and Cultural Center invites everyone to participate in the Vallarta Golf Classic Tournament at Marina Vallarta Golf Club on November 1st. The charity tournament will raise funds for the library's cultural projects and Augie's Quest to help find a cure for ALS.

---
Kaiser Maximilian Announces Festival Gourmet Guest Chef

Laura Gelezunas

A world of experience lands in Puerto Vallarta for the 20th Annual Festival Gourmet. From November 13-23, 2014, chefs from around the world will be sharing their talents and best cuisine at restaurants around the city. Kaiser Maximilian welcomes 'Untitled' Executive Chef, Chris Bradley.

---
PURRfectly Wonderful Fundraising Events this November

Marilyn Khan

PuRR Project now has over 150 adorable cats and kittens in residence. Donations and fund raising events are the only source of financing to provide food, shelter and veterinary care for these rescued animals, so we're kicking off our high-season with some PURRfectly wonderful events.

---
Celebrating Life and Death in Puerto Vallarta

María Francesca

In Puerto Vallarta, the dead will soon walk the Earth — so let the parties begin! Starting on October 30th and continuing through November 3rd, there will be Day of the Dead altars, Catrina displays, singing, dancing, and other traditional activities throughout the downtown area.

---
-Vallarta-Nayarit Classic Rock Fest Lineup


BanderasNews.com

As the world's first and only festival celebrating classic rock, Vallarta-Nayarit Classic Rock Festival fans can expect 3 days of performances by some of the greatest musicians from the 60s, 70s and 80s. Whether you love roots rock, blues, soft or hard rock, you won't be disappointed!

---
Season's First BECAS Breakfast at Vitea November 19th

Polly G. Vicars

Since their inception, Becas Breakfasts have been raising money to fund the educations of Puerto Vallarta's young people of limited resources. This season's first event will be held on Wednesday, November 19th at the beautiful oceanfront bistro, Vitea. Make plans now to join us!

---
Old Town Farmers Market Gearing Up for 6th Season

Erin Staley

Over 80 local producers have spent their summers readying themselves for the 6th season of Vallarta's favorite weekend attraction: the Old Town Farmers' Market-Tianguis Cultural. We're just one week away from another fun-filled season of 'make it, bake it, grow it' shopping.

---
El Arrayán Restaurant Celebrates El Día de Los Muertos

BanderasNews.com

Every year on November 1 and 2, Mexicans celebrate Día de los Muertos in honor of their deceased loves ones. Here in Puerto Vallarta, El Arrayán is serving a traditional menu and erecting an altar as part of the Asociación Vallarta Centro's 'Pasaporte del Festival de Muertos.'

---
Charity Bingo Resumes at Nacho Daddy November 12th

Kathleen Palmer

Are you ready for some BINGO? We are delighted to announce that Nacho Daddy Restaurant & Bar in Puerto Vallarta's Zona Romántica is hosting the new season of the ever-popular Charity BINGO in support of two very special local charities: Pasitos de Luz and Colina Spay & Neuter Clinic.

---
SEMARNAT Establishes 2014-2015 Whale Watching Season

El Sol de Nayarit

Each year from December to March, the waters off the coast of Puerto Vallarta offer some of the most spectacular whale watching in the world. SEMARNAT recently announced the 2014-15 whale watching season in the Banderas Bay region will begin on Dec 8 and end March 23.

---
ART VallARTA Sugar Skull Making Workshop, October 29

artvallarta.com

Come to ART VallARTa at 10 am on Wednesday, October 29th and learn how to make edible Sugar Skulls for your El Día de los Muertos Altar in Puerto Vallarta, Mexico. ART VallARTa is a collaborative art space located at Pilitas #213, just off Olas Altas in the heart of the Romantic Zone.

---
Arrecifes Hosts 5th Annual Vallarta Concierge Festival

Marie Callan

On Friday, November 7th at 7 pm, Arrecifes Restaurant in the Puerto Vallarta Westin Resort and Spa will be hosting the 5th Annual Asociación de Concierges Región Pacifico (Pacific Region Concierge Association) 'Festival del Concierge' to benefit two local charities: Pasitos de Luz and Canica.

---
Site Map
•
Print this Page
•
Email Us
•
Top