Entertainment
Around the Bay and Beyond
No matter what your interests are, Puerto Vallarta is always ready to entertain, offering a wide variety of entertainment options that will keep everyone amused. But it's up to you to decide how you want to spend your time here....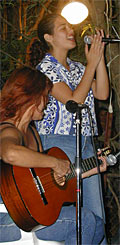 While every destination in Mexico has something to offer visitors, romantic Puerto Vallarta delivers something for everyone: beaches on a beautiful bay, great dining, a sizzling nightlife, movie theaters, cultural events, art galleries, excellent shopping, world-class golf and tennis, activities and excursions galore, and fun, fun, fun!


In Puerto Vallarta you can relax on a beautiful beach, play a round of championship golf, shop for Mexican handcrafts and dine in a wide variety of restaurants. There are also countless tours and activities to enjoy - from exciting jeep safaris and canopy tours in the tropical jungle to whale watching, sailing, snorkeling or scuba diving in Banderas Bay.


Visitors who appreciate cultural experiences will love the festivals and events hosted in Puerto Vallarta each year. A variety of cultural events, including the Gourmet Festival and an International Film Festival are designed for the cosmopolitan visitor, while Fishing, Tennis and Golf Tournaments are complemented by the Old Mexico flavor of this cozy seaside village.


And many visitors prefer to spend their days relaxing on the beach soaking up the warm tropical rays. Puerto Vallarta is a haven for weary vacationers who want nothing more than a good book, a tan and icy cold beers or margaritas delivered at regular intervals by an adept, and usually bilingual, waiter.

• B E L O W T H E F O L D •
Radio Universidad de Guadalajara PV Celebrates 14 Years

Alan Yamil Hinojosa

This Summer, Radio Universidad de Guadalajara is celebrating 14 years of broadcasting from CUCosta in Puerto Vallarta. In celebration, Radio UdeG PV has prepared a series of events for its listeners, the university community and the general public.

---
Oscars 2016 Predictions: Mexico Shortlists 14 Films

LatinPost.com

The Academy Awards' race is officially heating up, as Mexico announced fourteen films have been shortlisted to compete for the foreign film submission. Among the selections are '600 Miles' by Gabriel Ripstein and '4 Moons' by Sergio Tovar Velarde.

---
2015 Summer Sizzle Wraps Up with a Taste of Thailand

Banderas News Team

Don't miss your last chance this season to take your taste buds on a world tour without leaving Puerto Vallarta. That's right, the 2015 Summer Sizzle at Daiquiri Dick's is wrapping up this week with a 'Taste of Thailand' menu through August 31.

---
It's Raining Celebrities in The Riviera Nayarit

Jorge Jiménez

The Rivera Nayarit CVB's 'Celebrity Watch' has been very busy these last few weeks, thanks to an excess of stars that have vacationed in Mexico's Pacific Treasure this summer. Most have been bikini-clad models & celebs posing for social media pics on the destination's beautiful beaches.

---
7th Banderas Bay Rotary Club Golf Tournament, Oct. 24

Riviera Nayarit CVB

The Bahia de Banderas Rotary Club invites you to participate in their Seventh Annual Golf Tournament to benefit the people of Banderas Bay, which will be held at the Flamingos Golf course near Bucerias on Saturday, October 24, 2015, starting at 8:30 am.

---
Adios Summer! Bienvenidos Season 7 at No Way José!

Julie Guerrero

We can barely believe we are gearing up to serve our family of friends for another season at 'Tu Casa en Vallarta' - No Way José! To help us kick-start Season 7, we've opened the downstairs bar, La Cantina, with full bar service from noon to 11 pm, free botanas, Happy Hour, and more!

---
Italian Summer Sizzle Menu Encore at Daiquiri Dick's

Laura Gelezunas

You have another chance to sample innovative Italian food during the Summer Sizzle at Daiquiri Dick's Restaurant in Puerto Vallarta. Normally you can 'visit' a different country every week, but from August 20 to 24, the preferred culinary destination of Italy is back by popular demand.

---
Greenpeace 'Esperanza' to Visit Puerto Vallarta

María Francesca

'Esperanza,' the Greenpeace vessel that has been patrolling the Gulf of California looking for the illegal fishing nets that kill Vaquita Porpoises, will be in Puerto Vallarta from August 21 to 25. She will be docked at the Maritime Terminal and will be offering the public guided tours.

---
ExPats in Vallarta Summer Happy Hour, August 27

Sara Wise

Join Expats in Vallarta on Thursday, August 27th for another fun-filled Happy Hour gathering at Langostinos Restaurant from 5-7 pm. Langostinos is located on the South end of Los Muertos Beach, just north of the pier. Come relax, enjoy some great food and mingle with other ExPats.

---
The Flavors of Nayarit at Si Señor Beach Restaurant

Media Diva International

Celebrate the cuisine of Mexico all summer at Si Senor Beach Restaurant, where you can enjoy three courses for $$249 pesos. Executive Chef Victor Manuel Castaneda Romero has created a diverse menu with seafood as the star, which is being served through September 15.

---
2015 Mundo Golf Tour at Vidanta Golf Nuevo Vallarta

Riviera Nayarit CVB

The 2015 Mundo Golf Tour is making its third appearance in Riviera Nayarit at the Vidanta Golf Course in Nuevo Vallarta next Saturday, August 29th. This amazing golf course designed by Jack Nicklaus will present quite the challenge for players.

---
Act II Summer Music Fest 2015 to Benefit PV Children

Banderas News Team

On Tuesday, August 18th, the ACT II Entertainment complex is hosting an exciting evening of music, entertainment, fun and friendship to benefit Cheryl's Shoe Box and The Young Actors workshop scholarship program. The fun starts at 6:30 pm in the Encore Piano Bar.

---
6th Playa Mayto Conexión Beach Festival, August 20-23

Lorena Sonrisas

Are you ready to chill out with some good vibes? Then don't miss the Mayto Beach Conexion Beach Festival from August 20-23, 2015. Now in it's 6th edition, this is more than just a festival... it is a concept that brings young people from all over the world together for an EPIC weekend!

---
World's Largest Gay Dance Music Festival Coming to PV

sdgln.com

This coming Thanksgiving promises to be wilder, hotter and better than ever in Puerto Vallarta, Mexico! From November 27-30, 2015, 'White Party' is joining forces with Will Gorges and 'Latin Fever' to create 'White Party Puerto Vallarta,' the world's largest gay dance music festival.

---
Savor the Flavors of the World at Daiquiri Dick's

Media Diva International

Send your taste buds around the world... without leaving Puerto Vallarta! No need to pack your bags, just head on over to Daiquiri Dick's Restaurant on Playa Los Muertos, where this week's Summer Sizzle Menu offers flavors from around the world from August 13 to 17, 2015.

---
Democrats Abroad August Social Hour at La Margarita

BanderasNews.com

The Costa Banderas Chapter of Democrats Abroad Mexico invites you to join them for this month's 'Social Hour' in the air-conditioned comfort of La Margarita Bar, Lázaro Cardenas 257, east of Ignacio Vallarta in the Romantic Zone of Puerto Vallarta, on Tuesday, August 18th from 5-7 pm.

---
Kaiser Maximilian Offers Mediterranean Menu in August

Banderas News Team

For the last 20 years, exceptional Austrian fare has made Kaiser Maximilian one of Puerto Vallarta's favorite restaurants. But in August, this charming European-style café is also offering diners a taste of something different... mouth watering Mediterranean cuisine.

---
Site Map
•
Print this Page
•
Email Us
•
Top