Entertainment
Around the Bay and Beyond
No matter what your interests are, Puerto Vallarta is always ready to entertain, offering a wide variety of entertainment options that will keep everyone amused. But it's up to you to decide how you want to spend your time here....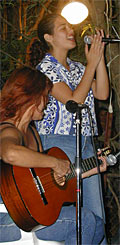 While every destination in Mexico has something to offer visitors, romantic Puerto Vallarta delivers something for everyone: beaches on a beautiful bay, great dining, a sizzling nightlife, Broadway quality stage plays, live music, movie theaters, cultural events, art galleries, excellent shopping, world-class golf and tennis, activities and excursions galore, and fun, fun, fun!


In Puerto Vallarta you can relax on a beautiful beach, play a round of championship golf, shop for Mexican handcrafts and dine in a wide variety of restaurants. There are also countless tours and activities to enjoy - from exciting jeep safaris and canopy tours in the tropical jungle to whale watching, sailing, snorkeling or scuba diving in Banderas Bay.


Visitors who appreciate cultural experiences will love the festivals and events hosted in Puerto Vallarta each year. A variety of cultural events, including the Gourmet Festival and an International Film Festival are designed for the cosmopolitan visitor, while Fishing, Tennis and Golf Tournaments are complemented by the Old Mexico flavor of this cozy seaside village.


And many visitors prefer to spend their days relaxing on the beach soaking up the warm tropical rays. Puerto Vallarta is a haven for weary vacationers who want nothing more than a good book, a tan and icy cold beers or margaritas delivered at regular intervals by an adept, and usually bilingual, waiter.

• B E L O W T H E F O L D •
How Vallarta Stays Connected While Social Distancing
Tropicasa Realty

The Puerto Vallarta community has come together to protect the health and welfare of our city by staying off the streets as much as possible. The real estate agents at Tropicasa offer tips for keeping yourself mentally and socially engaged while social distancing.

---
Your Cultural Insider: Coconut History and Folklore
Sandra Cesca

Who hasn't had coconut in some form or another? Here in Puerto Vallarta, cold coconuts can be found on many street corners and at the beach, especially on a hot day. But they are not just for eating. Parts of the coconut palm are used for art and weaving various items such as hats and bags.

---
AT&T DirectTV GO Streaming Service Now in Mexico
Hollywood Reporter

Just in time for the changing TV viewing habits caused by the coronavirus pandemic, AT&T has launched their DirecTV GO streaming service in Mexico. The basic package is available for $12/month, with a 7-day free trial and a promotion for HBO Premium programming included.

---
Act2PV Will Be Back to Entertain Puerto Vallarta
Danny Mininni

Like most entertainment venues around the world, Act2PV has closed our doors indefinitely to help stem the spread of the Coronavirus in Puerto Vallarta. In the meantime, we are planning our shows for next season - and what a season it will be!

---
PV Restaurants Open for Dine-in, Takeout & Delivery
Lorena Sonrisas

Social distancing has unfortunately become the new norm in the wake of the coronavirus pandemic, but staying home doesn't mean you have to go hungry. Here's a list of Puerto Vallarta restaurants that are still open and/or are offering carryout and delivery services.

---
Puerto Vallarta Walking Tours: A Tortillaria in El Tuito
Sandra Cesca

Alex has been working in his family's 'tortillaria' in El Tuito since he was ten years old. He happily greets me every time I bring folks by to see the whole process of making tortillas. The next time you are visiting Puerto Vallarta, I will happily take you there.

---
Kaiser Maximilian is Open and Offering Oyster Specials
BanderasNews.com

While many Puerto Vallarta restaurants have closed, Kaiser Maximilian not only remains open, following the government's strict sanitary protocols, but is also offering their special 'Oysters and More' menu, which is being served, along with their regular menu, through March 28.

---
Take a Virtual Vacation to Puerto Vallarta via Webcam
Sam Murray

Planes grounded, doors locked, vacations cancelled. The new coronavirus is stopping many tourists from reaching Puerto Vallarta. Disappointed? Mix up a margarita, hook your laptop up to the big screen, and play one of these 5 webcams with views that'll make you feel like you're here.

---
COVID-19 Threat Impacts Jalisco Entertainment Venues
María Francesca

To prevent the spread of COVID-19, on March 18, the Governor of Jalisco ordered the temporary closure of all entertainment venues in the state, where, to date, 7 cases have been confirmed. In Puerto Vallarta, where no cases of coronavirus have been reported, some restaurants are open.

---
Stuck at Home? Never Fear, the 'Quarantini' is Here!
Ricardo Acerco

Since the World Health Organization declared the COVID-19 outbreak a global pandemic, many people are choosing to self-quarantine for weeks. When social isolation starts getting you down, these 'Quarantini' recipes will help to keep your spirits high.

---
Site Map
•
Print this Page
•
Email Us
•
Top