Entertainment
Around the Bay and Beyond
No matter what your interests are, Puerto Vallarta is always ready to entertain, offering a wide variety of entertainment options that will keep everyone amused. But it's up to you to decide how you want to spend your time here....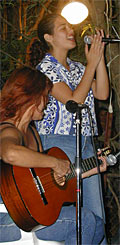 While every destination in Mexico has something to offer visitors, romantic Puerto Vallarta delivers something for everyone: beaches on a beautiful bay, great dining, a sizzling nightlife, Broadway quality stage plays, live music, movie theaters, cultural events, art galleries, excellent shopping, world-class golf and tennis, activities and excursions galore, and fun, fun, fun!


In Puerto Vallarta you can relax on a beautiful beach, play a round of championship golf, shop for Mexican handcrafts and dine in a wide variety of restaurants. There are also countless tours and activities to enjoy - from exciting jeep safaris and canopy tours in the tropical jungle to whale watching, sailing, snorkeling or scuba diving in Banderas Bay.


Visitors who appreciate cultural experiences will love the festivals and events hosted in Puerto Vallarta each year. A variety of cultural events, including the Gourmet Festival and an International Film Festival are designed for the cosmopolitan visitor, while Fishing, Tennis and Golf Tournaments are complemented by the Old Mexico flavor of this cozy seaside village.


And many visitors prefer to spend their days relaxing on the beach soaking up the warm tropical rays. Puerto Vallarta is a haven for weary vacationers who want nothing more than a good book, a tan and icy cold beers or margaritas delivered at regular intervals by an adept, and usually bilingual, waiter.

• B E L O W T H E F O L D •
18th San Pancho Music Festival Schedule Announced

Chris Parsons

The performance schedule has been announced for the 18th annual San Pancho Music Festival to be held Friday, Feb. 23rd through Sunday, the 25th at the Plaza del Sol in San Pancho. Because of the gracious contributions of the performing artists, there is no charge to the public.

---
Daiquiri Dick's Special Menu Features World Flavors

Laura Gelezunas

World cuisines offer a great variety in terms of flavors, tastes and combinations. The chefs at Daiquiri Dick's in Puerto Vallarta have selected the top international cuisines that are worth traveling long and far for, and they are featured on the restaurant's bi-weekly special dinner menu.

---
Three Artist Exhibit Opens Friday at Galleria Dante

Claire Guarniere

Exhibitions by Bill Megrail, Tom Dickson and Donna Dickson open at Galleria Dante on Friday, February 23rd, as part of this week's South Side Shuffle. Stop by the largest and most eclectic art gallery in Puerto Vallarta to meet the artists and enjoy complimentary cocktails from 6-10 pm.

---
IFC Home Tours 'A Wonderfully Different Thing To Do'

John Warren

One of the most popular tourist activities in all of Puerto Vallarta is the IFC's Home Tours. So put on your walking shoes, grab your camera, and get ready to enjoy a fun-filled day of discovery, while giving a helping hand to the less fortunate in Puerto Vallarta and surrounding areas.

---
What a Drag Nets $829k for Banderas Bay Women's Shelter

Marie Callan

Last Sunday, seven of the bravest straight men in Puerto Vallarta 'came out' at Teatro Vallarta to raise money and awareness for victims of domestic violence. When all was said and done, What A Drag 2018 was a HUGE success, raising $920,000 pesos for the Banderas Bay Women's Shelter.

---
Dubai Jazz Fest Features Ricky Martin's Vallarta Music Video

GDN Online

International superstar Ricky Martin is set to premiere his brand-new single 'Fiebre' at the closing night of the Dubai Jazz Festival on February 23 in Dubai, UAE. Fans will also get to see the Latino icon's latest music video that was recently filmed in Puerto Vallarta, Mexico.

---
'Year of the Dog' Champagne Brunch to Benefit SPCA de PV

Janice Gonzalez

Since, according to the Chinese zodiac, 2018 is The Year of the Dog, which emphasizes dependability, loyalty and reunions with family and friends, a lovely champagne brunch will be held at Casa Kimberly on Wednesday, March 7 at 11:00 am to benefit the SPCA de PV.

---
Feathers, Maracas and Pizzas, Oh My! – at The Palm

Alex Bourgeau

The Palm Cabaret continues their long tradition of providing Puerto Vallarta with spectacular entertainment. This season's line-up includes some of PV's favorite acts, along with an eclectic mix of professional shows presented by entertainers from around the world.

---
Three New Show Open This Week at Act II Entertainment

Danny Mininni

Conveniently located close to the beach, restaurants and bars in the Romantic Zone, Act II Entertainment is THE PLACE to go to see a show when you are in Puerto Vallarta. Offering three venues and 3-5 performances to choose from every night, there is something for everyone at STAGES!

---
This Week's Line Up at Nacho Daddy/Boutique Theatre

Catherine Beeghly

Known as THE place to go for affordable nightlife in Puerto Vallarta's Zona Romantica, Nacho Daddy Mexico is where locals, ex-pats and tourists from around the world gather to eat, drink, dance, listen to great music, or catch a great show upstairs at The Boutique Dinner Theatre.

---
Site Map
•
Print this Page
•
Email Us
•
Top