Entertainment
Around the Bay and Beyond
No matter what your interests are, Puerto Vallarta is always ready to entertain, offering a wide variety of entertainment options that will keep everyone amused. But it's up to you to decide how you want to spend your time here....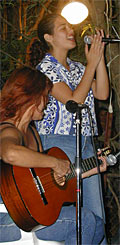 While every destination in Mexico has something to offer visitors, romantic Puerto Vallarta delivers something for everyone: beaches on a beautiful bay, great dining, a sizzling nightlife, movie theaters, cultural events, art galleries, excellent shopping, world-class golf and tennis, activities and excursions galore, and fun, fun, fun!


In Puerto Vallarta you can relax on a beautiful beach, play a round of championship golf, shop for Mexican handcrafts and dine in a wide variety of restaurants. There are also countless tours and activities to enjoy - from exciting jeep safaris and canopy tours in the tropical jungle to whale watching, sailing, snorkeling or scuba diving in Banderas Bay.


Visitors who appreciate cultural experiences will love the festivals and events hosted in Puerto Vallarta each year. A variety of cultural events, including the Gourmet Festival and an International Film Festival are designed for the cosmopolitan visitor, while Fishing, Tennis and Golf Tournaments are complemented by the Old Mexico flavor of this cozy seaside village.


And many visitors prefer to spend their days relaxing on the beach soaking up the warm tropical rays. Puerto Vallarta is a haven for weary vacationers who want nothing more than a good book, a tan and icy cold beers or margaritas delivered at regular intervals by an adept, and usually bilingual, waiter.

• B E L O W T H E F O L D •
Vallarta's Galería Contempo Reopens October 1, 2014

Rodolfo Choperena Tiemann

Galería Contempo, one of Puerto Vallarta's favorite art galleries showcasing contemporary artwork, paintings and bronze statues, is delighted to present two new artist for the upcoming high season, which begins with the gallery's reopening on Wednesday, October 1, 2014.

---
Vallarta-Nayarit Paint Out and Plein Air Festival

BanderasNews.com

Tierra Alta, a pristine ecological cabin development in an oak forest on the edge of the Sierra Madre Mountains less than an hour from Puerto Vallarta, has just announced the date for the first ever 'Paint Out and Plein-Air Festival,' to take place on the weekend of January 17, 2015.

---
Vallarta-Nayarit Classic Rock Festival, December 11-14

Riviera Nayarit CVB

The first Vallarta-Nayarit Classic Rock Festival is scheduled for December 11-14, 2014 at the Hard Rock Hotel Vallarta in Nuevo Vallarta. It's billed as the 'Only Classic Rock Festival in The World,' and will feature an entire week of some of the best music from the 60s, 70s and 80s.

---
Free Introduction to Opera Lecture at Teatro Vallarta

BanderasNews.com

Teatro Vallarta has just announced a free Introduction and History of Opera lecture, to take place on its premises on Saturday, October 4. The 90-minute event, presented by Vallarta Lifestyles Managing Editor, Paco Ojeda, will be offered at 4 pm in Spanish and 5:30 in English.

---
Miley Cyrus Under Fire for 'Twerking' on Mexican Flag

George Varga

Miley Cyrus is in some hot water in Mexico. The 21-year-old wild child could face a fine or a brief jail sentence after one of her dancers rubbed a Mexican flag on her prosthetic backside during her performance in Monterrey in the northern state of Nuevo Leon on Tuesday.

---
'Cantinflas' Mexico's Bid for Foreign-Language Oscar

John Hecht

Mexico's film academy has picked 'Cantinflas,' a biopic about comedian Mario Moreno, as its foreign-language Oscar submission. Should the film land an Oscar nomination, 'Cantinflas' will be looking to make history as Mexico's first winner in the foreign language category.

---
2014 Fiestas Patrias Events in Puerto Vallarta

BanderasNews.com

As is tradition, from September 13th through the 16th (Independence Day) Puerto Vallarta will commemorate Mexico's Independence with a series of colorful and patriotic festivities celebrating the events and people that eventually resulted in Mexico's Independence from Spain.

---
59th Annual Billfish Tournament in Puerto Vallarta

Richard Dangler

In 2014, the International Sailfish and Marlin Tournament celebrates its 59th year. Scheduled to take place in Puerto Vallarta from November 12th-15th, this popular annual event promises to be even bigger and better than ever - with thousands of dollars in cash and prizes to be awarded.

---
Mamas in Puerto Vallarta Host Picnic / Charity Benefit

Nicole Martin

Pack up your picnic basket and join Mamas in PV at El Jardin de la Luna on Saturday, September 27th from 10 am to 2 pm for an action packed morning filled with friends and fun at a Picnic to benefit Pasitos de Luz, a Puerto Vallarta non-profit that supports children with disabilities.

---
Theater is Alive and Well in Puerto Vallarta, Mexico

Juan Pablo Hernández

Visibly rich and flourishing, the theater scene in Puerto Vallarta can no longer be overlooked. With a myriad of Spanish language theater groups, along with performances in English showcased at various venues, theater is alive and well in Puerto Vallarta, and it is here to stay.

---
6th Annual Vallarta Nayarit Gastronómica, October 22-25

Marie Callan

As part of the joint efforts to promote Puerto Vallarta and Riviera Nayarit as a single destination, Grupo Excelencias is once again organizing Vallarta Nayarit Gastronomica, a long weekend of gourmet events celebrating the art of eating, drinking and living well, Oct. 22-25.

---
NWJ! Opens La Cantina for 'El Día de la Independencia'

Julie Guerrero

Award-winning restaurant and Puerto Vallarta favorite, No Way José!, invites you to celebrate 'El Día de la Independencia' as Tu Casa en Vallarta kicks off Season 6 with fabulous food, fun-filled activities and lots of surprises from 3-11 pm on Monday, September 15.

---
2014 World Tourism Day Celebrations in Jalisco

Marie Callan

The official celebrations for World Tourism Day 2014 will be hosted by the city of Guadalajara, Mexico under the theme 'Tourism and Community Development.' Here in Puerto Vallarta, the Municipal Tourism Department will be hosting a series of WTD events from September 25th-28th.

---
Teatro Vallarta Scholarship Students Strut Their Stuff

Salvador Luna

On Sunday, August 31st, the young scholarship students and summer school children who attended the theatrical workshops at Teatro Vallarta presented what they had learned over the last 5 months to their families, friends, and the general public who attended the presentation.

---
Kaiser Maximilian Celebrates Las Fiestas Patrias

Banderas News Team

This month, Cafe Maximilian is celebrating El Mes de la Patria by offering Traditional Mexican Dishes in addition to the Austrian delights featured on the regular menu. Don't miss their special Chile en Nogada, the Mexican dish that is most emblematic of the holiday.

---
ExPats in Vallarta September Happy Hour Schedule

Sara Wise

During September, ExPats in Vallarta will be having two Happy Hour gatherings at Langostinos. The first one will be on Tuesday, September 9th and the second on Tuesday, September 23rd from 5:00 to 7:00 pm. Langostinos is located on Los Muertos Beach just north of the pier.

---
Vallarta Celebrates Mexico's Independence in September

Betsua Salazar

Mexico's Independence Day celebrations are coming up. Don't miss the opportunity to escape the routine and enjoy the long September 15th weekend in Puerto Vallarta. The city's main parade is held downtown, in conjunction with a free concert and fireworks display on the Malecón.

---
Vallarta Life: Keeping it Sweet with PV Cupcakes

Laura Gelezunas

When you make your move to Mexico, you expect that you'll be celebrating life as it should be celebrated, and that every day is going to be pretty sweet. Well, there ARE a lot of sweet things to be experienced in Puerto Vallarta, and you can find some of them at PV Cupcakes.

---
House Hunters International: Puerto Vallarta Episode 4

Timothy Real Estate Group

The new House Hunters International episode featuring Puerto Vallarta and Timothy Real Estate Group will premiere September 9, 2014 on HGTV USA. This will mark the fourth time the hugely popular and addictive TV show returns to this tropical Mexican resort town.

---
Vallarta Joins Second 500px Worldwide Photo Walk

Alex Naranjo

On Saturday, September 6th, thousands of photographers around the world will participate in the Second Annual 500px Worldwide Photo Walk. Here in Puerto Vallarta, we are ready to be a part of the growing community of photographers that take part in this incredible event.

---
Site Map
•
Print this Page
•
Email Us
•
Top