Vallarta Living
Living in Puerto Vallarta Mexico
For many the thought of living in - or even near - a major tourist resort is about as appealing as a buying a condo in Disneyland. But here in Vallarta, the incredible natural beauty, combined with a small town atmosphere and the inherent warmth and friendliness of the local people, attracts foreign residents who enjoy the good life.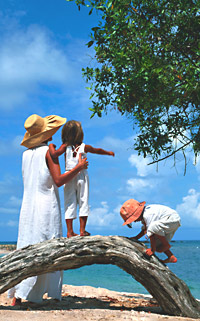 With a colorful blend of the old and the new, the Banderas Bay region offers an unrivaled combination of simple pleasures and sophisticated charms. Fine dining restaurants, art galleries, upscale shopping centers, internet cafes and nightclubs peacefully coexist alongside taco stands, street-side vendors and open air markets selling Mexican handcrafts, and strolling Mariachi bands.


But much of Puerto Vallarta's magic is in the hearts of her people. Often described as "one big, happy family," Vallartenses are known for their hospitality and for going out of their way to welcome foreign residents. And, since the Mexican people are extremely tolerant of different lifestyles, international residents and Mexican locals can live side-by-side in harmony - provided that the expatriate can learn to be creative and adaptable.


Puerto Vallarta is an unhurried refuge for people seeking more than just a beautiful beach. Those of us who choose to live here embrace the challenge of learning patience and understanding. Taking the time to "stop and smell the roses" along the road to becoming bicultural gives us the opportunity to grow - and to enjoy a more relaxed way of life.

• B E L O W T H E F O L D •
Live Entertainment is ALIVE AGAIN in Puerto Vallarta!
Marsha Ross

Act2PV is thrilled to announce that live entertainment has returned to Puerto Vallarta! For the past eight months, no one knew what the future held for the entertainment industry. But, based on the past two weeks at Act2PV, people love having their entertainment back... SAFELY!

---
Broadway Cares Pledges $20k Matching Grant to SETAC
BanderasNews.com

SETAC founder Ed Thomas recently announced that Tom Viola, the Director of Broadway Cares/Equity Fights AIDS, has pledged a $20,000 USD matching grant to help Puerto Vallarta's LGBT Community and Wellness Center keep their doors open and their services uninterrupted.

---
'ROCKSTAR' Debuts Nov 28 at The Palm Cabaret & Bar
BanderasNews.com

Opening on Saturday, November 28 at 8:00 pm, 'ROCKSTAR,' starring 'American Idol' finalist Effie Passero and the star of 'Queen Live,' Roy Gomez-Cruz, will be performed on Tuesday, December 1 at 6:30 pm, and on Saturday nights at 8:00 pm all season long, at the Palm Cabaret.

---
CRATE: Your Vallarta Home Ready for the Holidays
Debra Stevenson Peganyee

As we reflect on this year and prepare for holiday celebrations, there is much to be grateful for. Especially opportunities to spend time in special places with loved ones. Now there's a way to ensure your Puerto Vallarta home is ready for your safe arrival... now that's a CRATE idea!

---
Online Auction Supports Nutrients for Natives in Mexico
Dr. Leslie Korn

The CWIS Center for Traditional Medicine, which has provided free health care to Indigenous peoples in Cabo Corrientes, Mexico, for over 40 years, has organized an online auction to help carry out their mission. Up for bid are unique items that make great holiday gifts.

---
'Queen Live Forever' Returns to The Palm Cabaret & Bar
Debbie White

The Palm Cabaret is thrilled to welcome back entertainment director, Mark Rome, who last February introduced Puerto Vallarta audiences to 'Queen Live Forever.' This tribute show, starring Roy Gomez Cruz as Freddie Mercury, returns Nov. 28 & continues every Fri at 6:30 pm & Sat at 9:30 pm.

---
Keeping Riviera Nayarit Beaches in Optimum Condition
Norma Hernández

The Riviera Nayarit Convention & Visitors Bureau and the Bahía de Banderas Hotel & Motel Association are going above and beyond to keep the destination's beaches in optimum conditions. These efforts have borne fruit, because it's currently among the leaders in the nation's Clean Beaches program.

---
Guadalajara to Vallarta Highway Nov. 2020 Update
Ricardo Acerco

The promise of getting from Guadalajara to Puerto Vallarta by car in just two and a half hours won't come to fruition for at least one more year, according to the latest report issued by the Ministry of Communications and Transportation, Nayarit delegation.

---
Three Popular Puerto Vallarta Walking Tours Resume
BanderasNews.com

Puerto Vallarta Walking Tours owner, operator and tour guide, Sandra Cesca, recently announced that three of her most popular walks have resumed, with your safety in mind. These private tours allow small groups to learn more about this fascinating town and the Mexican culture.

---
Senate Gives Marijuana Legalization the Green Light
BanderasNews.com

The Mexican Senate voted last Thursday in favor of a bill that endorses the recreational use of marijuana, increases the possession limit, establishes a regulation for at-home cultivation, and regularizes the sale of the plant and its derivatives.

---
Site Map
•
Print this Page
•
Email Us
•
Top