Free Newsletter!
Click HERE to read a serialized and updated version of
Polly G. Vicars' sell-out book, Tales of Retirement in Paradise
.
Vallarta Living
Living in Puerto Vallarta Mexico
For many the thought of living in - or even near - a major tourist resort is about as appealing as a buying a condo in Disneyland. But here in Vallarta, the incredible natural beauty, combined with a small town atmosphere and the inherent warmth and friendliness of the local people, attracts foreign residents who enjoy the good life.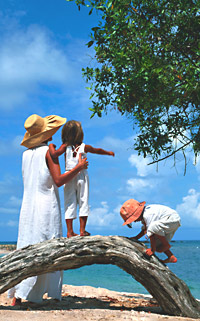 With a colorful blend of the old and the new, the Banderas Bay region offers an unrivaled combination of simple pleasures and sophisticated charms. Fine dining restaurants, art galleries, upscale shopping centers, internet cafes and nightclubs peacefully coexist alongside taco stands, street-side vendors and open air markets selling Mexican handcrafts, and strolling Mariachi bands.


But much of Puerto Vallarta's magic is in the hearts of her people. Often described as "one big, happy family," Vallartenses are known for their hospitality and for going out of their way to welcome foreign residents. And, since the Mexican people are extremely tolerant of different lifestyles, international residents and Mexican locals can live side-by-side in harmony - provided that the expatriate can learn to be creative and adaptable.


Puerto Vallarta is an unhurried refuge for people seeking more than just a beautiful beach. Those of us who choose to live here embrace the challenge of learning patience and understanding. Taking the time to "stop and smell the roses" along the road to becoming bicultural gives us the opportunity to grow - and to enjoy a more relaxed way of life.

• B E L O W T H E F O L D •
Easter Bonnet Brunch at Casa Cupula to Benefit SETAC

BanderasNews.com

An annual tradition in Puerto Vallarta, Casa Cupula's Easter Bonnet Party and Brunch is set to take place at Taste Restaurant on Sunday, April 16. Proceeds will support SETAC's commitment to fighting HIV/AIDS through the distribution of the PrEP pill to at-risk individuals in PV.

---
Kim Kuzma Brings the 70's to Adult BINGO at The Palm

Marilyn Khan

Don't miss the season's last Adult BINGO games for PuRR Project on Monday, March 27 at The Palm Cabaret. You'll dig the 70's theme, complete with the incomparable Kim Kuzma, who'll blow you away with her incredible voice as she take us down Memory Lane singing hits from the era.

---
Why Traveling to Vallarta is More Important Than Ever

Gina Zammit

Despite what may be happening in Washington, traveling to Puerto Vallarta is more important than ever because we have the power to make a statement with where we choose to frequent. A visit to Mexico is a statement of support and friendship in a time when projecting kindness is vital.

---
Guillermo Gómez Celebrates 20 Years at Galleria Dante

Claire Guarniere

Galleria Dante has proudly represented Guadalajara artist Guillermo Gómez since 1997. Join in the celebration on March 24 at Puerto Vallarta's largest and most eclectic art gallery, where you can meet the artist, view his works and enjoy complimentary cocktails from 6-10 pm.

---
March 24 Puerto Vallarta News Brief & Weekend Events

Banderas News Team

There's always so much going on in Puerto Vallarta and around Banderas Bay it can be difficult to keep up with it all. Here's a look at some of this week's Puerto Vallarta headlines, a few community announcements and a couple of weekend events that you won't want to miss.

---
Diego Mondragon Returns to Vallarta March 26 and 27

Debbie White

A few times each winter, Diego Mondragon flies down from San Diego and wows audiences in Puerto Vallarta with his world-class violin playing. CK Productions is pleased to announce his return, for a two night limited engagement, on March 26 and 27 at 8:00 pm.

---
How Much Money Do You Need To Retire in Mexico?

msn.com

More and more North Americans are retiring South of the Border to enjoy better weather, new experiences, relaxed lifestyles, access to affordable healthcare and a lower cost of living. Here, we take a quick look at how much money a couple might need to retire comfortably in Mexico.

---
Act II Closes Winter Entertainment Season With a Bang!

Marie Callan

Between award-winning musicals, captivating cabaret acts and the most outrageously entertaining drag shows in Puerto Vallarta, Act II has enjoyed record-breaking attendance throughout the winter season, and the Spring-Summer season promises even more quality entertainment!

---
Tropicasa Realty Hosts Open House at Condo Ecuador

BanderasNews.com

Are you looking to buy Puerto Vallarta real estate? On Saturday, March 25 from 10 am to 12 pm, Tropicasa Realty agent Alfonso Davalos will be hosting an open house at Condo Ecuador, a large two bedroom, 2 bath condominium in a small building of only 4 units overlooking downtown.

---
17th Puerto Vallarta International Film Festival

Lorena Sonrisas

Puerto Vallarta's 17th International Film Festival will be ending on March 24, but there's still time to see some great movies - for free! On March 23, 'In America' will be shown in Salón Paraiso at Paradise Village at 7:00 pm, and 'Jonathan' at Barracuda on El Solar Beach at 9:00 pm.

---
The Virtues of Natural Medicine for Pets & Their Humans

Paco Ojeda

While you are out doing your Saturday shopping at Mercados Los Mangos, be sure to stop by and say 'hello' to Claudia Hernández & Luis Estrada, who moved to PV less than 3 months ago. They own Alquimiate, a source of natural medicine products and therapies for pets and their humans.

---
ExPats in Vallarta April Happy Hours and Events

Sara Wise

ExPats in Vallarta, a totally social group with informal fellowship and assistance for Expat residents or visitors living, working, investing, or considering a move to Puerto Vallarta or the greater Banderas Bay area, has announced the events scheduled for the month of April 2017.

---
Equinox Love Fest in PV Hopes to Heal Trump's Heart

Suzy 'Stevia' Chaffee

Everyone is invited to our Equinox Love Fest today at 5 pm on Los Muertos Pier in Puerto Vallarta. In solidarity with the Equinox ceremonies around the world sending love to Mother Earth's heart to heal Her, our intention is to send tsunamis of Love also to President Trump to heal his heart.

---
Santa Barbara Rotary Clubs Help Clinic in Sister City

BanderasNews.com

The Rotary Clubs of Northern California have joined the Santa Barbara/Puerto Vallarta Sister City Committee in supporting the well-being of citizens in outlying communities through donations of physical-therapy equipment and an ambulance for the Boca de Tomatlán Clinic.

---
Tropicasa Realty: How Sustainable Homes Benefit You

tropicasa.com

Sustainable building and eco-friendly homes are today's biggest trend on the real estate market, according to Tropicasa Realty. While many people like the idea of owning a more eco-conscious home, many buyers don't understand the full extent to which greener living can benefit them.

---
'Gotta Getta Gato' Program Saving Isla Rio Cuale Cats

united.com

Minneapolis-based animal charity Pause 4 Paws, United Airlines' PetSafe program, and Protectora Puro Gato y Perro A.C. have been working together to transport many of the stray cats who live on the Rio Cuale Island in Puerto Vallarta to Minnesota with the goal of finding homes for them.

---
Remembering Bob Cohen: March 22 Memorial at Alano Club

Banderas News Team

A memorial service will be held for long-time Puerto Vallarta resident and freelance writer, Bob Cohen, on Wednesday, March 22 at 8:00 pm at the Alano Club on Basilio Badillo. Doors will open at around 7:45, right after the last 12-step meeting of the evening.

---
Site Map
•
Print this Page
•
Email Us
•
Top