Vallarta Living
Living in Puerto Vallarta Mexico
For many the thought of living in - or even near - a major tourist resort is about as appealing as a buying a condo in Disneyland. But here in Vallarta, the incredible natural beauty, combined with a small town atmosphere and the inherent warmth and friendliness of the local people, attracts foreign residents who enjoy the good life.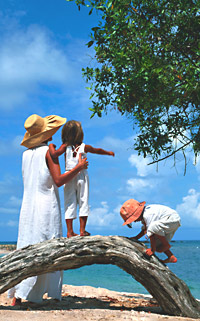 With a colorful blend of the old and the new, the Banderas Bay region offers an unrivaled combination of simple pleasures and sophisticated charms. Fine dining restaurants, art galleries, upscale shopping centers, internet cafes and nightclubs peacefully coexist alongside taco stands, street-side vendors and open air markets selling Mexican handcrafts, and strolling Mariachi bands.


But much of Puerto Vallarta's magic is in the hearts of her people. Often described as "one big, happy family," Vallartenses are known for their hospitality and for going out of their way to welcome foreign residents. And, since the Mexican people are extremely tolerant of different lifestyles, international residents and Mexican locals can live side-by-side in harmony - provided that the expatriate can learn to be creative and adaptable.


Puerto Vallarta is an unhurried refuge for people seeking more than just a beautiful beach. Those of us who choose to live here embrace the challenge of learning patience and understanding. Taking the time to "stop and smell the roses" along the road to becoming bicultural gives us the opportunity to grow - and to enjoy a more relaxed way of life.

• B E L O W T H E F O L D •
'Sabores de Nayarit' Journeys into the Heart of Mexico
BanderasNews.com

Your Cultural Insider, Sandra Cesca, recently had a chance to chat with Alondra Maldonado Rodriguera, a chef, author, lecturer and teacher from Tepic, Mexico. Alondra's award-winning book, 'Sabores de Nayarit' was recently translated into English as 'Flavors of Nayarit.'

---
Two Art Exhibitions Open October 26 at OPC Vallarta
Pilar Perez

Two contemporary art exhibitions linked by sound, seismic landscapes and images - 'Michael Nyman: In Movement' and 'Señales y Sonidos de la Tierra' - will open October 26, 2019 at Puerto Vallarta's Office of Cultural Projects, where they will remain on display through January 18, 2020.

---
Puerto Vallarta Craft Beer Festival, November 16 & 17
Ricardo Acerco

If you love craft beer, make plans now to be in Puerto Vallarta Nov. 16 & 17, 2019 for the Third Brewmasters Beer Festival. Set to take place at the Rio Cuale Cultural Center, this free event will feature some of the region's, and the world's, best brews - all in one place!

---
Mexico's Clocks Set to 'Fall Back' on October 27, 2019
BanderasNews.com

If you are traveling to Mexico at the end of this month, you will literally be going back in time. That's right, Daylight Saving Time 2019 officially ends for most of Mexico at 2 am on Sunday, Oct. 27, while US citizens will not set their clocks back until 2 am on Sunday, Nov. 3.

---
Mexico Expected to Legalize Marijuana by Month's End
BanderasNews.com

Mexico's Senate will vote on a bill that will fully legalize marijuana by the end of the month, Senator Ricardo Monreal said in an interview on Monday. He added that, if approved by the Senate and passed by the lower house, the bill would be enacted without delay.

---
2019 Día de Los Muertos Festival in Puerto Vallarta
María Francesca

In Puerto Vallarta, Mexico, the dead will soon walk the Earth - so let the celebrations begin! From October 25 through November 3, there will be Day of the Dead altars, Catrina displays, singing, dancing, parades and other 'spooktacular' events in various venues throughout the city.

---
ThumbTack Theater Presents 'Toothpaste and Cigars'
Melissa Tropp

Four seasoned theater professionals have teamed up to bring theater experiences with an indie aesthetic to the Banderas Bay area. ThumbTack Theater, the newest performance group in Vallarta, is thrilled to present their debut production, 'Toothpaste and Cigars,' at Nacho Daddy.

---
Celebrate Día de Los Muertos at Velas Vallarta Resorts
Lorena Sonrisas

From October 31 through November 4, Velas Resorts in Puerto Vallarta and the Riviera Nayarit will celebrate Día de Los Muertos, one of the most representative holidays of Mexican culture, with ofrendas, traditional recipes, tasting menus, special décor and more.

---
Parota Center: A New Place to Shop in Puerto Vallarta
Paco Ojeda

If you are anything like me, chances are you've driven by Parota Center, the new shopping center on Francisco Villa, and thought, 'I'll stop by and explore once enough shops are open.' Well, curiosity got the best of me, so I decided to stop by and check it out.

---
Entreamigos Starts a New Season of Fun in San Pancho
Banderas News Team

Entreamigos, an active community center that provides children and families in San Pancho, Nayarit with the skills needed to contribute positively to a changing world, has reopened for the 2019-2020 season. The center is open Monday-Friday 10am-6pm and Saturdays 10am-2pm.

---
Site Map
•
Print this Page
•
Email Us
•
Top