Free Newsletter!
Click HERE to read a serialized and updated version of
Polly G. Vicars' sell-out book, Tales of Retirement in Paradise
.
Vallarta Living
Living in Puerto Vallarta Mexico
For many the thought of living in - or even near - a major tourist resort is about as appealing as a buying a condo in Disneyland. But here in Vallarta, the incredible natural beauty, combined with a small town atmosphere and the inherent warmth and friendliness of the local people, attracts foreign residents who enjoy the good life.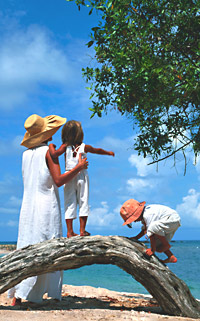 With a colorful blend of the old and the new, the Banderas Bay region offers an unrivaled combination of simple pleasures and sophisticated charms. Fine dining restaurants, art galleries, upscale shopping centers, internet cafes and nightclubs peacefully coexist alongside taco stands, street-side vendors and open air markets selling Mexican handcrafts, and strolling Mariachi bands.


But much of Puerto Vallarta's magic is in the hearts of her people. Often described as "one big, happy family," Vallartenses are known for their hospitality and for going out of their way to welcome foreign residents. And, since the Mexican people are extremely tolerant of different lifestyles, international residents and Mexican locals can live side-by-side in harmony - provided that the expatriate can learn to be creative and adaptable.


Puerto Vallarta is an unhurried refuge for people seeking more than just a beautiful beach. Those of us who choose to live here embrace the challenge of learning patience and understanding. Taking the time to "stop and smell the roses" along the road to becoming bicultural gives us the opportunity to grow - and to enjoy a more relaxed way of life.

• B E L O W T H E F O L D •
MEXLend Mortgages for Mexico Now Offers Escrow Services

Terence L. Reilly

Closing a transaction in a foreign country can be daunting. Whether it's a business transaction or a real estate purchase, utilizing a trusted Escrow source can alleviate your fears. When it comes to escrow services in Mexico, 14 years of experience make MEXLend a name you can trust.

---
Puerto Vallarta Walking Tours: Mexico's Nopal Cactus

Sandra Cesca

Dulce Maria Morales sits at our daily market removing the spines from nopal (prickly pear) cactus to prepare them for sale. When I first came to Mexico, I asked her what to do with these lovely green pads. Now, after many meals which have included various preparations, I love this food.

---
National Botanical Garden Day Celebrations at the VBG

Lorena Sonrisas

Every year, public gardens throughout Mexico observe National Botanical Garden Day to raise awareness about their role in the conservation and protection of the environment. This year's event is on June 22 and Vallarta Botanical Garden will celebrate with a day full of fun activites.

---
Let Daiquiri Dick's Do the Cooking This Summer

Banderas News Team

Baby, it's HOT outside! Too hot to even THINK about cooking, much less spending hours standing over a steamy stove. Fortunately, the chefs at Daiquiri Dick's Restaurant are once again serving up their Summer Sizzle menus, which offer hot deals on gourmet meals.

---
How Living in Mexico Increased the Quality of Our Lives

Forbes

When my wife and I decided to try living in Mexico for a while, we didn't really know what to expect. The Mexico (and Mexicans) we met were very, very, different than what most Americans expect. In fact, living in Mexico for the past few years has increased the quality of our lives.

---
Cirque du Soleil Nuevo Vallarta Theme Park Redesigned

Lorena Sonrisas

Almost 5 years after Grupo Vidanta announced plans to build a Cirque du Soleil theme park in the Banderas Bay area, the resort developer says that the project has been expanded, to include several amusement park concepts, and rebranded as 'The Parks at Nuevo Vallarta.'

---
PV Team to Play 3rd Jalisco Cup Soccer Game on Saturday

Ricardo Acerco

The amateur soccer team representing Puerto Vallarta in the 2019 Jalisco Cup have won their first two regional matches, and hope to continue their winning streak on Saturday, June 15, as they take on the team from San Sebastian del Oeste at the Agustín Flores Contreras Sports Stadium.

---
WeExpats' Guide to Assisted Living Facilities in Mexico

WeExpats.com

Making the decision to leave behind your hometown and starting a new life in Mexico can be fraught with uncertainty - especially if you require assisted care. Nevertheless, the country's warm climate, reasonable medical costs and stellar services are attracting retirees.

---
Puerto Vallarta Property Ownership: What is UNIRSE?

Tropicasa Realty

For anyone buying real estate in Puerto Vallarta, UNIRSE is a place with which you will soon become familiar. The Unidad Regional de Servicios del Estado, or UNIRSE, is the regional state services office, where you can accomplish many tasks that anyone living here will eventually need.

---
PVRPV Rental Income Property: Estrellita del Mar

Mich García

As reported last week, the largest vacation rental agency in Puerto Vallarta, PVRPV, recently launched a new real estate website. Here's a look at Estrellita del Mar condo 103, just one of the rental income and investment properties that the company has listed for sale.

---
Common Sense is Your Best Protection in Puerto Vallarta

Timothy Real Estate Group

Recently someone posted on a well-known Facebook thread, asking how to enjoy a safe vacation in Puerto Vallarta. It's pretty simple: use common sense. Don't flash wads of cash around and don't drink so much it impairs your judgment. Doesn't this apply to anywhere you travel?

---
Site Map
•
Print this Page
•
Email Us
•
Top