Free Newsletter!
Click HERE to read a serialized and updated version of
Polly G. Vicars' sell-out book, Tales of Retirement in Paradise
.
Vallarta Living
Living in Puerto Vallarta Mexico
For many the thought of living in - or even near - a major tourist resort is about as appealing as a buying a condo in Disneyland. But here in Vallarta, the incredible natural beauty, combined with a small town atmosphere and the inherent warmth and friendliness of the local people, attracts foreign residents who enjoy the good life.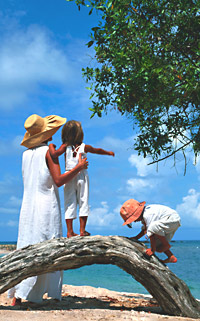 With a colorful blend of the old and the new, the Banderas Bay region offers an unrivaled combination of simple pleasures and sophisticated charms. Fine dining restaurants, art galleries, upscale shopping centers, internet cafes and nightclubs peacefully coexist alongside taco stands, street-side vendors and open air markets selling Mexican handcrafts, and strolling Mariachi bands.


But much of Puerto Vallarta's magic is in the hearts of her people. Often described as "one big, happy family," Vallartenses are known for their hospitality and for going out of their way to welcome foreign residents. And, since the Mexican people are extremely tolerant of different lifestyles, international residents and Mexican locals can live side-by-side in harmony - provided that the expatriate can learn to be creative and adaptable.


Puerto Vallarta is an unhurried refuge for people seeking more than just a beautiful beach. Those of us who choose to live here embrace the challenge of learning patience and understanding. Taking the time to "stop and smell the roses" along the road to becoming bicultural gives us the opportunity to grow - and to enjoy a more relaxed way of life.

• B E L O W T H E F O L D •
Daiquiri Dick's 2018 Summer Sizzle Wraps Up August 31

Banderas News Team

There are just a few days left to enjoy flavors from around the world, as one of Puerto Vallarta's favorite beachfront restaurants, Daiquiri Dick's, wraps up their 2018 Summer Sizzle celebration with a special menu that features old favorites and new tastes through August 31st.

---
Applying for Residency in Mexico is Relatively Simple

Lorena Sonrisas

Ever considered retiring in Mexico or living here part time? Many tourists who come to Puerto Vallarta decide to call it home. Meeting the immigration requirements to obtain a Mexico residency visa is a straightforward process that many expats have easily accomplished on their own.

---
Charros - An Important Part of Mexican Culture

Tropicasa Realty

The 25th International Mariachi and Charro Festival begins in Guadalajara today and continues through September 2. Charros are an important part of Mexico's history and culture, especially in the State of Jalisco, where their traditions are alive and well to this day.

---
Punta Mita Eco Rally Celebrates National Parks Day

Communicare Nayarit

The Riviera Nayarit is joining in the celebration of National Parks Day with an Eco Rally on Saturday, August 18, in Punta de Mita. The event's goal is to promote the protection of this tourism destination's natural areas, under the tagline 'Enjoy, Learn, and Protect.'

---
Filling the Shoes of a Great Champion of Conservation

Neil Gerlowski

The passing of Panthera President and CEO Alan Rabinowitz on August 5th, 2018, leaves a big pair of shoes for us to fill as we march on in working to conserve our native fauna and flora. Staff and volunteers at the Vallarta Botanical Garden are stepping up to the challenge.

---
Mozzamare Beach Club Hosts 2018 Riviera Summer Weekend

Norma Hernández

Part of the Pool Fashion Party Circuit, the 2018 Riviera Summer Weekend will bring famous personalities together at Mozzamare Beach Club August 17-19. Celebrating the best of Riviera Nayarit, this glamorous event features signature cocktails, live performances and popular DJs.

---
Why Second Passports are Now More Valuable Than Ever

Marita Kelly

A second passport is a powerful tool. It facilitates overseas investment and career opportunities, and makes crossing international borders easier. A new report by International Living highlights how changing visa rules could make a second passport even more useful for U.S. citizens.

---
Vallarta Nominated for Four Food & Travel Mexico Awards

María Francesca

Puerto Vallarta has been nominated in four categories of the 2018 Food & Travel Mexico Magazine Reader Awards, an annual survey that recognizes the best in national tourism, including destinations, hotels, airlines, travel agencies, restaurants, spas, and cruises.

---
Summer News from the Entreamigos Community Center

entreamigos.org.mx

Summer news from Entreamigos, an active community center whose primary focus is to increase educational opportunities for the children of San Pancho, Nayarit. To achieve these goals, Entreamigos runs a collection of educational and community based initiatives.

---
Mexico's Velas Resorts Eliminate Single-use Plastic Straws

BanderasNews.com

In an ongoing dedication to sustainability, Velas Resorts in Puerto Vallarta, Riviera Nayarit, Los Cabos, and Riviera Maya are no longer offering single-use plastic straws. The Mexican resort collection estimates they will eliminate 1.6 million total straws in one year.

---
Site Map
•
Print this Page
•
Email Us
•
Top