Free Newsletter!
Click HERE to read a serialized and updated version of
Polly G. Vicars' sell-out book, Tales of Retirement in Paradise
.
Vallarta Living
Living in Puerto Vallarta Mexico
For many the thought of living in - or even near - a major tourist resort is about as appealing as a buying a condo in Disneyland. But here in Vallarta, the incredible natural beauty, combined with a small town atmosphere and the inherent warmth and friendliness of the local people, attracts foreign residents who enjoy the good life.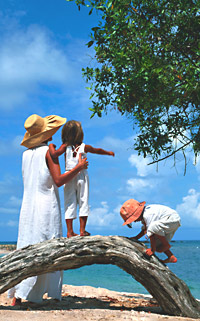 With a colorful blend of the old and the new, the Banderas Bay region offers an unrivaled combination of simple pleasures and sophisticated charms. Fine dining restaurants, art galleries, upscale shopping centers, internet cafes and nightclubs peacefully coexist alongside taco stands, street-side vendors and open air markets selling Mexican handcrafts, and strolling Mariachi bands.


But much of Puerto Vallarta's magic is in the hearts of her people. Often described as "one big, happy family," Vallartenses are known for their hospitality and for going out of their way to welcome foreign residents. And, since the Mexican people are extremely tolerant of different lifestyles, international residents and Mexican locals can live side-by-side in harmony - provided that the expatriate can learn to be creative and adaptable.


Puerto Vallarta is an unhurried refuge for people seeking more than just a beautiful beach. Those of us who choose to live here embrace the challenge of learning patience and understanding. Taking the time to "stop and smell the roses" along the road to becoming bicultural gives us the opportunity to grow - and to enjoy a more relaxed way of life.

• B E L O W T H E F O L D •
FVAP: Your Vote is Your Voice in the 2018 Mid-Terms

Democrats Abroad Costa Banderas

With Vote from Abroad volunteers offering free local assistance yet again on Wednesday, Oct. 24, US citizens in Vallarta have no excuse for not voting. Volunteers have been working hard to help you make your voice heard in the 2018 mid-terms, but the buck stops with you, the voter.

---
Calavera Decorating Contest at Los Mangos Library

Lorena Sonrisas

Los Mangos' annual Día de Los Muertos Festival started early this year with a Calavera Decorating Contest. Everyone is invited to decorate a skull and return it to the library, where visitors can vote for their favorites through November 2. The winner will be declared during the festival.

---
ANA Planning November Memorial Service for Tom Swale

Viviana Teston

Since many members of Puerto Vallarta's Amapas Neighborhood Association had already flown north for the summer when our beloved leader, Tom Swale, passed away unexpectedly in late May, the ANA is planning a Memorial Service on Los Muertos Beach on Saturday, November 17.

---
November 10 Garage Sale to Benefit PuRR Project

Marilyn Khan

PuRR Project's Fall Garage Sale will be held in Marina Vallarta on Saturday, November 10, 2018 from 8 am-3 pm. All proceeds will benefit the 200+ furry residents at Puerto Vallarta's non-profit, no-kill, feline shelter. It's been a long, hot, wet summer and the coffers need replenishment.

---
In Mexico, E-commerce Comes to the Corner Store

pri.org

With more than 17,000 locations, you can't go far in Mexico without seeing an Oxxo store. And now, Mexico's largest convenience store chain has cracked two of the biggest barriers to online shopping - payments and pickup - in a country where traditional bank accounts are shunned by many.

---
Opening Nights at Act II Stages are Just Around the Corner

Daniel R. Mininni

Act II Stages is entering its 6th exciting year of entertaining Puerto Vallarta and is beyond thrilled about the incredible new season of shows! October 31 kicks off a week jam-packed with opening nights, including 'Little Shop of Horrors' and Diana Villamonte's 'I Will Always Love You.'

---
Promovision PV Video Production Vallarta – Nayarit

Professional Video & Photo Services

Specializing in corporate, tourism, real estate, special event and wedding videos and photos in Puerto Vallarta and the Riviera Nayarit, Promovision PV has more than 30 years experience in video technology and production, so you can be assured of excellence and effectiveness of your project.

---
Mexico's 'La Catrina' Symbolizes More Than Just Death

Timothy Real Estate Group

The Mexican Revolution gave birth to 'La Catrina,' an image created by the talented engraver Jose Guadalupe Posada that satirized the ruling class. The skeletal resemblance came from their propensity to wear very pale makeup, in an effort to whiten their skin and pass as Europeans.

---
An End-of-Life Plan is a Good Idea for Expats in Mexico

Wendy Jane Carrel, MA

If you live in Mexico and wish to save your loved ones considerable grief and time, it is important to understand what is involved when a foreigner dies in Mexico, and to have a plan in place. This goes for 18-year olds, 40-year olds, and especially for all persons over age 60.

---
PuRR Project October News and Upcoming Events

Shannon Campbell

Here's the latest news from PuRR Project, a non-profit, no-kill feline shelter located just north of Puerto Vallarta, and information about some upcoming events, including Shelter Tours, a Giant Garage Sale, Kitty BINGO, the Beach Luau and the Winter Fashion Show.

---
Tropicasa Realty Offers Vallarta Home Security Tips

Tropicasa Realty

Puerto Vallarta is a safe place to live, but it is important to remember that, like anywhere, crime can sometimes happen, especially if you have not taken some simple precautions. Just like insurance, home security is a good thing to have, even though you hope it will never be needed.

---
Puerto Vallarta to Host 2018 SingularityU Mexico Summit

María Francesca

On November 7 and 8, Puerto Vallarta will host the 2018 SingularityU Mexico Summit, a collaborative platform that empowers individuals and organizations to learn, connect, and innovate using accelerating technologies like artificial intelligence, robotics, and biotechnology.

---
The Palm Cabaret Announces 2018-2019 Lineup of Shows

Alex Bourgeau

The Palm Cabaret has been entertaining Puerto Vallarta audiences for years, and it just keeps getting better! Come November, The Palm will kick off its 19th year as a south side 'Hot Spot' with a new look, some fresh talent, and the return of some of PV's favorite stars in all-new shows.

---
Vallarta Volunteers Still Working to Get Out The Vote

Costa Banderas Democrats Abroad

Attention U.S. citizens! Time is running out to cast your vote in the November 6 midterm elections. If you are in Puerto Vallarta, Vote from Abroad volunteers will be at Daiquiri Dick's on Wednesday, October 17 from 10:30 am to 2:30 pm, to help you get your ballot back in time to be counted.

---
Vallarta Charity Bingo Returns to Nacho Daddy Oct. 31

BanderasNews.com

A new season of Charity Bingo returns to Nacho Daddy Restaurant & Bar on October 31, 2018. Games will be played every other Wednesday at 4:00 pm to raise money for two very special Puerto Vallarta non-profit organizations: Pasitos de Luz and the Colina Spay & Neuter Clinic.

---
Celebrate Día de Los Muertos at Velas Vallarta Resorts

Lorena Sonrisas

From October 31st through November 4th, Velas Resorts in Puerto Vallarta and the Riviera Nayarit are celebrating Día de Los Muertos, considered to be one of the most representative holidays of Mexican culture, with ofrendas, traditional recipes, tasting menus, special décor and more.

---
Puerto Vallarta Retirement: More Than Just Sun & Sand

Marita Kelly

Living in a beach town and enjoying the sun and sand can go hand-in-hand with the benefits of sophisticated big-city living. Attracting travelers from around the world, as well as a large contingent of retirees, Puerto Vallarta offers fine dining, theater, and art in abundance.

---
9 Michelin Chefs to Participate in Vallarta Gastronómica

Gustavo Rivas-Solís

With over 48 of the world's most important international chefs, including 9 Michelin-awarded chefs, participating in the 10th edition of Vallarta-Nayarit Gastronómica, Puerto Vallarta is ready to reaffirm its position as Mexico's Culinary Beach Destination.

---
Exciting News, Upcoming Shows at Act II Entertainment

Banderas News Team

There are lots of great things happening at Act II! STAGES was named the 'Best Performance Venue' in the Tribune's 2018 Best of Banderas Bay poll; PV's own Diana Villamonte is competing on 'La Voz Mexico,' and Danny Mininni returns to the stage this season in 'Little Shop of Horrors.'

---
Puerto Vallarta & San Francisco Joined in 'Sisterhood'

Puerto Vallarta Tourism Board

Puerto Vallarta and San Francisco are now Sister Cities. The sisterhood, formalized under the auspices of the U.S. Mexico Sister Cities Association, was announced September 29 by city officials in a ceremony celebrating the strategic partnership between the two Pacific Coast ports.

---
The Cannabis Caravan is Coming to Puerto Vallarta

Diego Sancho

On Saturday, October 13th from 10 am till 2 pm, and again on Monday, October 15th from 10 am till 4 pm, the Centro Universitario de la Costa in Puerto Vallarta will be hosting 'The Cannabis Caravan,' a Medical Cannabis Conference & Expo, with a focus on education and commercialization.

---
Celebrate Oktoberfest in Vallarta at Kaiser Maximilian

Banderas News Team

With around 6 million visitors from all around the world converging on Munich in October every year, Oktoberfest is the largest festival in the world. In Puerto Vallarta, you can enjoy authentic German food and spirits - without the crowds - at Kaiser Maximilian Restaurant.

---
Site Map
•
Print this Page
•
Email Us
•
Top