Free Newsletter!
Click HERE to read a serialized and updated version of
Polly G. Vicars' sell-out book, Tales of Retirement in Paradise
.
Vallarta Living
Living in Puerto Vallarta Mexico
For many the thought of living in - or even near - a major tourist resort is about as appealing as a buying a condo in Disneyland. But here in Vallarta, the incredible natural beauty, combined with a small town atmosphere and the inherent warmth and friendliness of the local people, attracts foreign residents who enjoy the good life.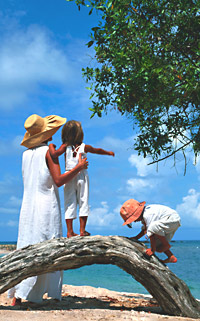 With a colorful blend of the old and the new, the Banderas Bay region offers an unrivaled combination of simple pleasures and sophisticated charms. Fine dining restaurants, art galleries, upscale shopping centers, internet cafes and nightclubs peacefully coexist alongside taco stands, street-side vendors and open air markets selling Mexican handcrafts, and strolling Mariachi bands.


But much of Puerto Vallarta's magic is in the hearts of her people. Often described as "one big, happy family," Vallartenses are known for their hospitality and for going out of their way to welcome foreign residents. And, since the Mexican people are extremely tolerant of different lifestyles, international residents and Mexican locals can live side-by-side in harmony - provided that the expatriate can learn to be creative and adaptable.


Puerto Vallarta is an unhurried refuge for people seeking more than just a beautiful beach. Those of us who choose to live here embrace the challenge of learning patience and understanding. Taking the time to "stop and smell the roses" along the road to becoming bicultural gives us the opportunity to grow - and to enjoy a more relaxed way of life.

• B E L O W T H E F O L D •
Daiquiri Dick's Special Menu Features World Flavors

Laura Gelezunas

The internationally inspired menu at Daiquiri Dick's is adding even more flare by having a bi-weekly special a la carte dinner menu in addition to their regular menu. From now through October 31, 2017, you can take your taste buds on a world tour - without leaving Puerto Vallarta!

---
Tianguis Lo De Marcos' Opening Day is November 4

Galvan Real Estate

Returning for its Fourth Season, Tianguis Lo De Marcos will reopen its doors November 4 and feature the works of over 50 talented Artisans including growers of organic produce and fresh flowers, and makers of fresh baked goods, handmade clothing, jewelry and more.

---
Double Weekend Challenge at Barceló Puerto Vallarta

Ricardo Acerco

If you are into Crossfit, Puerto Vallarta, Mexico is the place to be from October 26-29, 2017 as Hotel Barceló hosts the second edition of the Double Weekend Challenge, an event focused on lovers of crossfit and 21st century physical training.

---
Linda's Nail Lounge's Offers Special to Benefit SETAC

Paco Ojeda

There is never a bad moment to pamper oneself with a relaxing mani-pedi delivered by a skilled beautician using state-of-the-art equipment. That said, César Ríos of Linda's Nail Lounge is offering a special promotion benefiting Vallarta's SETAC Community Center that you can't miss.

---
ConComics Puerto Vallarta 2017 at Los Mangos Library

BanderasNews.com

On October 21 and 22 from 11 am to 6 pm, Centro Cultural Biblioteca Los Mangos will host ConComics Puerto Vallarta 2017, a multi-genre entertainment and comic convention similar to Comic-Con events in the United States, but on a smaller scale. Come join the fun!

---
Vallarta Heroes 911 Calendar Launch Party, November 9

Banderas News Team

Puerto Vallarta first responders will set off some sparks Nov. 9 at the 9-1-1 Calendar Launch Party hosted by Paco's Ranch. Festivities begin at 7 pm and include 2x1 drinks, live entertainment by Amy Armstrong, raffle, mini-auction and, of course, appearances by our calendar models.

---
Celebrating Life and Death in Puerto Vallarta, Mexico

María Francesca

In Puerto Vallarta, Mexico, the dead will soon walk the Earth - so let the celebrations begin! From October 29 through November 2, there will be Day of the Dead altars, Catrina displays, singing, dancing, parades and other 'spooktacular' events in various venues throughout the city.

---
Vallarta Readies for Beach Soccer Worldwide Tournament

Ricardo Acerco

After a 7-year absence, following the CONCACAF Beach Soccer Championship 2010, a qualifier for the FIFA Beach Soccer World Cup a year later, Puerto Vallarta returns to the international beach soccer circuit Oct. 20-22 with the Visit Puerto Vallarta Cup, part of the BSWW global tour.

---
5th Annual La Cruz International Fishing Tournament

BanderasNews.com

Offering 2.5 million pesos in prizes, the 5th Annual La Cruz International Fishing Tournament, scheduled to be held October 18-21, 2017 at Marina Riviera Nayarit in La Cruz de Huanacaxtle, promises some hot and heavy competition in the sailfish, marlin, tuna and dorado categories.

---
Marina Vallarta Thursday Market Resumes October 19

Puerto Vallarta Tourism Trust

The Marina Vallarta Art & Market resumes Oct. 19 and will run every Thursday from 6-10 pm through May 31, 2018. Market shoppers will find art & jewelery, organic foods & homemade breads, clothes & handicrafts, among many other wonderful things while enjoying live music and lots of fun.

---
What's Happening at the Vallarta Botanical Garden

vbgardens.org

In addition to exploring the 60 acres of native tropical plants and flowering trees, there's always something new to discover at the Vallarta Botanical Garden! Founder Robert Price brings us up to date on some of the Garden's ongoing, new, and soon-to-be-completed projects.

---
El Arrayán Hosts Oaxaca Earthquake Relief FUNdraiser

BanderasNews.com

On Sunday, October 29, the owners of El Arrayán Mexican Restaurant in Puerto Vallarta will host a Pozole + LIVE Music Fiesta to support earthquake relief efforts in southern Oaxaca. 100 percent of all funds raised will provide direct relief to the town of San Francisco Ixhuatán, Oaxaca.

---
9th Vallarta Nayarit Gastronómica, Oct. 29 – Nov. 1

Marie Callan

Set to take place October 29 through November 1, 2017 at the Sheraton Buganvilias Puerto Vallarta Resort, the 9th Vallarta Nayarit Gastronómica is a 'can't miss' event on the world's culinary calendar, bringing together a select group of renowned national and international chefs.

---
Flute Ensemble Concert to Raise Funds for I AM PV

BanderasNews.com

The Flute Ensemble of Puerto Vallarta, newly formed this summer, is pleased to announce their first performance at Incanto on October 22 at 4 pm. Proceeds from this fundraiser concert will be used to purchase equipment for I AM PV, the Instituto Artes Musicales de Puerto Vallarta.

---
Garbo to Host Democrats Abroad's October Social

Democrats Abroad Mexico

The Costa Banderas Chapter of Democrats Abroad Mexico invites you to join them on Tuesday, October 17 from 6-8 pm for a 'Social Hour' in the air conditioned comfort of Garbo Piano Bar, Pulpito #142, between Olas Altas and Amapas on the south side of Puerto Vallarta.

---
Mellow Mondays at Casa Karma Support Los Mangos

Biblioteca Los Mangos

Casa Karma now features Mellow Mondays, intimate soirees in which live music becomes the underscore for great conversation, a casual food fare menu and cash bar cocktails benefiting Puerto Vallarta non-profit organizations. In October, Biblioteca Los Mangos will be the recipient.

---
Site Map
•
Print this Page
•
Email Us
•
Top