Free Newsletter!
Click HERE to read a serialized and updated version of
Polly G. Vicars' sell-out book, Tales of Retirement in Paradise
.
Vallarta Living
Living in Puerto Vallarta Mexico
For many the thought of living in - or even near - a major tourist resort is about as appealing as a buying a condo in Disneyland. But here in Vallarta, the incredible natural beauty, combined with a small town atmosphere and the inherent warmth and friendliness of the local people, attracts foreign residents who enjoy the good life.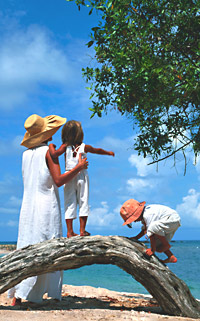 With a colorful blend of the old and the new, the Banderas Bay region offers an unrivaled combination of simple pleasures and sophisticated charms. Fine dining restaurants, art galleries, upscale shopping centers, internet cafes and nightclubs peacefully coexist alongside taco stands, street-side vendors and open air markets selling Mexican handcrafts, and strolling Mariachi bands.


But much of Puerto Vallarta's magic is in the hearts of her people. Often described as "one big, happy family," Vallartenses are known for their hospitality and for going out of their way to welcome foreign residents. And, since the Mexican people are extremely tolerant of different lifestyles, international residents and Mexican locals can live side-by-side in harmony - provided that the expatriate can learn to be creative and adaptable.


Puerto Vallarta is an unhurried refuge for people seeking more than just a beautiful beach. Those of us who choose to live here embrace the challenge of learning patience and understanding. Taking the time to "stop and smell the roses" along the road to becoming bicultural gives us the opportunity to grow - and to enjoy a more relaxed way of life.

• B E L O W T H E F O L D •
April 28 Vallarta-Nayarit News Brief & Weekend Events

Banderas News Team

There's always so much going on in Puerto Vallarta and around Banderas Bay it can be difficult to keep up with it all. Here's a look at some of this week's Vallarta-Nayarit news headlines, community announcements and a couple of this weekend's events that you won't want to miss.

---
Preparing Your Puerto Vallarta Property For Summer

Tropicasa Realty

ith April turning to May, and our rainy season just around the corner, now is the time to start preparing your Puerto Vallarta property for the summer. Tropicasa Realty shares their easy pre-summer maintenance list to help you keep your home or condo cool and comfortable all summer long.

---
Some of Vallarta's Weekend Markets are Still Open

Lorena Sonrisas

From specialty foods and natural remedies to unique jewelry, clothing, accessories, art and home decor, the Banderas Bay area's many weekly markets offer the best of Puerto Vallarta. While many of these weekly markets have folded up their tents for the summer, a few are still open.

---
Second Cuisine of the Sun Underway in Nuevo Vallarta

María Francesca

The Second Annual Cuisine of the Sun food and wine festival kicked off in the Riviera Nayarit last night with a Mexican themed party alongside the Villa La Estancia hotel's pool, where celebrity chefs met and mingled with guests, while serving up fantastic two-bite hors d'oeuvres.

---
Act II Continues to Entertain as We Move into May

Marie Callan

Act II STAGES proves that Puerto Vallarta is a year-round destination with more box office records broken in April and full houses for every performance of 'Casa Valentina.' This weekend, the Red Room welcomes Matt Zarley and Jeb Havens for 2 shows only.

---
Vallarta Garden Club: Thanks for an Amazing Season!

David Muck

This season was the Puerto Vallarta Garden Club's biggest ever and we wanted to say thanks for helping us exceed our goals. Next season, we have even more exciting things planned and news on upcoming events and projects will be released over the summer.

---
Monte Carlo West? ... Puerto Vallarta, Mexico

Bill Semeyn

For those who still think that Puerto Vallarta is a sleepy fishing village, think again. It has become very cosmopolitan in the last decade, offering every modern convenience including theaters, casinos, fine dining restaurants, luxury accommodations - even Home Depot and Costco!

---
3rd Annual Riviera Nayarit Children's Fishing Tournament

Jorge Jiménez

The Marina Riviera Nayarit in La Cruz de Huanacaxtle and the Riviera Nayarit Convention and Visitors Bureau are ready to welcome the 3rd Annual Riviera Nayarit Children's Fishing Tournament on Sunday 30 April, 2017, with the full support of the Banderas Bay Fishing Club.

---
Expats: Safeguard Visa Status When Leaving Mexico

The Guadalajara Reporter

Foreign citizens who have obtained residency visas in Mexico may run the risk of losing that legal status whenever they travel beyond the country's borders. All it takes is a minor clerical error committed when going through immigrations to get switched from resident to visitor status.

---
May is Full of Fun Events and Local Traditions

Boardwalk Realty PV

The month of May is a wonderful time of year to be in Puerto Vallarta! Many snowbirds have flown north for the summer, and tourism drops off somewhat, yet fun events and local traditions keep the town popping like a string of firecrackers on Chinese new year.

---
May 2017 Healthcare Resources PV News & Clinics

Pamela Thompson

Due to the Semana Santa/Semana Pascua holidays, Healthcare Resources Puerto Vallarta didn't have time to hold clinics or send out a newsletter in April. We are now back on track! For those who are here for the summer, we continue, as always, to be here for all of your healthcare needs.

---
The Puerto Vallarta Tourism Trust Has a New Director

AZ Noticias

At a press conference held last Friday, Javier Aranda Pedrero was officially presented as the new director of the Tourism Trust (Fidetur) of Puerto Vallarta, which is the agency responsible for the promotion, advertising and public relations of the destination.

---
Stand-Up Paddle Yoga Classes on Banderas Bay

BanderasNews.com

Twice a year SUP Yoga Vallarta hosts mini retreats where you can spend the day immersed in all things yoga, SUP and wellness. This month's SUP Yoga Retreat, hosted by Café Rizado in Bucerias, will be held on April 30th and feature workshops with local sex guru, Dr. Shelly Persad.

---
Site Map
•
Print this Page
•
Email Us
•
Top