Free Newsletter!
Click HERE to read a serialized and updated version of
Polly G. Vicars' sell-out book, Tales of Retirement in Paradise
.
Vallarta Living
Living in Puerto Vallarta Mexico
For many the thought of living in - or even near - a major tourist resort is about as appealing as a buying a condo in Disneyland. But here in Vallarta, the incredible natural beauty, combined with a small town atmosphere and the inherent warmth and friendliness of the local people, attracts foreign residents who enjoy the good life.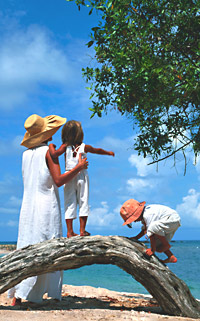 With a colorful blend of the old and the new, the Banderas Bay region offers an unrivaled combination of simple pleasures and sophisticated charms. Fine dining restaurants, art galleries, upscale shopping centers, internet cafes and nightclubs peacefully coexist alongside taco stands, street-side vendors and open air markets selling Mexican handcrafts, and strolling Mariachi bands.


But much of Puerto Vallarta's magic is in the hearts of her people. Often described as "one big, happy family," Vallartenses are known for their hospitality and for going out of their way to welcome foreign residents. And, since the Mexican people are extremely tolerant of different lifestyles, international residents and Mexican locals can live side-by-side in harmony - provided that the expatriate can learn to be creative and adaptable.


Puerto Vallarta is an unhurried refuge for people seeking more than just a beautiful beach. Those of us who choose to live here embrace the challenge of learning patience and understanding. Taking the time to "stop and smell the roses" along the road to becoming bicultural gives us the opportunity to grow - and to enjoy a more relaxed way of life.

• B E L O W T H E F O L D •
TREG's 4th House Hunters International Charity Event

Taniel Chemsian

On November 20, Vallarta's #1 Real Estate brokerage firm, Timothy Real Estate Group, will host The Disco Ball, their fourth 'House Hunters International' charity event benefiting two local charitable organizations - Asilo San Juan Diego Senior Center and SETAC Community Center.

---
Expats in Mexico 'Mexico Moments' Photo Contest

BanderasNews.com

Expats In Mexico celebrated its second anniversary by launching a 'Mexico Moments' photo contest on September 16. The contest is open to expats in Mexico, those who want to live in Mexico, and travelers who visit often. The best photo will win a $300 USD Amazon gift certificate.

---
Emergency Evacuation Simulations in Vallarta Sept 19

BanderasNews.com

Don't be alarmed if you hear sirens going off and see hordes of people heading for higher ground today. The City of Puerto Vallarta will be conducting earthquake and tsunami evacuation simulations at 11:00 am and 5:00 pm, as part of the National Civil Protection Day observances.

---
Blue Wave Social at Garbo Piano Bar, September 19

Democrats Abroad Costa Banderas Chapter

The Costa Banderas Chapter of Democrats Abroad Mexico invites you to join us for a 'Social Hour' in the air conditioned comfort of Garbo Piano Bar on Wednesday, September 19 from 6-8 pm. Everyone is invited to come out to learn what you can do to push the Blue Wave into Congress.

---
Puerto Vallarta Gay Men's Chorus' New Artistic Director

pvmenschorus.org

The Puerto Vallarta Gay Men's Chorus is thrilled to introduce its new Artistic Director, Derek Carkner. A graduate of The University of Toronto with a Master of Arts, he also has a Bachelor of Arts from Ryerson University and an Associateship at the Royal Conservatory of Music.

---
U.S. Citizens: Voting in the Midterms from Abroad

Heather Wilson

With the midterm elections rapidly approaching in November, many Americans are beginning to worry about their votes. If you are in Mexico and need help, watch for VoteFromAbroad assistance provided by Democrats Abroad at various locations in Puerto Vallarta and Banderas Bay.

---
American School of Puerto Vallarta 2018 College Fair

Amanda González Moreno

The American School of Puerto Vallarta invites high school students and their parents to participate in their 2018 College Fair. Set to be held Oct. 8 from 1-4 pm at the International Convention Center, 70+ universities from the US, Canada, Mexico & Europe will be present.

---
2018 SPCA de Puerto Vallarta 'Evening Under the Stars'

Janice Gonzalez

Tickets are now on sale for the 2018 'Evening Under the Stars,' the annual fund raiser for the SPCA de Puerto Vallarta. This extraordinary event will be held in The Iguana, the gorgeous restaurant located within the stunning Casa Kimberly boutique hotel, on Saturday, November 24.

---
PrEP Program Officially Launched in Puerto Vallarta

BanderasNews.com

Thursday, September 13, 2018 was a historic day in Puerto Vallarta. It was on this day that the UN's PrEP (Pre-exposure prophylaxis) pilot program was officially launched in the Banderas Bay area and inaugurated at the S.E.T.A.C. LGBTQ Wellness Center in Colonia Versalles.

---
Bahía de Banderas Trash Challenge, September 23-29

Riviera Nayarit CVB

The 'Bahía de Banderas Towns, Rivers, and Beaches Cleanup Marathon' will be held September 23-29 to contribute to the conservation of the Banderas Bay region's Natural Protected Areas by fighting solid waste contamination in both the Nayarit and Jalisco portions of the bay.

---
Puerto Vallarta Street Closures for Fiestas Patrias

BanderasNews.com

Due to the large number of people expected to attend the Independence Day celebrations in Puerto Vallarta, the Municipal Government announced that they will be rerouting traffic in the downtown area on September 14, 15 and 16, to safeguard event participants and attendees.

---
Act II Entertainment Announces 2018-2019 Season Shows

Daniel R. Mininni

Act II is delighted to announce the lineup for its 2018-2019 season of entertainment. This year promises to be the BEST EVER, with nine productions on The Main Stage, and the return of many of Vallarta's favorite performers, as well as some exciting new faces, in The Red Room.

---
DoD Releases Biennial Study of U.S. Voters Abroad

FVAP.gov

Yesterday the FVAP released its biennial Overseas Citizen Population Analysis estimating there were 3 million U.S. citizens of voting age living abroad in 2016 who cast approximately 208,000 ballots. The overseas voter turnout of approximately 7% compares to a domestic turnout of 72%.

---
Tasty Reasons to Yell ¡Viva México! in Riviera Nayarit

Norma Hernández

Independence Day celebrations are a deeply rooted tradition in Mexico and, when it comes to reveling, the Riviera Nayarit is front and center. Hotels are cooking up holiday-themed buffets and gourmet dinners prepared by renowned chefs that will have you exclaiming ¡Viva México!

---
InterNations Survey: Expats Feel at Home in Mexico

Ricardo Acerco

InterNations has released its annual Expat Insider Survey, which ranks the best countries for expats based on their experiences living abroad. In 2018, Mexico, a consistent favorite, ranked 4th overall, and was in the top 3 for personal happiness, ease of settling in, and cost of living.

---
¡Viva Mexico! Menu Returns to Kaiser Maximilian

Banderas News Team

Food is always an important part of Mexican celebrations so, to commemorate Las Fiestas Patrias, one of Vallarta's favorite restaurants, Kaiser Maximilian, is serving a special dinner menu featuring traditional Mexican dishes with an elegant twist throughout the month of September.

---
Current Requirements for Moving to Mexico with Your Pet

Tropicasa Realty

If you have a four-legged family member and buy real estate in Puerto Vallarta, you will likely have questions about bringing your pet to Mexico. Luckily, moving to Mexico with a pet isn't particularly difficult, if you have all of the required documentation when you arrive.

---
City of Vallarta to Provide Garbage Collection Service

Lorena Sonrisas

For years, the municipal government has been actively seeking a definitive solution to the garbage collection problem in Puerto Vallarta. Last week the long-term contract, which gave a private company an expensive monopoly on the service, was finally terminated.

---
Busy Bees Pollinating the Vallarta Botanical Garden

Neil Gerlowski

In early 2018, volunteers David Erne and Talit Maria Jose set up two hives in the Vallarta Botanical Garden which have already produced over 10 kg of honey! In addition to a sweet harvest, we're making sure that our plants are well attended to by one of our planet's most prolific pollinators.

---
Puerto Vallarta 2018 Fiestas Patrias Schedule of Events

María Francesca

As is tradition, from September 13th through 16th Puerto Vallarta will commemorate La Independencia de Mexico with a series of colorful and patriotic festivities celebrating the events and people that eventually resulted in Mexico's Independence from Spain.

---
PV Chamber Orchestra Announces 2018-2019 Concerts

Andrea Jupina

Attention, classical music lovers! The Puerto Vallarta Chamber Orchestra has released information about their upcoming season of concerts. With more performances scheduled, some featuring world-class guest soloists, the 2018-2019 season promises to be very exciting!

---
Beyond Puerto Vallarta: Discover San Pancho, Nayarit

Adam García

Once home to a handful of Franciscan priests and a small population of farmers, San Pancho is no longer a sleepy little village. Today, this beach town, just north of Puerto Vallarta, is a developing community with rich educational values and an eclectic and enthusiastic population.

---
Sept-Dec Full of Culture & Tradition in Puerto Vallarta

Marie Callan

Engaging in national holidays and traditions is a great way to get to know the culture and heritage of the Mexican people. The Fall and Winter seasons are full of them, making this a great time to visit Puerto Vallarta, where locals warmly welcome tourists to join in the festivities.

---
No Jaguars, But Plenty of Prey Captured at the Garden

Vallarta Botanical Garden

The Panthera V6 camera traps installed in the Vallarta Botanical Garden's forest preserve last month have not yet captured images of jaguars, but we have several bird shots and one overhead family portrait of a troop of White-nosed coati - which happen to be excellent jaguar prey.

---
10 Tips for Anyone Thinking of Retiring in Mexico

Diego Sancho

More and more North Americans are retiring in Mexico to enjoy new experiences and a more relaxed lifestyle, as well as access to affordable healthcare and a lower cost of living. If you're thinking about joining them, here are 10 tips to help make your move and transition as smooth as possible.

---
Site Map
•
Print this Page
•
Email Us
•
Top