Vallarta Living
Living in Puerto Vallarta Mexico
For many the thought of living in - or even near - a major tourist resort is about as appealing as a buying a condo in Disneyland. But here in Vallarta, the incredible natural beauty, combined with a small town atmosphere and the inherent warmth and friendliness of the local people, attracts foreign residents who enjoy the good life.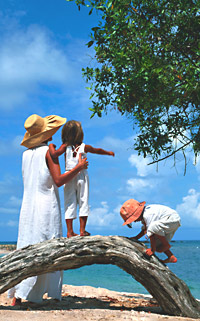 With a colorful blend of the old and the new, the Banderas Bay region offers an unrivaled combination of simple pleasures and sophisticated charms. Fine dining restaurants, art galleries, upscale shopping centers, internet cafes and nightclubs peacefully coexist alongside taco stands, street-side vendors and open air markets selling Mexican handcrafts, and strolling Mariachi bands.


But much of Puerto Vallarta's magic is in the hearts of her people. Often described as "one big, happy family," Vallartenses are known for their hospitality and for going out of their way to welcome foreign residents. And, since the Mexican people are extremely tolerant of different lifestyles, international residents and Mexican locals can live side-by-side in harmony - provided that the expatriate can learn to be creative and adaptable.


Puerto Vallarta is an unhurried refuge for people seeking more than just a beautiful beach. Those of us who choose to live here embrace the challenge of learning patience and understanding. Taking the time to "stop and smell the roses" along the road to becoming bicultural gives us the opportunity to grow - and to enjoy a more relaxed way of life.

• B E L O W T H E F O L D •
The Riviera Nayarit Just Keeps on Getting Ritzier
Travel Weekly

The Riviera Nayarit region is already known for its luxury and boho-luxe offerings in destinations like Punta de Mita and Sayulita, but the coastline is primed for five-star development. One upcoming addition is the residential community Susurros del Corazon, an Auberge Resorts Collection property.

---
Act2PV: 'Best Performing Arts Venue in Banderas Bay'
Marsha Ross

If you are visiting Puerto Vallarta and looking for something fun to do, head over to Act2PV! With live entertainment seven nights a week, this beautiful 5-star venue has something for everyone to enjoy in a safe environment that goes beyond mandated Covid protocols.

---
U.S. to Require Covid-19 Tests for International Visitors
Wall Street Journal

The U.S. government will require all international airline passengers to show proof of a negative Covid-19 test before boarding flights to the country, the Centers for Disease Control and Prevention said Tuesday. The order will go into effect on January 26, 2021.

---
Kim Kuzma Dinner Show Fridays at The Grill at CK's
Debbie White

Kim Kuzma, one of Puerto Vallarta's best known, funniest and most loved Divas of Song, has returned for her 16th season of shows in La Zona Romantica. This year, Kim and her band are performing 'Popstarz' on Mondays at The Palm, and an 'Acustico' style show at The Grill at CK's / Coco's Kitchen on Friday nights.

---
Mexico-US Border Restrictions Extended to February 21
BanderasNews.com

Border travel restrictions meant to curb the spread of COVID-19 between the United States and Mexico have been extended through at least 11:59 pm on February 21, Mexico's Ministry of Foreign Relations announced through a series of tweets on Monday evening. Flights between the two countries continue.

---
'The Greatest Show on Earth', Wednesdays at Act2PV
Gary R. Beck

Puerto Vallarta entertainment writer Gary R. Beck, who attended last Wednesday's FREE performance of 'The Greatest Show on Earth' at Act2PV's new Starlight Cabaret, tells us more about this not-to-be-missed evening of exceptional entertainment - that includes free appetizers!

---
Vallarta Garden Club January Meeting & Presentation
David Muck

On Tuesday, January 19 at 4:30 pm CST, the Puerto Vallarta Garden Club will have a membership meeting and special presentation featuring Ethnobotanist, Emrys Stromberg, who will speak about the Sacred Land of the Huichol. Incanto will host this engaging event, which will be both online and in person.

---
Mexico Begins Mass Coronavirus Vaccination Campaign
BanderasNews.com

With the arrival of more than 400,000 vaccines today Mexico will begin mass vaccination against the coronavirus. President López Obrador said the federal government's plan is to have all health workers vaccinated by the end of this month and the country's elderly protected by the end of March.

---
Luis Villanueva & El Mariachi Alegría at No Way José!
Julie Guerrero

Puerto Vallarta favorites Luis Villanueva and El Mariachi Alegría have so delighted our family of friends with their recent performances at Tu Casa en Vallarta, they will be returning to No Way José! for Dinner Shows on Sunday, January 17, Sunday, February 7 and Sunday, February 28.

---
Choose How Your PV Property Tax Dollars Will Be Spent
Diego Sancho

Mayor Arturo Dávalos Peña recently announced a new plan to improve public services and quality of life for the families that need it most. Now, when paying Puerto Vallarta property taxes, citizens can choose the public works and actions in which this resource should be invested through the Participatory Budget.

---
Site Map
•
Print this Page
•
Email Us
•
Top