Free Newsletter!
Click HERE to read a serialized and updated version of
Polly G. Vicars' sell-out book, Tales of Retirement in Paradise
.
Vallarta Living
Living in Puerto Vallarta Mexico
For many the thought of living in - or even near - a major tourist resort is about as appealing as a buying a condo in Disneyland. But here in Vallarta, the incredible natural beauty, combined with a small town atmosphere and the inherent warmth and friendliness of the local people, attracts foreign residents who enjoy the good life.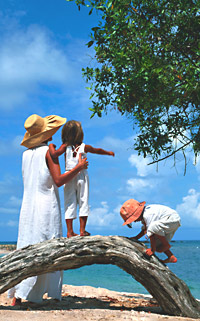 With a colorful blend of the old and the new, the Banderas Bay region offers an unrivaled combination of simple pleasures and sophisticated charms. Fine dining restaurants, art galleries, upscale shopping centers, internet cafes and nightclubs peacefully coexist alongside taco stands, street-side vendors and open air markets selling Mexican handcrafts, and strolling Mariachi bands.


But much of Puerto Vallarta's magic is in the hearts of her people. Often described as "one big, happy family," Vallartenses are known for their hospitality and for going out of their way to welcome foreign residents. And, since the Mexican people are extremely tolerant of different lifestyles, international residents and Mexican locals can live side-by-side in harmony - provided that the expatriate can learn to be creative and adaptable.


Puerto Vallarta is an unhurried refuge for people seeking more than just a beautiful beach. Those of us who choose to live here embrace the challenge of learning patience and understanding. Taking the time to "stop and smell the roses" along the road to becoming bicultural gives us the opportunity to grow - and to enjoy a more relaxed way of life.

• B E L O W T H E F O L D •
See the Movie Everyone in Vallarta is Talking About!
Costa Banderas Democrats Abroad

If you missed the Democrats Abroad Costa Banderas Chapter's first three showings of 'Active Measures' at Incanto, you can still see the sold-out movie everyone in Puerto Vallarta is talking about! A fourth screening & discussion of the film is scheduled for January 29 at 3 pm.

---
Confused About Mexico? Let's Talk About It!

Lorena Sonrisas

Do you have questions about Mexico, its people or customs? You don't need to learn Spanish to 'Connect with Mexico,' just come to The Boutique Theatre, above Nacho Daddy on the south side of Puerto Vallarta, every Thursday at 11:00 am for 'Mexico explained, in plain English.'

---
Champagne Brunch & Fashion Show to Benefit SPCA de PV

Janice Gonzalez

SPCA de PV is pleased to announce our upcoming 'Beauty and the Beast' fundraiser on Tuesday, February 19. Make plans now to join us for a delicious champagne brunch and Spring fashion show, featuring local designers, in The Iguana Restaurant & Tequila Bar in Casa Kimberly.

---
19th Annual San Pancho Music Festival Set for Feb 22-24

Chris Parsons

The 2019 San Pancho Music Festival will be held Friday, February 22 through Sunday, February 25 in San Francisco, Nayarit. This year the Music Festival will feature performing artists from the Riviera Nayarit region, as well as musicians from the U.S., Canada and Mexico.

---
There are Jaguars on the Puerto Vallarta Malecón!

María Francesca

Vallarta Botanical Garden has installed 'JAGUARS - From Ancestral Myth to Current Conservation Imperative,' a visual exhibit of stunning images and interpretive texts on the Malecón. The exhibit was inaugurated January 10 and will remain on display through February 10, 2019.

---
Get Ready for the Sixth Annual Taste of Lo de Marcos

BanderasNews.com

The 6th Annual Taste of Lo De Marcos, set to be held at the Centro de Fiestas Los Delfines on Sunday, February 17, 2019 from 3-8 pm, will feature local restaurants, artisanal booths and live music, with proceeds benefiting Amigos de Lo de Marcos and Comite de Accion Ciudadana.

---
The JG Group Offers Free PV Real Estate Walking Tours

Banderas News Team

Join The JG Group's Vallarta Real Estate Advisors on Wednesdays and Saturdays for the only real estate walking tour in La Zona Romantica. These free tours visit nine of the new real estate projects in one of PV's fastest growing areas. (Advance reservations required.)

---
Nine Day Festival Honors Patron Saint of Bucerías

Banderas News Team

The festival of Our Lady of Peace, the patron Saint of Bucerias, Nayarit, began January 16 and continues through the 24th. Besides a carnival in the town's main plaza, festivities include a boat parade, daily masses and processions, fireworks and entertainment nightly.

---
Act II is in Full Swing at the Height of the Season!

Daniel R. Mininni

Act II is in Full Swing at the height of the Puerto Vallarta entertainment season, with two of the season's most anticipated musicals opening this week. 'I Got Rhythm,' from the team that brought you 'Some Enchanted Evening' last season, and the iconic American musical, 'Chicago.'

---
Puerto Vallarta Medical Matters Conference, February 11

Pamela Thompson

The 2019 Puerto Vallarta Medical Matters Conference, a no charge community healthcare event featuring options for the Banderas Bay Community regarding day to day well-being and emergency healthcare needs, will be held at the Marriott Hotel on February 11 from 9 am to 3 pm.

---
Kaiser Maximilian Offers Vallarta Diners Oysters & More

Marie Callan

Though best-known for serving Puerto Vallarta residents and visitors exceptional Austrian fare, Kaiser Maximilian invites you to dive into the special 'Oysters and More' menu, which is being served, along with the restaurant's regular menu, through February 2nd.

---
Site Map
•
Print this Page
•
Email Us
•
Top