Free Newsletter!
Click HERE to read a serialized and updated version of
Polly G. Vicars' sell-out book, Tales of Retirement in Paradise
.
Vallarta Living
Living in Puerto Vallarta Mexico
For many the thought of living in - or even near - a major tourist resort is about as appealing as a buying a condo in Disneyland. But here in Vallarta, the incredible natural beauty, combined with a small town atmosphere and the inherent warmth and friendliness of the local people, attracts foreign residents who enjoy the good life.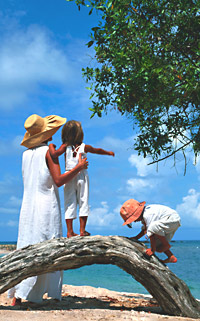 With a colorful blend of the old and the new, the Banderas Bay region offers an unrivaled combination of simple pleasures and sophisticated charms. Fine dining restaurants, art galleries, upscale shopping centers, internet cafes and nightclubs peacefully coexist alongside taco stands, street-side vendors and open air markets selling Mexican handcrafts, and strolling Mariachi bands.


But much of Puerto Vallarta's magic is in the hearts of her people. Often described as "one big, happy family," Vallartenses are known for their hospitality and for going out of their way to welcome foreign residents. And, since the Mexican people are extremely tolerant of different lifestyles, international residents and Mexican locals can live side-by-side in harmony - provided that the expatriate can learn to be creative and adaptable.


Puerto Vallarta is an unhurried refuge for people seeking more than just a beautiful beach. Those of us who choose to live here embrace the challenge of learning patience and understanding. Taking the time to "stop and smell the roses" along the road to becoming bicultural gives us the opportunity to grow - and to enjoy a more relaxed way of life.

• B E L O W T H E F O L D •
American Legion Hosts Free July 4th Event for Veterans

Dennis Rike

On July 4th from 12-2 pm, the Puerto Vallarta American Legion Post 14 will host a free Independence Day event, offering hot dogs, chili, and more, to every military veteran, their spouses and friends, who wish to come to Steve's Sports Bar, 286 Basilio Badillo on the south side of Vallarta.

---
Vallarta's First Free Pet Sterilization Campaign

María Francesca

There are many non-profit animal organizations in the greater Banderas Bay area that offer free spay and neuter clinics on a regular basis, but on July 8 & 9, the Puerto Vallarta municipal government is organizing the city's first free pet sterilization campaign.

---
Ángeles en Libertad Collecting Bottlecaps for Life

BanderasNews.com

Ángeles en Libertad invites everyone to participate in this year's 'Destapate y Dona Vida' (bottle caps for life) campaign. They will be collecting plastic bottle caps and aluminum can pull-tabs at an entertaining awareness- and fund- raising event at Los Arcos del Malecón on June 24.

---
June 23 Vallarta-Nayarit News Brief & Weekend Events

Banderas News Team

There's always so much going on in Puerto Vallarta and around Banderas Bay it can be difficult to keep up with it all. Here's a look at some of this week's Vallarta-Nayarit headlines, community announcements and a couple of this weekend's events that you won't want to miss.

---
Tips for Surviving the Summer Heat in Puerto Vallarta

Marie Callan

Summer has offically arrived. Here in Puerto Vallarta, the heat and humidity can be dangerous for anyone, but even more so for the elderly. How can seniors protect themselves and stay cool this summer? Homecare and hospice expert, Kurt Kazanowski MS, RN, CHE, offers a few tips.

---
Oficina de Proyectos Culturales' Taller OPC to be Inaugurated

Pilar Perez

The Taller OPC, which was unveiled during the May 27 opening of the Oficina de Proyectos Culturales' latest exhibition, 'You Are Here: Dichotomies of Landscape,' will be officially inaugurated tonight (June 22, 2017) from 7:00 to 9:00 pm at Juarez #598 in downtown Puerto Vallarta.

---
Puerto Vallarta Maritime Terminal Renovations Update

Lorena Sonrisas

The modernization of Puerto Vallarta's cruise ship port is underway. Next year, it will resemble a traditional Mexican hacienda that, in addition to a new passenger terminal and tourist services area, will house a tequila museum, a shopping center and an aquarium.

---
Act II Entertainment Rocks Summer, Prepares for Winter

Marie Callan

Act II has done it again and shows no sign of slowing down. Danny Mininni and team kicked off the Summer season with a brand-new series, 'Spotlight on Vallarta,' which highlights the incredible talent of people that live here - and they are already gearing up for the Winter season!

---
July Events Heat Up the Summer in The Riviera Nayarit

Jorge Jiménez

Summer is heating up in the Riviera Nayarit, and Mexico's Pacific Treasure has a variety of smoking hot events planned for July. Sports dominate the calendar, but there is plenty going on in the music, nature and beauty pageant arenas that are sure to spark your interest.

---
1st Annual Mango Festival to Benefit Jay Sadler Project

Dennis Rike

Join the Jay Sadler Project as they raise money for the Vista Hermosa playground with the juiciest event: the 1st Puerto Vallarta Mango Festival! Set to be held July 1 at Lazaro Cardenas Park, the festival will feature various dishes made with the 'King of Tropical Fruit' and live entertainment.

---
Garbage in PV: Sanctions & Separation the Next Steps

puertovallarta.gob.mx

Now that the municipal government has fulfilled its promise to resume daily garbage collection, Puerto Vallarta Mayor Dávalos Peña has turned his attention to the next two steps of the program - sanctions for those who do not respect the schedules, and the separation of waste.

---
New Locks Keep Your New Home in Puerto Vallarta Secure

TREGROUP

Regardless of what country you're in, one of the first things you should do after buying property is change the locks. There is no telling who has copies of the keys to your new home and, with so many reasonably priced locksmiths in Puerto Vallarta, it is an easy fix.

---
Rafffle at 4th of July Party in PV Offers Great Prizes

Marilyn Khan

If you are in Puerto Vallarta, make plans now to celebrate the 4th of July at Langostinos on Los Muertos Beach from 6-9 pm. You'll enjoy an unlimited buffet loaded with all your favorite July 4th foods, music by Sylvie Scopazzo and The Zippers, and a raffle for great prizes!

---
Site Map
•
Print this Page
•
Email Us
•
Top