Free Newsletter!
Click HERE to read a serialized and updated version of
Polly G. Vicars' sell-out book, Tales of Retirement in Paradise
.
Vallarta Living
Living in Puerto Vallarta Mexico
For many the thought of living in - or even near - a major tourist resort is about as appealing as a buying a condo in Disneyland. But here in Vallarta, the incredible natural beauty, combined with a small town atmosphere and the inherent warmth and friendliness of the local people, attracts foreign residents who enjoy the good life.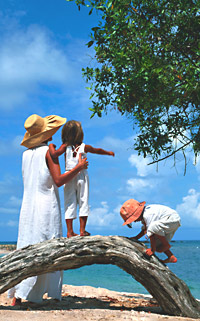 With a colorful blend of the old and the new, the Banderas Bay region offers an unrivaled combination of simple pleasures and sophisticated charms. Fine dining restaurants, art galleries, upscale shopping centers, internet cafes and nightclubs peacefully coexist alongside taco stands, street-side vendors and open air markets selling Mexican handcrafts, and strolling Mariachi bands.


But much of Puerto Vallarta's magic is in the hearts of her people. Often described as "one big, happy family," Vallartenses are known for their hospitality and for going out of their way to welcome foreign residents. And, since the Mexican people are extremely tolerant of different lifestyles, international residents and Mexican locals can live side-by-side in harmony - provided that the expatriate can learn to be creative and adaptable.


Puerto Vallarta is an unhurried refuge for people seeking more than just a beautiful beach. Those of us who choose to live here embrace the challenge of learning patience and understanding. Taking the time to "stop and smell the roses" along the road to becoming bicultural gives us the opportunity to grow - and to enjoy a more relaxed way of life.

• B E L O W T H E F O L D •
Daiquiri Dick's 2017 Summer Sizzle Wraps Up August 31

Banderas News Team

Don't miss your last chance this season to take your taste buds on a world tour without leaving Puerto Vallarta. That's right, Daiquiri Dick's 2017 Summer Sizzle is coming to an end. Through August 31, you can choose one dish from each of the 3 courses on the menu for $399 pesos.

---
Puerto Vallarta On Track for Another Record Year

Gustavo Rivas-Solis

With an average hotel occupancy rate from January to June of close to 90 percent; 1,843,600 international air passenger arrivals and 189,324 cruise ship passengers visiting in the first half of the year, Puerto Vallarta, Mexico is on track for another record year in visitor arrivals.

---
V National Playa Guayabitos Volleyball Festival 2017

Riviera Nayarit CVB

Rincón de Guayabitos, Nayarit is ready to host the V National Playa Guayabitos Youth Beach Volleyball Festival 2017 - the first of its kind held outside southwestern Mexico - which will take place from August 23-27. Teams from nearly every state in the Republic are expected to attend.

---
Puerto Vallarta Mayor Working to Improve Downtown Area

María Francesca

In a meeting with Avenida México, Malecón and Old Town merchants, Puerto Vallarta Mayor Arturo Dávalos Peña proclaimed that his government is working on a series of projects and public works that will increase tourist appeal and strengthen business in the downtown area.

---
Nat'l Dolphin Program Conference in Riviera Nayarit

Norma Hernández

The Riviera Nayarit will once again host the Dolphin Program's XXII National Scientific and Technological Research Conference, which will take place from August 16-19, 2017 at the Riu hotels in Flamingos. Canada is invited as the guest country.

---
Mayor Personally Delivers New Beds to Ixtapa Families

Marie Callan

Puerto Vallarta Mayor Arturo Dávalos Peña has once again demonstrated the sensitivity and solidarity that his government maintains towards Vallartenses. Last week, he personally delivered bed frames and mattresses to 22 Ixtapa area families whose homes were affected by heavy rains.

---
Vidanta Riviera Nayarit Kicks Off Gastronómica 2017

Riviera Nayarit CVB

Vidanta's 2017 Gastronómico Kick-Off, starring a group of national and international chefs, is ready to go from August 14-16 and marks the start of the activities for the 9th Vallarta Nayarit Gastronómica, which will take place in October of this year.

---
5th Punta Mita Beach Festival Offers Fun in the Sun

BanderasNews.com

The fifth annual Punta Mita Beach Festival, an adventure weekend that brings together the best beach activities with all the natural beauty and adventure that Riviera Nayarit has to offer, is set to take place August 12-13, 2017 at the Punta Mita Resort's fabulous Kupuri Beach Club.

---
Las Animas Gay Adventure Starts November 3, 2017

GAYPV Magazine

Imagine being stranded on an exotic beach paradise at sunset where you must befriend other guys from all over the world to survive. Then, get ready for a new, fun-filled tour offered by Vallarta Bar Hopping. In November 2017, they'll be adding the Las Animas Gay Adventure!

---
This Week - and Beyond! - at Act II Entertainment
Daniel R. Mininni

If you haven't been to STAGES recently, you don't know what you've been missing! Act II Entertainment's STAGES is the biggest entertainment venue in the Banderas Bay area, offering Wednesday night Karaoke and a full line-up of amazing shows in The Red Room Cabaret and The Main Stage.

---
Sponsors Needed for Vallarta 9-1-1 Heroes Calendar

Tim Longpré

Sponsors are needed for this year's Heroes calendar, which will raise funds for equipment to complement Puerto Vallarta's new 911 emergency services program. Our last calendar featuring PV's first-responders left the world hot under the collar, and the new one is as steamy as ever.

---
First PechaKucha Night in Puerto Vallarta, August 26

Paco Ojeda

If you are an artist, are involved in a non-profit project, or have a truly fulfilling pastime, and need to talk about your activities with those around you, you won't want to miss the first PechaKucha Night in Puerto Vallarta. Come share your ideas and projects on August 26 at 8:30 pm at Incanto.

---
Tips for Dealing with Puerto Vallarta's Summer Weather

Katy Ochoa

The first thing we tell visitors who inquire about summer weather in Puerto Vallarta is that it is a lot of things - but always unpredictable. Timothy Real Estate Group offers some tips for how to deal with the indeterminable summer weather in Puerto Vallarta.

---
A Beach Lover's Paradise With Rising Property Values

Claire Carponen

Mostly set on tropical rainforest-covered hills, overlooking Banderas Bay, Puerto Vallarta's Conchas Chinas neighborhood has a lush, exotic setting and incredible ocean views. A stone's throw from Old Town, it is close to the action, yet retains its tranquil and sophisticated vibe.

---
2nd Vallarta Garden Club Summer Social Set for Aug 17

PV Garden Club

Grab your friends and join the Vallarta Garden Club at Incanto, 109 Insurgentes at the Rio Cuale, on Thursday, August 17 from 6-8 pm for our second social of the summer. You'll enjoy drinks and appetizers and a photographic tour of our many plantings from the Fall and Spring.

---
Act II's 'Spotlight On Vallarta' Shows Are Huge Hits!

Danny Mininni

This summer's 'Spotlight On Vallarta' series has turned out to be one of the most well-received projects that Act II Entertainment has ever done! It has allowed Act II to showcase some of the incredible talents of people living right here in Puerto Vallarta.

---
The Fountain of Youth Rediscovered in Puerto Vallarta

Jim Scherrer

Thousands of North Americans that visit Puerto Vallarta every year arrive looking pale, wrinkled, obese, and or with dental problems. But a week or two later they return home looking tan, younger, thinner, and/or with clean white and straight teeth!

---
PV is the Promised Land for 'Vallartazo' Participants

Puerto Vallarta Tourism Trust

The 2017 edition of 'Vallartazo,' an annual motorsport event in which people from all over Mexico rev up their motorcycles, ATVs, jeeps and 4x4s for an off-road trip to Puerto Vallarta, begins this weekend and continues every weekend through the end of September.

---
Amapas Neighborhood Association Welcomes Michael Lindner

Tom Swale

The Amapas Neighborhood Association, a group of Puerto Vallarta residents and business owners who work together to enhance our quality of life through improvements in security, infrastructure and responsible development, welcomes Michael Lindner to the board.

---
Site Map
•
Print this Page
•
Email Us
•
Top