Free Newsletter!
Click HERE to read a serialized and updated version of
Polly G. Vicars' sell-out book, Tales of Retirement in Paradise
.
Vallarta Living
Living in Puerto Vallarta Mexico
For many the thought of living in - or even near - a major tourist resort is about as appealing as a buying a condo in Disneyland. But here in Vallarta, the incredible natural beauty, combined with a small town atmosphere and the inherent warmth and friendliness of the local people, attracts foreign residents who enjoy the good life.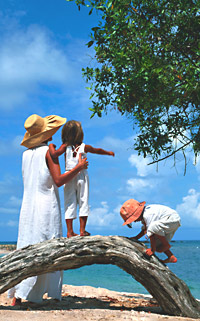 With a colorful blend of the old and the new, the Banderas Bay region offers an unrivaled combination of simple pleasures and sophisticated charms. Fine dining restaurants, art galleries, upscale shopping centers, internet cafes and nightclubs peacefully coexist alongside taco stands, street-side vendors and open air markets selling Mexican handcrafts, and strolling Mariachi bands.


But much of Puerto Vallarta's magic is in the hearts of her people. Often described as "one big, happy family," Vallartenses are known for their hospitality and for going out of their way to welcome foreign residents. And, since the Mexican people are extremely tolerant of different lifestyles, international residents and Mexican locals can live side-by-side in harmony - provided that the expatriate can learn to be creative and adaptable.


Puerto Vallarta is an unhurried refuge for people seeking more than just a beautiful beach. Those of us who choose to live here embrace the challenge of learning patience and understanding. Taking the time to "stop and smell the roses" along the road to becoming bicultural gives us the opportunity to grow - and to enjoy a more relaxed way of life.

• B E L O W T H E F O L D •
March 19 a Mexican Holiday Celebrating Benito Juarez

Banderas News Team

Benito Juarez's birthday (March 21) is a national holiday in Mexico and, to make a three-day weekend out of it, schools and government offices are closed on the third Monday of March, which this year falls on March 19th.

---
Democrats Abroad Costa Banderas March 19-21 Events

Dean McIntyre

The Costa Banderas Chapter of Democrats Abroad Mexico invites you to join them for a series of events - from the 3rd U.S. 2018 Election Forum & Voter Registration Assistance to Movie Night - set to take place from March 19-21, 2018 at various venues around Banderas Bay.

---
March Madness: It's Still 'High Season' at Act II Stages

Danny Mininni

Act II continues its sensational schedule with two more world-class performers opening their shows this month. Michelle Johnson, international vocalist from Las Vegas, returns to The Red Room on March 19, and singer/songwriter Daniel Portela returns on March 26!

---
Puerto Vallarta Chamber Orchestra Encore Concert

Paul Sommers

On Monday, March 19, ensembles drawn from the Puerto Vallarta Chamber Orchestra will be offering a repeat performance of the sold out chamber music concert offered on Isla Cuale in January - but this time it will be performed at La Parilla de Villa Restaurant in Nuevo Vallarta.

---
XXVI Banderas Bay Regatta Set for March 20-24, 2018
Lorena Sonrisas

The XXVI Annual Banderas Bay Regatta is scheduled to take place March 20-24 at the Paradise Village Hotel and Marina in Nuevo Vallarta. What started out as a modest annual regatta has become the premier sailing event on Mexico's West Coast drawing 40-60 boats each year.

---
Music-Comedy Duo Amy & Freddy at The Palm Cabaret

Banderas News Team

The Palm Cabaret and Bar, at Olas Altas 508 on the south side of Puerto Vallarta, welcomes the very popular cabaret artists Amy Armstrong and Freddy Allen, known around the world as 'Amy & Freddy,' back to the stage for six shows only starting on Saturday, March 17 at 7:00 pm.

---
Timothy Real Estate Group: 105° Sail View Open House

Taniel Chemsian

Join Timothy Real Estate Group for canapés and wine at 105° Sail View, a new condominium development on the south side of Puerto Vallarta, on Thursday, March 15 starting at 5:00 pm. The development's beautiful lobby, two-story bar and a Model Suite will be available for viewing.

---
El Parque de los Azulejos Benefit at Mantamar Beach Club

Marie Callan

The community is coming together at Mantamar Beach Club on March 21 to help local artist Natasha Moraga finish creating another internationally recognized icon in Puerto Vallarta: 'El Parque de los Azulejos.' With live music, auctions and more, this will be THE event of the season!

---
Spring into Fun at Nacho Daddy / Boutique Theater

Catherine Beeghly

As we head into Spring, The Boutique Dinner Theater and Nacho Daddy invite everyone to come out and have some fun! Staging two comedies, a murder mystery, TED Talks and more, along with the best bands in Puerto Vallarta playing most every night, there's something for everyone!

---
Democrats Abroad Costa Banderas Annual Meeting

Tobe Jensen

Democrats Abroad Costa Banderas will hold their annual membership meeting on March 26 from 5-7 pm at Nacho Daddy Restaurant & Bar. The agenda includes a look at the last year, planning for the next several months before the US election, the election of new board members and more.

---
3rd Vallarta-Nayarit Ballenarte Conservation Festival

Norma Hernández

The Third Ballenarte Conservation Festival will be held from March 20-23, 2018, with activities in Puerto Vallarta and the Riviera Nayarit to raise awareness regarding the importance of protecting the humpback whale and the natural riches of the Bahía de Banderas.

---
Act II Welcomes Las Vegas Songstress Michelle Johnson

Debbie White

Las Vegas' First Lady of Jazz, Michelle Johnson, will be hitting The Red Room stage on March 19, for a four-night-only run of her new show, 'Spotlight: The Music of Icons.' This is the caliber of performance that makes Act II Stages THE PLACE to go to see a show when you are in Vallarta.

---
PVGMC Crystal Ball - An Evening Under the Stars

Dean McIntyre

The Puerto Vallarta Gay Men's Chorus is proud to present its 6th Annual Fundraising Gala on Friday, March 23 at the beautiful Casa Karma Boutique Resort. This is the PVGMC'S major fundraising effort, which will help fund their many musical projects throughout the rest of the year.

---
Riverfest 7 Raised $362,640 Pesos for Pasitos de Luz

Barb Bremner

How do we begin to thank everyone for all of the support that made Riverfest 2018 THE event of the year? It's a huge undertaking and the major fundraiser for Pasitos de Luz. All of you helped us set a new Riverfest record of $362,640 pesos raised for special needs children in Puerto Vallarta.

---
March Madness Continues with More Special Guests

BanderasNews.com

March Madness continues at Act II with more out-of-town special musical guests bringing the highest level of entertainment to Puerto Vallarta. This week, STAGES features Canadian Singer-Songwriter-Pianist Jeffery Straker, in addition to a stellar line-up of continuing shows.

---
Dr. Leslie Korn to Speak at PV Garden Club Meeting

Leslie Simonin

Join the Puerto Vallarta Garden Club at Incanto on March 15 from 5-6 pm for a cup of Capomo and a special presentation by Dr. Leslie Korn, who will talk about her most recent book, 'The Good Mood Kitchen,' and share secret remedies derived from local plants, fruits and vegetables.

---
Lorena Herrera to Lead 2018 Vallarta Pride Parade

BanderasNews.com

One of the first celebrities to confirm their participation in Vallarta Pride 2018, set for May 20-27, is the famous Mexican actress and singer Lorena Herrera who, in addition to being the Grand Marshal of the Pride parade, will also be the star of a free Pride concert at Teatro Vallarta May 25.

---
Site Map
•
Print this Page
•
Email Us
•
Top