Vallarta Living
Living in Puerto Vallarta Mexico
For many the thought of living in - or even near - a major tourist resort is about as appealing as a buying a condo in Disneyland. But here in Vallarta, the incredible natural beauty, combined with a small town atmosphere and the inherent warmth and friendliness of the local people, attracts foreign residents who enjoy the good life.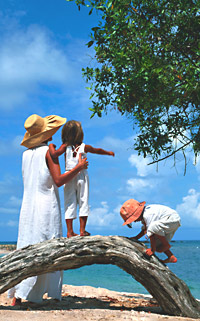 With a colorful blend of the old and the new, the Banderas Bay region offers an unrivaled combination of simple pleasures and sophisticated charms. Fine dining restaurants, art galleries, upscale shopping centers, internet cafes and nightclubs peacefully coexist alongside taco stands, street-side vendors and open air markets selling Mexican handcrafts, and strolling Mariachi bands.


But much of Puerto Vallarta's magic is in the hearts of her people. Often described as "one big, happy family," Vallartenses are known for their hospitality and for going out of their way to welcome foreign residents. And, since the Mexican people are extremely tolerant of different lifestyles, international residents and Mexican locals can live side-by-side in harmony - provided that the expatriate can learn to be creative and adaptable.


Puerto Vallarta is an unhurried refuge for people seeking more than just a beautiful beach. Those of us who choose to live here embrace the challenge of learning patience and understanding. Taking the time to "stop and smell the roses" along the road to becoming bicultural gives us the opportunity to grow - and to enjoy a more relaxed way of life.

• B E L O W T H E F O L D •
Tropicasa Supports Vallarta Food Bank, Our Community
Wayne Franklin

As Puerto Vallarta faces the challenges of this pandemic, Tropicasa Realty has pledged to contribute to the good work of the Vallarta Food Bank, which will ensure that about 200 families a week will have the food that they need to sustain them over the next month.

---
Online Course Makes it Easy to Learn Spanish at Home
BanderasNews.com

Can older people learn to speak another language? A new report from International Living explores how Baby Boomers are successfully tackling the task of learning Spanish and why now - with everybody sequestered at home - could be the ideal time to take on the challenge.

---
April 2020 News from PuRR Project Puerto Vallarta
Linda Brasseal

Here's the latest news from PuRR Project, a non-profit, no-kill feline shelter in Puerto Vallarta, that provides homeless cats and kittens a recuperative stay with the ultimate goal of adopting them out to loving homes sterilized, vaccinated and disease free.

---
Puerto Vallarta Food Distribution Program Begins Today
María Francesca

True to his word, Puerto Vallarta Mayor Arturo Dávalos Peña has implemented a food distribution program to help 7,500 families in the municipality's most vulnerable sectors survive the impact of the COVID-19 health contingency. The first delivery is scheduled for today.

---
How Vallarta Stays Connected While Social Distancing
Tropicasa Realty

The Puerto Vallarta community has come together to protect the health and welfare of our city by staying off the streets as much as possible. The real estate agents at Tropicasa offer tips for keeping yourself mentally and socially engaged while social distancing.

---
Your Cultural Insider: Coconut History and Folklore
Sandra Cesca

Who hasn't had coconut in some form or another? Here in Puerto Vallarta, cold coconuts can be found on many street corners and at the beach, especially on a hot day. But they are not just for eating. Parts of the coconut palm are used for art and weaving various items such as hats and bags.

---
Free Course on Self-Care Strategies During COVID-19
BanderasNews.com

Dr. Leslie Korn, a renowned expert in Natural and Integrative Medicine specializing in the treatment of trauma and chronic illness, is offering a free, 1-hour course on nutritional and integrative approaches to help us care for ourselves and others during the COVID-19 pandemic.

---
COVID-19 a Grim Reminder: What Ails One, Ails Us All
Bobby Ramakant

The COVID-19 pandemic is a wake-up call to reverse inequality and effectively address the mountainous challenge to 'leave no one behind' in sustainable development. If we fail to do this, we will also fail on health security for all.

---
Puerto Vallarta, Jalisco, and Mexico News Brief
Banderas News Team

With the COVID-19 pandemic dominating the world's news and social media channels, it can be difficult to keep up with what's really happening in Puerto Vallarta, the State of Jalisco, and around the Republic. Here we share some of the latest news from reliable sources in Mexico.

---
PV Therapist Offers Medical Staff Free Online Therapy
Sam Murray

Psychotherapist and Puerto Vallarta resident, Vanessa Schön, is offering free online therapy sessions to the healthcare workers and medical personnel battling coronavirus in Mexico. 'It's crucial for these individuals to be at their best to care for people with COVID-19,' she says.

---
Site Map
•
Print this Page
•
Email Us
•
Top