Free Newsletter!
Click HERE to read a serialized and updated version of
Polly G. Vicars' sell-out book, Tales of Retirement in Paradise
.
Vallarta Living
Living in Puerto Vallarta Mexico
For many the thought of living in - or even near - a major tourist resort is about as appealing as a buying a condo in Disneyland. But here in Vallarta, the incredible natural beauty, combined with a small town atmosphere and the inherent warmth and friendliness of the local people, attracts foreign residents who enjoy the good life.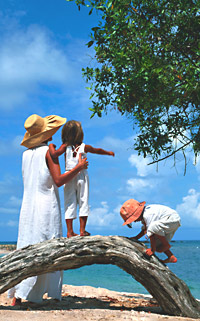 With a colorful blend of the old and the new, the Banderas Bay region offers an unrivaled combination of simple pleasures and sophisticated charms. Fine dining restaurants, art galleries, upscale shopping centers, internet cafes and nightclubs peacefully coexist alongside taco stands, street-side vendors and open air markets selling Mexican handcrafts, and strolling Mariachi bands.


But much of Puerto Vallarta's magic is in the hearts of her people. Often described as "one big, happy family," Vallartenses are known for their hospitality and for going out of their way to welcome foreign residents. And, since the Mexican people are extremely tolerant of different lifestyles, international residents and Mexican locals can live side-by-side in harmony - provided that the expatriate can learn to be creative and adaptable.


Puerto Vallarta is an unhurried refuge for people seeking more than just a beautiful beach. Those of us who choose to live here embrace the challenge of learning patience and understanding. Taking the time to "stop and smell the roses" along the road to becoming bicultural gives us the opportunity to grow - and to enjoy a more relaxed way of life.

• B E L O W T H E F O L D •
Wagen Volks Club's 7th VW Festival September 28 & 29

BanderasNews.com

The Wagen Volks Club will showcase over 150 classic and newer, show-quality, Volkswagens at the Seventh Riviera Fest, a family-friendly VW festival and exhibition to be held at Marina Riviera Nayarit in La Cruz de Huanacaxtle on September 28 & 29, 2019. Admission is free.

---
What Services do Mortgage Brokers in Mexico Offer?

Terence L. Reilly

You many have heard that MEXLend is the premier mortgage broker in Mexico, but do you know exactly what it is that a mortgage broker does? If you have questions, you're not alone, so here's an explanation about what we do to help you secure a home loan in Mexico.

---
September Full of Tradition & Fun in Riviera Nayarit

Banderas News Team

The Riviera Nayarit is one of Mexico's top vacation destination, largely due to a wide variety of exciting events to enjoy year-round, and September is no exception. Even though Mexican traditions dominate this very patriotic month there's something for everyone to enjoy.

---
SSJ Praises Vallarta's Dengue Prevention Program

Marํa Francesca

Just over 100 of the 1,204 cases of dengue reported in Jalisco this year occurred in Puerto Vallarta despite the Municipal Government's awareness and prevention efforts, which have been recognized by the Jalisco Ministry of Health as a model for other cities in the State.

---
San Pancho Patron Saint Festival Sept. 26 through Oct. 4

Lorena Sonrisas

From September 26 through October 4, the small town of San Francisco (aka 'San Pancho') Nayarit, will celebrate an eight-day festival honoring its namesake, Saint Francis of Assisi. Festivities include not only veneration of the patron saint, but a whole lot of merry making too.

---
Heal the Planet Group Meditation at Lazaro Cardenas Park

Julie Guerrero

With the intention of healing our planet, a group of energy and light workers in Puerto Vallarta, Mexico have organized a gathering to be held at Lazaro Cardenas Park in Colonia Emiliano Zapata on September 9 at 9 pm, and everyone in the world is invited to participate.

---
PVRPV Vallarta Rental Income Property: Horizon Condo 402

Mich Garcia

If you are looking to buy a Puerto Vallarta condominium that will help pay for itself by generating rental income, look no further than the vacation property experts at PVRPV Real Estate. This week's featured income property is Horizon 402, a 2 bed, 2 bath condo in Colonia Amapas.

---
Sensational September at Act II, Season 7 Opens Oct 29

Marsha Ross

September is Sensational at Stages, where you can hear some of the most talented musicians in Puerto Vallarta, sing at Bob's Karaoke Party or celebrate Mexico's independence in style. Next month, Act II will kick off their 7th season with the Oct 29 opening of 'Mamma Mia.'

---
Grand Trianon – A New Condo Development in Versalles

Taniel Chemsian

Designed by M E Arquitectos, Grand Trianon is a new condominium development that consists of 24, two and three bedroom residences. An exciting addition to the Puerto Vallarta real estate market, this modern building is conveniently located in the city's walkable neighborhood of Versalles.

---
The Seven Worst Things About Living in Mexico

Chuck Bolotin

My wife and I have been living in Mexico for a while, we're happy, and life is good. Are there things we don't like about living here? You bet. But, understanding that life is full of trade-offs, we've learned to take the bad with good and, for us, this is definitely the place to be.

---
Site Map
•
Print this Page
•
Email Us
•
Top