Vallarta Living
Living in Puerto Vallarta Mexico
For many the thought of living in - or even near - a major tourist resort is about as appealing as a buying a condo in Disneyland. But here in Vallarta, the incredible natural beauty, combined with a small town atmosphere and the inherent warmth and friendliness of the local people, attracts foreign residents who enjoy the good life.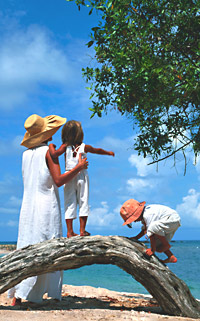 With a colorful blend of the old and the new, the Banderas Bay region offers an unrivaled combination of simple pleasures and sophisticated charms. Fine dining restaurants, art galleries, upscale shopping centers, internet cafes and nightclubs peacefully coexist alongside taco stands, street-side vendors and open air markets selling Mexican handcrafts, and strolling Mariachi bands.


But much of Puerto Vallarta's magic is in the hearts of her people. Often described as "one big, happy family," Vallartenses are known for their hospitality and for going out of their way to welcome foreign residents. And, since the Mexican people are extremely tolerant of different lifestyles, international residents and Mexican locals can live side-by-side in harmony - provided that the expatriate can learn to be creative and adaptable.


Puerto Vallarta is an unhurried refuge for people seeking more than just a beautiful beach. Those of us who choose to live here embrace the challenge of learning patience and understanding. Taking the time to "stop and smell the roses" along the road to becoming bicultural gives us the opportunity to grow - and to enjoy a more relaxed way of life.

• B E L O W T H E F O L D •
Entertainment Season Still Going On Strong at Act2PV
Marsha Ross

Entertainment season in Puerto Vallarta is going on strong at Act2PV, the 'Best Performing Arts Venue in Banderas Bay.' This week's lineup includes the return of two popular shows, a movie under the stars, a live stream of the hilarious 'What A Drag!' charity event, and all of your favorite acts.

---
The Incredible Maple Forest of Talpa de Allende, Jalisco
Adam García

The village of Talpa de Allende, east of Puerto Vallarta, is a wonderful weekend getaway. Though we have driven through, stopped for meals, shopped and even spent a night or two, it was a great surprise to learn about La Cumbre, a maple forest that is only a short distance above Talpa.

---
Jalisco Beaches, Activities Restricted for Semana Santa
BanderasNews.com

The Jalisco State Health Board on Wednesday presented the guidelines for Semana Santa 2021 with the aim of avoiding further COVID infections. Restrictions include the prohibition of religious pilgrimages, as well as limited hours for beaches, bars, restaurants and cabarets in Puerto Vallarta.

---
Sutton Lee Seymour 'The Life of the Party' at The Palm
Debbie White

Fasten your seat belts and get ready to laugh your cares away with NYC's Drag Darling, Sutton Lee Seymour! She's back for her 6th Season in Puerto Vallarta, and invites you into her wacky world of song, dance and comedy every Tuesday & Friday at The Palm Cabaret.

---
Three More Chances to See Miss Conception at The Palm
BanderasNews.com

If you are in Puerto Vallarta and have not yet seen 'The Immaculate Miss Conception 2.0' at The Palm Cabaret, you only have three more chances to see this fabulous show. Join Miss Conception as she sings, acts and dances her way into your heart on March 4, March 8 and March 11 at 8 pm.

---
Puerto Vallarta Animal Shelter Needs New Kennels
BanderasNews.com

Friends of Puerto Vallarta Animals, a group of volunteers who are committed to the well-being of the homeless pets staying at the municipally run pound, are raising money for 8 new kennels where dogs in need of medical attention and love can begin their recovery.

---
March 2021 News from PuRR Project Puerto Vallarta
Linda Brasseal

March news from PuRR Project, a non-profit, no-kill shelter north of Puerto Vallarta that provides homeless cats and kittens a recuperative stay with the ultimate goal to adopt them out to loving homes. PLUS information on how your adopted kitty can be part of the 2022 PuRR Calendar.

---
Reasons Why Living in Mexico Improves Quality of Life
Terence L. Reilly

Recent events in the USA have left some folks thinking very seriously about moving out of the country. Although the neighbour to the north has some very appealing qualities, the experts at MEXLend list the Top 6 reasons why looking south is the better way to go.

---
CRATE Interiors: The Gift that Awakens all Five Senses
BanderasNews.com

Now more than ever CRATE Interiors finds friends, family and clients making heart-felt decisions about what's truly important to those we love. Whether you enjoy your Vallarta home for a week, a month or forever, CRATE's turn-key interior décor service is the gift that awakens all five senses.

---
PVRPV Celebrates 16 Years of Serving Puerto Vallarta
Marie Callan

PVRPV, one of Mexico's premier vacation rental agencies, is celebrating its 16th year in Puerto Vallarta. Over the years, the company has grown and now also offers real estate services in the greater Banderas Bay area. Congratulations, PVRPV, wishing you many successful years to come!

---
Site Map
•
Print this Page
•
Email Us
•
Top