Vallarta Living
Living in Puerto Vallarta Mexico
For many the thought of living in - or even near - a major tourist resort is about as appealing as a buying a condo in Disneyland. But here in Vallarta, the incredible natural beauty, combined with a small town atmosphere and the inherent warmth and friendliness of the local people, attracts foreign residents who enjoy the good life.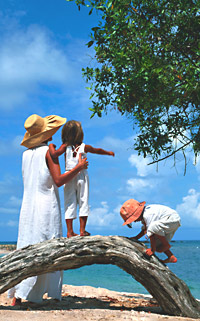 With a colorful blend of the old and the new, the Banderas Bay region offers an unrivaled combination of simple pleasures and sophisticated charms. Fine dining restaurants, art galleries, upscale shopping centers, internet cafes and nightclubs peacefully coexist alongside taco stands, street-side vendors and open air markets selling Mexican handcrafts, and strolling Mariachi bands.


But much of Puerto Vallarta's magic is in the hearts of her people. Often described as "one big, happy family," Vallartenses are known for their hospitality and for going out of their way to welcome foreign residents. And, since the Mexican people are extremely tolerant of different lifestyles, international residents and Mexican locals can live side-by-side in harmony - provided that the expatriate can learn to be creative and adaptable.


Puerto Vallarta is an unhurried refuge for people seeking more than just a beautiful beach. Those of us who choose to live here embrace the challenge of learning patience and understanding. Taking the time to "stop and smell the roses" along the road to becoming bicultural gives us the opportunity to grow - and to enjoy a more relaxed way of life.

• B E L O W T H E F O L D •
A Few Superspreaders Transmit Majority of Covid Cases
The Conversation

The coronavirus has traveled the globe, infecting one person at a time. Some sick people might not spread the virus much further, but some people infected with the SARS-CoV-2 are what epidemiologists call 'super spreaders.' Elizabeth McGraw, an infectious disease expert, explains.

---
July 2020 News from PuRR Project Puerto Vallarta
Linda Brasseal

Here's the latest news from PuRR Project, a non-profit, no-kill feline shelter in Puerto Vallarta that provides homeless cats and kittens a recuperative stay with the ultimate goal of adopting them out to loving homes sterilized, vaccinated, and disease free.

---
More Businesses & Public Spaces Gradually Reopening
BanderasNews.com

Jalisco is among the 18 states that moved from maximum risk to high risk on the federal government's 'stoplight' map last week, which means that as of June 29, more coronavirus restrictions were eased with the gradual reopening of certain businesses and public spaces.

---
Puerto Vallarta Named Mexico's Best Leisure Destination
BanderasNews.com

Puerto Vallarta has been named the 'Best Leisure Destination in Mexico' by Global Traveler, a US-based publication for affluent international travelers. In the 2020 survey, PV topped the list of Mexican cities that are favorites of the magazine's more than 300,000 readers.

---
Daniela Treviño, Wednesday on Act2PV Facebook Live
Marsha Ross

Act2PV's 'Isolation Station Series,' a bi-weekly live-stream featuring popular Puerto Vallarta entertainers, continues on Mondays and Wednesdays at 6:00 pm. Giving fans a chance to see their favorite performers, these shows have been a HUGE HIT! Next up: Daniela Treviño.

---
Puerto Vallarta Inspired Living: Times are Changing
Timothy Real Estate Group

As we watch Puerto Vallarta continue to grow on an annual basis, it's clear, there are people moving here from all over the world. These migrations to Mexico have a profound and positive effect on schools, neighborhoods and the local economy overall.

---
Fix Bad Lockdown Posture – By Copying Astronauts
Andrew Winnard & Nick Caplan

Lockdown could be bad for you back. Thanks to measures to tackle the coronavirus pandemic, many of us are now working from home. This means you might not be moving around as much, and your home desk setup (and the posture you adopt while working) might not be as good as it should be.

---
'Es por Vallarta' Food Support Program Comes to an End
María Francesca

With the sixth installment of the 'Es por Vallarta' food distribution program completed, the Municipal Government has terminated the initiative, which Mayor Arturo Dávalos Peña implemented in April to support thousands of Puerto Vallarta families affected by the COVID-19 pandemic.

---
Act2PV Presents 'MJ Live,' Monday on Facebook Live
Marsha Ross

Though the doors of Act2PV are closed indefinitely to help stem the spread of COVID-19, they are still entertaining Puerto Vallarta through their 'Isolation Station Series' of live stream performances on Facebook. Next up: 'MJ Live' on Monday, June 29 at 6:00 pm.

---
Avocados From Mexico: Avocado-Oil Insect Repellent
Avocados From Mexico

Bug spray can be an essential during the spring and summer months here in Puerto Vallarta. For those who do not want to bombard their bodies with toxic chemicals, Avocados From Mexico shares the recipe for an avocado-oil insect repellent that you can make at home.

---
Site Map
•
Print this Page
•
Email Us
•
Top