Free Newsletter!
Click HERE to read a serialized and updated version of
Polly G. Vicars' sell-out book, Tales of Retirement in Paradise
.
Vallarta Living
Living in Puerto Vallarta Mexico
For many the thought of living in - or even near - a major tourist resort is about as appealing as a buying a condo in Disneyland. But here in Vallarta, the incredible natural beauty, combined with a small town atmosphere and the inherent warmth and friendliness of the local people, attracts foreign residents who enjoy the good life.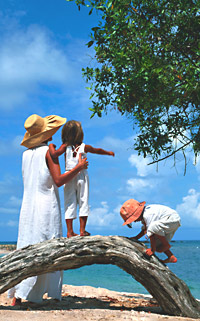 With a colorful blend of the old and the new, the Banderas Bay region offers an unrivaled combination of simple pleasures and sophisticated charms. Fine dining restaurants, art galleries, upscale shopping centers, internet cafes and nightclubs peacefully coexist alongside taco stands, street-side vendors and open air markets selling Mexican handcrafts, and strolling Mariachi bands.


But much of Puerto Vallarta's magic is in the hearts of her people. Often described as "one big, happy family," Vallartenses are known for their hospitality and for going out of their way to welcome foreign residents. And, since the Mexican people are extremely tolerant of different lifestyles, international residents and Mexican locals can live side-by-side in harmony - provided that the expatriate can learn to be creative and adaptable.


Puerto Vallarta is an unhurried refuge for people seeking more than just a beautiful beach. Those of us who choose to live here embrace the challenge of learning patience and understanding. Taking the time to "stop and smell the roses" along the road to becoming bicultural gives us the opportunity to grow - and to enjoy a more relaxed way of life.

• B E L O W T H E F O L D •
New Buses Modernize Public Transportation in Vallarta

Puerto Vallarta Tourism Board

Puerto Vallarta has started introducing a completely new and modern public bus system that aims to provide passengers with a comprehensive and high-quality service. The new buses have air conditioning, security cameras, information screens & a payment system for prepaid cards.

---
'Guitar Nights' with Lobo & Esau at The River Café

María Francesca

Whether for breakfast, lunch or a romantic candlelit dinner accompanied by soft live music, every meal at The River Café is a delicious experience. But on April 24 and 26, diners are in for a special treat as this iconic Puerto Vallarta restaurant presents Guitar Nights with Lobo & Esau.

---
Vallarta Celebrates National Botanical Garden Day

Vallarta Botanical Garden

Mexico's National Botanical Garden Day will be celebrated this year on April 28. Here in the Banderas Bay area, Vallarta Botanical Gardens has won international accolades as a highlight of any trip to Puerto Vallarta, so come out and enjoy a day full of educational activities and family fun.

---
Interactive Theater for Children in Puerto Vallarta

Juan Espinoza Lozano

A new theatrical option arrived in Puerto Vallarta last weekend, this time aimed at infants and young children. 'Leonardo y su Crayón Azul,' a presentation of sensory and participative theater for babies from 3 months to 4 years of age, returns to Aquí no es un Teatro April 28 & 29.

---
Down Puerto Vallarta Extreme Bike Race Returns May 13

Ricardo Acerco

After the first edition's incredible success in 2017, Down Puerto Vallarta is coming back to town, bringing some of the best extreme bikers in the world to the streets of downtown Puerto Vallarta on Sunday, May 13, 2018 at 4:30 pm. This exciting event is free and open to the public.

---
'Semana Santa Brigade' Distributed 50,000 Free Condoms

BanderasNews.com

Taking the tools of HIV education and prevention directly to the people in Puerto Vallarta is the purpose of SETAC's annual Semana Santa Brigade. During this year's campaign, held March 29-31, volunteers dispensed 50,000 condoms, 155 rapid HIV & 155 syphilis tests, free of charge.

---
Act II's Spring Entertainment Season Still Going Strong

Daniel R. Mininni

Act II is THE PLACE to go to see a show when you are in Puerto Vallarta, and its fabulous Spring Entertainment Season is still going strong to keep you entertained! Featuring live cabaret, improv comedy and drag shows, and an art show/auction, there is something for everyone at Stages.

---
Why So Many People are Making the Move to Mexico

MEXLend Mortgages for Mexico

It's hard to get an accurate account of Mexico without spending real time in this incredible country and experiencing its wonders first-hand. There are many reasons why more & more people are choosing to buy homes and live here. The experts at MEXLend Mortgages list a few.

---
No Such Thing as 'Low Season' in Puerto Vallarta

Adam Garcia

'High season' was officially over on Easter Sunday, April 1st, but that doesn't mean things slow down in Puerto Vallarta. Many weekly markets are still open, Pro tennis returns April 30, and Vallarta Pride rolls out May 20-27 for a week-long party with many events not just for the LGBTQ crowd.

---
Earth Day Clean Up at El Parque de los Azulejos

Marie Callan

Every year on April 22, over a billion people celebrate Earth Day by inspiring awareness of and appreciation for earth's environment. If you are in the Banderas Bay area, consider joining in the park beautification efforts at El Parque de los Azulejos on the south side of Puerto Vallarta.

---
Daiquiri Dick's Offers Vallarta a World of Flavors

Banderas News Team

When you crave a great meal by the ocean in casually elegant surroundings, there's no better place than Daiquiri Dicks in the Puerto Vallarta Romantic Zone. You will find it strikes just the right chord with its classy beach house feel and an innovative menu that features world flavors.

---
Site Map
•
Print this Page
•
Email Us
•
Top