Free Newsletter!
Click HERE to read a serialized and updated version of
Polly G. Vicars' sell-out book, Tales of Retirement in Paradise
.
Vallarta Living
Living in Puerto Vallarta Mexico
For many the thought of living in - or even near - a major tourist resort is about as appealing as a buying a condo in Disneyland. But here in Vallarta, the incredible natural beauty, combined with a small town atmosphere and the inherent warmth and friendliness of the local people, attracts foreign residents who enjoy the good life.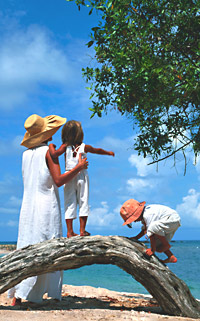 With a colorful blend of the old and the new, the Banderas Bay region offers an unrivaled combination of simple pleasures and sophisticated charms. Fine dining restaurants, art galleries, upscale shopping centers, internet cafes and nightclubs peacefully coexist alongside taco stands, street-side vendors and open air markets selling Mexican handcrafts, and strolling Mariachi bands.


But much of Puerto Vallarta's magic is in the hearts of her people. Often described as "one big, happy family," Vallartenses are known for their hospitality and for going out of their way to welcome foreign residents. And, since the Mexican people are extremely tolerant of different lifestyles, international residents and Mexican locals can live side-by-side in harmony - provided that the expatriate can learn to be creative and adaptable.


Puerto Vallarta is an unhurried refuge for people seeking more than just a beautiful beach. Those of us who choose to live here embrace the challenge of learning patience and understanding. Taking the time to "stop and smell the roses" along the road to becoming bicultural gives us the opportunity to grow - and to enjoy a more relaxed way of life.

• B E L O W T H E F O L D •
Jalisco to Ban Straws, Plastic Bags & Styrofoam in 2019
El Informador

Propelled by an initiative presented in Puerto Vallarta by city councilman Juan José Cuevas, the State Congress intends to approve a bill to prohibit the use of straws, plastic bags and even Styrofoam throughout Jalisco before the end of the current legislature.

---
Puerto Vallarta Works to Fortify Beach Certifications

María Francesca

Puerto Vallarta is working to not only maintain it's clean beach certifications, but also to have more local beaches certified. One proposal is a local laboratory to expedite the analysis of water samples and the corresponding actions that contribute to maintaining water quality.

---
Breaking News from Act II Entertainment Stages

Banderas News Team

Everyone's favorite entertainment venue, Act II Stages, has some very big news! This week, they announced the formation of a new partnership that includes musical and artistic director Alfonso Lopez and operations manager Oscar A. Cisneros, as well as the early release of season passes.

---
Monzón Brewing Celebrates First Year in Vallarta

Melissa Tropp

Monzón Brewing Company co-founders Miranda and Reid Mortimer are thrilled to announce that they will be throwing a party celebrating their first year of operation here in Puerto Vallarta on August 4th from 4-10 pm. All are welcome to come enjoy beer and food specials, games and more.

---
PrEP Program Begins at PV's SETAC Community Center

Ed Walsh

Mexico took a major step aimed at HIV prevention in late June, when a profilaxis pre-exposure program (PrEP) was launched in four cities. The SETAC Community Center in Puerto Vallarta is among the four PrEP sites in Mexico that will offer this powerful HIV prevention tool free of charge.

---
Life's a Beach in Vallarta... But Are They Swimmable?

J.L. Bribiesca

When you're looking for the perfect beach vacation in Mexico, Puerto Vallarta is a great choice. The destination's beautiful Bay of Banderas has a beach for all types of travelers. So whether you want to surf, swim, snorkel, or just unwind, Banderas Bay beaches have it all.

---
CFE Removes Disincentive for Solar Panel Installation

El Economista

Mexico's Federal Electricity Commission has withdrawn its legal opposition to the regulations governing the sale of solar energy up to 500 kilowatts, meaning that people with small solar panel systems will soon be able to sell electricity they generate back to the state-owned company.

---
AMLO to Attend Pacific Alliance Summit in Puerto Vallarta

Ricardo Acerco

During a press conference held in Mexico City on Tuesday, President-elect Andrés Manuel López Obrador said that he'll be taking a commercial flight to Puerto Vallarta to attend the 13th Pacific Alliance Summit, to which he was invited by President Enrique Peña Nieto.

---
Vegas-style Summer Entertainment at Act II Stages

Daniel R. Mininni

Puerto Vallarta has seen a huge surge in summer tourism this year. It seems that people have chosen our town as their favorite vacation spot. They've also discovered that, with excellent entertainment choices every Wednesday night, Act II is THE PLACE to go for cool summer fun.

---
Why So Many People are Making the Move to Vallarta

Terence L. Reilly

It is no secret that over the last 30 years or so, Puerto Vallarta has boomed into a top destination in Mexico. People are flocking to the city to enjoy its beauty and charm, and they almost always end up falling head over heels in love and buying a home of their own here.

---
Cheryl's Shoebox 3rd Annual Summer Bash, August 5

Marie Callan

To raise funds for shoes for Puerto Vallarta students and and supplies for local after-school programs, Cheryl's Shoebox is hosting their 3rd Annual Summer Bash on August 5 at Babel Bar on La Isla Rio Cuale. Come enjoy a great afternoon of fun, games, live music & more - for a good cause!

---
Pop-Up Wine Bar + Art Exhibition Walk-Through at OPC

Lorena Sonrisas

Uncork Mexico has partnered with Puerto Vallarta's Taller OPC - Oficina de Proyectos Culturales to offer an evening of wine and art on July 25. You'll enjoy Mexico's most delicious wines and a guided walk-through of the 'You Are Here: Cartographies of a Destination' exhibition.

---
Ask a Realtor: How Should I List My Vallarta Property?

John Swanson

Thinking about selling your Puerto Vallarta property? In this edition of 'Ask a Realtor,' Boardwalk Realty Agent John Swanson explains why you should dig deeper when choosing your agent as some of the behind the scenes work can make the difference on whether your home sells or doesn't.

---
Is Applying for Mexican Citizenship the Right Choice?

Tropicasa Realty

For most foreigners that own a home in Puerto Vallarta, a tourist visa or permanent residency visa suits all their needs, but for some who have made moving to Mexico a permanent life change, applying to become a Mexican citizen may be a consideration. Tropicasa shares some pros & cons.

---
Site Map
•
Print this Page
•
Email Us
•
Top