Free Newsletter!
Click HERE to read a serialized and updated version of
Polly G. Vicars' sell-out book, Tales of Retirement in Paradise
.
Vallarta Living
Living in Puerto Vallarta Mexico
For many the thought of living in - or even near - a major tourist resort is about as appealing as a buying a condo in Disneyland. But here in Vallarta, the incredible natural beauty, combined with a small town atmosphere and the inherent warmth and friendliness of the local people, attracts foreign residents who enjoy the good life.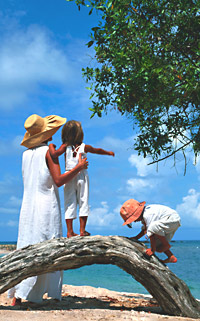 With a colorful blend of the old and the new, the Banderas Bay region offers an unrivaled combination of simple pleasures and sophisticated charms. Fine dining restaurants, art galleries, upscale shopping centers, internet cafes and nightclubs peacefully coexist alongside taco stands, street-side vendors and open air markets selling Mexican handcrafts, and strolling Mariachi bands.


But much of Puerto Vallarta's magic is in the hearts of her people. Often described as "one big, happy family," Vallartenses are known for their hospitality and for going out of their way to welcome foreign residents. And, since the Mexican people are extremely tolerant of different lifestyles, international residents and Mexican locals can live side-by-side in harmony - provided that the expatriate can learn to be creative and adaptable.


Puerto Vallarta is an unhurried refuge for people seeking more than just a beautiful beach. Those of us who choose to live here embrace the challenge of learning patience and understanding. Taking the time to "stop and smell the roses" along the road to becoming bicultural gives us the opportunity to grow - and to enjoy a more relaxed way of life.

• B E L O W T H E F O L D •
Broadway Cares / Equity Fights AIDS Supports SETAC

Paco Arjona

On Monday, January 16, the SETAC Community Center was honored by a visit from Mr. Tom Viola, the Director of Broadway Cares / Equity Fights AIDS, a nonprofit, grant-making organization that year after year has supported SETAC's commitment to fighting HIV/AIDS in Vallarta.

---
Adult BINGO at The Palm Cabaret Benefits PuRR Project

Marilyn Khan

Come play Adult Bingo at The Palm Puerto Vallarta on Monday, January 23 for great prizes like gift certificates to great restaurants, bottles of adult beverages, show tickets, edible body paint, risqué party candy, X-rated playing cards and more! Proceeds benefit PuRR Project.

---
'Buy Local' Market on Saturdays at Los Mangos Library

Biblioteca Los Mangos

Join us on Saturday, January 28th from 9:30 am to 2 pm for opening day of Vallarta's newest outdoor market, Mercado Los Mangos! Located at the public library, Biblioteca Los Mangos, this weekly 'buy local' market will offer a great selection of locally produced artisan products.

---
Kim Kuzma & Piel Canela Continue to Entertain Vallarta

Debbie White

A trip to Puerto Vallarta wouldn't be complete without seeing some of the best shows available. Kim Kuzma, the very popular Canadian singer known as 'Vallarta's Sweetheart,' is performing 2 different shows every week at The Palm, and is developing a new show that premiers Feb. 3.

---
Lorena Peril and Ray Jon Narbaitz Return to Vallarta

Debbie White

After last season's sold out performances and stellar reviews, Act II Entertainment is thrilled to welcome Lorena Peril and Ray Jon Narbaitz back to Puerto Vallarta, where they will perform three shows only on February 7th, 8th and 9th at 7:00 pm on The Main Stage.

---
January 20 Vallarta Happenings and Weekend Events

Banderas News Team

There's always so much going on in Puerto Vallarta and around Banderas Bay it can be difficult to keep up with it all. Here's a look at some of this week's news and happenings, a few community announcements and a couple of this weekend's events you won't want to miss.

---
Tony Collantez Art Installation Opens at ART VallARTa

Bill Makley

Mexican artist Tony Collantez opens his visionary doors of perception to curious art lovers with a special celebration of his art, entitled 'IMAGINADOOR.' This site-specific art installation, presented by ART VallARTa, opens January 20 at one of Vallarta's historic homes.

---
New Flavors of the World Menu at Daiquiri Dick's

Laura Gelezunas

The internationally inspired menu at Daiquiri Dick's Restaurant is adding even more flare by having a special a la carte dinner menu in addition to their regular menu through January 31. Take your taste buds on a world tour and you don't even have to leave Puerto Vallarta to do it!

---
Top Three Reasons to Make the Move to Puerto Vallarta

Alfredo Herrera

Thinking about moving to Mexico? Want to know why people choose Puerto Vallarta? The affordable cost of living is the number one reason. Then there's the friendliness of the people, amazing year-round temperatures, and a beautiful locale that supports an active lifestyle.

---
Friends of PV Animals Host 4th 'Paws for the Cause'

Marie Callan

Friends of Puerto Vallarta Animals, a group of dedicated volunteers who are committed to the well-being of the homeless pets staying at the municipally run pound (Centro de Acopio), is hosting the 4th Annual 'Paws for the Cause' Fundraiser on January 19 from 6-10 pm at Food Park PV.

---
An Afternoon of Fashion, Food & Fun for Pasitos de Luz

Barb Bremner

From the moment the doors opened at the Pasitos de Luz fashion show, we knew it would be a day to remember. The energy and warmth were amazing. The results came in over the top, with $138,570 pesos collected from attendees and $49,241 pesos from the Pasitos account at Deja New.

---
4th Festival Sayulita: Movies, Music, Drink & Life

Banderas News Team

The fourth annual Festival Sayulita, a unique gathering for lovers of Mexico, Movies, Music, Drink and Life, is set to be held February 1-5, 2017. Sayulita is ideal for this celebration, because this Magical Town on the Riviera Nayarit is a place where life is lived to its fullest.

---
Why 2017 is The Year to Buy Puerto Vallarta Real Estate

Tropicasa Realty

It's the time of year for resolutions, and for many, getting out of the office and enjoying more vacation time with family and friends is high on the list of priorities. By purchasing a vacation home in Puerto Vallarta, you can make that a resolution not just for 2017 - but for life!

---
More Sold Out Shows Than Ever at Act II Entertainment!

Daniel R. Mininni

If you haven't been to STAGES recently, you don't know what you've been missing! Presenting high quality theater productions, internationally-known cabaret acts and a slew of other performance events, Act II Entertainment offers something for everyone in Puerto Vallarta to enjoy!

---
Vallarta Singer-Songwriter 'Stolie' Releases New CD

Gary R. Beck

'Follow Me,' the new album from Chicago/Puerto Vallarta-based singer-songwriter, Stolie, will be officially released January 20. To celebrate the release of her new album, Stolie will host CD release shows/parties in Puerto Vallarta and Yelapa on Jan. 28 and Feb. 4, respectively.

---
PuRRfectly Fun Wednesday Afternoon at Margarita Grill

Marilyn Khan

PuRR Project, Puerto Vallarta's no-kill Feline Shelter, now has over 175 adorable cats and kittens in residence. Help us provide food, shelter and veterinary care for these rescued animals by joining us for an afternoon of Kitty BINGO on Wednesday, January 18 at Margarita Grill.

---
San Pancho Women's March to Demonstrate Solidarity

Bonnie Mott

The San Pancho Women's March invites individuals and organizations committed to equality, diversity, and inclusion and those who understand that 'there is no true peace without justice and equity for all' to join us in standing for social justice and social equality on January 21 at 10 am.

---
PVRPV's Vallarta Vacation Property of the Week

Rose Haven - Condo

PVRPV Puerto Vallarta Vacations is proud to present Rose Haven, an amazing two bedroom, three bath, completely remodeled, two-level condominium that was featured on House Hunters International. Rose Haven is located in the upscale neighborhood of Conchas Chinas, 5 minutes from the beach.

---
TREG's Fifth Annual Puerto Vallarta Real Estate Fair

BanderasNews.com

Scheduled to take place at Rivera Molino Plaza from 9 am to 2 pm on Saturday, March 4, the 2017 Puerto Vallarta Real Estate Fair is the perfect opportunity to get the important information buyers, sellers and homeowners need to make the most of their Mexico real estate investments.

---
Jim Demetro Receives Lifetime Achievement Award

James Callan

An event was held at Plaza Mar Condominiums on Jan. 12 to acknowledge the Lifetime Art Achievement Award presented to sculptor Jim Demetro by the State of Washington. A long-time resident of Vallarta, Demetro is the creator of many of the city's most iconic public sculptures.

---
Puerto Vallarta Medical Matters Conference, Feb. 13

Pamela Thompson

If you are a Banderas Bay area resident or visitor interested in your health, don't miss the 7th Medical Matters Conference! Scheduled to be held February 13 at Hotel Marriott, this free event will feature over 60 healthcare-related exhibitors and non-stop speakers programs.

---
Democrats Abroad Tuesday Night Film: 'Race'

David Kamp

As part of their Every Tuesday Night Film series, the Puerto Vallarta Chapter of Democrats Abroad Mexico is proud to present this week's movie, 'Race.' This 134 minute biographical sports drama will be shown at The Jazz Foundation in downtown Puerto Vallarta on January 17 at 7 pm.

---
News from the PV Garden Club - Beautifying Vallarta!

pvgardenclub.gif

The PV Garden Club supports not only a more beautiful, clean and verdant city, but is making it more attractive to tourism, thus creating a vibrant economy to support all the other great causes in Puerto Vallarta, Mexico. Here's the latest news from the PVGC.

---
Are You Ready to Sell Your Puerto Vallarta Home?

Timothy Real Estate Group

Puerto Vallarta's real estate market continues to experience year-over-year growth, sprinkling opportunity and optimism for would-be sellers. Timothy Real Estate Group's Taniel Chesmian offers some suggestions to help sellers stand out in a strong, but competitive, market.

---
Vallarta-Nayarit Weekend Happenings & Upcoming Events

Banderas News Team

There's always so much going on in Puerto Vallarta and around Banderas Bay, it can be difficult to keep up with it all. Here's a look at some upcoming happenings in Vallarta-Nayarit and a couple of this weekend's events that you won't want to miss.

---
Let Superior Tours Vallarta Show You Mexico City

Astrid van Dam

Mexico City has enough attractions to keep first-time visitors occupied for weeks. But who wants to spend that much time away from Puerto Vallarta? Fortunately, Superior Tours offers a 5 day/4 night tour of Mexico City led by an experienced guide who knows the best places to visit.

---
First 3K and 10K Green Race in The Riviera Nayarit

Jorge Jiménez

The very first Riviera Nayarit 3K and 10K Green Race will be run on January 15th. Event proceeds will go to the Lion's Club Ecological Campaign, which encourages caring for the environment through reforestation campaigns, beach cleanups and the creation of urban gardens.

---
Toys For Tots Vallarta Delivers Thousands of Smiles

Bill Semeyn

On January 9, 2017, for the 18th consecutive year, Toys for Tots Puerto Vallarta spread miles of smiles by delivering close to 6,000 toys to underprivileged children all around Banderas Bay - from Punta Mita to Cabo Corrientes and even inland to San Sebastian - for Three Kings Day.

---
Site Map
•
Print this Page
•
Email Us
•
Top