Vallarta Living
Living in Puerto Vallarta Mexico
For many the thought of living in - or even near - a major tourist resort is about as appealing as a buying a condo in Disneyland. But here in Vallarta, the incredible natural beauty, combined with a small town atmosphere and the inherent warmth and friendliness of the local people, attracts foreign residents who enjoy the good life.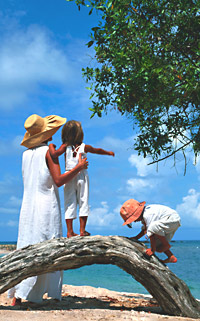 With a colorful blend of the old and the new, the Banderas Bay region offers an unrivaled combination of simple pleasures and sophisticated charms. Fine dining restaurants, art galleries, upscale shopping centers, internet cafes and nightclubs peacefully coexist alongside taco stands, street-side vendors and open air markets selling Mexican handcrafts, and strolling Mariachi bands.


But much of Puerto Vallarta's magic is in the hearts of her people. Often described as "one big, happy family," Vallartenses are known for their hospitality and for going out of their way to welcome foreign residents. And, since the Mexican people are extremely tolerant of different lifestyles, international residents and Mexican locals can live side-by-side in harmony - provided that the expatriate can learn to be creative and adaptable.


Puerto Vallarta is an unhurried refuge for people seeking more than just a beautiful beach. Those of us who choose to live here embrace the challenge of learning patience and understanding. Taking the time to "stop and smell the roses" along the road to becoming bicultural gives us the opportunity to grow - and to enjoy a more relaxed way of life.

• B E L O W T H E F O L D •
What is it About Sunflowers That Make Us Feel Better?
Sandra Cesca

What is it about sunflowers that help us feel good? The large round flowers, like their name, look like the sun. They also provide energy in the form of nourishment and vibrance, attributes that mirror the sun, and the energy provided by its heat and light.

---
Reasons Why Settling Down in Mexico is a Good Idea
MEXLend Mortgages for Mexico

Mexico is more than just the perfect place to vacation; it's also a marvelous place to live. There are many reasons why now is a great time to settle down in Mexico, like a lower cost of living, attractive exchange rates, affordable real estate and reliable mortgage assistance, to name a few.

---
Mascota-Puerto Vallarta Highway Repairs Completed
BanderasNews.com

Traveling from Mascota to Puerto Vallarta will now take about one hour and 15 minutes, Governor Enrique Alfaro Ramírez said last week, after announcing the conclusion of repairs to the Mascota-Las Palmas-Puerto Vallarta section of State Highway 544.

---
Vallarta Azteca Dance to Inspire Rains for US West Coast
Suzy Chaffee

Since, like most women, Mother Earth is even more generous when given love and appreciation, on September 22, Vallarta Azteca will be dancing to give gratitude for the rains in Puerto Vallarta and inspire more rains for the US West Coast and everywhere in dire need.

---
2020 Puerto Vallarta Hook the Cure Event Goes Virtual
Gary Green

In 2020, fundraising events look a little bit different from the way they used to. Hook the Cure powered by IOTEC is no exception. This year's 15th annual outing, usually held at Villa Premiere Boutique Hotel in Puerto Vallarta, will be held virtually this November.

---
Restaurant Week is Delightful at Kaiser Maximilian
Marie Callan

Restaurant Week gives everyone a chance to sample some of the best food in Puerto Vallarta at exceptional prices, which makes it a great time to visit Kaiser Maximilian. Dining there is always delightful, but through Oct 10 they're serving a special 3-course menu for $466 pesos.

---
Aguascalientes Artisan Paola Rangel is Corazón Vallarta
Sandra Cesca

Shortly after I moved here in 2008, I happened on a woman selling whimsical paintings of hearts as I strolled along the Malecón, Puerto Vallarta's boardwalk along the ocean. Her name was Paola and she had moved here in 2003 from Aguascalientes looking for a new opportunity.

---
Mexico Extends US Border Travel Ban until October 21
BanderasNews.com

Mexico announced Thursday that its border with the U.S. will remain closed for another month to further prevent the spread of COVID-19. Travel restrictions only apply to land crossings, as flights between the two countries have largely continued since the early days of the pandemic.

---
Puerto Vallarta News Brief and Local Information
Banderas News Team

With the COVID-19 pandemic dominating the world's news and social media channels, it can be difficult to find out what's happening in Puerto Vallarta and around Banderas Bay, so here's a look at some of the latest local news and headlines.

---
Vallarta Food Bank Expands Community Services
BanderasNews.com

The Vallarta Food Bank continues to expand as volunteers work to try to make a positive change in the community that goes beyond feeding Puerto Vallarta families struggling to survive the economic impact of the COVID-19 pandemic. Jimmy Plouff gives us the latest news.

---
Site Map
•
Print this Page
•
Email Us
•
Top