Vallarta Living
Living in Puerto Vallarta Mexico
For many the thought of living in - or even near - a major tourist resort is about as appealing as a buying a condo in Disneyland. But here in Vallarta, the incredible natural beauty, combined with a small town atmosphere and the inherent warmth and friendliness of the local people, attracts foreign residents who enjoy the good life.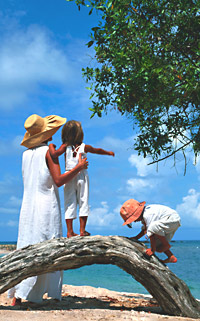 With a colorful blend of the old and the new, the Banderas Bay region offers an unrivaled combination of simple pleasures and sophisticated charms. Fine dining restaurants, art galleries, upscale shopping centers, internet cafes and nightclubs peacefully coexist alongside taco stands, street-side vendors and open air markets selling Mexican handcrafts, and strolling Mariachi bands.


But much of Puerto Vallarta's magic is in the hearts of her people. Often described as "one big, happy family," Vallartenses are known for their hospitality and for going out of their way to welcome foreign residents. And, since the Mexican people are extremely tolerant of different lifestyles, international residents and Mexican locals can live side-by-side in harmony - provided that the expatriate can learn to be creative and adaptable.


Puerto Vallarta is an unhurried refuge for people seeking more than just a beautiful beach. Those of us who choose to live here embrace the challenge of learning patience and understanding. Taking the time to "stop and smell the roses" along the road to becoming bicultural gives us the opportunity to grow - and to enjoy a more relaxed way of life.

• B E L O W T H E F O L D •
Local Development Wins International Property Award
Tropicasa Realty

Tropicasa Realty, the exclusive listing agency of Pier 57, congratulates the developers of this landmark building in the Puerto Vallarta Romantic Zone for being named one of the Top 40 Residential Developments in the Americas by The International Property Awards.

---
Oscar Zamarripa Opens at Galleria Dante December 13
Gena Guarniere

On Friday, December 13 from 6-10 pm, as part of the South Side Shuffle, a cocktail reception will open an art exhibit featuring the works of Guadalajara artist Oscar Zamarripa at Puerto Vallarta's largest and most eclectic fine art gallery, Galleria Dante.

---
2019/2020 The Best Season in Act2PV's 6 Year History!
Marsha Ross

So far, the 2019/2020 entertainment season has been the best in Act2PV's 6-year history! Between high-quality theater productions and internationally-renowned cabaret and drag shows, this 5-star venue brings Puerto Vallarta The Best Of The Best - seven days a week!

---
Celebrate the Holidays as PVGMC Presents 'Glow'
BanderasNews.com

Make sure your December plans include the Puerto Vallarta Gay Men's Chorus (PVGMC) annual holiday musical celebration. This year's show, 'Glow - A Christmas Spectacular' will be presented at 8:00 pm on Friday, December 20th, at Teatro Vallarta.

---
Music, Laughter and Magic at The Palm Cabaret & Bar
Alex Bourgeau

This is an exciting week coming up in Puerto Vallarta, as a new group of entertainers take their place on the stage at The Palm Cabaret. As we head into the holiday season, our calendar features all types of entertainment, from Christmas themed shows to Vegas style performances.

---
Parque Palmar de Aramara Beautification, December 7
Warren Brander

On December 7, the RE/Max Destiny and Marina teams will head over to Puerto Vallarta's Parque de Palmar de Aramara to spruce things up. Whether you like to paint, fix stuff, or do a bit of gardening, there'll be something for everyone to do, and you are welcome to join in!

---
Visit Mayto Beach in Cabo Corrientes, Jalisco, Mexico
Alfredo Herrera

While staying in a five star luxury resort in Puerto Vallarta can be amazing, for me, there's nothing quite as special as a stay at El Rinconcito, a small family-run hotel in Mayto, where the main attraction is the quiet and unspoiled beach on the Costalegre coastline.

---
Municipal Government Restores Vallarta's Sculptures
Margarita Bonita

The Municipal Government has been working to preserve the sculptural heritage of Puerto Vallarta. With an investment of 300,000 pesos, and after a diagnosis of the work to be done was made, specialists were contracted to rehabilitate ten of the city's iconic sculptures.

---
DIF Vallarta Toy Drive: 'Donate a Toy, a Gift of Love'
María Francesca

'Tis the season of giving, and with Christmas just around the corner, the Puerto Vallarta System for Integral Family Development, could use your help in bringing a little joy to disadvantaged children. DIF president Candelaria Tovar Davalos invites everyone to 'Donate a toy, a gift of love.'

---
Op-Ed: Social Media - The Good, The Bad, and The Ugly
Luis Antonio

As with everything else, social media brings both good and bad things into our lives. It can change people's perception of the world and themselves, and not always for the better. What many don't know is that, at least in Mexico, false posts can lead to civil, or even criminal, charges.

---
Site Map
•
Print this Page
•
Email Us
•
Top