Free Newsletter!
Click HERE to read a serialized and updated version of
Polly G. Vicars' sell-out book, Tales of Retirement in Paradise
.
Vallarta Living
Living in Puerto Vallarta Mexico
For many the thought of living in - or even near - a major tourist resort is about as appealing as a buying a condo in Disneyland. But here in Vallarta, the incredible natural beauty, combined with a small town atmosphere and the inherent warmth and friendliness of the local people, attracts foreign residents who enjoy the good life.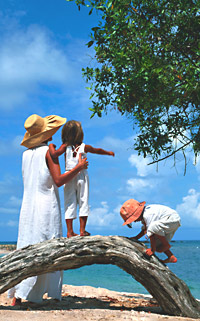 With a colorful blend of the old and the new, the Banderas Bay region offers an unrivaled combination of simple pleasures and sophisticated charms. Fine dining restaurants, art galleries, upscale shopping centers, internet cafes and nightclubs peacefully coexist alongside taco stands, street-side vendors and open air markets selling Mexican handcrafts, and strolling Mariachi bands.


But much of Puerto Vallarta's magic is in the hearts of her people. Often described as "one big, happy family," Vallartenses are known for their hospitality and for going out of their way to welcome foreign residents. And, since the Mexican people are extremely tolerant of different lifestyles, international residents and Mexican locals can live side-by-side in harmony - provided that the expatriate can learn to be creative and adaptable.


Puerto Vallarta is an unhurried refuge for people seeking more than just a beautiful beach. Those of us who choose to live here embrace the challenge of learning patience and understanding. Taking the time to "stop and smell the roses" along the road to becoming bicultural gives us the opportunity to grow - and to enjoy a more relaxed way of life.

• B E L O W T H E F O L D •
SETAC Wellness Center Now Has STD Detection Equipment

Paco Arjona

With new equipment as part of the IMPREP project sponsored by the United Nations Population Fund (UNFPA), SETAC opens its doors to a number of alternatives in detecting and treating sexually transmitted infections in an efficient and timely manner.

---
A Taste of American Thanksgiving at Kaiser Maximilian

Marie Callan

Though Kaiser Maximilian Restaurant is best-known for serving Puerto Vallarta residents and visitors exceptional Austrian fare, from November 13 through 22 this charming European-style café is celebrating American Thanksgiving with some special a la carte menu items.

---
Kukur Tihar: A Celebration of Dogs in Puerto Vallarta

Nepali Times

Last week, two cities in Mexico - CDMX and PV - continued Nepal's tradition of honoring dogs. Here in Puerto Vallarta, the 3rd Annual Kukur Tihar Festival was held on the grounds of Hotel Puerto de Luna, which has been a popular pet-friendly property for the last 10 years.

---
Marina Vallarta Art & Market Every Thursday

Lorena Sonrisas

The Marina Vallarta Art & Market runs every Thursday from 6-10 pm through May 30, 2019. Shoppers will find art & jewelery, organic foods & homemade breads, clothes & handicrafts, among many other wonderful things while enjoying live music in a festive atmosphere.

---
PV Garden Club: A New Season of 'Beautifying Vallarta'

David Muck

The PV Garden Club begins a new season and welcomes back our supporters and members who are returning to Puerto Vallarta, and reminds you that it's time to renew your membership. Not a member? Here are some fun ways you can help us continue our mission of 'Beautifying Vallarta.'

---
An Untraditional Thanksgiving Dinner at No Way José!

Julie Guerrero

Not in the mood for a traditional American Thanksgiving Dinner this year? No Way José! proudly invites you to celebrate the day at La Mesa de José! - José's Table - where you'll enjoy a completely tableside-prepared four-course dinner, friends, family and fun at 'Tu Casa en Vallarta.'

---
Hook the Cure Reels in $520,000 USD for Cystic Fibrosis

Gary Green

The 13th Annual Hook the Cure event, held in Puerto Vallarta and highlighted by festivities, celebrity appearances, auctions and an awards gala, garnered a bevy of support from people all over the world, and netted $520,000 USD for the Cystic Fibrosis Foundation.

---
1st Riviera Nayarit Jazz Festival Features Karen Souza

Riviera Nayarit CVB

Karen Souza, one of the leading singers in the world of contemporary jazz, is headlining the 1st Riviera Nayarit Jazz Festival at the Jardín Palmeiras in Nuevo Vallarta on November 16. 30% of ticket sales will be earmarked for victims of hurricane Willa in northern Nayarit.

---
Another BIG Week of Opening Nights at Act II Stages

Daniel R. Mininni

Now celebrating its 6th season of entertaining Vallarta, Act II STAGES continues to bring you The Best of The Best entertainment in the Banderas Bay area. The five shows that have already opened this season are getting rave reviews - and four new shows are opening this week!

---
11th Los Muertos Beach Fishing Tournament November 9-10

Diego Sancho

You don't have to be rich to enter the 11th Annual Los Muertos Beach Fishing Tournament! Set to take place Nov. 9-10, with entry fees of just $3000 pesos per boat, this fun & friendly fishing tournament has attracted anglers from all over Mexico for the last 10 years.

---
Dec. 7 'Illumination II' Event to Support Pasitos de Luz

Barb Bremner

Are you interested in helping Banderas Bay area children with disabilities? Do you enjoy great food, fantastic sunsets, first class entertainment and amazing art? If so, make plans now to attend the Second Annual Pasitos de Luz Illumination Dinner on Friday, December 7, 2018 at Casa Karma.

---
2018-2019 Centro Historico ArtWalk Every Wednesday

Lorena Sonrisas

Art lovers can explore numerous artistic offerings during the Puerto Vallarta Centro Historico ArtWalk, a self-guided tour of 12 downtown galleries with cocktail exhibitions that can be enjoyed every Wednesday evening from 6:00 to 10:00 pm through May 29, 2019.

---
Sea Monkey Hosts Beach Luau to Benefit PuRR Project

Marilyn Khan

On Friday, December 14th at 5:00 pm, Sea Monkey Restaurant will be hosting the Sixth Annual Luau on the Beach to benefit the PuRR Project feline shelter in Puerto Vallarta. Tickets to this fun-filled event always go quickly, so get yours before they sell out!

---
International Sailfish & Marlin Tournament, Nov. 14-17

Richard Dangler

One of the most prestigious national and international sportfishing tournaments on the West Coast, the Puerto Vallarta International Sailfish & Marlin Tournament, will celebrate its 63rd edition November 14 through 17, 2018.

---
International Sculptors Forum Returns to Puerto Vallarta

María Francesca

The Second International Forum of Sculptors will be held in Puerto Vallarta from November 12-24, 2018, once again bringing national and international artists together to create the public art works that enrich the artistic and cultural heritage of our city.

---
Puerto Vallarta Revving Up for Winter Tourist Season

Travel Agent Central

Javier Aranda Pedrero, director general of the Puerto Vallarta Tourism Board, recently revealed plans for this year's Vallarta-Nayarit International Gourmet Festival, and disclosed other tourism updates from this idyllic Mexican Pacific vacation destination.

---
8 Ways to Keep Your Sanity During the Holiday Season

Marie Callan

Staying sane during the holiday season is not as easy as it sounds - especially here in Puerto Vallarta, where it seems every day is a holiday - but these tips from psychological performance coach Dr. Alok Trivedi just might help make it truly 'the most wonderful time of the year.'

---
Puerto Vallarta Observes Veterans & Remembrance Day

Dennis A. Rike

To honor service members of the U.S. and Canadian armed forces, the American Legion and Jay Sadler Project are organizing a Veteran's / Remembrance Day memorial on Sunday, November 11th. The event will take place at 11:00 am at Parque Hidalgo in downtown Puerto Vallarta.

---
2018 Taste of Nuevo Vallarta / VYC Chili Cook-off, Dec. 1

Banderas News Team

Set to be held on the Marina Nuevo Vallarta Malecón on Saturday, December 1st from 4:00 pm to 7:00 pm, the Vallarta Yacht Club's 6th Annual Taste of Nuevo Vallarta and 18th Annual Chili Cook-off offers attendees two events in one - and the chance to help local charities.

---
Live Music, Special Concert, and More at Nacho Daddy

María Francesca

Known as THE place to go for affordable nightlife in Puerto Vallarta's Zona Romantica, Nacho Daddy Mexico is where locals, ex-pats and tourists gather to eat, drink, dance, listen to great music, or catch a show at The Boutique Theatre. Don't miss the Tom Ben Lindley concert on Nov. 4!

---
Mexico Takes a Big Step Toward Marijuana Legalization

German Lopez

Mexico's Supreme Court on Wednesday deemed the marijuana prohibition law unconstitutional, bringing the country one step closer to legalization. If the government follows through, Mexico could become the third in the world to legalize pot for recreational purposes.

---
Vallarta Botanical Garden Celebrates Mes del Jaguar

Neil Gerlowski

As part of Mexico's first-ever Mes del Jaguar celebration, Vallarta Botanical Garden has installed an exhibit of stunning images and interpretive texts. The exhibition will be inaugurated on Nov. 3 with fun-filled and informative family-friendly activities.

---
Site Map
•
Print this Page
•
Email Us
•
Top