Free Newsletter!
Click HERE to read a serialized and updated version of
Polly G. Vicars' sell-out book, Tales of Retirement in Paradise
.
Vallarta Living
Living in Puerto Vallarta Mexico
For many the thought of living in - or even near - a major tourist resort is about as appealing as a buying a condo in Disneyland. But here in Vallarta, the incredible natural beauty, combined with a small town atmosphere and the inherent warmth and friendliness of the local people, attracts foreign residents who enjoy the good life.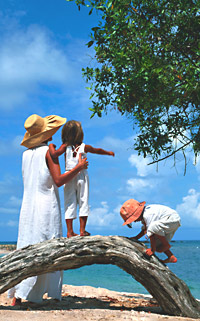 With a colorful blend of the old and the new, the Banderas Bay region offers an unrivaled combination of simple pleasures and sophisticated charms. Fine dining restaurants, art galleries, upscale shopping centers, internet cafes and nightclubs peacefully coexist alongside taco stands, street-side vendors and open air markets selling Mexican handcrafts, and strolling Mariachi bands.


But much of Puerto Vallarta's magic is in the hearts of her people. Often described as "one big, happy family," Vallartenses are known for their hospitality and for going out of their way to welcome foreign residents. And, since the Mexican people are extremely tolerant of different lifestyles, international residents and Mexican locals can live side-by-side in harmony - provided that the expatriate can learn to be creative and adaptable.


Puerto Vallarta is an unhurried refuge for people seeking more than just a beautiful beach. Those of us who choose to live here embrace the challenge of learning patience and understanding. Taking the time to "stop and smell the roses" along the road to becoming bicultural gives us the opportunity to grow - and to enjoy a more relaxed way of life.

• B E L O W T H E F O L D •
Punta Mita Gourmet & Golf Classic, November 14-17

BanderasNews.com

The Punta Mita Gourmet and Golf Classic, an annual celebration of 'The Good Life,' returns to the Riviera Nayarit November 14-17, 2019. Combining the best of Mexico's food and drink with the chance to play on two Jack Nicklaus golf courses, this is one event you won't want to miss.

---
Escape Puerto Vallarta Summer's Heat in San Sebastian

Tropicasa Realty

With temperatures in Puerto Vallarta rising, summertime is a great time to visit San Sebastian del Oeste. Situated 4,500 feet above sea level in the heart of the Sierra Madre, the cool climate and historic appeal of this 16th century mountain village make it the perfect weekend getaway.

---
What's Happening This Week - and Beyond! - at Act II

Marsha Ross

Summer is flying by and shows no sign of slowing down at Act II, where you can hear some of the most talented musicians in Puerto Vallarta, sing at the weekly Karaoke Party or audition for an upcoming show. Speaking of shows, the 2019/2020 season opens October 29 with Mamma Mia!

---
Why Everyone Should Visit Puerto Vallarta, Mexico

Fashionisers.com

When you hear about Puerto Vallarta, Mexico, the first thing that may come to mind is an exotic, tropical vacation. While this popular tourist destination definitely has sparkling waters and luxurious beaches, the most exciting thing about this city may very well be its art and culture.

---
PVRPV Vallarta Rental Income Property: Casa Ikal #55

Mich García

If you are looking to buy a Banderas Bay area home or condominium that will help pay for itself by generating rental income, look no further than the vacation property experts at PVRPV Real Estate. This week's featured rental income property is Casa Ikal #55 in Nuevo Vallarta.

---
Vallarta Singer-Songwriter 'Stolie' Releases New Video

Taylor Swallows

International touring artist, Stolie, announces the release of her new video for the single 'Poor Boys (Tequila Lips)' and the coordinating 'I Get Around 2019' tour. She will be hitting the stage 60 times in just 100 days across North America en route to her winter home in Puerto Vallarta, Mexico.

---
'Easy-Peasy' Recipe to Brighten Up Your Summer Table

Dr. Leslie Korn

PillePalle... Don't you love the sound of the word? It means piece of cake, easy-peasy, in English. In these challenging emotional times I think we all need a little PillePalle in our lives. So here I share some recipes and health tidbits that will give us all a little more PillePalle.

---
Summer Specials at Kaiser Maximilian Restaurant

BanderasNews.com

Though Kaiser Maximilian Restaurant is best-known for serving Puerto Vallarta residents and visitors exceptional Austrian fare, through August 28 this charming European-style café is also offering diners a taste of something different... mouth-watering seafood & Mexican specialties.

---
Galleria Dante End of Summer News and Art Sale

Claire Guarniere

Summer news from Galleria Dante, the largest and most eclectic art gallery in Puerto Vallarta. Read all about the gallery renovations; Dante's Summer Art Sale, with prices reduced 20-50% through September 30th; and the 2019-2020 season art workshops and South Side Shuffle dates.

---
Mayor Continues to Improve Public Safety, City Services

Diego Sancho

After the July delivery of 20 new police cars, Puerto Vallarta Mayor Arturo Dávalos Peña announced that his government intends to continue improving city services, covering everything from security and street lighting to garbage collection and the rehabilitation of roads and public spaces.

---
How to Choose the Right Home for Retirement in Mexico

Terence L. Reilly

For many, the secret to finding that dream retirement home is investing in real estate south of the border - but it's a good idea to do your research first. So what are some things that you should be considering before buying a retirement home in Mexico to ensure that it right for you?

---
Act II Offers Summer Fun, Plans Winter Season Shows

Marsha Ross

There's always something going on at Act II STAGES. Cool Summer fun continues with Las Vegas-style cabaret shows, the best Karaoke Party in town and a series of concert by Vallarta bands; and preparations for the Winter entertainment season, which opens Oct. 29, are in the works.

---
Re/Max Puerto Vallarta Neighborhood Clean-up, Aug 10

Warren Brander

It's time for the monthly neighborhood clean-up hosted by Re/Max Puerto Vallarta! Set be held on Saturday, August 10, at 9:30 am, this month we will meet at the entrance to the Panteon (Cemetery) on Brasilia, and clean our way through the streets of Colonia 5 de diciembre.

---
Vallarta-Nayarit Mexico's Pacific Coast LGBTQ+ Hotspots

Riviera Nayarit CVB

A wide variety of LGBT-friendly accommodations, activities, beaches and nightlife, along with a welcoming community, are just some of the reasons that Puerto Vallarta and the Riviera Nayarit are amongst the most popular LGBT destinations on Mexico's Pacific Coast.

---
Raicilla Gives Travelers a Taste of Traditional Mexico

Timothy Real Estate Group

Travelers along the western coast of Mexico near Puerto Vallarta occasionally happen upon roadside vendors of a distilled spirit called 'Raicilla.' Often referred to as 'Mexican Moonshine,' Raicilla is a Jalisco tradition that might not be as popular as Tequila, but it has a growing following.

---
Salty Paw Jazz Orchestra to Perform Free Concert Aug 18

María Francesca

The Salty Paw Jazz Orchestra, the first and only youth-based jazz orchestra in Puerto Vallarta, will be performing a free concert from 6:00-7:00 pm on Sunday, August 18 at Galerias Vallarta. Make plans now to come out, enjoy the music, and show your support of these aspiring local musicians.

---
August News from PV's PuRR Project Feline Shelter

Shannon Campbell

August news from Purr Project, a non-profit, no-kill feline shelter located just north of Puerto Vallarta, Mexico, that provides homeless cats and kittens a recuperative stay with the ultimate goal of adopting them out to loving homes sterilized, vaccinated and disease free.

---
Democrats Abroad Summer Social at Pal'Mar, August 14

Mike Lyman

Join the Costa Banderas Chapter of Democrats Abroad for our August Summer Social, set to take place at Pal'Mar on Wednesday, August 14. If you haven't visited this hip new bistro on the south side of Puerto Vallarta, come enjoy Happy Hour with us from 5:00 to 7:00 pm.

---
PVRPV Real Estate Presents Aurora del Sol #701A

Agustin Rocha Jaramillo

If you are looking to buy a Puerto Vallarta condo that will help pay for itself by generating rental income, look no further than the vacation property experts at PVPRV Real Estate. This week's featured rental income property is Aurora del Sol #701A, a 2 bed/2.5 bath, beachfront condominium.

---
Vallarta Wins TripAdvisor Travelers' Choice Awards

Marie Callan

TripAdvisor, the world's largest travel website, just released the results of their 2019 Travelers' Choice Awards, and Puerto Vallarta was named the 4th Best Destination in Mexico. Several of our city's exceptional offerings, such as hotels and restaurants were also awarded.

---
Site Map
•
Print this Page
•
Email Us
•
Top