Free Newsletter!
Click HERE to read a serialized and updated version of
Polly G. Vicars' sell-out book, Tales of Retirement in Paradise
.
Vallarta Living
Living in Puerto Vallarta Mexico
For many the thought of living in - or even near - a major tourist resort is about as appealing as a buying a condo in Disneyland. But here in Vallarta, the incredible natural beauty, combined with a small town atmosphere and the inherent warmth and friendliness of the local people, attracts foreign residents who enjoy the good life.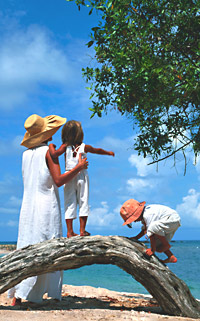 With a colorful blend of the old and the new, the Banderas Bay region offers an unrivaled combination of simple pleasures and sophisticated charms. Fine dining restaurants, art galleries, upscale shopping centers, internet cafes and nightclubs peacefully coexist alongside taco stands, street-side vendors and open air markets selling Mexican handcrafts, and strolling Mariachi bands.


But much of Puerto Vallarta's magic is in the hearts of her people. Often described as "one big, happy family," Vallartenses are known for their hospitality and for going out of their way to welcome foreign residents. And, since the Mexican people are extremely tolerant of different lifestyles, international residents and Mexican locals can live side-by-side in harmony - provided that the expatriate can learn to be creative and adaptable.


Puerto Vallarta is an unhurried refuge for people seeking more than just a beautiful beach. Those of us who choose to live here embrace the challenge of learning patience and understanding. Taking the time to "stop and smell the roses" along the road to becoming bicultural gives us the opportunity to grow - and to enjoy a more relaxed way of life.

• B E L O W T H E F O L D •
The Best Entertainment in Town Now Playing at Act II

Melissa Tropp

With the final days of Pride going on, PV's Centennial celebrations just starting and Restaurant Week continuing, there's a whole lot of fun going on in PV right now! But once you see what's playing at Act II this week, a night (or two!) at Stages will surely top your 'Must Do' list.

---
NextRadio App Now Available for Smartphones in Mexico

Radio & Television Business Report

The NextRadio app, which allows users to hear, see, and interact with live, local FM radio, has now been launched for smartphones in Mexico. For Android users, it is an added feature that goes beyond the utilization of an enabled FM chip and there's an iOS version for iPhone users.

---
Up-and-Coming Neighborhoods in Puerto Vallarta

Warren Brander

With so much new construction underway in Old Town Puerto Vallarta, that area of the city is attracting a lot of attention from real estate investors. However, three other PV neighborhoods are becoming more and more attractive to home buyers with different lifestyles and preferences.

---
Restaurant Week is Exceptional at Daiquiri Dick's

Banderas News Team

When it comes to fine dining in Puerto Vallarta, Daiquiri Dick's has it all... Especially during Restaurant Week, when you can enjoy an exceptional three-course menu, superior service and spectacular sunsets in an elegant beachfront setting for only $399 pesos through June 10, 2018.

---
Puerto Vallarta's Centennial Bumps May Fest Up a Notch

Puerto Vallarta Tourism Board

From May 26-31, 2018, Puerto Vallarta will continue celebrating its centennial as a municipality and 50th year as a city during the Festival Cultural de Mayo, an annual celebration that includes cultural events, photo and art exhibitions and free concerts every night at El Faro del Malecón.

---
An Exceptional Business Opportunity in Puerto Vallarta

Tropicasa Realty

4Sapori, one of the most popular restaurant and bars in Puerto Vallarta, has now come to market in the thriving Marina Vallarta district. With a proven track record, this is one of the most exceptional business opportunities to become available in the Banderas Bay region in recent history.

---
Fourth of July BBQ on the Beach at Daiquiri Dick's

Marilyn Khan

If you find yourself in Puerto Vallarta on the USA's 242nd birthday, head over to Daiquiri Dick's on Los Muertos Beach for a Red, White & Blue BBQ that includes all your favorite 4th of July foods, live music by one of PV's hottest bands, Sylvie and The Zippers, and lots of fun!

---
Help Vallarta Garden Club Prepare Plaza for Centennial

David Muck

The Puerto Vallarta Garden Club is looking for volunteers to help weed and clean the flower beds in the Plaza de Armas (the main plaza in downtown) so they'll look their best for next week's Centennial celebrations. So grab your gloves and join us on Thursday, May 24 at 8:30 am.

---
Galleria Dante's Summer News, Specials and Art Sale

Claire Guarniere

Galleria Dante, the largest and most eclectic art gallery in Puerto Vallarta, has launched its Summer Art Sale, with prices reduced 25-50% through October 15th. If you've been eyeing one of the gorgeous works of art in their gallery or website, now is the time to make it yours!

---
Tips for Starting Your Own Small Business in Mexico

MEXLend Mortgages for Mexico

When starting one's own business, you will be presented with a series of challenges you'll need to overcome in order to be successful. The experts at MEXLend Mortgages for Mexico outline what some of the most common challenges may be so you'll be prepared to take them on.

---
Beach Volleyball Open Part of Centennial Celebrations

Diego Sancho

The 2018 Mexican Beach Volleyball Open is set to take place at Playa Camarones in downtown Puerto Vallarta from May 25 to 27, with 104 of the best doubles teams in the country seeking volleyball glory and their share of the $120,000 pesos to be distributed among the winners.

---
Natural Repellents for Mosquito Season in Vallarta

Marie Callan

One of the biggest challenges for people living in and around Puerto Vallarta at this time of year is preventing mosquito bites! The little buggers are not just annoying, but also carry diseases. Before you start bombarding your body with chemicals, try some of these natural repellents.

---
Salty Paw Jazz Orchestra to Perform May Fest Concert

María Francesca

The Salty Paw Jazz Orchestra, Puerto Vallarta's first and only youth-based jazz orchestra, will be performing at 7:00 pm on Sunday, May 27 at El Faro del Malecón (the lighthouse on the Boardwalk), as part of the city's Festival Cultural de Mayo and Centennial celebrations.

---
Kaiser Maximilian Celebrates 23 Years, Restaurant Week

Banderas News Team

Kaiser Maximilian is celebrating 23 years as one of the city's finest restaurants so, in addition to participating in Vallarta Restaurant Week 2018, which runs through June 10th, they'll be serving their special $466 peso, three-course menu for lunch and dinner through June 14th.

---
Vallarta Pride Week Full of Fun at Act II Entertainment

Daniel R. Mininni

Act II Entertainment is THE Place to go when you are in Puerto Vallarta - especially during Pride Week 2018! From May 19-27, Act II is bringing you a week packed with great entertainment, like Steve Grand, Mama Tits, Hedda Lettuce and this spring's funniest musical, Nunsense A-Men!

---
Site Map
•
Print this Page
•
Email Us
•
Top