Editorials | July 2006
Political Polarization will Strengthen Mexican Democracy

Chappell Lawson - Mercury News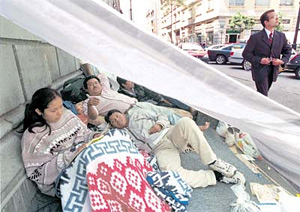 A family from the Gulf Coast state of Veracruz seeks shelter from the sun under a tarp on a Mexico City street as a businessman walks by. Members of the Rivera family came to the capital to take part in a farmers protest and demand land to cultivate. Mexican society remains divided between rich and poor, between rural and urban. (Christobal Perez/Chronicle)

On July 2, Mexico held its most closely contested presidential race in 50 years. Based on his early lead, conservative candidate Felipe Calderón of the National Action Party (PAN) has insisted that he won the race and discounted any possibility that the final results might prove otherwise. Meanwhile, his leftist opponent, former Mexico City Mayor Andrés Manuel López Obrador, is demanding a recount of all 42 million ballots from the election.


Should Calderón maintain his narrow lead, López Obrador will challenge the results in Mexico's electoral tribunal. And even if the challenge remains there, rather than spilling over into the streets, the polarized atmosphere that characterized the campaign will remain. Many observers regard the outcome as the worst scenario for Mexico's young democracy.


Post-electoral tensions raise justified concerns about how well democratic institutions can resist political polarization. Also justified is disgust over the nasty tone of the race, which entailed bombarding the electorate with misleading and sometimes hysterical advertisements. But in several more fundamental ways, there is reason to believe that Mexican democracy will emerge stronger from this baptism by fire.


First, if Mexico's institutions prove durable enough to handle such a close election, their longer term viability will never again be in doubt. So far, they appear to be coping.


Second, the polarization in Mexico's political system that many observers lament has finally brought about a long-awaited and politically healthy realignment in Mexican politics. By forcing many supporters of the ideologically amorphous former ruling party (known as the PRI) to choose sides, the 2006 campaign moves Mexico toward a two-party system. Whoever takes office Dec. 1 will be far more likely to assemble a working majority in Congress than anyone dreamed possible just six months ago. That would mean an end to the gridlock that has characterized Mexican policy-making during the past six years.


Once the dust settles from this year's election, a two-party system could reduce political tensions. The great bulk of Mexican voters are ideologically centrist, meaning that both the left and the PAN will ultimately move toward the center.


This brings us to the most important and overlooked element of the 2006 race: the effects of electoral competition on parties and candidates themselves. Over the past two years, López Obrador has become significantly more moderate on several issues. The closing speech of his campaign, for instance, included promises to maintain macroeconomic stability, as well as his usual commitment to help Mexico's poor. It was the campaign that led him to try to reassure voters by reiterating one of his favorite sound bites: "I do not hate; I'm a happy man."


The effect on the right has been even more pronounced. Calderón's campaign promises include expanding Oportunidades (a welfare program that already benefits 5 million of Mexico's poorest families), providing day care for working mothers, broadening health care coverage and increasing employment opportunities. To some extent, these initiatives were always part of his platform; they probably represent his personal commitment to reducing social inequality. But there is no question that the campaign led him to place greater emphasis on such policies, which collectively represent a decidedly more progressive stance than many on the right would prefer.


In short, the challenge from the left made for a better right, and the continuing appeal of the PAN made the leading leftist candidate less intransigent.


The relentless focus on political tensions is understandable. Such a focus, however, thus overlooks the broader impact of the campaign on Mexican politics. And these positive elements also deserve attention.

Chappell Lawson is a non-resident fellow of the Pacific Council on International Policy and a former director of Inter-American affairs at the National Security Council.
Tell a Friend
•
Site Map
•
Print this Page
•
Email Us
•
Top