Travel & Outdoors | September 2006
Nonstop Flights to Mexico Rising

Chris Walsh - Scripps Howard News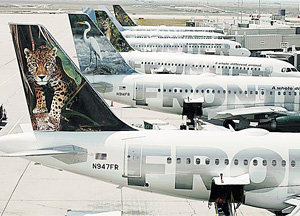 Denver-based Frontier Airlines has tapped into the booming market of travelers to Mexico — who number 20 million annually — by offering nonstop flights to popular tourist spots. (David Zalubowski/AP)

Cancun, Mexico — Joe and Lori Olvera have visited this popular vacation resort annually since the late 1990s, seduced by its idyllic coastlines, laid-back culture and warm blue water.


Initially, the Colorado couple booked tickets on whichever airline offered the lowest fare, sometimes opting for a flight with a layover on a large carrier such as Mexicana, other times choosing a charter.


Now they fly here exclusively on Denver-based Frontier Airlines, which added nonstop service to Cancún in late 2002.


"They're just cheaper and seem to have more flights than everyone else," Lori Olvera said last month on her ninth trip to Cancún. "The fact that we can fly nonstop is really important for us, too."


With Cancún as its focus, Frontier is blazing a trail south of the border, becoming one of the largest U.S. low-cost carriers in Mexico and developing a solid niche in what's become a red-hot destination.


Domestic routes will always be Frontier's bread and butter. Frontier flies two daily nonstops from Tucson International Airport to Denver.


But Mexico service now represents up to 13 percent of the airline's capacity during peak travel times to the country. Frontier also has managed to carve out its first successful routes that don't involve piloting passengers through Denver, gaining federal approval to fly nonstop to Mexico from a half-dozen other U.S. cities.


Flights to Mexico a strategy


The carrier is far from done: It will increase flights to Mexico this winter by 30 percent over last year and add several new routes.


For consumers such as the Olveras, Frontier's increasing presence in Mexico means more flight options and, in many cases, cheaper fares.


For Frontier, it's the cornerstone of a strategy to diversify away from its base in Denver, a move some experts say is essential to the carrier's long-term survival as it faces increasing competition at home. It also provides the airline with a blueprint for further international expansion in Canada and perhaps beyond.


But Frontier also faces new competitive pressures down south. Other U.S. airlines are focusing on Mexico as well in what one industry insider described as a "massive land grab."


"We were kind of on the leading edge of this in recent years," said Jeff Potter, Frontier's chief executive officer. "But over the last 12 to 24 months, you've seen a lot of interest in Mexico from all kinds of airlines."


In four short years, Frontier has become the second-largest international carrier at Denver International Airport, behind just United. Last year, it flew roughly 243,000 passengers between Denver and Mexico — 50 percent more than United Airlines.


On a national basis, Frontier provides service to more Mexican cities than any other large low-cost carrier aside from US Airways. It now offers service to Acapulco, Cancún, Cozumel, Ixtapa, Los Cabos, Mazatlán, Puerto Vallarta and, starting in December, Guadalajara.


Frontier doesn't offer nonstop Mexico service from Tucson. AeroMexico offers nonstop flights from Tucson to Hermosillo, Sonora. US Airways offers direct service — with a stop but no plane change — from Tucson to Guadalajara, Los Cabos (Cabo San Lucas) and Puerto Vallarta. Continental Airlines flies direct from Tucson to Cancún and American Airlines flies direct to Los Cabos.


Leisure flights lucrative


Frontier is tapping into a hugely popular market. About 20 million travelers visit Mexico annually, 83 percent of them from the U.S. and Canada. Those visitors pump $12 billion into the country's economy and are the lifeblood of its resort destinations. Additionally, more than 4 million Mexican nationals visit the United States each year for business and pleasure, according to tourism officials.


"There's not a community in the U.S. that doesn't have social or business ties with Mexico," said Stuart Klaskin, a Florida-based aviation consultant. "It's a lucrative market."


Mexico often ranks as one of the top international destinations for U.S. travelers. This summer, Cancún came in third behind London and Rome in the number of international air bookings made on travel giant Orbitz.


Frontier has established a type of "secondary hub" in Cancún, a city on the Yucatán Peninsula that boasts about 3 million tourists annually and is the heart of Mexico's tourism industry. Frontier sells nonstop tickets between the resort and six U.S. cities besides Denver.


"It's a little unusual to have a minihub in Mexico and to have it be mostly leisure travelers, but it's worked well for us," said John Happ, Frontier's senior vice president of marketing and planning.


From a financial standpoint, Frontier says its Mexico service is "performing very well," although it won't provide specifics. Analysts say the routes are profitable, although the overall impact on revenue is hard to determine because much of the service is seasonal and offered only on certain days of the week.


But international routes in general usually make more money than domestic service. That's part of the reason many airlines are looking to grow internationally amid heavy competition on routes within the United States.


"All the airlines are trying to reallocate capacity to more promising markets, and that means a lot are looking internationally," said Philip Baggaley, an analyst who follows the airline industry for Standard & Poor's in New York.
Tell a Friend
•
Site Map
•
Print this Page
•
Email Us
•
Top