Editorials | Issues | November 2006
Ramírez Selection Called 'Grave Error'

Jonathan Roeder - The Herald Mexico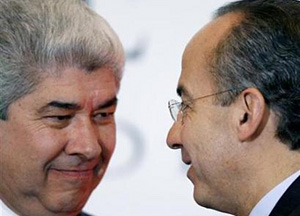 President-elect Felipe Calderón (R), set to take office Friday, tapped long-time ally and former Jalisco Gov. Francisco Javier Ramírez Acuña (L) to head the Secretariat of the Interior, the agency in charge of Mexico´s domestic politics and policy. (AP)

A controversial appointment for interior secretary and a surprise pick for the nation´s top diplomat headlined President- elect Felipe Calderón´s latest round of Cabinet selections, which were unveiled on Tuesday.


Calderón, set to take office Friday, tapped long-time ally and former Jalisco Gov. Francisco Javier Ramírez Acuña to head the Secretariat of the Interior, the agency in charge of Mexico´s domestic politics and policy.


Ramírez Acuña, known for a "firm hand" on security issues but also accused of human rights violations, will be immediately responsible for finding a solution to six months of unrest in Oaxaca, where a large protest movement is demanding the ouster of the state´s governor. He will also be in charge of reaching out to opposition parties to seek support for Calderón´s reform agenda.


At a news conference in a Mexico City hotel, Calderón said Ramírez Acuña will "establish and maintain an open and permanent dialogue with all sectors of society" and added the incoming interior secretary will have a "permanent compromise to respecting human rights and the liberties of the people."


Meanwhile, Calderón named career diplomat Patricia Espinosa as his foreign relations secretary. He had been expected to pick international policy aide Arturo Sarukhan for the post, but Sarukhan will instead serve as Espinosa´s top advisor while overseeing U.S.-Mexico relations.


A member of the Mexican Foreign Service, Espinosa has served as ambassador to Austria, Germany, and as Mexico´s representative to the United Nations in Geneva.


In other appointments announced Tuesday morning, Calderón chose National Action Party (PAN) stalwart Germán Martínez Cázares to head the Public Function Secretariat - a government agency charged with fighting corruption - while Juan Camilo Mouriño, head of Calderón´s transition team, was named as chief of staff.


Calderón´s Cabinet picks are not subject to review or approval by Congress.


Following Tuesday´s announcement, analysts and human rights organizations were harshly critical of Calderón´s choice of Ramírez Acuña for interior secretary.


Political analyst José Antonio Crespo said the appointment was Calderón´s "first grave error."


"This is a message of confrontation, not conciliation," he said. "It doesn´t seem like he wants to overcome our polarization but rather deepen it."


As Jalisco governor, Ramírez Acuña allegedly authorized the use of excessive force against anti-globalization protesters during a summit of Latin American and European leaders in Guada- lajara in 2004. Both national and international human rights organizations, including Amnesty International and Human Rights Watch, denounced what they said were arbitrary detentions and even torture of suspects.


"The blatant and prolonged nature of the alleged police abuses strongly suggests that they were carried out with the approval of some level of command within the security forces," said José Miguel Vivanco, executive director of Human Rights Watch´s Americas Division after a probe into the incidents.


All of the nation´s opposition parties - including the Institutional Revolutionary Party (PRI), whose support is crucial for Calderón if he wants to push reforms through Congress - have come out against the nomination.


Members of the PRI, which is currently the third largest party in Congress, say Ramírez Acuña leveled trumped up charges against their candidate for the Jalisco governorship to influence the race. The PRI narrowly lost to the PAN in the election, which was held on July 2.


Calderón has tried to reach out to opposition leaders in recent weeks, sending out letters listing areas where he says the nation´s parties are in agreement and can work together.


But in a column published on the website of EL UNIVERSAL, Jorge Zepeda Patterson questioned whether the new interior secretary would be able to work with opposition parties.


"Ramírez Acuña arrives at his post harshly criticized by the two main opposition parties with which he will now have the task of reaching agreements with," he wrote.


However, Federico Estévez, a political analyst at the Mexican Technological Autonomous Institute (ITAM) in Mexico City, said that perhaps Ramírez Acuña´s tough approach to security issues was needed to curb demonstrations that have proliferated during President Vicente Fox´s administration.


To solve problems such as the one in Oaxaca, "you have to put in somebody who is more of a hardliner and will actually take risks," Estévez said.
Tell a Friend
•
Site Map
•
Print this Page
•
Email Us
•
Top