Editorials | Issues | January 2007
Killings Abroad Go Unsolved

BYLINE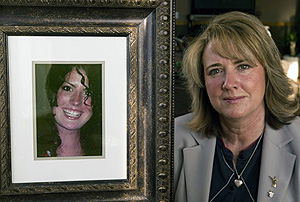 Cher Ewing's daughter Kristin Deyell, in framed photo, was murdered outside a Guadalajara, Mexico, nightclub in 2004. Ewing says she got little help from the Canadian government. (Mike Sturk)

More than 250 Canadians have been slain abroad in the past seven years, documents obtained by the Toronto Star show.


The cases are spread across the globe, with the majority occurring in the United States and sunny vacation destinations such as Mexico, Dominican Republic and Jamaica, according to information released by Canada's foreign affairs department under access to information legislation. Many of the cases remain open without any charges. The United States tops the list with at least 56 killings. Mexico and Caribbean countries come second with a combined total of at least 47 in the 2000-2006 time period. Killings in Central American countries, India, China, Russia, the Philippines, Thailand and elsewhere round out the list.


The cases range from the slayings of Woodbridge's Domenic and Nancy Ianiero in Mexico last February to that of Dr. Asha Goel of Orangeville, whose family believes four men were hired to kill her during a visit to India in August 2003 in a dispute over a family inheritance. Added to the list will be Woodbridge teen Adam DePrisco, who died last Monday after visiting a popular nightclub in Acapulco.


There's a common denominator: Victims' families say the Canadian government could do a much better job representing their interests abroad.


"It would be nice to feel that the Canadian government had your back when something like this happens. We felt let down," said Calgary's Cher Ewing, whose daughter, Kristen Deyell, 20, was killed outside a Guadalajara nightclub in 2004.


Ewing believes Mexican authorities botched the investigation and allowed the killers to go free. She said Canada's foreign affairs department should advocate for victims' families overseas and closely watch cases such as her daughter's. Instead, she said, they get scant information from Foreign Affairs, which waits to get reports sent to them by consular officials.


An advocacy group, Canadian Resource Centre for Victims of Crime, wants Foreign Affairs Minister Peter MacKay to establish an international victim assistance unit within the ministry.


The United States protects the rights of citizens abroad through the Office of American Citizens Services and Crisis Management. The office, in a promise to American citizens, states it exists to "assist you and your family whenever and wherever we can." Among its duties: swiftly helping victims of crime overseas.


In Canada, Foreign Affairs provides some help but victims say not enough. And last year, the federal government terminated the cabinet-level post of parliamentary secretary with special responsibility for Canadians abroad.


"It's very disconcerting that the Canadian government does not protect its citizens in foreign countries," said Edward Greenspan, lawyer for the Ianiero family, adding Canada should study how the U.S. handles such cases.


Last fall, the Star made the request for information on all Canadians murdered out of the country. Foreign Affairs refused to release detailed information on the cases, citing privacy concerns. However, it did release a year-by-year, geographical accounting of where and when the murders occurred. The list contains 249 murders cases. The number of murders is actually more since double murders, like the Ianieros, are counted as a single case.


Each case represents a request for assistance by the families. The documents released to the Star list 60 per cent of the cases as closed, and the remainder active. This does not mean the case was solved, only that Foreign Affairs has closed the file.


Mexico, which has been criticized by victims' families for not properly investigating crimes, has 15 murders, with nine active and six closed from 2000 to 2006.


In response to the DePrisco death, Liberal MP Dan McTeague is calling for the government to take a more active role in solving cases of Canadians killed abroad.


However, when a murder is committed, Canadian families say they are left to deal with the authorities in the countries where the murder occurred.


Many complain Foreign Affairs is often the last to know. Or, if aware, department officials don't pass the information to families. Canada has consular officials in numerous countries overseas and some have RCMP liaison officers assigned to the consul. Victims families say the Canadian presence should allow for quick feedback.


Ewing said she learned the men believed responsible for her daughter's slaying were being held and questioned on suspicion of murder, kidnapping and illegal gun possession. Ewing contacted Foreign Affairs in Ottawa.


"We were told that the Canadian government wouldn't interfere in a foreign country's policies or procedures," Ewing said.


One suspect on weapons charges was freed on bail and Ewing has heard reports he is living in Acapulco. Murder charges were dropped against the other suspect, but he is in custody in Mexico on unrelated charges, Ewing said.


When she has tried to get more information, Foreign Affairs has told her it cannot discuss specifics with her, she said.


Susanne Gillies Smith of Banff, whose father Peter, 75, was shot in the head in Mexico in 2004, says she had to put Foreign Affairs in touch with Mexican police. Smith did say that a Canadian consular official in Mexico was helpful shortly after the murder – the official travelled on her behalf to the morgue and identified her father's body, then made arrangements to transfer the cremated remains home.


Réjean Beaulieu, a spokesperson for Foreign Affairs, says it does not have the power to investigate murders. They have consular services and will assist in providing phone numbers and making sure the body is brought home. Foreign Affairs says on its website it will only "request that local authorities investigate suspicious circumstances in the event of an alleged or apparent crime or death."


If notified of the death first, Canadian consular officials say they will make arrangements through the RCMP to have the appropriate Canadian police service contact the next of kin and put the family in touch with consular officials in Ottawa.


Beaulieu said the department also provides travel alerts when necessary.


Critics say the government needs to do more to warn Canadians of dangers in advance.


Marcia Rose McKenzie of Toronto was in the Bahamas for a wedding in 2002. She had an argument with her boyfriend and was walking along Sandy Point Beach when she was attacked by a 17-year-old carrying a machete. The teen slashed her across the head and put her in a shallow grave. The youth was later convicted of her murder.


Her cousin, Toronto city councillor Michael Thompson, spoke to the Star about the case. He said Canadians are being sold on tropical locations as paradise, but too often "people can throw caution to the wind. They feel they are somehow insulated from tragic events happening."


He said the government must do a better job warning the public and releasing information to prospective travellers on local crime problems. Canadians should also be made aware that local police and judiciary may not be at Canadian standards, he says. "What we expect from our judiciary is nowhere near what we can expect from other jurisdictions," Thompson said.


The Star contacted embassies of several countries that figured in the data and where families complained about poor assistance for Canadian victims. In each case, the country referred the Star to Canada's Foreign Affairs department for comment.


The United States topped the list of slain Canadians, not surprising since it is the country most visited by Canadian travellers. One case involved Louise Chaput, a Quebec psychologist who was killed while hiking alone near Mount Washington in New Hampshire in 2001.


Family and friends called the Canadian embassy in Washington for help, but the family was told that the New Hampshire state police were in charge and it had no authority to investigate.


Her death remains unsolved.


McTeague, a Liberal MP and critic for consular services, was previously the parliamentary secretary for Foreign Affairs with special responsibility for Canadians abroad. He said the Conservative government should name a minister responsible for Canadians abroad and is surprised Prime Minister Stephen Harper has not done so.


The Star also looked at the case files and used the annual number of Canadian visitors to the country to come up with a rate per 100,000 visitors. The countries with the highest murder rate of Canadians are Pakistan (21.2 per 100,000), Haiti (11.6) and Guatemala (6).


Although the Star could only get cases for the first 11 months of 2006, it appears the number of Canadians killed abroad is in a slight decline. In 2000 there were 43; in 2004 there were 36; in 2006 there were 28 (up to December), plus one more known case in December.

Data analysis by the Star's Andrew Bailey
Tell a Friend
•
Site Map
•
Print this Page
•
Email Us
•
Top