Editorials | Issues | February 2007
You Can't Abuse Immigrants

Domenico Maceri - PVNN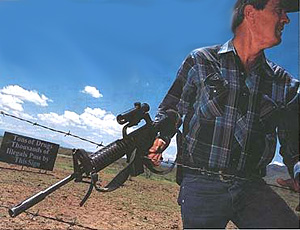 Roger Barnett at the edge of his Cross Rail Ranch (Time Magazine)

"Hopefully this sends a message that you can't point a gun at little kids," stated Ronald Morales. Morales was referring to a jury's verdict which convicted Roger Barnett of threatening a hunting party with an assault rifle. The group included Morales, his father, his two daughters and a friend of theirs.


Barnett took them for illegal immigrants who were trespassing on his property. He yelled at the hunting party, insulted them with racial slurs, and threatened to shoot them.


Because of his actions, Barnett will have to pay $98,000 in damages.


The jury in Bisbee, Arizona, included seven whites and one Hispanic. It deliberated only for three hours and then reached its verdict. It convicted Barnett of unlawful imprisonment, assault, negligence and inflicting emotional distress.


Barnett has a great deal of experience with people trespassing on his property in Arizona, 22,000 acres of which he leases form the government. Typically, trespassers have been illegal immigrants.


Barnett is very concerned about illegal immigration. He told the ABC program "Nightline" that illegals are "flooding across, invading the place."


Barnett has boasted of having captured 12,000 illegal immigrants. He has become one of the most visible vigilantes who patrols the U.S.- Mexican border. Barnett likes to dress in military garb and caps with insignia which resembles the United States Border Patrol uniform. Some people consider him the "godfather of vigilantism" and an inspiration for the Minutemen group, who have patrolled the U.S. border with Mexico and whom president George W. Bush labeled vigilantes.


The lawsuit, which Barnett lost, is not the only one causing him legal problems. Another lawsuit alleges that he, his wife, and his brother pointed guns at 16 illegal immigrants, threatened them with dogs, and also kicked one of the women in the group.


In another lawsuit, which Barnett won, he himself was accused of trespassing as he pursued illegal immigrants in a fellow rancher's land. And in still another case, a lawsuit against Barnett was dropped. The plaintiff returned to Mexico and decided not to press charges.


When Morales asked the county attorney to bring charges against Barnett, he was told it'd be pointless because no jury would convict Barnett.


Eventually the lawsuit against Barnett was brought forward by the Border Action Network and the Southern Poverty Law Center, two civil rights groups which hope to set legal examples that migrants will not be abused.


The civil rights groups were encouraged by another case in Texas in which two Salvadoran illegal immigrants won a case against Casey Nethercott who had held them at gun point in 2003. Netehrcott lost his ranch to the Salvadoran immigrants.


Jesus Romo Vejar, Morales' attorney, was encouraged by the verdict. He hopes others who may have been abused by Barnett will now come forward. He also hopes that the government will reconsider leasing him land given his conviction.


It's unlikely that others will come forward. If indeed there have been other abuses, victims are probably long gone, back in Mexico. If they are in the U.S. and have no legal papers, they are probably very reluctant to come forward.


The Morales are American citizens and sued because they felt strongly that their rights had been violated. Had the Morales been undocumented workers, they might not have pressed the case.


Yet, Morales' victory can be an example to others who somehow think that undocumented workers can be abused because of their illegal immigration status. The verdict clearly says that no one's humanity can be abused regardless of immigration status.


It also serves as discouragement to other ranchers on the border about letting militant civilian groups on their lands because of potential lawsuits that may arise if abuses are reported. In essence, the message of the Barnett verdict is that abusing illegals is in itself illegal in the U.S.
---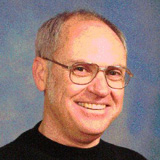 Domenico Maceri, PhD, UC Santa Barbara, teaches foreign languages at Allan Hancock College in Santa Maria, CA. He is the author of a book on Pirandello, one on Spanish grammar, and another on Italian grammar. He has also published a number of articles in newspapers and magazines around the world, some of which have won awards from the National Association of Hispanic Publications.

Click HERE for more articles by Domenico Maceri.
Tell a Friend
•
Site Map
•
Print this Page
•
Email Us
•
Top