Travel & Outdoors | April 2007
Home is Where You Park Your Burros

Lynne Katusich & Jonni Hill - recordcourier.com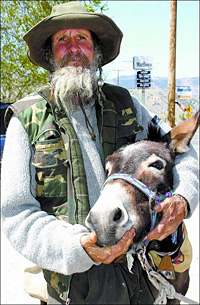 Craig "Cuervo" Kline and his packing burro Coco the Brat stopping for supplies. (Jonni Hill/RC)

To most of us, at first glance, we would have cast him aside as being homeless and destitute.


But for a man who prefers to be called Cuervo, he's a free spirit, the last of a dying breed, a mountain man.


There is a lot to be said about the lifestyle of a free-spirit and 57-year-old Craig "Cuervo" Kline could tell you just about all you needed or ever wanted to know about it.


A free spirit life isn't all that bad, according to Kline. It is not a life for the meek and mild; it's a hard life but one with great rewards.


Kline is on his way heading north, probably Ashland, Ore., maybe Klamath Falls, where he has family and friends, after living four years in Naco, Sonora, Mexico. It was time for him to move on and go north.


Oh, he's not homeless by any stretch, his lifestyle is self-imposed; he travels from place to place and wherever he spends his nights, he calls it his home - albeit a roof speckled with a million stars or one shrouded in a thick layer of clouds, it is still his home.


He is not alone. Depending on nothing or anyone except his traveling companions; two burros he calls Bad-ass Momma, who he rides along his travels and Coco the Brat, who carries most of his worldly belongings, they make their way together. Then there is Brutus the Beef-Cake, a mammoth Jack mule, acquired in his travels. At first, Brutus was a mule with no name but one Kline called "High Hopes." One and a half years of ornery cussedness, Brutus is now lightly packed, "unbroke and too young to ride," still nothing much more than a traveling companion for this earthly traveler. Also included in Kline's entourage, his faithful companions, Wolfie, half timberwolf and a Heinz-57 variety called Scooter, his dogs. His four-legged buddies and big open spaces are all he seems to need.


Long and lanky, trail-worn, scraggly in appearance, Kline was a curious sight as he rode into Walker, Calif., astride Momma, long legs hunched over both of the diminutive sides of his small burro, in search of a place to make camp for a couple of nights of rest. His camp was tidy, complete with a hammock for sleeping, on the west side of the Walker River near East Side Lane in Walker where he settled in for a couple of days to relax. Rest for his animals, to get a few supplies, wash up and check with local residents for information to help him on his quest northward, that was all he needed.


"I was raised in Pasadena, Calif. I graduated from high school there," he said. "I remember playing in the walnut and orange groves, that was the only place we kids had to play when we were little. They are all gone now."


"Then the bulldozers came and the groves disappeared," he said. "I didn't want to be there anymore."


He remained a child of the '60s, always looking for open spaces and the freedom it provided. On the road for the last five years he said, "Me and my girlfriend got in some trouble in Arizona so we went across the border to Naco, Sonora, where I have lived for the last four years."


He didn't say where the girlfriend had gone to, it was all part of his past.


"I finally decided it was time to relocate so I am headin' north," Cuervo said.


Trying to find his easiest way around obstacles of civilization, he was asking the residents of Antelope Valley the easiest route he had to go north, trying to avoid as many major highways and thoroughfares as he could. He wanted to hook up with the Pacific Crest Trail, but he knew it was still not safe enough to do that. Snow and late spring storms could be a problem for him at that high elevation.


"I am getting too old to be out there and get a broken leg or something," he said.


As he spoke of his time on the road, the cars, the traffic along the highways he had to travel, he said, "I'm just hopin' to make a bigger impact on the people that take the time to talk to me, to get more people off the road and see what is out there," he said as he gazed out over the valley stretched out in front of him. He wanted people to see what lay beyond the asphalt and that seemed to be his mission in life.


An educated man, he spent some of his meager funds at the thrift store in Walker on Monday to buy books rather than food; books he would read for knowledge and education, not just for entertainment. Books he would probably pass along to others he would meet along his travels.


Kline is philosophical about his life.


"I am where I am supposed to be," he said. "That's where God wanted me to be, somewhere between purgatory and hell."


But, in truth, he is a lesson to all who are in the fast lane of life; he is in his self-made heaven, heading north, his four-legged friends to help him along.

jhill@recordcourier.com
Tell a Friend
•
Site Map
•
Print this Page
•
Email Us
•
Top