Travel & Outdoors | May 2007
Mexican Lake Yields Bounty of Big Fish

Ray Sasser - Dallas Morning News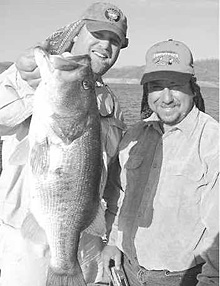 Shane Moore and his fishing guide pose with a 12-pounder from Mexico's Lake Comedero. (Marc Schilling)

Dallas-area anglers Shane Moore and Marc Schilling experienced bass fishing nirvana during the first week of May. The duo fished at scenic Lake Comedero on Mexico's west coast, about a three-hour drive north of Mazatlan.


During their last afternoon fishing session, Moore and Schilling located the mother lode of quality bass. In a memorable three-hour stretch, they boated 17 largemouth bass weighing seven to 12 pounds.


"We'd been fishing in shallow water because that's where the guide was taking us," said Moore, who has fished at Comedero six times. "The fishing was typical for Comedero this time of year. We were catching 85 to 100 fish every day, but most of the fish were small."


With one afternoon and one morning left on their south-of-the-border fishing trip, Moore and Schilling made the conscious effort to try something different in hopes of catching bigger bass.


Most bass guides in Mexico don't fully understand the nuances of fishing because they are not anglers themselves. They tend to take their clients where they caught the most fish in the last few days. One of the attractions to fishing in Mexico is that it's possible to catch 50 or more bass in a day. That's difficult to accomplish on American lakes where fishing pressure is much higher than in remote Mexico.


Most Americans are content to catch 50 small fish a day. Moore and Schilling are not typical anglers. They compete in bass tournaments at a semi-pro level. Schilling speaks a little Spanish, and he asked the guide to take them to a deep-water point.


Comedero is a mountain lake with abrupt dropoffs where water depths fall from very shallow to 50 or even 100 feet. The Texas anglers were looking for a point that extended well into deeper water. They found it on the second spot their guide took them.


"As soon as the guide stopped the boat, we both cast out with heavy spinnerbaits and we both caught 7-pounders," Moore said. "We motioned for the guide to tie up to a tree, and we never moved from that spot."


Alternating between 1-ounce spinnerbaits, 7-inch Mission Fish soft plastic swim baits and Strike King's King Shad hard-bodied swim baits, they caught one big fish after another. Included in the afternoon's catch were bass that weighed 12 pounds, 10.8 pounds, 10.2 pounds, 9.9 pounds and 9.5 pounds.


Thinking in terms of a five-bass tournament limit, Moore figured the top five bass weighed more than 52 pounds.


"It all happened so fast that we didn't give it that much thought at the time," he said. "We were trying to make as many good casts as possible and catch as many big fish as we could. After we got back to camp, I started scrolling through the digital photos, and it dawned on me what had happened. That's the fishing experience of a lifetime, and it is very unlikely that we'll ever do anything like that again."


They tried the magic point again the next morning, and it was still good. They caught another 12-pounder, and their five biggest bass weighed 44 pounds. Then they called in some other members of the fishing party who had not caught any big fish and let them share in the fun.


The anglers had to quit fishing at 2 p.m. and head back to Mazatlan. In what amounted to one full day of fishing spread over an afternoon and a morning, the hot spot had given up eight bass weighing more than 10 pounds.
Tell a Friend
•
Site Map
•
Print this Page
•
Email Us
•
Top