Editorials | Issues | July 2007
Burial in Mexico Proves Expensive for Many Immigrants

James Pinkerton - Houston Chronicle
go to original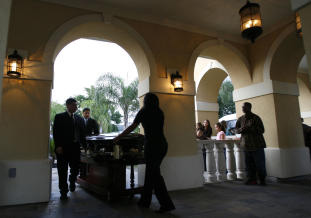 Friends and family of Tomas Guadalupe Carrillo, 31, watch as his casket is moved from the chapel to a waiting family member's truck for transport to Mexico. (Karen Warren/Chronicle)

It was a routine moment late one night on the Gulf Freeway that turned deadly for Julio Zendejas Hidalgo.


As the 26-year-old metal worker from Mexico was standing in the traffic lane next to his stalled red Toyota shortly after midnight on June 17, the driver of a pickup truck hit and killed him instantly.


Zendejas' death not only stunned family and friends in Houston, it suddenly thrust them into unfamiliar and difficult terrain.


To return his remains to Mexico for burial, friends and family had to quickly raise thousands of dollars for funeral and airline expenses. They also had to obtain a county death certificate and U.S. and Mexican transit documents to allow human remains to be transported across the border.


It's an expensive and emotional ordeal undergone hundreds of times a year in Houston. And Hispanic immigrants appear to be most impacted locally.


Mexican consular officials here estimate that 1,400 to 1,500 bodies are returned home to Mexico each year from the Houston area, and 30 percent of the families can't afford to pay. The repatriating of deceased Mexican citizens has been an emerging issue in recent years. In 2006, 6,186 Mexican citizens were returned from the U.S., a 37 percent increase from the 4,515 in 2004.


As America's Mexican immigrant population continues to surge — and age — those stats will likely increase.


At the heart of this trend is a strong tradition of national identity.


The desire to be buried back home in Mexico is ingrained in the national psyche and a theme celebrated in song. A popular ballad is Mexico lindo y querido, in which singer Jorge Negrete implores "If I die far from you (Mexico), tell them I'm sleeping, to bring me here."


At the Mexican Embassy in Washington, spokesman Rafael Laveaga said the wish to be buried in your native land "is simple and complicated."


"I've grown up with the idea that the land where I'm born is of critical importance," Laveaga said. "It's what forms my national identity and my pride as a Mexican. It's a very strong sense of belonging to your land and your people."


An expensive journey


Following traditions, however, can be expensive.


Houston funeral directors said fees to prepare a body and ship it on a commercial airline to Mexico start at $3,500, and $4,000 for shipping remains to Central America.


Gregory Compean, owner of Compean Funeral Home in south Houston, said he has shipped at least 63 bodies to Mexico this year, four to El Salvador and three to Guatemala.


Besides a lack of money, families of deceased immigrants frequently run into obstacles that can make getting their loved ones home even more lengthy and difficult.


"The problem of immigrants not being prepared, not ready, is very common," said the Rev. Miguel Solorzano, pastor of the St. Charles Borromeo Church in north Houston. "They have not saved any money for the death of a family member."


Compean also said the use of a false Social Security card will prevent county officials from issuing a death certificate, since the application forms are compared with a database.


In Houston, up to 130 Mexican citizens are transported home each month for burial, and almost a third of their families need financial aid, Mexican officials said. The Mexican government plans to spend $3.9 million this year on repatriating human remains from the U.S., up from $3.3 million in 2005.


Carlos Garcia, head of the protection department at the Mexican Consulate in Houston, said funding is also available from migrant assistance offices in Mexico and expatriate associations in Houston.


He said the Mexican government usually provides $400 to help transport a body back. But he said the full costs may be paid if the consulate determines the family cannot afford to pay.


Costs out of reach for kin


The sentiment to return Zendejas' body to Mexico was strong in his family.


His mother and others in his extended family live in Veracruz state, said friend and co-worker Pablo Cantu. There was no question his family wanted the young man returned to Mexico for burial.


But the $2,800 cost to transport him seemed out of reach.


Donations were solicited from Zendejas' friends at work — the boss donated $800 — as well as the Houston company where his nephew, Luis Reyes Zendejas, works. Donation jars with a picture of Julio Zendejas were used to solicit money.


"We put together the money," said Cantu proudly. "People donated who didn't know him. We were out in the street, asking for money. The funeral home made us a flier with a picture of him. We went to stores."


The Mexican Consulate gave Reyes $1,000 for funeral expenses in Mexico, Cantu said.


Zendejas' body was flown to Mexico City, and driven by hearse to Verarcuz in arrangements handled by Santana Funeral Directors, a Houston funeral home.


Houston police are investigating the accident that killed Zendejas, and no charges have been filed against the driver of the pickup that struck him.


In some cases, the expense and difficulty of returning a family member to their native country forces families to bury them in Houston.


When Jose Hugo Sanchez, 18, and his stepfather, Juan Francisco Alas, 38, were killed early July 4 on a Houston freeway by a man arrested for drunken driving, their family members discussed returning Alas to his native El Salvador. Sanchez, a popular Pasadena high school student, has an extended family in the area who planned to bury him here.


On Friday, the two immigrants were buried together.


"What happened is it was very expensive to send him there," said Jasmine Navarro, one of Alas' stepdaughters.


An economical solution


The sudden death of Tomas Guadalupe Carrillo this month left his family scrambling to send his body home to Mexico.


On July 6, the 31-year-old brick mason was gunned down shortly after leaving a northeast Harris County bar. Sheriff's officials said Carrillo argued with an unidentified man who shot him outside the bar. Police said Carrillo had been arrested for minor offenses and had a conviction for aggravated assault.


On Wednesday, his extended family held a visitation service at Compean Funeral Home. Dozens of co-workers, friends and relatives came to pray and say farewell.


"It is chaotic dealing with the emotional stress, and then the finances, and trying to do the funeral arrangements," said Adriana Mancha, a Houston college student who is Carrillo's 24-year-old neice.


After the service, Carrillo's casket was loaded into the back of the family's Ford pickup. Relatives who came to Houston from Mexico drove the casket back to his hometown of Linares, a city near the Texas-Mexico border.


Compean, the funeral home owner, said private transportation of the deceased by family members is legal and common, estimating that 40 percent of his clients do so to cut expenses if their home is not deep in the Mexico interior.


Luis Reyes said he undertook the expense of flying his deceased uncle to Veracruz, on the Gulf Coast, because "he was born there."


"And you should rest with the remainder of your family who is buried there," Reyes said.

james.pinkerton@chron.com
Tell a Friend
•
Site Map
•
Print this Page
•
Email Us
•
Top