Travel & Outdoors | August 2007
No Snipe Hunt for Lake Huites' Big Bass Across the Border

Lynn Burkhead - TexMex Adventures
go to original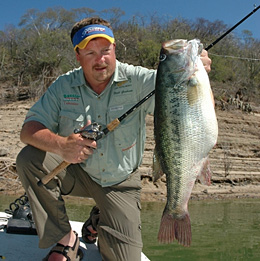 Incredible, Beautiful, Spectacular!

"This looks like the greatest snipe hunt in history," I spoke out loud to no one in particular. That off-hand comment broke the silence in the Trophy Bass Lodge van as our group of traveling Don Quixote anglers continued to climb up a road that would do a mountain biker proud.


Venturing into the Sierra Madre Occidental mountain range in the Mexican state of Sinaola near the town of Choix, our south of the border angling quest earlier this year had us approaching the sparkling waters of 30,000 acre Lake Huites, the big bass capitol of Mexico and perhaps the world.


Except that we could not see the dazzling oasis waters of Huites, thanks to the ample Etcho cactus, the brushy tropical deciduous forest that blankets the slopes of these steep desert mountains approaching and exceeding 8,000 feet, and the steep gradient of the 17-mile long road into the lake and lodge.


But after arriving at the spacious and beautiful lodge and stowing our gear — and being warmly greeted by co-owner and host David Fields — I made a trek to the water's edge with an eight-weight fly rod in hand to see what Huites looked like up close.


While I could coax no bass to strike my popper that evening, it didn't take long the next morning for that fortune to change.


After a chilly late March boat ride up one of Huites' lengthy canyon arms with Mike Rice, senior product manager for Shakespeare Fishing, and our guide, it took only five casts before a Huites' bass decided to smash my popper.


Within short order, as rain drops dotted the surface and far away thunder rumbled off canyon walls, I had landed five more largemouths in the two to three-pound range while Rice landed similar numbers on a Zara Spook.


None were the pescado grandes that we had come seeking — the current Huites' lake record is a 15.12 pound brute caught by Wild Bill Skinner in May 2001 and may have been exceeded by a 30-incher caught a couple of weeks ago that bottomed out a 12-pound digital scale — but on a lake as magical as Huites, you keep casting because you never know.


Later that afternoon, heeding Field's lunchtime advice that a Texas-rigged 10" Yum Ribbontail in watermelon seed is deadly on the lake, I made a cast from the back deck of the Carolina skiff.


When that plastic worm landed in less than a foot of water off a small rocky point, what looked like a diminutive version of Orca — a pound and a half largemouth — arched over the plastic worm's point of entry into the water.


As I sat there trying to figure out what had just transpired, that tell-tale "tap-tap" vibrated up my All-Star graphite rod, tripped the synaptic responses in my brain, and I quickly reared back and set the hook.


When the big bass broke the surface, Rice and I instantly thought it was an eight-pound plus fish by the size of its maw.


After a solid, fierce struggle, I wrestled the big bass into the net. With Huites bass a month or two ahead of their U.S. counterparts, this spawned out, lengthy female tipped the scales at nearly six-pounds, leaving me to wonder if my guessing or the scale's weighing were off.


Since I'm married to a junior high school math teacher, you be the judge.


The rest of the afternoon, Rice schooled me on the art of fishing a lipless crankbait on Cajun Advantage red mono, boating several quality fish in the four to six pound range and losing a couple that appeared even bigger.


After a wonderful dinner at the lodge and a good night of sleep, I found myself in a skiff the next two mornings with Jeff Samsel, a PR coordinator for Pradco Fishing.


I also found myself about to be schooled yet again, this time with a combination of baits that included a 1 oz. Booyah double willow leaf spinnerbait, the new Booyah Boogee Bait, and a 3-inch Bomber Long A in colors imitating the lake's abundant threadfin shad, sunfish and tilapia forage base.


Samsel is a former freelance fishing writer who has forgotten more about bass angling than I'll ever know and he proceeded to give me a clinic on slow rolling the big spinnerbaits over deep main lake points, picking up several four-pound plus bass over the next two days.


When we were fishing in tight to visible cover or along the rocky shoreline, Jeff used the Bomber Long A to coax bass after bass out of their post-spawn funk.


While a great majority of Samsel's fish on the twitch bait were in the two to three pound range, a venture up one gnarly creek produced not one, but two five-pound plus fish.


One of the highlights of both days — besides Samsel's friendly company — was a Mexican style shore lunch where our group of anglers traded big fish tales.


Dan Hernandez, the Los Angeles based host of the "Sportfishing with Dan Hernandez" television show had a tale of a 7-pound largemouth that had smashed a shad colored deep diving Bill Dance Fat Free Shad.


What's more, Hernandez had the video to prove his fish tale.


Meanwhile, Mark Davis, marketing director for Pflueger reels, Shakespeare Fishing, and All-Star rods, was teaming up with Keith Warren, host of the "Hunting & Outdoors Adventures" television show to whip the big bass suspending on Huites' considerable deep-water structure.


Using swimbaits, deep diving Fat Free Shad, and Booyah spinnerbaits, Davis and Warren teamed up to land some 50 or so bass in the five to nine-pound range.


Again, with the video — enough for two television shows — to prove it.


They also had the video to back up claims of a 10-pound giant lost at the boat and a double digit behemoth bass that struck Warren's swimbait, turned the Carolina skiff around, easily stripped out yards and yards of line, and was last seen heading for Mexico City when the fish broke off.


On the final morning of my Huites adventure — with a brief window of fishing before traveling to Los Mochis for a plane ride back to the States — I got in the boat with Rice and co-owner Brett Graham, a veteran tournament bass angler from right here in Sherman, Texas.


I'm not sure what I enjoyed more — the spectacular sunrise over God's rugged creation, the laugh-a-minute antics of Graham, or the 8.1-pound bass that posed for plenty of photos that morning.


What I do know is this: on the climbing, twisting ride away from Trophy Bass Lodge, I had plenty to reflect on.


Those thoughts included my own fishing success that produced 45 bass alone on the fly rod; Samsel's landing of more than 150 bass in what regular visitors to Huites described as a slow trip; and seeing more big bass in three days than I might see in a year's worth of fishing north of the border.


This may have been my first visit to Lake Huites. But it certainly will not be my last — snipe hunt or no snipe hunt.

For more information on fishing at Trophy Bass Lodge, visit Graham's Web site at www.texmexadventures.com or email him locally at brett@grahamtrucks.com.
Tell a Friend
•
Site Map
•
Print this Page
•
Email Us
•
Top