Editorials | Issues | October 2007
Mexico's Blacks Struggle to Unite, Thrive

Jonathan Roeder - Miami Herald
go to original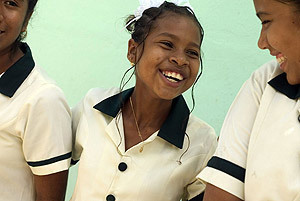 These Costa Chica, Mexico, elementary students live in a region populated by descendants of black slaves. (Sarah Meghan Lee/Miami Herald)
More black Mexicans are trying to foster a sense of cultural identity as they demand better treatment in a country that fails to acknowledge them.

Santiago Llano Grande, Mexico - Tirso Salinas, a farmer and musician, says he sometimes has to produce his national ID card to prove he's Mexican.


In a country of 109 million people that proudly projects itself as a mix of indigenous and Spanish, Salinas is a member of the tiny and regularly overlooked community of Afro-Mexicans.


"If I say I'm Mexican, people don't believe it," Salinas said during a ceremonial dance in this village in Mexico's southern state of Guerrero. The state is part of the region known as Costa Chica, where most black Mexicans live.


Today, Mexican blacks are trying to emerge from the nation's margins. Cultural events such as the dance, along with annual meetings of black townships, have the goal of fostering a sense of Afro-Mexican identity.


And they are not alone. From Guatemala and Nicaragua to Brazil and Colombia, Afro-Latin American minorities are increasingly taking pride in their background - and demanding better treatment from their governments.


Leaders of Mexico's black communities believe as well that planting the seeds of African pride will help Mexican blacks unite to push for better educational opportunities and government policies to help them overcome poverty and isolation.


But obstacles are numerous and demographic information is scarce - the nation's census does not include blacks as a separate ethnicity, unlike indigenous groups, whose populations are closely tracked. Estimates range from 50,000 to 500,000.


Government data show that municipalities in the Costa Chica are among the poorest in Guerrero and Oaxaca - which are themselves two of Mexico's poorest states. Illiteracy in municipalities with black townships is 26.4 percent, compared with 9.45 percent nationwide, while access to running water is 61.7 percent, well under the national average of 87.8 percent.


Afro-Mexicans' neighbors also look down on them: Many nonblack residents of Costa Chica claim that blacks are poor because they're lazy, and some blacks say they have trouble finding employment.


Mexico's indigenous groups face similar stereotypes. But while the Mexican government invests millions to promote indigenous diversity and traditions, blacks are virtually unknown even among their countrymen.


As many as 200,000 Africans were brought as slaves from the 1500s until slavery's abolition in 1829. But following the 1911-1917 Mexican Revolution, the new government sought to establish Mexicans as a "cosmic race," a mythic mixture of indigenous and Spanish descendants.


A NEW OUTLOOK


Glyn Jemmott, a black Catholic priest from the Caribbean island of Trinidad who has lived in the Costa Chica community of El Ciruelo for 23 years, was one of the first to begin promoting African heritage and identity in the area. Some locals say they only started to think about themselves differently when he arrived.


"In my childhood, I never heard anyone talking about blacks," said Adán Baños, a local cattle rancher. "It only occurred to us that we were black when we looked at ourselves in the mirror."


Baños and others say they would like to help increase Afro-Mexicans' visibility, but daily survival is the more immediate concern.


In Jemmott and Baños' town of El Ciruelo, roads are rutted and unpaved. Waste water runs down the streets and the wind whips up dust from the hills, bare from years of slash-and-burn agriculture.


Some residents complain of going for weeks eating little more than tortillas and salsa.


The fortunate own land and raise cattle or grow crops. Others fish on the nearby coast. Many, however, labor as farmhands, working other people's fields with a machete for $11 a day. While the pay is well above Mexico's minimum wage, the grueling, seasonal work leaves many families with little income between harvests.


Jemmott's hopes for blacks' advancement lie largely in education. He helped select and train a local student who was awarded a scholarship to Morehouse College in Atlanta several years ago. But the student was killed in a 2005 car accident while going to Mexico City for a visa interview at the U.S. Embassy.


Today, representatives from Morehouse College say they are still determined to take Afro-Mexicans to study there.


Jemmott said he's also working to create a new scholarship fund that he hopes will help future leaders "build up a groundswell and articulate their demands."


"The African population does not have, so far, leaders who are able to project the voice of the tribe," he said.


HOPE FOR THE FUTURE


One of these leaders could end up being Adan's daughter Inaí, who is hoping to become a surgeon in the armed forces.


For the time being, she helps with the housework and studies hard in their cinder-block dwelling. But if she passes a challenging gantlet of tests and is accepted to the nine-year program, she will become the pride of her family.


For Jemmott, Mexicans such as Inaí must defeat "the grip of the past" - centuries of discrimination and poverty.


'I used to hear children say, `Daddy, I want to become a doctor,' or 'Mommy, I want to become a nurse, or a teacher, or a pilot,' " he said. 'And up until recently, I used to hear people say quite often, `Son, that kind of job is not for our people.' "
Tell a Friend
•
Site Map
•
Print this Page
•
Email Us
•
Top