Editorials | Issues | October 2007
New Border Patrol Uniforms Cost $535 Per Agent

Tim King - Salem-News.com
go to original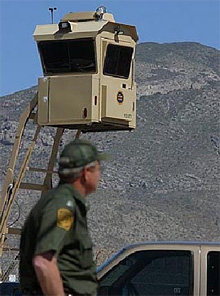 The Border Patrol is getting a new look and it costs as much as a house in some parts of the coutry. (firecoalition.com)
A surplus store will sell you a brand new tactical military uniform for $50 to $100, depending on your selection and options.

Salem, Ore. - This government of ours is certainly known for overspending our tax money, in fact we're legendary for it. Few have been spared the accounts of the $640 dollar toilet seats, etc.


We're now under conservative leadership that has stated repeatedly that they are more responsible with our hard earned contributions to the IRS.


Welcome to the age of the $535 military uniform.


In the federal government's militarized way of thinking, a man selected to head the Border Patrol by our war President, a Texan named David V. Aguilar, is heralding the change from the traditional U.S. Border Patrol law enforcement uniform, to a military style outfit, in spite of the extraordinary cost.


Border Patrol agents will now look less like law enforcement officers, more like combat troops, as they run down illegal aliens for a living. Many agents say the uniform will improve their lives, and that aspect may be an honest improvement, but the cost is a killer.


The taxpayer takes it hard on this one; not only will the roughly 14,000 Border Patrol agents have to throw away millions of dollars worth of perfectly good, existing uniforms that your tax dollars paid for, the cost to taxpayers for what many call an unnecessary change, will cost you $7.5 million dollars.


If that number is not unsettling, then you need to do the math, unlike the sleepy media outlets that have covered this story.


$7.5 million for 14,000 agents?


I thought about this for several hours after catching a quick blurb about it in the September 3rd issue of Time Magazine. I'm no mathematician, granted, so I had to get out a calculator to find the number, it was gnawing, because I knew that was an incredibly large amount of money for that number of people.


The new uniform is military-style with flexible cargo pants, quick release plastic belts and, "discrete cloth badges." The discreet aspect of the badge also raises questions, particularly with regard to an agent's ability to clearly identify themselves.


Two years ago, Border Patrol agents complained that the standard current issue uniforms were actually manufactured in Mexico, with a tag inside reading just that. In November 2005, FOX News reported that the uniforms manufactured south of our border had been in use for one year.


They quoted Representative John Carter, a Republican from Round Rock, saying "If we're manufacturing uniforms in Mexico, what's to stop someone from walking across the border in a Border Patrol uniform?" He continued with, "How do you know who are our guys and who are their guys?"


It is not clear where the new uniforms are manufactured, nor is it clear why the national press gave this seemingly outrageous abuse of taxpayer funds such little scrutiny.


In their news drop, Time writes, "Tightening security along the U.S.-Mexican border has officials pursuing suspects in tougher terrain and more extreme desert heat." It concludes with, "These uniforms match the new job description."


For one thing, U.S. Border Patrol agents already have uniforms of this type. I have gone out with agents on a number of television stories on the U.S.-Mexican border. They have a variety of military or "tactical" uniform options.


It also seems strange to imply that agents suddenly are dealing with "tougher terrain and more extreme desert heat."


Unless that reference is toward Global Warming, I think they have always had to put up with sweltering desert heat. As far as I know, the location of the border has not changed, so the terrain is not likely to look any different than it has since the Gadsden Purchase in 1853.


Simple Math


A surplus store will sell you a brand new tactical military uniform for $50 to $100, depending on your selection and options.


The per agent cost for these new uniforms is $535. More than fifty three thousand dollars, that accounts for outfitting the fourteen thousand agents. Sure, there are manufacturing costs, but this astronomical number is not anywhere close to making the reality charts.


If they went with brand new uniforms deemed good enough for our soldiers and Marines in Iraq and Afghanistan, then the cost per Border Patrol uniform could be slashed by $435.


This is the way the government is choosing to spend your tax dollars as they squabble over the cost of children's healthcare being too expensive.


Most people may not realize that Americans entering the military are charged for their uniforms, at least that is how the Marine Corps did it when I joined up back in 1981. Even then it was nearly $7oo that we were each charged. That was however, for an array of different types of uniforms and accessories, shoes and boots.


So the Border Patrol, whose members are paid a considerably higher wage than the military, have their uniforms paid for by you, the taxpayer. How could it possibly cost that much? Sure, there will be all kinds of itemized reasons, but in reality it may be the single most flagrant, "in your face" misuse of tax funds we have ever seen.


I certainly have respect for the Border Patrol, and I am fortunate to have been able to spend a good deal of time around their agents as well as U.S. Customs agents. Perhaps no agency should have to pay for their uniforms as the military does, but this seems a blatant abuse of money and government spending.


It appears that Border Patrol agents are somewhat divided on the issue. The original plan for a uniform change was proposed to the San Diego Sector in 1997 by National Border Patrol Council Local 1613's Executive Officers.


They say they worked with the former head of the San Diego Border Patrol Sector, Chief Patrol Agent William Veal, and Deputy Chief Patrol Agent Harold Beasley.


The union's Website states that they collectively agreed to create a workgroup in San Diego to develop and implement a prototype uniform that was based on the union's proposals.


But plans to implement the new uniform they ended up designing sat dormant for seven years, then suddenly sprang to life, a sequence of events the union received a degree of blame for.


"To continue his practice of willfully violating the existing Statutes and the Agreement, U.S. Border Patrol Chief Aguilar discontinued communications with the Union, probably with hopes of taking credit for a new RDU that was proposed by the Union. As expected, this resulted in the typical chaos from the Office of Border Patrol."


At this point, The Union, National Border Patrol Council, Local 1613 in San Diego, has not filed a grievance to stop the implementation of the new rough duty uniforms (RDU) for Border Patrol Agents.


That, in spite of the language in the agreement reading, "The Agency will notify and discuss with the Union, all proposed uniform changes, additions, and deletions, prior to circulation to the field."


Then years passed without the implementation of the uniform, and the union claims that they had nothing to do with the delay.


"Although the Union took no action to stop the implementation, the Office of Border Patrol claimed the delay was due to the Union; thereby misleading the members to believe the Union had done something to stop implementation. This is not true!"


They claim that there are several problems with the implementation of the uniform changes, all of which could have been avoided had Border Patrol officials properly continued negotiations with the Union representing the agents.


Then there is that nagging fact that existing uniforms will be disposed of at great cost, and no longer permitted for use in the field.


"In other words," the union said, "OBP intends to throw away millions of dollars worth of uniforms, paid for by the taxpayer, because Chief Aguilar does not want the agents to wear two different uniforms." David Aguilar is one of nine Department of Homeland Security employees awarded the 2005 Presidential Rank Award For Meritorious Senior Professional.


The union stands behind the need for a new uniform, and they should since they are the ones who originally asked for it. But many questions remain; how do you possibly explain that amount of money for a uniform purchase, especially when recent uniforms were manufactured in Mexico, where labor costs are often dirt cheap?


Local 1613 says they want to be clear that they are not behind the myriad problems associated with this very expensive transition. You can find email addresses for your federal senators and representatives on the Internet, as well as to the offices of the U.S. Border Patrol.

Tim King is a former U.S. Marine with almost twenty years of experience on the west coast as a television news producer, photojournalist and reporter. Today, in addition to his role as a war correspondent in Afghanistan where he spent the winter of 2006/07, this Los Angeles native serves as Salem-News.com's Executive News Editor. Salem-News.com is the nation's only truly independent high traffic news Website, affiliated only with Google News. You can send Tim an email at this address: newsroom@salem-news.com
Tell a Friend
•
Site Map
•
Print this Page
•
Email Us
•
Top