Travel & Outdoors | October 2007
Serendipity: Thinking Small Leads to the Perfect Mexican Beach Town

Monique Polak - Montreal Gazette
go to original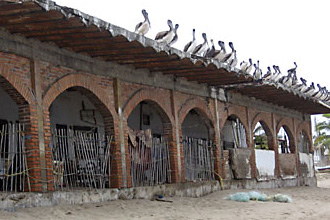 La Penita is a working town. By day, the only residents who hang out at the beach are the pelicans. (Text by Monique Polak, photos by Michael Shenker)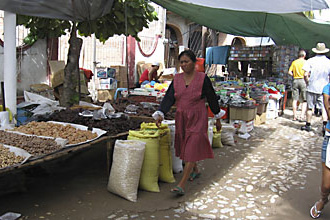 Thursday is market day in La Penita. Hundreds of people from surrounding communities descend on the little town.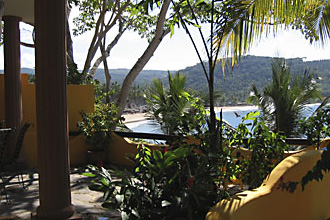 Aren't we supposed to be doing research for a story about the search for the ideal beach town? Surely, we've got to do a little more looking. So we take a cab to Chacala. It's about 20 minutes away and even sleepier than La Penita. There's a great beach and because the town is located on a bay, it's ideal for swimming.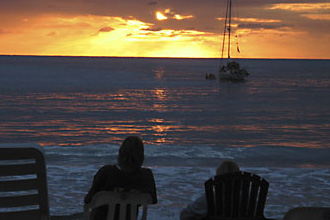 Check out what a sunset looks like in Chacala. Sunset is even better with a plate of guacamole and a margarita. We check our email at the local library – Montreal's been hit by a major snowstorm.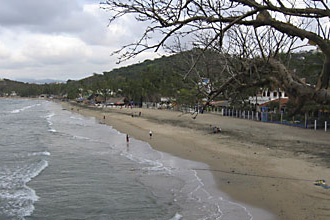 In the name of research, we make a point of visiting some other beach towns. Here's a picture of the beach in nearby Playa Los Ayala.

Along the Pacific Coast north of Puerto Vallarta, visitors argue about which beach town is best. Is it one of the more developed towns within shouting distance of Puerto Vallarta, or do you have to head up the coast and farther away from the major resorts, to a place like Rincón de Guayabitos? Or maybe the perfect beach town is somewhere else altogether.


Our goal was to find out. We weren't looking for a lot: a sandy beach, fresh seafood, a laid-back atmosphere and a genuine taste of Mexico.


We travelled by bus from Guadalajara. We planned to get off at a little town called La Penita and then take a collectivo (a local van or small bus) to Guayabitos - a popular beach destination we'd read about in our guidebook.


But we hadn't counted on the winding coastal highway. My motion sickness was so bad, I felt too woozy to leave La Penita right away.


That turned out to be just as well. Our brief stopover turned into an eight-day love affair.


La Penita gets only a paragraph in our guidebook. The hardworking neighbour to Guayabitos, it has the bank and post office. At first glance, La Penita is a dusty, unimpressive town. The main street, Emiliano Zapata, is lined with grocery stores, clothing and gift shops, and small restaurants, none of them chic. Some buildings are in disrepair, others are under construction; some of the dirt roads are rutted and look, well, dirty. This isn't Cape Cod.


But slowly, the place grew on us. As La Penita worked its charms - a friendly chat with one shopkeeper, a smile from a passerby, and an exchange of email addresses with a fellow Canadian visitor - we began to relax and feel at home. Could there be a better beach town? Day after day, we decided to put off the search for just one more day.


And there was, of course, the beach. Most days, there are more pelicans than people on the shore. The beach at the point where Emiliano Zapata St. meets the sand is small, but there's a wider stretch if you walk north for about 10 minutes.


We checked into Bungalows Don Jose, one of several small hotels offering apartments with a bedroom, living room and kitchenette. When we told the manager we might stay a few days, he reduced the nightly rate to $35 U.S.


Days start early in La Penita. The church bells begin ringing at 5:30. Then there are barking dogs, crowing roosters, and guys who drive around town with bullhorns, announcing sales on everything from limes to cooking gas.


It's not an all-inclusive, but, hey, this is real Mexico.


There are gringos, mostly Canadians and some Americans, almost all from the west coast. Some congregate at Hinde and Jaime Restaurant Bar, a simple place a block from the beach. In the morning they come for Hinde's Mexican version of an Egg McMuffin. Tequila shots start soon after that.


Another place to find gringos is Hamaca Maya. One of the only shops in town carrying good-quality Mexican crafts (the others carry mostly key chains and ashtrays made of seashells), Hamaca Maya is owned by Hala Hazzi. The Egyptian-born Hazzi, who also lived in Montreal, discovered this part of the world in the 1980s, when she worked for Canadian Holidays.


Hazzi has travelled across Mexico in search of merchandise for her store. Still, she insists there's no place like La Penita. "There are none of the manicured lawns of the five-star resorts. But what there is here is a human heart and human spirit," she said.


If La Penita feels too sleepy, Rincon de Guayabitos is just a 15-minute walk south along the beach. Guayabitos has dozens of hotels and restaurants geared for tourists. It's also a place to come for happy hour or to sunbathe on a bigger beach.


But if you want even more quiet, head in the other direction. The village of Chacala is 30 kilometres north of La Penita. The beach is the star attraction, its water perfect for swimming. So we decided to pack up our bags and hang out here for a few days.


Susana and Poncie Escobido run Casa Pacifica, a pretty B&B about a 10-minute walk from the beach. "Chacala is what Hawaii was like 100 years ago - before the highrises," said Poncie Escobido, who was born in Hawaii.


Some visitors stay at one of the seven Techos de Mexico - modest lodgings inside local homes. The initiative began in 1997 and allows villagers to improve their homes and create a new source of revenue. Rentals of rooms or more cost between $25 and $45 a night.


Though Chacala hasn't got much in the way of a town centre, you can get a fine dinner at one of several casual restaurants on the beach. The seafood specialties include mahi mahi, slow cooked over charcoal, and fresh shrimp cooked any way you like.


Towns like Chacala are found up and down the Pacific coast of Mexico. Travellers learn through word-of-mouth about little beach paradises found off the beaten path. We were reminded of Playa Azul, north of Ixtapa. Or Puerto Angel, on the southern reaches of the Pacific coast.


But once you're off the beach, there might be little to do and few conveniences of home. While we had first-class digs at Casa Pacifica, including a room decorated in antiques ripped from the pages of House & Garden, that's not the norm in the more remote towns.


On this stretch of coast, most of the travellers we met were looking to strike a balance between the complete, colourless comfort of a high-rise hotel in Puerto Vallarta and the rustic beauty of a village on the frayed edge of the map.


When a cold, rainy spell hit in Chacala, we wanted to go home. So we headed right back to La Penita and Bungalows Don Jose, our very own balancing point.


The first thing we did was knock on the door of our downstairs neighbours: Eric and Laura Bracht and their 19-month-old son, Forest. From Wenatchee, Wash., the Brachts were in Mexico for six months. Eric, a bus driver, who in a former incarnation worked as a therapist, has an interesting take on the search for the perfect beach town: "There's no such thing as the ideal paradise. People are basically discontent. They want things they can't have."


Hala Hazzi would disagree. And so did I, at least that afternoon.


Just before sunset, I grabbed my towel and my book and headed for the beach. Two fishermen emptied a bucket of fish heads onto the sand, which brought more pelicans than I'd ever seen. My book lay unopened as I watched the birds and the orange sun.


When I looked behind me, I noticed a line of shop owners - they'd left work to come and watch the sunset, too. Right then, I couldn't think of anything else in all the world I had to have.


How to get there: Air Transat has direct Montreal-Puerto Vallarta flights. Then it's a one-hour bus trip to La Penita. The bus trip from Guadalajara takes four hours. Primero Plus buses leave several times a day from both cities and make stops at La Penita. To get to Chacala, you'll need to take a collectivo or taxi from La Penita. To learn more about Techos des Mejico, visit the organization's website at techosdemexico.com.
Tell a Friend
•
Site Map
•
Print this Page
•
Email Us
•
Top