Editorials | Environmental | December 2007
CNN Heroes Finalists: Defending the Planet

CNN
go to original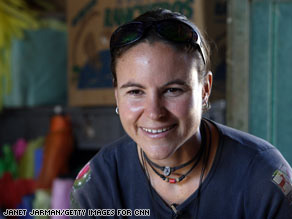 Florence Cassassuce invented a bucket to purify water using UV rays in remote Mexican villages.

A Mexican woman who invented a water purification bucket, a Cuban woman who turned a toxic dump into a resource and a Florida man who keeps coastal waterways clean have been named CNN Heroes finalists for their work "Defending the Planet."


The three honorees were selected from thousands nominated online as ordinary people whose work has had an extraordinary impact on the lives of others.


All three will be acknowledged during "CNN Heroes: An All-Star Tribute," CNN's live global telecast airing Thursday, December 6, at 9 p.m. ET.


A blue ribbon panel of world leaders and luminaries will select one of the three for special recognition.


Between May and September, viewers in 80 countries submitted more than 7,000 nominations to CNN.com/Heroes.


The three individuals chosen for their "innovative efforts to preserve and protect the environment" are:


Florence Cassassuce | La Paz, Mexico


While a project coordinator for a Mexican nonprofit group, Florence Cassassuce and a technician conducted a study of the water quality in 500 wells in the Baja California region of Mexico.


They discovered that 42 percent of the wells had fecal contamination during the dry season, and close to 100 percent during the rainy season. The contamination propagates waterborne diseases, which contribute to infant mortality in Mexico, where the infant mortality rate is four times that of the United States.


Cassassuce invented a five-gallon bucket that in four minutes can purify several days' worth of water for a family. The buckets cost less than $30 and are easy to transport.


After Cassassuce's buckets won the Development Marketplace award from the World Bank in 2006, Cassassuce and her team were able to make and distribute thousands of buckets throughout Baja California, which has greatly reduced waterborne diseases in Mexico.


Irania Martinez Garcia | Guantanamo, Cuba


Irania Martinez Garcia lost her daughter to leukemia and was convinced the disease was caused by environmental toxins from the burning of plastic and hospital waste in a dump nearby.


Few thought she'd be able to turn the toxic dump site into an eco-friendly haven, but now, Garcia is considered a local hero in Guantanamo. She has helped hundreds of local residents learn how to grow food efficiently while using organic and sustainable materials from the dump and from their own trash.


Garcia's idea was to clean up the dump by organizing it into organic and inorganic piles, and then use the organic material to make compost, which would be used to plant fruit trees. The inorganic materials would be stripped down to the core and resold for parts.


Meanwhile, Garcia's organization has earned the support of the Cuban government. Pollution declined considerably in the area, and otherwise unemployed citizens have found work converting dumps into resources that help them improve their quality of life.


Mark Maksimowicz | St. Petersburg, Florida


At a waterside dinner one evening, Mark Maksimowicz and his two cousins decided they were tired of watching garbage fill the Florida waterways that once served as their childhood outdoor recreation spot.


While battling cancer himself and caring for a sick daughter, Maksimowicz co-founded the Green Armada Foundation. He invested his life savings and purchased a boat designed to pick up trash from the waterways, and the organization has evolved into a public charity with dozens of boats and hundreds of volunteers participating across the United States.


In one year, the Green Armada collected more than 62 tons of trash and recruited 652 recurring volunteers and 1,100 one-time volunteers.


Maksimowicz hosted the largest coastal clean-up in the history of the Southern United States: In Clam Bayou, Florida, more than 700 volunteers pulled 9 tons of garbage in 2.5 hours.
Tell a Friend
•
Site Map
•
Print this Page
•
Email Us
•
Top