Travel & Outdoors | February 2008
Children of the Sun: The Girls of Casa Hogar Don Bosco

Jan Baumgartner - OpEdNews
go to original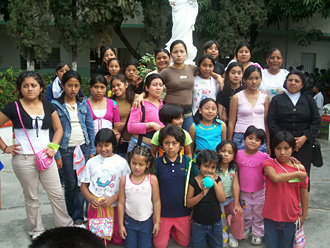 For more information you may visit, SantaJulia.org, or contact Robin Loving-Rowland at robin(at)robinloving.com.


Expect to have hope rekindled. Expect your prayers to be answered in wondrous ways. The dry seasons of life do not last. The Spring rains will come again.
- Sarah Ban Breathnach
"I hear the little children of the wind crying solitary in lonely places"
William (Fiona McLeod) Sharp

From this tiny rental casita and directly across the street lies the Parque Juarez and the children's playground. From my rooftop terrace in the colonial village of San Miguel de Allende, Mexico and at nearly 6,500 ft., the morning sun is as bright a white light as I have ever seen.


For many decades, the days of sun and searing light have attracted artists and writers, dreamers and believers; the uneven cobbled streets and dusty paths are home to generations of families, and new ones from once distant borders. From what I have been told, this is a place of opportunities and second chances. People seem to co-exist in an easy harmony of acceptance – live and let live. Family here is key. It is the mechanism, perhaps, from which all else functions and thrives. It is the nurturing nucleus; the heartbeat of San Miguel – of the Mexican culture.


There is an old saying that those who visit certain islands get sand in their shoes – meaning they have found "home" - and never leave.


Here, those from away get dust in their sandals and in places they didn't know they had places, until the unexpected finding of a trail or pocket of dust. And on those eerie days, of blinding sun and razor-sharp wind, eyes full of grit. Newcomers and natives alike tend to believe that just maybe milagros can happen in a place with an other-worldly light, where fireworks explode beneath a star-studded sky. A place that celebrates death as intensely as life; a town where color bursts like confetti beneath a blazing sun, and church spires shatter like glass a cloudless ceiling of blue. Where you can wander the streets and smell earth and clay and tortillas, jasmine and hair and the fur of burros – all baking beneath an unrelenting heat ~ el sol. Where spirits stand guard at windows and balustrades like watery visions, mirages of the past straining to keep a watchful eye on the most precious - the children of the zocalo, the hope and future of San Miguel.


My days here begin with a morning ritual: equipped with my mug of strong Mexican coffee, I step into the clear morning air and listen to the overlapping sounds, like water across soft stones, of nesting birds, laughing children, barking dogs and the occasional peal of an ancient church bell. The harmonious cacophony is perhaps the most hopeful music one will ever hear. From early morning until well past sunset, the children, most accompanied by a parent or parents, sport hats made of twisted balloons and carry puffy clouds of pink and blue cotton candy. They fill the air with contagious laughter. It is a sound I have come to look forward to.


Two blocks from my casita, straight up the steep and uneven cobbled streets, many dating back to the 16th and 17th centuries, is the calle named Sollano. Turning left onto Sollano I walk by a literal melting pot of color – stately Colonial homes, some with Moorish accents, hidden behind ornately carved doors, their façades dressed in hues of mango and chocolate, persimmon, pomegranate and butter yellow, ochre and periwinkle – a swoon of pastels and juice tints that makes one long for a cool agua fresca followed by a midday nap. Tucked alongside these grand casas are shops offering lovely home furnishings and quality Mexican arts and crafts from Oaxaca to Dolores Hidalgo.


It is what lies in between that paints the complete picture, tells the whole story.


One afternoon, in search of La Ventana, a tiny window opening onto Sollano and selling fragrant coffee beans from Chiapas, I gazed across the street upon another set of dark, ancient carved doors, some ten to twelve feet high. Upon closer inspection I saw the brass plaque and scrolled letters of Casa Hogar Don Bosco.


Safe House ~ Orphanage ~ Refuge ~ Home.

Sugar and spice, and everything nice. That's what little girls are made of.

The girls are named after Saints and sweets and fragrant flowers.


Some have been orphaned or raped or emotionally abused, hungry and cold, abandoned and beaten. They are small and vulnerable and in their few tender years, have experienced a darkness and hell to which no child should ever bear witness, let alone be victim of.


These are the stories of the girls of Casa Hogar. It is also a story of milagros in the forms of children, resilience, and the healing power of love and the human spirit.


Not so long ago, found begging, malnourished, lice-ridden and anemic due to lack of funding for their most basic needs, many of the small girls from Casa Hogar Santa Julia survived on little more than a few tortillas, rotting vegetables discarded by a local market, and without fresh water to drink or in which to bathe. And yet, these were the better times, free from their previous horrors of fractured homes and lives, they were sheltered now, in the protection of loving Madres, but struggling still to find the few meager pesos needed to provide a nutritious meal, a healthy body, clean clothes – a normal childhood.


It is not difficult to feel carefree, to lose oneself to the intoxication and dictates of the sun; to lose track of the other stories that aren't always in focus through the diffused light. It is easy to forget that there are always shadows – even in a vacation paradise such as San Miguel. There is no idyllic place, no escaping reality. This, like most spots on earth, is a place of extreme wealth and crippling poverty. Buried beneath every inch of trodden earth are dark stories to tell. There a small shadows in hidden corners, cowering against cold stone. Part of the hope perhaps lies in the telling, the exposing of hardship. In the sharing and lending of hands and hearts, maybe second chances and promising futures can eclipse the dark past of only nightmares.


But nightmares do not have to last a lifetime. And while these stories are not always pretty or easy to tell, and old wounds may heal but forever leave permanent scars, for today, the 20 girls of Casa Hogar Sollano and the 32 girls of Casa Hogar Santa Julia have found a family.


They are the lucky ones.


Casa Hogar Don Bosco A.C. was founded in 1959 in San Miguel de Allende, Guanajuato, where boys and girls were cared for in a previously unoccupied home at Sollano 14 and 16. The house was founded because the city had no institution to care for abandoned and unprotected minors, and families in desperation were known to have thrown children into rivers because they had no means to care for them.


In response, the San Juan Bosco refuge was born. In 1978 Casa Hogar Mexiquito was founded for boys, the Sollano site designated for girls. In 2001, a second Casa Hogar Don Bosco A.C. was registered in the neighborhood of Santa Julia, and the younger girls were moved to this facility. The older girls continue to live at Sollano 14.


The Casas Hogares receive no funding from the Mexican Catholic Church or the Mexican Government.*


With the help of Robin Loving-Rowland, a Community Liaison for the Casas Hogares, I was able to visit both the refuges of Sollano and Santa Julia, meet the girls who now call these places home, and two of the Madres, Madre Lupita of Sollano, and Madre Chuy as she is know to the children of Santa Julia. With the patience of Loving-Rowland acting as my translator and guide, and the gracious embrace and openness of the Madres, I was able to get a strong sense of what these safe houses offer, a glimpse into the lives of the children, both the stark reality of their wounds, and the heroic efforts being made to provide a hopeful future for every child.


Fractured to Found


From fractured or disintegrated family units, to found, these children with once battered bodies and wounded hearts are now part of an extended family of sisters - from toddlers to teens - and under the maternal care of the Madres of Casa Hogar. Whether their dark stories and pasts are shared amongst one another, or kept tucked away until the time is right, the common bond and sisterhood of these girls is palpable.


The overwhelming energy that resonates within the centuries-old stone walls and arched courtyards of Sollano, or in the flowering gardens and partially renovated living spaces of Santa Julia, is the power of healing and hope. In the form of healthy, functioning "households," a familial structure has been firmly built on unconditional love, acceptance, nurturing, and education based in a multi-cultural and multi-religious setting. And while these homes are still in great need; Sollano, some 300 years old has no heat, and until two and a half years ago, Santa Julia had no running water or electricity, little by little, strides are being made to provide these children an even safer, healthier environment. This is often the first stability of home and family these girls have ever known.


Shadow and Light


Children with bloated bellies and severely malnourished, are fed and given medical care. Clutching Barbie dolls, tiny girls sporting not balloon hats but tucked in woolen caps to warm shaved heads once lice-ridden, are on their way to recovery – and smiling. Those who had never known the opportunity of education, are going to school – and learning. Little girls once abused and neglected are held, comforted and afforded individual counseling. Children, forgotten and tossed away – now nurtured by a team of dedicated Madres caring for each child as their own flesh and blood. And for one little girl, who when asked by Loving-Rowland how she was doing that day, felt safe and secure enough to offer a reflective "just so-so." For a child whose memory of her final moments with her mother is being thrown under a bus by the very arms that once carried her, maybe "so-so" is the most that can be expected, and a small step toward the path of recovery.


The Casas Hogares offer an environment that is rich not only in unconditional love, but academic studies and workshops, emotional support through group and one-on-one psychological counseling, creative arts, and life skills courses to equip them with vital information and the confidence to make healthy choices once they leave the Casa Hogar system. While classes in catechism are given and a foundation of faith is laid before them, the Madres, in order to prepare each girl for the realities of a world outside their doors, have opened their minds and hearts to incorporate advanced life skills preparedness programs. Plans are in progress to implement these broader-based transition programs led by trained professionals, which will address specific needs as well as offer invaluable sex education, including information about all forms of birth control. The Madres have agreed that to ensure the best possible future for each girl, it is imperative to empower them with as much knowledge and education as they are able. And hopefully, with this increased awareness, self-esteem and realistic vision, coupled with the tools in which to cope and make sound decisions, they will be able to confront the myriad complexities of a modern world.


But as with any charity, especially those only supported by private donations, dollars are few and far between. With all major non-profits suffering the effects of volatile world economies, those who suffer the most are the smaller, lesser known charities. It is not a good time to be small and at the end of the receiving line.


Each Casa Hogar site continues in its struggle to raise the bare minimum needed to care for every child and maintain each location. With forty percent of donations in-kind, the other sixty percent must be raised by the Madres. This is no easy task. In addition, the doors of the Casas Hogares are always open – meaning that they do not and will not turn away any girl who is in need of shelter. With donations down 65 percent at one site in 2007, 2008 weighs heavily on their minds. Each Casa Hogar house has an annual budget of approximately $100,000 – going toward shelter, maintenance, food, education, clothing, counseling, and with not a penny to spare.


Enough is as Good as a Feast


Three siblings, new to Casa Hogar Sollano, unable to get enough to eat – were starving both physically and psychologically. Their mother, widowed and with three other children, two sons and an infant, and living deep within the campo, or countryside, could no longer care for them. Deciding to keep her sons and baby, she turned over her three daughters to Casa Hogar. Not able to fill all of their mouths, she made a choice; she had to choose which children to keep and those to turn away. This story is not uncommon. Horribly malnourished, with extended stomachs and in need of medical attention, the sisters arrived with an insatiable hunger. "All they wanted to do was eat," says Madre Lupita. "They would have one full meal after another, and still they would ask for more. They would eat until they made themselves physically sick."


When I visited a week later, the siblings were playing and laughing with the other girls. Their woolen caps were noticeably absent, their hair growing in healthy and clean, their limbs, still thin but fuller, were wrapped around waists and shoulders of their new friends and sisters, hugging and embracing a family that had thus far, been elusive. They were whispering to one another, giggling, telling secrets. Gone were the bloated bellies and the constant begging for food. Their new request and one they ask often is "may we please go to school?" They have never been – but are on their way.


Painted Houses


In another room bathed in light, a volunteer laden with watercolors, brushes and paper, is leading an art class filled with eager students. Clustered around low tables, tiny hands clutching brushes dabbed in bright primary tints, are furiously painting. Absorbed in the creative process, a dizzying swirl of strokes and splashy colors are worked across blank sheets. Within minutes, there is a gallery of miniature masterpieces. And as with all young artists, they are beaming with pride as they hold up their creations for all to see. Madre Lupita smiles broadly and admires each painting with an enthusiastic, "muy bonita, muy hermoso!"


I look down upon the table covered with art supplies and see one painting getting its finishing touches, a small hand applying a final dab of yellow. It stands out from all the rest. It stands out not because of its seeming simplicity, but for its depth of meaning, its symbols of hope. It is a child's painting I have seen many times before, across many years and continents. It is a common theme, for small children, and what we all long for; on the sheet of paper is a brightly painted house beneath the smiling face of a brilliant sun. A home bathed in light. La Casa debajo el Sol.


Mary Janes and a Lesson in Family


Next day, I meet Loving-Rowland in the central jardin. We are walking the two miles outside of Centro to the barrio of Santa Julia to visit the second refuge. Through colorful neighborhoods alive with children and music, and laced with the savory smells of rotisserie chickens, corn tortillas, and pungent spices, we make our way through a rocky, weed-choked gully, kicking up clouds of dust with every step. The gully is a short cut to Casa Hogar Santa Julia, I'm told, and in the rainy season is impassable from swollen floodwaters. The green spaces within the refuge are a welcome surprise. There are flower-filled gardens and trees bursting with fruit; calla lilies, hot pink bougainvillea, oranges and limes. There are play areas and an outdoor larder where a crate of huge, farm-fresh eggs sits in the shade of a stone ledge.


Inside, the communal dining room is pulsating with vibrant energy. An older girl, perhaps eleven or twelve, is grasping the chubby hands of a toddler just learning to walk. She guides the small girl in tiny steps around the room, laughing at each promising step. The toddler's eyes beam, giggling at her newfound mobility and the encouraging words of her gentle handler. There is music. Girls are cooking and doing dishes. They greet me with beautiful smiles, some offer hugs, a kiss on the cheek. They seem happy. This is a home.


The Mother Superior, or Madre Chuy as she is affectionately known, has graciously agreed to give me an hour or so of her time, with precious little to spare. The Madres of the Casas Hogares, six at Sollano and four at Santa Julia, rise at 5:00 a.m., long before the sun stirs, and if lucky, retire by 11:00 each night. Caring for dozens of children does not allow for short days or idle hands.


I sit alongside Madre Chuy. There is a small gap between us on the donated sofa. Stumbling in, more absorbed with her plastic toy and a snack, a four year old named after sweet desserts, jiggles her way to the sofa. She squirms onto the cushion, nudging up against the Madre, making sure she doesn't damage the sugar cookie tightly held in her meaty fist. There is a deliberate distance between us. I am a stranger.


Since the age of one, this has been the only home she has ever known. As an infant, she was temporarily "given" to a friend who later refused to give her up when a relative came to claim the child. The friend said "she was a gift." The family courts are now deciding her fate. She is dressed in bright purples and pinks, a smattering of sequins and other adornments on her tiny top. She is wearing short lacy socks and black patent Mary Janes. She tilts her head toward me, her huge copper penny eyes looking into mine. She whispers something in Spanish, points to the bottom of the toy, and grins. I'm trying to pay respectful attention to the exchange between the Madre and Loving-Rowland, but it is hard to ignore the smiling sweet next to me. She whispers again, tapping the toy with her finger. I bend down and whisper back, she understands me no better than I understand her, but it seems not to matter. She wants me to press something. Crumbs from her cookie drop onto my lap. Finally, she presses on her own releasing a loud, tinny voice from deep inside the toy – she laughs hysterically. I join her. I am aware that her thigh is now brushing against mine.


Today, the Madre is particularly exhausted and it shows on her expressive face. Earlier, she had been invited by the junior high/middle school where four of the Santa Julia girls attend, to observe a special child and parent encounter group being led by a psychologist. When she arrived, the psychologist was asking the parents to stand, face their children, place a hand on their shoulder and tell them their feelings. The Santa Julia girls became angry. They were angry at feeling excluded; that they didn't have parents to participate in the encounter group and therefore, couldn't share in the experience.


Madre Chuy had them gather in front of her and put their arms around one another. She then placed her hands on the shoulders of the girls on the outside of the line. She explained that each of them had not only her, but three other mothers at Santa Julia to go to anytime they needed reassurance, a hand to hold, a loving embrace, someone to listen, a shoulder to cry on, a loving heart. They had a family – right there in front of them – and back at Santa Julia.


The four girls, relieved by the conviction of her words were moved to tears. The Madre, seeing the relief on their faces and the tears on their cheeks, also wept.


Gifts in Small Packages


There is no set limit on how long any particular child can stay at the Casas Hogares. Most girls live within the homes for approximately two years; however, many have been there for much longer. One girl, now a woman, has been at Casa Hogar for over 18 years. She is 27. Learning disabilities have prohibited her from assimilating into a world outside of the refuge, and by all accounts, she will live out her days at Santa Julia. It is her home, her safe house, her family.


Some of the girls have gone on to be adopted; others have been reunited with family. Many face uncertain futures. The one constant in their lives is the sense of security and home they have found at Sollano and Santa Julia; that they are loved and cared for – as all children should be. They don't ask for much and yet they are our greatest hope for the future.


"What they don't want," says Loving-Rowland "is to be forgotten or ignored. Yet at the same time, they don't want to be judged or over-analyzed. They don't want to be treated as specimens under a microscope."


The girls of Casa Hogar want nothing more than to be treated like normal children; a chance at a normal life. They want to be like everyone else; to step out into the world having blossomed into healthy, educated young women and with every opportunity possible to live happy, productive lives.


Into the Sun


Back on my terrace, again I look out onto the children's playground. I watch them hanging upside down on jungle gyms, swinging, yelling "hola!" to anyone and everyone who walks by. Beneath a hopeful sun I dream of a perfect world where if only for a short while, every child will be accompanied to a park by their family. They will be watched with careful and loving eyes as they scramble and swing, jump and slide, laughing as they adjust twisted balloons on their small heads, wisps of dried cotton candy staining pink and blue the corners of their smiling mouths. Carefree and blissfully naïve.


And for tonight, I like to think that as the girls of the Casas Hogares are tucked into their beds, a loving Madre just may whisper into each small ear, "Buenos noches y suenes con los angelitos."


Good night and sweet dreams, and may you dream of little angels.

Expect to have hope rekindled. Expect your prayers to be answered in wondrous ways. The dry seasons of life do not last. The Spring rains will come again.
- Sarah Ban Breathnach

* Excerpted from the Casa Hogar brochure. For more information you may visit, SantaJulia.org, or contact Robin Loving-Rowland at robin(at)robinloving.com.

A native Californian, Jan Baumgartner is a freelance writer currently living in Maine. Her background includes scriptwriting, comedy writing for the Northern California Emmy Awards, and travel writing for The New York Times. She has worked as a grant writer for the non-profit sector in the fields of academia, AIDS, and wildlife conservation and research for NGO's in the U.S. and Kenya. Her articles and essays have appeared in numerous online and print publications. She's finishing a memoir about her husband's death from ALS and how travels in Africa became one of her greatest sources of inspiration and hope. She is a managing editor for OpEdNews.
Tell a Friend
•
Site Map
•
Print this Page
•
Email Us
•
Top