Editorials | Environmental | March 2008
Mexican Biodiversity - 6 Species in Peril

Allan Wall - PVNN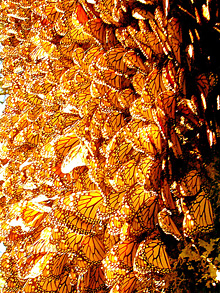 The Monarch Butterfly migrates 3,000 miles between Canada and the northeastern U.S. to the forests of Michoacan state in central Mexico.

Mexico has a great variety of plant and animal life, the country's collection of flora and fauna being among the most diverse in the world.


UNEP (the United Nations Environment Program) has designated Mexico and 16 other nations as "megadiverse," these countries being home to the majority of living species on the planet.


Besides Mexico, the other megadiverse nations are Brazil, Colombia, Ecuador, Peru, Venezuela, Kinshasa-Congo (formerly Zaire), Kenya, South Africa, Madagascar, China, India, Malaysia, Indonesia, the Philippines, Papua New Guinea and Australia.


It's estimated that Mexico is home to over 200,000 species which would account for 10-12% of the entire planet's biodiversity, making Mexico the world's 11th most biologically diverse country.


Mexico has the world's most diverse collection of reptiles, with 717 known reptile species. Of those 717 species, 574 of them are only found in Mexico. It is the #2 country in the world in diversity of mammals, with 502 species, and #4 in amphibians, with 290 known species.


Mexico is also home to 290 bird species, with 1,150 avian varieties. As far as plants go, Mexico is #4 worldwide in flora, with 26,000 known species.


This is all very impressive, but, as everywhere, there are conservation problems in Mexico that put various species in peril of extinction.


Legally speaking, there are 2,500 species specifically protected by Mexican law. "Protected Natural Areas" cover 170,000 square kilometers. These territories include 34 reserve biospheres, 64 national parks, 4 natural monuments, 26 areas of protected flora and fauna, 4 natural resource protection areas and 17 species-rich diversity sanctuaries.


But just establishing protected areas is not enough, they must be enforced, which requires game rangers to protect the protected areas.


In order to publicize the danger to some of Mexico's diverse species, the Mexican conservation organization Pronatura has chosen six at-risk species to publicize. Not that these six are the only species in peril of extinction, but they've been selected to highlight, in a concrete fashion, the plight of endangered species in Mexico.


Let's take a brief look at each species...


The Golden Eagle is one of the world's biggest birds of prey, with a wingspan sometimes extending past two meters. This majestic bird is Mexico's national symbol, but although it's more common in other parts of the world, nowadays it is rarely seen in Mexico.


The Gray Whale, which can reach a length of 16 meters and a weight of 36 tons, is a part-time resident of Mexico. It migrates annually, in a herd of 25,000, from off Alaska to the lagoons of Mexico's Baja California peninsula. The species almost went extinct in the 1800s but is now building up its numbers.


The Jaguar is the biggest cat native to the Western Hemisphere, ranging from the U.S. to Argentina. Most jaguars in Mexico are located in the jungles of Chiapas and the Yucatan Peninsula. The jaguar is important in the food chain because it keeps the populations of other species in balance. The big cat's population decline in Mexico is due to loss of its habitat due to deforestation.


The Prairie Dog, a mammal communicating by a combination of barks and yips, lives in northeastern Mexico, where it burrows out its underground colonies. This little critter has been reduced to less than 2% of its former territory and is now only found in southern Coahuila and northern San Luis Potosi. The main cause is loss of habitat, so Pronatura is working with Mexican farmers to protect grassland in which the prairie dog can thrive.


The Monarch Butterfly migrates 3,000 miles between Canada and the northeastern U.S. to the forests of Michoacan state in central Mexico. The threat to the monarch butterfly is illegal logging and forest fires which have decreased its habitat.


The Vaquita ("little cow") is a type of porpoise endemic to Mexico. In fact, it can only be found in the lagoons of the Colorado River delta and the upper Sea of Cortez (between the Baja California Peninsula and the Mexican mainland.) It has only been known to science for the past couple of decades, and is in danger of extinction. The Vaquita's problem is it gets caught in fishing nets designed to catch the valuable (but also endangered) Totoaba fish.


Hopefully, these, and other endangered species can be preserved, but it takes good research, education, cooperation, and constant vigilance to give them an opportunity to survive.
---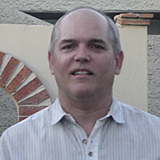 Allan Wall is an American citizen who has been teaching English in Mexico since 1991, and writing articles about various aspects of Mexico and Mexican society for the past decade. Some of these articles are about Mexico's political scene, history and culture, tourism, and Mexican emigration as viewed from south of the border, which you can read on his website at AllanWall.net.

Click HERE for more articles by Allan Wall.
Tell a Friend
•
Site Map
•
Print this Page
•
Email Us
•
Top