Travel & Outdoors | April 2008
Gay Travel: Merida, Mexico

Troy Petenbrink - Miami Herald
go to original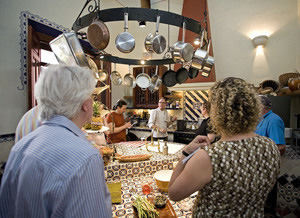 David Sterling, teaches a class at the Los Dos Cooking School in Merida, Mexico. (Eduardo Cervantes/Los Dos Cook)
Long known for its tolerance, Merida is a magnet for American expats - many of whom are gay and have opened restaurants, hotels and shops.

Cancun might seem like the obvious pick for gay travelers to eastern Mexico, thanks to its flashy gay discos and hedonistic reputation. But 200 miles west in Merida, the capital of the Mexican state of Yucatan offers a welcome alternative for gay visitors who appreciate a serious dose of Mayan culture with their cocktails.


When the Spanish came to the Yucatan in 1542, Merida was a thriving Mayan city called T'ho. They promptly destroyed it, taking the stone of its great pyramids to build the Cathedral of San Idelfonso, which still stands in the city's main plaza. The violent founding of Merida is visible in the 27 murals by Fernanco Castro Pacheco that grace the second-floor walls of the plaza's neoclassical Palacio de Gobierno.


What those large-scale paintings don't reveal is Merida's modern role as a magnet for American expats - many of whom are gay and have opened restaurants, hotels and shops throughout this city of 1 million.


"When I left a two-decade career in dance, my partner and I started looking for a home in Mexico," says John Traux, who visited Merida with his partner of 18 years on a friend's recommendation and fell in love with its accepting people. "We wanted to purchase a house before all the U.S. baby boomers retired, relocated and pushed up the prices."


That was five years ago. The couple bought a colonial six-bedroom home in Merida's historic Santiago neighborhood and opened Angeles de Merida, a bed and breakfast catering to gay travelers.


Angeles was recently sold to a husband and wife from Washington who welcome gay guests. Truax and his partner remain in Merida, where he now raises funds for Brazos Abiertos, a U.S. based nonprofit organization that operates HIV prevention and treatment programs in the Yucatan.


Although Mexico has only recently become more accepting of homosexuality and supportive of gay rights - Mexico City recognized civil unions in November 2006 and the northern state of Coahuila followed suit in January 2007 - Merida has long been known for its tolerance. The city has a strong Catholic influence, but the city's history of trade with Europe is believed to have led to its generally progressive attitude.


For former New Yorker and gay chef David Sterling, Merida represented not only an opportunity to leave behind the crowded streets of Manhattan for quaint, music-filled neighborhoods, but also an adventurous culinary frontier. In 2003, Sterling moved in and opened Los Dos, the first cooking school in Mexico dedicated exclusively to the cuisine of the Yucatan.


His interactive classes include a tour of the sprawling, colorful Merida market, where Mayan history lessons mingle with shopping for fresh ingredients, followed by meal preparation and a lively feast. "It is a whole world unto itself with a wholly unique cuisine," Sterling says.


CHECKING IN


During the past decade a number of gay-owned/gay-friendly guesthouses have spread across Merida. The properties were typically large, private homes in Merida's historic center that were abandoned when their owners move to the suburbs. Now owned by expatriates, the houses have been restored and upgraded with air conditioning and Internet.


Casa Santiago offers four bedrooms each with its own bath, a swimming pool and well-landscaped courtyard. Los Arcos has two private poolside garden guest rooms separate from the main house. The main residence is filled with the owner's extensive private art collection with many pieces from local artists. For a full-service hotel, look to Hyatt Regency, which consistently earns high marks for its gay-friendly corporate policies; the modern 300-room Merida location is in the business district.


DINING OUT


It may have taken 1,000 years, but today's top chefs from Douglas Rodriguez to Bobby Flay are paying homage to Yucatecan cooking. However, just as Merida has been influenced by other cultures, so has its food.


At the beautiful downtown hotel Villa Maria, a gay chef from Austria not only makes tasty Yucatan lime soup for patrons of its atrium terrace restaurant but also a great Wiener Schnitzel. Nectar, a five-star restaurant located on the northern end of the city (near the Plaza Fiesta shopping mall), serves amazing Yucatecan dishes with strong European influences. Other gay-popular choices: Trotter's, where steak, tapas and wine are a winning formula, and La Pigua, a fabulous seafood restaurant.


DANCE CLUBS


Thursdays, Fridays and Saturdays are when the gay crowd comes out to play. (Thursdays draw the largest local crowd because there's often no cover charge.)


Although signs of gay life are visible throughout Merida, the city's gay nightlife is still relegated to the outskirts of town; to the south are Pride and AngeLuz, and to the north is Scalibur - each a 30 minute cab ride from downtown Merida.


The setting is similar at all three: tables and chairs surround a stage that plays host to drag shows and male dancers for the first half of the evening. Between and after the performances, the stage doubles as a dance floor. As with any city, the popularity of the clubs change often but they each have their fans and attract regular crowds. Don't plan to arrive before midnight.


CULTURAL IMMERSION


Schedule a walking tour or horse-drawn carriage ride through downtown Merida to take in the Cathedral of San Ildefonso, the oldest cathedral in the Americas, and the Paseo de Montejo, often called Mexico's Champs Elysee, which is lined with opulent colonial mansions.


Merida's location in the middle of the Yucatan also makes it an ideal departure point for excursions to the Mayan ruins at Uxmal, a tour of the ancient, cavernous underground Cenotes of Cuzama or a boat ride among the flamingos at the Celestun nature preserve.

Troy Petenbrink is a writer for www.outtraveler.com.
Tell a Friend
•
Site Map
•
Print this Page
•
Email Us
•
Top