Editorials | Issues | May 2008
Who Wants Rogaciano Alba Dead? Massacre of Mexican Strongman's Family Breaks All the Rules

Mark Stevenson - Associated Press
go to original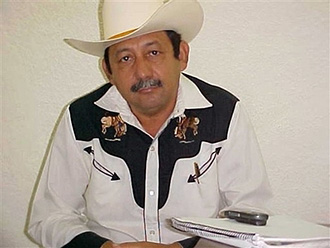 Rogaciano Alba, president of a local cattlemen's association in Mexico's Pacific coast Guerrero state, is seen in this undated photo. Alba is in hiding after unknown gunmen entered his home, killed his sons and kidnapped one of his daughters in a weekend rampage that left 17 dead. (AP)

Petatlan, Mexico – Somebody wants to kill Rogaciano Alba.


Dozens of gunmen attacked the house of the local political boss, killing his sons and kidnapping his daughter in a weekend rampage that left 17 dead. With Alba in hiding, the motive remains unclear, lost in the tangle of drugs, land disputes and rebellion that lurks amid Mexico's glittering beach resorts.


"If anybody has something against me, let them tell me to my face," Alba raged in a call to a local radio station. "But (the victims) didn't steal or do anything to anybody. There was no reason to kill them like that."


Alba is easily the most powerful man in Petatlan, a Pacific coast town near the resorts of Ixtapa and Zihuatenejo that was dependent on coconut plantations and cattle ranching until drugs and illegal logging pushed them aside in the 1980s.


Mexico's drug underworld has become ever more violent in recent years, with gunmen beheading victims and carving threats into their bodies. But almost like a code of honor, hit men targeting ranchers, businessmen, journalists and rival drug smugglers have largely left the victims' families alone.


The attack on Alba broke all the rules.


On Saturday, seven ranchers were killed as they returned from a union meeting led by Alba. The following day, gunmen disguised as police showed up at Alba's ranch. When they didn't find him, they lined up 10 of his relatives and friends in front of his sturdy, two-story brick house and mowed them down.


Alba's sons Alejandro and Rusbel were among the dead, and his 18-year-old daughter, Ana Karen, disappeared and is believed kidnapped, although no ransom has been requested. Alba immediately went into hiding.


"Only God and he knows where he is now," said one of his daughters, who asked her name be withheld for fear the gunmen would come back for her.


She and other relatives gathered late Tuesday before the house's bullet-scarred walls, arranging white flowers and candles in a simple altar to the dead. Then they prayed for the victims and condemned the faceless killers.


On Wednesday, police set up roadblocks as they searched for weapons, but Petatlan police director Horacio Lluck Mendiola said his 30 officers are outmanned and outgunned by criminals.


"The situation has spun beyond our control," he said. "The federal government needs to take control of this business because of the magnitude of the massacre."


He said no arrests had been made, adding: "We believe it was a well-organized gang." However, the motive remains unclear – largely because so many people have reason to want Alba dead.


Alba is a rural strongman who dominates economic and political life in one of Mexico's roughest stretches of countryside.


He was long active in the Ruben Figueroa Landowners Association, which worked with loggers gathering wood in the threatened forests of the coastal mountain range. Human rights groups say much of the logging was illegal.


Logging remains big business: Huge trucks continue to rumble down the coastal highway through Petatlan, groaning under the weight of old-growth fir and pine cut from dwindling forests.


In the 1990s when Alba was tied to the group, activists who tried to stop the loggers were threatened, jailed, shot at and sometimes killed. A group of Mexico City lawyers took up their cause, and the best-known, Digna Ochoa, was shot to death in Mexico City in 2001.


Investigators ruled her death a suicide, but activists believe she was killed and have demanded the investigation be reopened – with Alba as a prime suspect. Mexico City prosecutors will not confirm whether there is an active investigation against Alba in the Ochoa case.


Others speculate the killings could be tied to drugs. Mexico's main drug cartels are fighting over the Guerrero coast, with their gun battles reaching even international resorts like Acapulco. Along the coast, boats laden with cocaine land from Colombia, and in the mountains farmers tend opium poppies and marijuana plantations.


Many farmers in the region are forced to plant, guard or transport drugs for the cartels, and it is hard to conceive that someone of Alba's stature wasn't at least approached by the cartels for help.


The violence could also be related to the leftist rebels who have fought along the Guerrero coast since the 1970s, and landowners' attempts to defeat them.


Human rights groups are pressing the government to investigate mass graves suspected of holding the victims of counterinsurgency campaigns dating back three decades. The biggest group now is the People's Revolutionary Army, which first appeared in the 1990s after a police massacre of peasant activists and now targets oil pipelines.


Peasant groups have recently taken up the cause of the anti-logging activists – bringing them into direct confrontation with groups associated with Alba.


Family members say they have no idea what prompted the attacks. They deny that Alba was involved in anything illicit, pointing out that he served as Petatlan's mayor.


"People say a lot of things. But he is a rancher, that's all," said the daughter. "There is no explanation for this."


Meanwhile, Alba remains in hiding – and will likely stay there until he figures out who is gunning for him. Nobody has much confidence that Mexico's police can keep him safe.


"The killers have better weapons than the police," Alba's daughter said. "Most cops make barely a living wage. They're not going to risk their lives to take the gunmen on."
Tell a Friend
•
Site Map
•
Print this Page
•
Email Us
•
Top