Editorials | Environmental | May 2008
Lousy Salmon Causes an Upset

Tarjei Kidd Olsen - Inter Press Service
go to original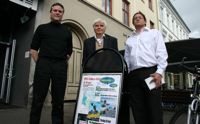 Left to right: David Lane of the T. Buck Suzuki Environmental Foundation, Brian Gunn of the Wilderness Tourism Association, and Don Staniford of the Pure Salmon Campaign. (Tarjei Kidd Olsen)

Oslo - Sea lice from Norwegian-run salmon farms are killing off vital wild salmon stocks in Canada and Chile, according to a delegation that visited Oslo last week. It accuses Norway's government of complicity.


The delegation visited Norway to press for changes at a shareholder meeting for one of the companies on May 22.


The wild salmon stocks in Canada's British Columbia region and in Chile are culturally, environmentally and economically irreplaceable according to the delegation, which included representatives of Canadian tourism and environmental organisations, as well as Canada's First Nations (Inuit) and Chile's Mapuche-Huilliche indigenous populations.


According to the Canadians, wild salmon supplies food to the local population, and to animals such as grizzly bears, dolphins and killer whales. They play an important role in tourism and in the cultural lives of the First Nations people.


The Norwegian salmon companies Cermaq and Marine Harvest, two of the world's largest, farm huge numbers of salmon in netted enclosures known as open-net-cages. The farmed salmon are often infected with sea lice that the Canadian delegation say are killing young wild salmon that have to pass the farms on their way to the sea from spawning grounds.


Young salmon are more vulnerable to the lice than adults.


A recent report in the peer-reviewed journal Science found that wild salmon in one of the affected areas in British Columbia, the Broughton Archipelago, will be driven to the brink of extinction within four years unless action is taken to address the threat from salmon farms.


"When the companies located the farms they were advised not to put them on the migration routes, they were advised not to put them where the wild salmon come to spawn, and they ignored that advice. One tiny little louse will kill a baby salmon, and that's what's happening," Brian Gunn, president of British Columbia-based Wilderness Tourism Association told IPS.


"The food resources found within our territory define essentially who we are as a people," Bob Chamberlain, a First Nations chief, says in a documentary shown to Oslo journalists on May 20.


"We're proud to tell you that we're fish eaters and clam diggers, and these are some primary staples of food for us in the Broughton Archipelago. What we have in the Broughton right now is a regional collapse of virtually every species of marine life you could picture, and the only thing new in the region is the introduction of open-net-cage aquaculture for the last 25 years," he says.


There is less research on Chile, but according to marine biologist Per-Erik Schulze in the NGO Friends of the Earth Norway, that does not mean there are no problems.


"In Chile the situation is even worse than in Canada. There the companies have put all the fish farms in very close proximity to each other along a small strip of coast. Some places in Norway people complain that there are fish farms 'almost everywhere', but if you take all these fish farms and squeeze them together in an area one-fifth the size of all these Norwegian areas, well then you have the Chilean situation," he told IPS.


The delegation also raised the issue of workers' rights in Chile. A report by the Norwegian Labour Organisation (LO) released in December 2007 accuses Cermaq and Marine Harvest of paying Chilean workers too little, and of exploiting weak labour organising, though noting that conditions are generally better than among many other fishing companies operating in Chile.


Cermaq is singled out for the most criticism.


"In practice both Marine Harvest and Cermaq strongly contribute to the problems we see in Chile and Canada. The difference is that critics and stakeholders have a better dialogue with Marine Harvest, and I believe it has also made some real improvements in the last two years," Schulze said.


"I'm sorry to say that Cermaq does not seem to have grasped that they have to face up to ethical and environmental issues in today's world. They appear to be stuck in a reality where environmentalists are a nuisance, and I haven't experienced that in Norway in 10 to 15 years," he added.


Don Staniford of British Columbia's Pure Salmon Campaign says that the group filed shareholder resolutions at Cermaq's annual general meetings in both 2006 and 2007 urging it to change its behaviour and adopt new ethical guidelines, but that this was ignored. "We're back in 2008 with pretty much the same message. Practices that would not be tolerated in Norway are being permitted by Cermaq in Chile and Canada and there's a double standard," he told IPS.


Staniford points out that Cermaq's majority shareholder is Norway's Ministry of Trade and Industry. He says the delegation has held meetings with representatives for the ministry and other politicians.


However, at Cermaq's shareholder meeting on May 22 a ministry spokesman, Reier S๘berg, rejected the Canadian delegation's resolution urging new ethical guidelines. He said that the government is in the process of revising ethical guidelines that apply to all companies the ministry has invested in, and that separate rules for Cermaq are therefore not necessary. He did not say when the new guidelines will be completed.


Staniford is highly critical of the ministry's decision.


"The Norwegian government and Cermaq did not listen to common sense. The government, far from upholding Norway's proud, green and clean international image, has let itself down by refusing to be transparent and by refusing to investigate our legitimate concerns," Staniford told IPS following the meeting.


"At one level the Norwegian government should be applauded for reviewing its current situation, but that should not be an excuse for delay in this issue. We think that the situation has reached such a crisis point that the time for talking is over - the time for action in now, today, not tomorrow and not next week," he said.


Cermaq's corporate affairs spokeswoman Lise Bergan says there is no evidence that the company is responsible for declines in the wild salmon stocks.


"We follow the Canadian standards for sea lice, and conduct lice tests every second week with findings that are reported to the Canadian government. According to Canadian rules there shouldn't be more than three lice per fish, and our findings indicate that we are well below that," she told IPS.


According to marine biologist Schulze the Canadian rules are flawed. "Salmon farming is relatively new in Canada, and Canadian fisheries authorities aren't exactly renowned for being perfect. For instance, they just sat and watched while Canada's stock of Atlantic cod, one of the world's largest, disappeared completely due to over-fishing."


"At some places in Norway the rule is that there shouldn't be more than one-twentieth of one lice per fish on average in order to avoid problems. In Norway these companies get lots of research grants and government support, and then they go to Canada and Chile and ignore all the knowledge they have gained from this research," he said.


However, Bergan insists that the situation in Norway cannot be compared with other places. "In Norway there are other types of louse than in Canada. They are genetically different, and so comparing them is like comparing apples and pears," she said.


In 2007 the company commissioned a report from Norwegian researchers that investigated the link between sea lice and drops in wild salmon numbers in British Columbia. The report said that there is no evidence that the fish farms are causing the declines, although it also said that more research was needed. "It would be quite a feat to get a scientist to say that there shouldn't be more research," Berge commented.


Schulze discounts the report. "It was incredibly one-sided and unprofessional, and even then it came to the same conclusion as us: that we need more information. That should be a very good reason for Cermaq to look more closely at the issue, but instead they have interpreted it as meaning that there is no risk and that they don't need to do anything," he said.
Tell a Friend
•
Site Map
•
Print this Page
•
Email Us
•
Top