Editorials | Issues | June 2008
Mexico's Poor Seek Relief From Tortilla Shortage

Lorne Matalon - National Geographic News
go to original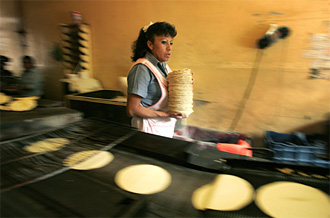 Tortilla maker Leticia Balino gathers a pile of the flatbreads in her shop in México City on January 10, 2007. (AP/Gregory Bull)

During a protest in México City in January 2008, 28-year-old secretary Anibel Ordonez was one of many chanting "Tortillas si, Pan no!" while waving some of the flat corn disks in the air.


The chant was a play on the initials of Mexican President Felipe Calderón's National Action Party, the PAN, which also means "bread" in Spanish.


It was also a potent reminder of the effects of skyrocketing food prices on Mexico's poorest citizens.


Tortillas are filling - Mexicans eat up to ten every day - but a dramatic rise in the cost of corn flour has driven up the cost of a dozen tortillas from the equivalent of 30 U.S. cents to 50 cents or more in some stores.


By some estimates, a kilogram (about 2.2 pounds) of tortillas now takes up about one-fifth of the daily minimum wage of Mexico's working poor.


"I will not make my customers pay more - at least not for now," said Francisco Barriga, the owner of a tortilla factory in the border town of Reynosa, near McAllen, Texas.


"But I am paying 12 to 20 percent more for 20-kilogram [44-pound] bags of flour I need to make the tortillas."


For the country's low-income citizens, who already spend a large percentage of their money on food, the increases are disastrous, sending frustrated citizens to the streets to rally against the biofuels and trade policies they feel are the cause.


Biofuels and Tariffs


Analysts say that speculators are helping to bid up grain prices in Mexico, especially since January 1, when protective tariffs on corn imported from the U.S. into Mexico ended.


Many experts also point out that U.S. demand for corn to manufacture ethanol is a large factor in the price hikes, especially in neighboring countries. Significant amounts of Mexican corn are now being diverted northward to take advantage of the high prices.


In a New York Times interview in January, Michael Lewis, global head of commodities research at Deutsche Bank, said that the U.S. was responsible for a 60 percent increase in global demand for corn last year due to the expansion of biofuel production.


The true impact of biofuel manufacturing is a contentious issue, however, with expert estimates of the industry's impact ranging from just 3 percent to more than 30 percent of food price increases.


The National Ethanol Vehicle Coalition, a U.S. lobbyist group, for example, says harvest issues are responsible for Mexico's current corn woes.


"The true story is rising tortilla prices in Mexico are due to a supply issue in that country - not increased ethanol production or U.S. corn prices," the group said in a statement. "Last year there was lower corn production in Mexico, [which] caused a white corn shortage."


Whatever the ultimate causes, though, the skyrocketing tortilla prices - predicted to rise another 18 percent in June alone - have become a central issue for frustrated Mexicans crying out for government assistance.


Relief Plans


The cries for relief have not gone unnoticed.


In February Calderón pledged to "continue taking all necessary actions to maintain price stability for basic goods and services [and] punish all types of hoarding and speculation in the markets."


Last year he also signed a pact with a number of business groups to cap the price of tortillas at 8.5 pesos (about 80 U.S. cents) a kilogram, but many chose to ignore the agreement, which was not legally binding.


The national uproar has put Calderón in an uncomfortable position between the poor and large agribusinesses hoping to profit from the surge in international corn prices.


A free-market advocate, Calderón has said he does not want to return to the direct price controls enforced by many former Mexican presidents.


However, when the North American Free Trade Agreement (NAFTA) was ratified, Mexico's government promised subsidies to help small farmers mechanize and increase efficiency, pointed out Enrique Perez of the Mexican Agricultural Producers.


The money went instead to assembly plants that line the U.S.-Mexico border, said Perez, citing the common Mexican slogan "Sin Maiz, No Hay Pais," meaning "without corn there is no country."


The result is a competitive manufacturing sector but a farming sector that is unprepared to contend in the global marketplace, according to groups representing small farmers.


Compounding the problem, five million Mexicans have lost farm jobs in recent years, and one recent study found that 80 percent of the 400,000 Mexicans who enter the U.S. each year seeking better jobs hail from the Mexican countryside.


This limits the ability of Mexico to increase corn production to help alleviate the high prices.


Francisco Avila may soon join those statistics. He harvests a strain of white corn that traces its lineage to seeds planted by the Aztec and Maya cultures on a small 6-acre (2.4-hectare) plot in central Mexico.


"The price for corn is rising, but I can't compete with the large producers," Avila said. "They can sell their corn at higher volumes, and for less than I have to charge to cover my expenses."


Avila also raises a small herd of cows. Since corn is a vital feed product for his animals, the prices of his meat and milk are also on the rise. And the prices of other grains are going up as well, as their acreage is supplanted by corn.


"Our government promised to subsidize us years ago to allow us to compete with the U.S. producers," Avila said.


"But aside from the pledge to do so, the government has done little to help smaller producers."
Tell a Friend
•
Site Map
•
Print this Page
•
Email Us
•
Top