Editorials | Issues | July 2008
Mexico Environmentalists Fear Deforestation To Go Unabated in U.N. World Heritage Site

Mark Stevenson - Associated Press
go to original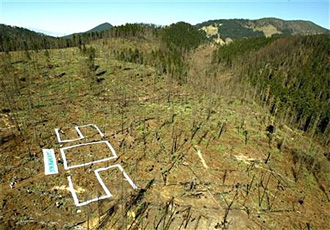 Mexican Greenpeace activists lay out an S.O.S. banner on deforested land in Ocuyoapan, Lagunas de Zempoala, some 100 km (62 miles) southeast of Mexico City, in a forest that is supposed to be protected but has been stripped of its trees, February 3, 2004. (Reuters/Daniel Aguilar)

Mexico City – Environmentalists fear the decision to list Mexico's wintering grounds of the Monarch butterfly as a U.N. world heritage site may do little to halt deforestation that threatens the butterflies.


UNESCO bestowed the global landmark distinction Monday on the Monarch reserve, a series of mountain forests west of Mexico City where the butterflies spend the winter after migrating thousands of miles (kilometers) from the United States and Canada.


"The listing isn't going to produce results unless there is an integral plan for the reserve," Mexican environmentalist Ivan Restrepo said Tuesday. "I hope this serves as a wake-up call and doesn't just serve as an advertisement."


The Mexican government says it has turned the corner in defending the dense fir forests that shelter the Monarchs from the winter cold.


Ernesto Enkerlin, Mexico's commissioner of natural protected areas, said the deforestation problem today is confined to a few small farming communities that account for about 6 percent of the 139,000-acre (56,259 hectare) reserve. It is mostly in those areas that the reserve continues to lose about 100 hectares (247 acres) of trees per year.


He acknowledged "it's a disaster" in the problem communities where much of the land is clear-cut, but said trees are starting to grow back in the rest of the reserve, where local residents are cooperating.


"We are entering into a new phase of the Monarch butterfly reserve, one of recovery," Enkerlin said.


Boundary disputes, indigenous issues and local rivalries are also making it difficult for authorities to work in those areas, he said.


Enkerlin acknowledged that illegal logging was so bad at the reserve three years ago that if authorities had proposed it World Heritage status, "we would have gotten absolutely nowhere."


Environmentalist Homero Aridjis, Mexico's representative to UNESCO, said the current government is making greater efforts to protect the butterflies, and that the UNESCO listing may help by boosting the flow of tourists to the reserve, providing financial incentives for preservation.


It also may help change the attitude of local farmers whose land constitutes much of the reserve.


Each September, the butterflies begin a 3,400-mile (5,470-kilometer) journey from the forests of eastern Canada and parts of the United States to the government-protected reserves in the central Mexican mountains.


While the heritage-site listing is decided by the U.N. Educational, Scientific and Cultural Organization, individual governments where sites are located are responsible for protecting them.
Tell a Friend
•
Site Map
•
Print this Page
•
Email Us
•
Top