Editorials | Issues | August 2008
Mexican Government's Position on Texas Execution of Mexican José Ernesto Medellín Rojas

PVNN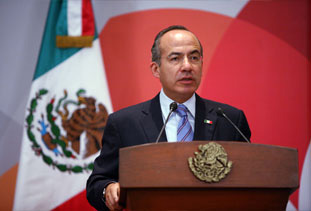 President Felipe Calderón

Mexico City - Mexican José Ernesto Medellín Rojas was executed by Texas authorities, thereby disobeying an order from the International Court of Justice (ICJ), issued on July 16 2008 urging the United States to take all necessary measures to prevent his execution until his conviction was reviewed and reconsidered, as ordered by this international court in its ruling on the case of Avena and Other Mexican Nationals (México vs. The United State of America) issued on March 31 2004. This ruling states that the Texas authorities failed to inform the Mexican of his right to notify the Mexican consulate of his arrest, a flagrant violation of the Vienna Convention on Consular Relations (CVRC).


The Mexican Government has sent a note of protest to the US State Department on this violation of international law, and is concerned about the precedent this may set for the rights of other Mexicans who may be arrested in that country. The Foreign Affairs Secretariat repeated that the crux of this case is the respect for right of access to protection provided by Mexican consulates to Mexicans abroad.


The Foreign Affairs Secretariat used all available legal instruments, both internal and international, to ensure the review and reconsideration of the case in light of the failure to notify the consulate. It attached a list of the measures adopted to support the commitment to defending Mexicans' rights.


The Mexican government will continue to insist on the United States' obligation to review and reconsidered the death sentences issued for other Mexican nations covered by the Avena ruling.


The Foreign Affairs Secretariat repeated its commitment to the consular protection of Mexican citizens abroad.

Source: Media and Communications Department Foreign Affairs Secretariat, (SRE).
Tell a Friend
•
Site Map
•
Print this Page
•
Email Us
•
Top