Travel & Outdoors | October 2008
Rincón de Guayabitos: Gone Fishin'

Judy Slack - Ottawa Citizen
go to original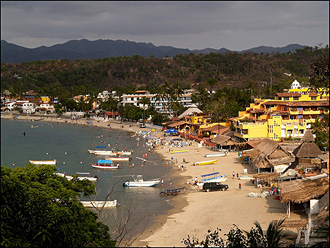 The small Mexican beach town, Rincón de Guayabitos, about 90 minutes north of Puerto Vallarta, caters to the local people as much as does to tourists.
Rincón de Guayabitos gives you a warm taste of the real Mexico.

I came for the sunshine, the beach and the ocean air, but fell in love with Rincón de Guayabitos because it has so much more. This small Mexican beach town, about 90 minutes north of Puerto Vallarta, caters to local people as much as does to tourists, and so has retained its authenticity and Mexican character.


Shortly after sunrise every morning, fish and shrimp from the night's catch, home-baked muffins and freshly squeezed orange juice are available on the beach. Not everyone speaks English, but the vendors smile warmly and somehow communication is never a problem. Guayabitos feels like a community. For a short time last winter, I was pleased to be a part of it.


Those who arrive on the west end of the beach by 7 a.m. are rewarded with the first pick of the fish, just in from the nightly catch. The fish glisten in the slanted early rays of light, their eyes clear and shiny, and the fish so fresh, you can't smell them. The fish are cleaned on the spot. The pelicans know the routine and wait for the spoils.


Occasionally, three or four fishermen came ashore from a small motor boat with a drag net. Arm over arm, the pulling of the net would begin and, with it, anticipation of the catch.


I was intrigued by the outstretched arms of the three shrimp boats that remained in the distance. With some sign language and a couple of words of Spanish, I arranged to meet a local with his small motor boat in the early morning. Once we were close to the shrimp boats, using more sign language, I asked to board one of them. I was thrilled when the captain waved for us to come on. The men were having their morning coffee, being careful not to sit under the seabirds resting on the wires above. The captain, who spoke some English, explained that he and his crew live on the boat for months at a time. The shrimp are taken ashore by small boats.


Grilled seafood snacks on the beach are an alternative to the numerous cafés and restaurants that line the waterfront.

Judy Slack is a photographer who lives in Osgoode.
Tell a Friend
•
Site Map
•
Print this Page
•
Email Us
•
Top