Travel & Outdoors | November 2008
All-Inclusive Resorts Lose Low-Budget Image with Chic Decor, Luxe Spas

Kitty Bean Yancey - USA Today
go to original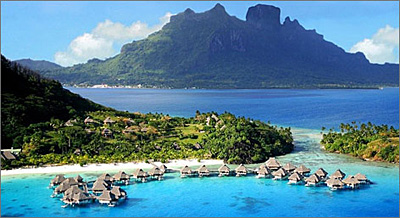 The whole package: Starwood's Bora Bora Nui resort joins all-inclusives by adding in airport transfers, meals, wine with dinner and activities such as Polynesian cooking classes, botanical walks and snorkeling. (Starwood Hotels & Resorts)

Punta Cana, Dominican Republic — Your retirement savings back home may be draining, but here you feel like a big shot guzzling rounds of complimentary piña coladas and premium-liquor drinks from an attentive server at the Paradisus Palma Real's swim-up bar. You can sip them in submerged concrete chaises built into in the vast serpentine pool while a Dominican band plays upbeat merengue tunes.


Elsewhere on the resort's groomed grounds, adorned with modern sculpture and white-columned walkways, flamingos strut, housekeepers strew flower petals on beds and concierges make bookings for a half-dozen eateries with South Beach-chic décor. All this — drinks, food, activities, shows, a room that's boutique-hotel heaven — is covered in a daily rate as low as $150 a person in early fall, $230 this week.


Lobster and steak are on the menu, and pig-out-till-you-can't is the rule. Room service runs 24 hours, and that 3 a.m. burger and fries are gratis, too.


Chicago-area honeymooners Erin and Gary Greiss are here enjoying Palma Real's no-extra-charge horseback rides on the beach, yoga and snorkeling. Their Royal Service suite (about $4,500 in a seven-night package with airfare) includes a butler and bottles of rum, vodka and Scotch. "It's like a cruise, but less structured," says Erin, 27. And unlike aboard most love boats, 24/7 cocktails are included.


This all-inclusive concept — popular with Europeans for years and catching on with a growing number of Americans — is more attractive than ever in a time of financial free-fall.


Once viewed as a bare-bones vacation option, the everything-covered industry is wooing guests with new, over-the-top Shangri-Las at prices as low as $100 a person daily. And they're courting resort sophisticates with Architectural Digest-style décor, non-buffet eateries, butlers, family freebies and velvet-rope VIP areas with their own pools and restaurants.


"There's an increasing demand," says Becky Veith, affiliated with Travel Experts of Raleigh, N.C. "It's not just Joe Six-pack pounding beers all day by the pool." All-inclusive chains — mainly Spanish, French, Jamaican and Mexican — are "growing aggressively, and the experience they offer is unbelievably consistent," she says.


"They have a very high rate of returning guests," says Scott Berman, head of PricewaterhouseCoopers' U.S. hospitality and leisure consulting group. "In other down cycles, they have performed very well."


Brands such as Sandals, SuperClubs, Iberostar, Occidental and Paradisus are building ever more luxurious getaways and targeting upscale clients who once would never book an all-inclusive vacation. At the same time, they're courting the budget-conscious with discounts, such as Sandals Resorts' up to 55% off rates for arrivals through Dec. 26, 2009.


"Luxury Included" now is a Sandals trademarked phrase. "We have moved beyond … the often-maligned all-inclusive connotation," proclaims Gordon "Butch" Stewart, chairman of the Jamaica-based chain.


To lure the value-conscious, upscale hotels added all-inclusive options. They include Ritz-Carlton's Rose Hall in Jamaica, Rosewood's Little Dix Bay on Virgin Gorda and Starwood's Bora Bora Nui Resort & Spa in French Polynesia. All-inclusive pioneer Club Med has raised its bar with luxury rooms at some clubs.


Targeting the rich, too


"Even people with a lot of money like knowing what the bottom line will be," says travel veteran Arthur Mehmel, whose TourScan agency specializes in the Caribbean. He says some "very rich" clients have spent Christmas at Occidental's Royal Hideaway Playacar on Mexico's Riviera Maya, one of only two all-inclusives anointed with the top five-diamond ranking from AAA. (The other is the Grand Velas All-Suites and Spa Resort near Puerto Vallarta, Mexico.) They're both members of The Leading Hotels of the World consortium, as is the Punta Cana Paradisus Palma Real.


All-inclusives tend to be outside the USA because "the model is labor-intensive and only works in certain places" with cheap workers, Berman says. Lots are in the Dominican Republic and Mexico. Jamaica's all-inclusive heaven, too, and the home base for Sandals and SuperClubs (which includes swinging, go-naked Hedonism Resorts).


In the Dominican Republic, workers from neighboring Haiti rapidly construct Vegas-style fantasies for wages under $15 a day. About three dozen gated resort compounds line the 20-mile stretch of spectacular white-sand beach in the Punta Cana area.


Paradisus Palma Real is one of the best, Mehmel and Veith say.


It certainly looks the part of a deluxe resort, with scuttling bellmen and immaculate open-air marble lobby with sweeping views down to the blue Atlantic. Check-in has two sour notes: a bracelet worn until snipped off at stays' end to prove you're a paid guest (a staple at most all-inclusives) and an introduction to a "vacation concierge."


Instead of suggesting restaurants and activities, he launches into a rhapsodic sell for a resort "vacation club," with model suite available for viewing. Not a timeshare, he insists, as his charges resist the pitch to buy fractional use of a unit. (This is not a facet of most all-inclusives.)


On a pleasanter note: Even low-level accommodations are up to prestige-hotel standards, with cushy mattresses, bathrooms with jetted tubs and separate showers, flat-screen TVs, balconies or terraces, minibars stocked with complimentary water, soft drinks and beer. There's a sophisticated spa, where you do pay for services.


Service here — as elsewhere in Punta Cana — is notably friendly, if not always efficient. That request for a glass of water may get a "con mucho gusto (with much pleasure)" response from a server, but take a couple of tries to obtain. Room-service trays may sit in corridors all day, leftovers on unappetizing display.


Eats are plentiful, but chefs' reach often exceeds the grasp. A dinner at the Japanese teppanyaki bar is disappointing — from boring rice that grows cold while diners at a counter surrounding a giant griddle wait for the cheerful Dominican chef to sauté steak, chicken, shrimp and scallops, with unremarkable results. A Continental restaurant called Passion delivers some succulent fare, including a tender veal chop washed down with a selection of decent (and included) house red wines from Chile and Argentina and decadent desserts.


Faulting the food


Families and incentive groups love the all-inclusive concept, Veith says. But gourmets and super-sophisticates likely won't be thrilled with them, save for non-chain choices such as Curtain Bluff on Antigua, she says.


Dominican Republic visitor Phillip White, 39, of Bristol, Tenn., would second that opinion. During his stay at Punta Cana's generally well-rated Excellence resort, "one of my biggest complaints would have to be the restaurant that served the buffet-type breakfast and lunch," he says. "The dishes in the warming bins would be over-/under-cooked." It's the same story at many all-inclusives, where quantity trumps quality at the lavish buffets. Even the Palma Real's fancy à la carte restaurants (save one for Royal Service guests) generally didn't impress the Greisses.


Palma Real gets good guest reviews but is always striving to improve, says Paradisus marketing vice president Tony Cortizas.


Guests at luxury all-inclusives toast the premium booze (all the Bombay Sapphire you can quaff). Tips are included, but many Americans leave extra and are beloved for that. Europeans tend not to tip. Most staffers speak at least some English, but visitors who can muster basic Spanish have a communication edge.


A Paradisus guest chats with the driver about the Dominican Republic during a hotel excursion to a stable for a group trot on the beach, which includes a stop for pesky vendors. As the open-air shuttle bumps over potholed roads, guests fall quiet at the sight of the poverty out of sight of the glitzy hotel compounds. Naked children play outside shacks; faded clothes hang to dry on a barbed-wire pasture fence.


Then they're back inside the gates of Paradisus, where grinning barmen do shaker-tossing routines straight from the Tom Cruise movie Cocktail, casino dealers pay off high-fiving gamers, and tanned sunbathers congratulate themselves on the great vacation deal they've scored.
Tell a Friend
•
Site Map
•
Print this Page
•
Email Us
•
Top