Travel & Outdoors | December 2008
Maine to Mexico: A Funeral Procession, a Pick-Up, a Pink Pinata, and Pastel de Chocolate

Jan Baumgartner - opednews.com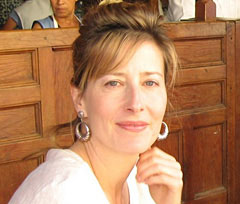 A native Californian, Jan Baumgartner is a freelance writer dividing her time between surviving in Maine and living in Mexico.
Getting here from there is nothing short of a milagro. Getting anywhere from Maine is a test in patience, resilience, and a strip search of your sanity. One might call it Sanity Profiling; if you have any trace of it left as you flee the remoteness and bitter cold, you will not escape before questioning if you are fit to be let loose in the outside world. Dribbling, a lobster bib may be in order.


Coming from the winter drab of a frigid and nearly colorless Maine, the Mexican tsunami of bright and dizzying colors, the daily Christmas posadas and parades, nearly necessitate a Dramamine. My equilibrium needs adjusting. Mexicans celebrate just about everything. And with a little good natured arm twisting, even the most absurd might warrant a firecracker, colored streamers, or a Tequila shooter with a Squirt chaser.


They are unapologetic in their belief that celebration and gratitude can be found in what others might find mundane, insignificant. They find the extraordinary in the every day. Life does not skip a beat. It can't. Between the singing and fireworks, the explosion of celebratory "bombs" at dawn, the radios and rumbas and lilting Mariachis, barking dogs and incessant church bells, you can't help but feel more alive than you might like, especially at five in the morning. It is exhausting. And it is life affirming.


A Funeral Procession


On my second day in my small apartment in Colonial Mexico I heard singing. From my rooftop terrace that affords sweeping views of the 17th century Parroquia church, Los Monjas, Bellas Artes, city lights, countryside and mountain peaks, I watched as a small procession of mourners trailed behind a hearse draped with white lilies.


Thirty or so people walked up the ancient cobbled street, softly singing. It was not a sorrowful melody. There was no weeping. It was a sound of acceptance. Young and old dressed in casual clothes, jeans and t-shirts, parents holding toddlers and infants, sang a tune as familiar and comforting as time immemorial. It was the celebration of life; the acceptance of death. There was no fanfare; just the simple reminder that even in death, life goes on.


Their singing co-mingled with music drifting from the jardin. The music was lively and as on most days, people may have been dancing. Just a block away there was a car turning the corner with its radio blasting. The sky was bright, the air warm, the sun full. The energy ran from musician to dancer to driver, to mourner and passerby, and those bearing witness on patio and terrace. I do not know who had passed on, but being present at that moment, I, like all the others, became part of the celebration.


A Pick-Up


I am laden with the days' bounty. My straw basket is filled with part of tonight's meal; avocados, tortillas, a wedge of Manchego, olives and wine. It is hot and I am still adjusting to the mile high altitude, the relentless sun, and the antiquated cobbled streets that are treacherous at the best of times even in the most unattractive of sensible shoes.


He is standing on the corner of Correo and Sollano. My pace is brisk. I am sweaty and hungry and a bit breathless. Perhaps he mistakes my panting and dripping "glow" as overly friendly pheromones. He steps in front and offers a forceful "hola, buenos tardes! Do I know you?" It is not deliberate but I am sure my eyes roll behind my sunglasses. "No," I say weaving my way around him.


He continues, "Do you live here," he pushes, "I'm thinking of moving here from Mexico City. Do you like it here? Oh, my name is Rodrigo. I'm a pianist. I'm performing at one of the local theaters, perhaps you'd like to come. Are you an artist? You look like an artist. I like your vest. What did you say your name is?" Way too much information, I think. "I didn't," I reply. He asks me my name. "Juana," as I pick up my pace. "Oh Juanita," he prefers. I am not feeling ita-light any way. In fact, I am feeling more Juan-ish as I feel cojones developing as I ready myself to politely say "shove off."


He is walking backwards now, unfettered. I am making him work for it or maybe this is how he gets his exercise each day. I'm in no mood, in fact when hungry, I can get testy. "Don't worry," he insists, "I am not following you," as he follows me the length of Sollano. "I was going this way anyway."


I must admit, I am impressed with his agility, his near tightrope finesse in negotiating these malevolent cobbles, and backwards no less while carrying on feeble pick-up lines that are equally as unremarkable when delivered in a foreign accent. He is not concerned about traffic behind him, dangerous gutters, horse, dog and burro droppings that are large enough to act as violent speed bumps. If nothing else, he is a brave man. Finally, he realizes I am not interested when I bid him an avocado firm "adios," and he heads back from where he started.


Maybe someday the man who walks backwards up cobbled streets will run into a woman walking backwards down cobbled streets and they will catch each other from falling into the antiquated gutter. It will be love at first sight, only backwards. Life is sweeter when surprised.


A Pink Pinata


It is 9:30 at night and from the terrace, the lights of the church spirals are magnificent. The air is soft and warm. I have been admiring, too, the thin bands of Christmas lights that adorn the facades along my street – they are not garish but quiet and simple red, green and white strands.


Children are laughing. I hear singing. I lean over my terrace wall and look up the length of Terraplen to see a children's birthday party at the end of the block. A few dozen children are clustered in tight knots in the center of the street, the intersection blocked off by small bodies.


Strung up from one side of the street to the other is a rope that drapes from one window to the next. Hanging from the middle of the rope is a pink burro piñata. The children are singing louder now and wielding a broom. They are taking turns at pummeling the piñata.


Cars drive up the street and then slowly back down, turn corners, finding different routes toward their destinations. There are no honking horns, shouting voices, only the unspoken understanding that a child's birthday party and a pink burro piñata take precedence over traffic and for tonight, hold court at this intersection.


The children sing and howl with laughter. The broom is slicing wild shards through still air as they miss the prancing piñata. Finally, after numerous attempts, the burro is broken; its pink head still strung on the clothes line, the paper body breaking away and open, spilling candy and small toys into the center of the street. The children scream and scramble. Pockets and mouths are filled with sweets.


A gray street dog stands against a brown and yellow house on the corner. He too was watching the children swat at the piñata. The dog is smiling. He is happy he is not a pink burro.


Pastel de Chocolate


I have a friend who lives just one block up. He is my pastel de chocolate friend. He tells me I use "too many words, I think too much," and implies that I have surpassed my word count. He insists that I over-analyze everything, beleaguer the process and as he recently said, "just think if you got frequent flyer miles for the long journeys you take." He may be right. So instead of talking, we eat cake.


My first day here, my landlord shared a secret; the best chocolate cake in town is sold twice a week at the tienda just two doors up from my apartment. I don't believe her. The tienda is small and stocked with the very basics; water, sodas, bar soap, matches, a few avocados, sugar, toilet paper. But chocolate cake? "Yeah, right," my friend says, "the best cake in town? Who makes it, Sara Lee?"


It arrives at the tienda during evening hours, under the cover of darkened skies. Sometimes it is tardy and those of us with sweet teeth can be found pacing nearby like junkies in need of a fix. My friend picks up the stash. He is my connection, our dirty little secret, and he scores the goods and delivers directly to my front door. In the shadow of night, he arrives with a small paper plate swelling with the inflated creamy richness of mile high chocolate cake. It is not brown. It is black. It is as black as a cat.


He stands beneath the golden light of the street lantern holding the pastel, a fragile white plastic fork standing upright in the middle of the frosting battleground, a premature surrender. "Hellohh, luvah," I purr to the object of my affection, not the man bearing my desire. The second night of the score, he looks both worried and relieved. "It was the last piece," he whispers, holding the melt-in-your-mouth slab before me. He looks as though he's just secured the last dose of Cipro during a smallpox outbreak. We are grateful for small things; at least those draped in icing.


There is no need to talk. But somehow I manage, "you know this might be even better with just a pinch of chipotle powder," but I realize I'm toying with perfection not to mention his nerves. He ignores me as he fills his mouth with frosting and closes his eyes. This moist, black pastel needs no words. Other than an occasional moan, whimper or sigh, no noun, verb, dangling participle or chad can do it justice. Some things in life cannot be defined, only experienced.


Our friendship is made of something that can be poured into a sheet pan. Our foundation is batter. Truth be told, if this pastel de chocolate ever ceased to be delivered, I'm not sure what we'd miss more, each other or the chocolate cake. I don't ponder too long on the thought, however, as I have enough mind trip frequent flyer miles to circumnavigate the globe many times over and return just in time for the weekly delivery of the sinful pastel.


Besides, it is Friday - and there is chocolate in the air.

A native Californian, Jan Baumgartner is a freelance writer dividing her time between surviving in Maine and living in Mexico. Her background includes scriptwriting, comedy writing for the Northern California Emmy Awards, and travel writing for The New York Times. She has worked as a grant writer for the non-profit sector in the fields of academia, AIDS, and wildlife conservation and anti-poaching for NGO's in the U.S. and Africa. Her articles and essays have appeared in numerous online and print publications in the U.S. and internationally, including the NYT, Bangor Daily News, SCOOP New Zealand, Wolf Moon Journal, Media for Freedom Nepal, and Banderas News in Mexico. She's finishing a memoir about her husband's death from ALS and how travels in Africa became one of her greatest sources of inspiration. She is a Managing Editor for OpEdNews.
Tell a Friend
•
Site Map
•
Print this Page
•
Email Us
•
Top