Editorials | Issues | March 2009
Mexico Says 'Emo' Youths Face Discrimination

Associated Press
go to original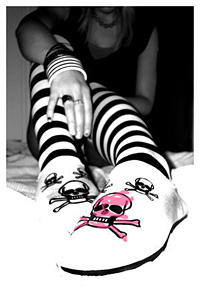 For the uninitiated, emos are a category of black-clad teenager known for their marked emotionalism—thus the name—and a sexually ambiguous fashion style that combines the dark look of Goth with childlike touches of pink and other bright colors (think Tim Burton meets Hello Kitty.)
- La Plaza
Mexico City – Mexico's National Human Rights Commission says that followers of the youth music and fashion trend known as "emo" have suffered discrimination and violence, and recommends sensitivity training to prevent it.


Emos often wear long bangs and skinny pants, and listen to angst-ridden music. The youths were heckled and harassed in a pair of incidents in central Mexico in early 2008, aggressions apparently fueled by an Internet hate campaign by other youths.


The government rights commission says an investigation shows emos "have suffered violence and discrimination both by authorities and the public at large."


It recommended the government provide diversity training in schools and anti-discrimination training for law enforcement personnel.
Tell a Friend
•
Site Map
•
Print this Page
•
Email Us
•
Top