Travel & Outdoors | April 2009
CasaMagna Earns AAA Four Diamond Award

PVNN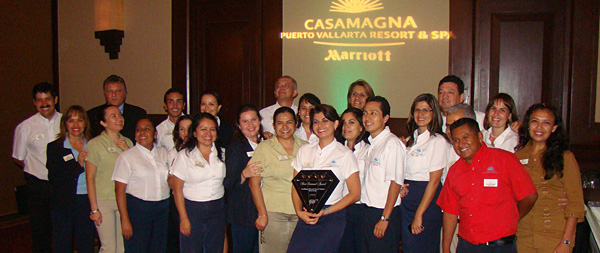 Tony Perrone and the CasaMagna Marriott Puerto Vallarta staff
Puerto Vallarta - For the 18th Consecutive year, CasaMagna Puerto Vallarta Resort and Spa has been awarded the prestigious AAA Four Diamond rating for 2009.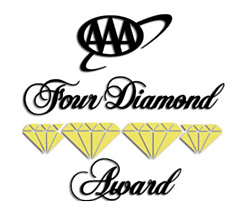 "Marriott CasaMagna Puerto Vallarta Resort and Spa knows the language of quality, and for the 18th consecutive year they've exhibit a standard of excellence and culture. They consistently deliver premier experiences, complete with superior personal service, first-class amenities, and impressive surroundings, every day, day after day, week after week and year after year," said Tony Perrone, AAA Manager for Mexico.


Puerto Vallarta's CasaMagna Resort and Spa joins a select group of AAA Four Diamond winners. Only 3 percent of the estimated 60,000 AAA Rated lodgings and restaurants were awarded the prestigious AAA Four Diamond designation in 2009.


The CasaMagna Puerto Vallarta Resort has won this award longer than any other property in the State of Jalisco and longer than any property on the entire west coast of Mexico.


The Four Diamond symbol will be included in each property's and restaurant's listing in the 2009 Mexico TourBook guide on AAA.com, AAA mobile, Gps devices and all AAA databases. AAA's more than 51 million members depend upon TourBook guides and Travel information we provide to them, to assist them with their travel-related decisions. An establishment's diamond rating is often the deciding factor when members choose a lodging or restaurant.


More than 65 AAA/CAA tourism editors visit over 70,000 lodgings, campgrounds, restaurants, and attractions each year throughout the United States, Canada, Mexico and the Caribbean. Tourism editors conduct unannounced evaluations of lodgings and restaurants, scrutinizing such areas as cleanliness, ambiance, amenities, and service.


AAA has included lodging information in its travel publications since the early 1900s. The association began rating hotels and other accommodations in 1963, adopting the current rating systems in 1977 in celebration of AAA's 75th anniversary. Evaluations and Diamond ratings of restaurants began in 1986. For more information, visit AAA.biz.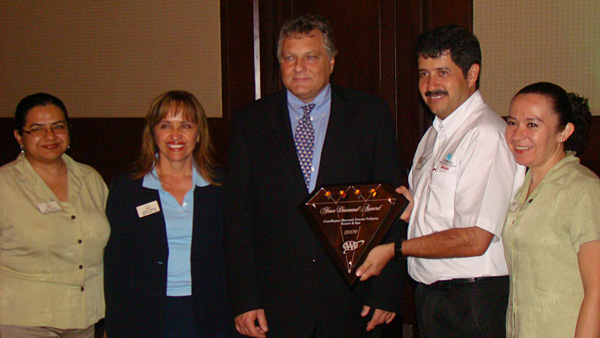 Tony Perrone, Daniel Reyna and the Executive Committee
---
CasaMagna Puerto Vallarta Resort and Spa Recibe el Premio AAA Cuatro Diamantes del 2009
PVNN


Puerto Vallarta, Jalisco, México - Por el décimo octavo año consecutivo ha sido otorgado a CasaMagna Puerto Vallarta Resort and Spa el prestigioso distintivo AAA Cuatro diamantes del año 2009.


CasaMagna Marriott Puerto Vallarta conoce el lenguaje de la calidad, y durante 18 años han exhibido un estándar de excelencia y cultura. "Han sido capaces de otorgar a sus visitantes experiencias de lujo, complementándolas con servicio de personal superior, amenidades de primera clase y localidades impresionantes, todos los días, día con día, semana tras semana y año con año," dijo Tony Perrone, Director de AAA en México.


CasaMagna Puerto Vallarta Resort and Spa se une a un selecto grupo de ganadores del premio Cuatro Diamantes AAA. Solamente el 3% de los alrededor de 60,000 hoteles dentro de AAA tendrán el premio de los Cuatro Diamantes durante el año 2009


CasaMagna Puerto Vallarta Resort and Spa ha recibido este premio mas veces que cualquier propiedad en el estado de Jalisco y en mas veces que cualquier propiedad de la costa oeste de México.


El símbolo de Cuatro Diamantes será incluido en todas las inclusiones del hotel y restaurantes dentro de la Guía de Viaje México 2009 de AAA.com, AAA Mobile, medios GPS y todas las bases de datos de AAA. Más de 51 millones de miembros de AAA dependen de esta Guía de Viaje para realizar sus decisiones de viaje. La categoría de diamantes de un establecimiento es cada vez más buscada por los viajeros al momento de decidir su hotel o restaurantes.


Más de 65 editores AAA/CAA visitan alrededor de 70,000 hoteles, restaurantes y puntos de atracción alrededor de Estados Unidos, Canada, México y el Caribe. Los editores de turismo realizan evaluaciones anónimas de hoteles y restaurantes, haciendo análisis en áreas como limpieza, ambiente, amenidades y servicio.


AAA ha incluido información de hoteles dentro de sus publicaciones desde el inicio de 1900. La asociación comenzó a hacer análisis y categorización de hoteles durante 1963, adoptando su sistema actual de evaluación en 1977, celebrando su 75 aniversario. La evaluación de restaurantes por parte de AAA empezó en el año de 1986.


Recientemente, CasaMagna Puerto Vallarta Resort and Spa realizó una remodelación total de la propiedad, con una inversión de 10.7 millones de pesos, donde se reformaron todas las habitaciones y suites, además de los salones de convenciones y centros de consumo. Esta renovación trajo consigo aires nuevos a todas sus áreas, dotándolas de arquitectura de vanguardia y detalles modernos, sin perder el toque que lo ha caracterizado por más de 18 años.
Tell a Friend
•
Site Map
•
Print this Page
•
Email Us
•
Top