Travel & Outdoors | April 2009
Training Sea Lions: A Perfect Job in a Perfect Paradise

Laura Gelezunas - PVNN

It's time for a fish break so high five for recess in the Sea Lion habitat at Vallarta Adventures Tour Company in Nuevo Vallarta. In between bellying up to the clients, there's always new tricks to master. The trainers more than enjoy their jobs.


"I really like the animals, they are a lot of fun to work with, I like this outdoor office," exclaims Angel Galicia, a Sea Lion Trainer. "I like to do something different, and this is about as different as you can get."


"I like to work with the sea lions because of their personalities, actually they are like big, wet dogs," says another Vallarta Adventures Sea Lion Trainer, Mariana Name. "You really have emotional interactions with them and you get to know them... and they get to know you, too."


There are eleven sea lions, with an average age of six years. Each trainer forms a special relationship with these playful mammals and most have their favorites.


"One of the 'students' is Cassandra, and she is a South American sea lion and is a really friendly girl. She likes to play jokes and she is really active," says Mariana. "Cassandra likes a lot of exercise and attention from me."


The first step to bonding with the sea lion takes place when the mammals are around one year old.


"When they are babies, we work with them so that each animal feels comfortable with the trainers first," says Angel. "And then when they start doing the interactive programs, they will be friendly with the clients and feel comfortable with them, so everyone has a great time, including the animals."


The sea lions practice with their trainer anywhere from 5 to 15 minutes per hour during a seven-hour day. Everyone works hard to teach and to learn new behaviors. It is all about repetition.


"We train the animals during short and positive sessions," says Angel, "We start with what we call 'the basic behaviors.' The animal needs a target. The target could be your hand, and when you say 'target,' the sea lion hits your hand. They also begin to learn and understand other targets and commands like 'stay', 'go to the indoor area', 'go to the water,' or 'wait on the platform.' These are the basic behaviors. Once the animals learns these, then we start training them for the interactive programs."


The sea lions are rewarded for their efforts, however, their special diet of small fish and squid is limited to around 25 pounds per day so they stay slim, trim and always able to spring into action.


You can take advantage of all this hard work by participating in the Sea Lion Adventure. For more information or to make a reservation, visit Vallarta-Adventures.com or call 1-888-303-2653 toll-free from the U.S. and Canada.

If you are looking for a fun and exciting career opportunity, then Vallarta Adventures is looking for you! Click HERE to learn more about the Employment Opportunities that are currently available in beautiful Puerto Vallarta, Mexico.
---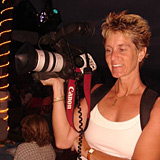 After having spent 10 years in the world of US broadcast news, Laura Gelezunas decided to unleash her skills on Puerto Vallarta by opening Video Diva Productions, a full-service, professional digital video company. Whether you're interested in a sales video, WEBmercial, music video, feature story, documentary, or corporate event video coverage, she has the experience, equipment and talent to coordinate a professional production. For more information, visit her website at VideoDivaProductions.com.
Tell a Friend
•
Site Map
•
Print this Page
•
Email Us
•
Top