Travel & Outdoors | April 2009
Swashbucklers Still With Us

Polly G. Vicars - PVNN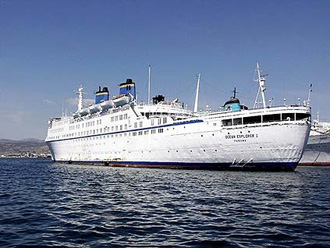 Our ship, The Ocean Explorer 1, that took us completely around the world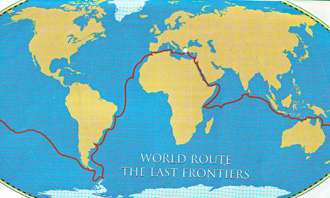 Our route around the world
The SS OCEAN EXPLORER I, a 622 by 76 foot cruiser that started life as a troop carrier in World War II, began a new career as a world cruiser for the Canadian-based World Cruise Company. And as most of my readers know, Husband and I were on that maiden 1999-2000 four month round-the-world cruise. I chronicled the trip in my second book, "More Tales of Retirement in Puerto Vallarta and Around the World."


Well into our cruise on our way to Sri Lanka, we made an unscheduled bunkering stop in Singapore, as the previous port in Indonesia did not have sufficient fuel for us. Too excited about this unexpected pleasure of a day in Singapore, none of our group caught an important notice in the ship's bulletin until the evening when we returned to our ship. It read: "SECURITY ALERT: While sailing in the vicinity of Singapore, extra security measures will be implemented. If you hear any unfamiliar safety signals, do not be alarmed as these are for crew only. Please do not panic, simply remain in your cabin and await further instructions. Thank you."


We didn't know what to think, but it was too late to worry about it so as per instructions, we did not panic, just went to bed content that we were not the ones left standing on the dock watching the ship sail away (there were a couple of those in almost every port.) Even with my active imagination, the word "pirate" did not even flit through my mind as it would had we been cruising lately.


Very early the next morning when we went out on deck for our walk and found instead of the customary semi-darkness the decks were brightly lit making the OEI look like a gigantic floating Christmas tree. Additionally crew members were stationed at regular intervals armed with hatchets and fire hoses at the ready. This was too much! We had to find out what was going on.


Here is the scoop. There were ship-boarding pirates in the popular trade routes linking the Far East with Southeast Asia; especially vulnerable were ships in the Strait of Malacca where we were and had been since we left Singapore. The Strait is a narrow body of water that separates the peninsula of Malaysia from the Indonesian island of Sumatra and is filled with cargo ships. Since we were on our way to Sri Lanka, right off the Indian sub-continent, we would be in dangerous waters for several days.


The lights and the armed crew members were the precautions the Captain was taking. Thankfully no pirates tried to throw their grappling hooks up to board us so we did not have to find out how effective those precautions would have been, but I have learned that lighted ships have acted as a great deterrent against boarding parties and presumably served to get us through the dangerous waters without incident.


When I got home and had access to the Internet (remember on the ship it was $10 USD a minute,) I learned many things about those pirates.


Seems as if, despite efforts on the part of many nations, almost no progress has been made since our 1999 experiences. One of the articles suggested that folks who watched the swashbuckling Errol Flynn, (and now are watching Johnny Depp's portrayal of a pirate) certainly have to know that modern day pirates are not those delightfully colorful, though fairly innocuous, figures from the past, but ruthless criminals. Even in 1999, the world's ship owners and the crews who manned their ships saw piracy as a serious and bloody business, though most of the world had no inkling of that problem.


Back then and now, pirate attacks are usually against large ships. During the 1990's attacks against ships doubled, and in 1999, 67 crew members were killed, 66 of them in Asia. In the first nine months of 2000, pirate attacks surged in Asian waters. Nearly three-quarters of all of the world's pirate attacks now take place in that region. The waters around Indonesia alone accounted for a third of all attacks.


Judging from news reports I am sure these numbers have increased dramatically in the last year or so, as have the types of attacks, the areas of the attacks and the demands for millions of dollars ransom. We never would have thought that piracy would reach the level it has reached today as we cruised safely though those treacherous waters 10 years ago. We can only hope that today the combined efforts of the countries of the world can begin to rid the world of these scurrilous attacks and, of course, bring our American captain home safely.
---

Polly G. Vicars and her husband of almost 60 years, Hubert (a.k.a. "Husband") retired to Puerto Vallarta in 1988 and soon became active members of several charitable organizations. Polly is the author of "Tales of Retirement in Paradise: Life in Puerto Vallarta, Mexico" [a sell-out!] and "More Tales of Retirement in Puerto Vallarta and Around the World." Proceeds from the sale of her books go to the America-Mexico Foundation, a scholarship foundation that is their passion.

Click HERE for more articles by Polly Vicars, or click HERE to learn more about Becas Vallarta and the America-Mexico Foundation.
Tell a Friend
•
Site Map
•
Print this Page
•
Email Us
•
Top