Travel & Outdoors | September 2009
Mexico's Velas Resorts Celebrates Day of the Dead-Themed Cocktails

E MediaWire
go to original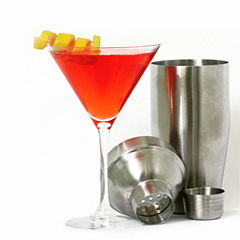 For more information and reservations, please call Velas Resorts at 1-888-210-9591 or visit Velasresorts.com.
Puerto Vallarta, Mexico - In celebration of Mexico's Day of the Dead on November 1st and 2nd, Velas Resorts is brewing festive concoctions in honor of this special holiday. At Grand Velas Riviera Maya "The Cemetery" cocktail with Vodka, Kahlua, Coca Cola and the "Bloody Champagne" accompanied with strawberry and raspberry juices are both served with dry ice for a spookier feel.


In Puerto Vallarta, Casa Velas and Velas Vallarta Resorts are offering the "Red Devil" and the "Zombie" with a selection of rums and juices.


Grand Velas Riviera Nayarit commemorates the celebration serving "The Skull" with Campari, Cider, lemon-lime soda, minced apples and walnuts and "The Blue Death" featuring Blue Curacao liqueur and Vodka. Traditional holiday offerings such as Bread of the Dead, Atole Champurrado, a hot beverage made of corn dough and chocolate, and Day of the Dead skull masks, decorations and candies are also offered at the resorts. (Note to editors: Recipes available upon request)


The Day of the Dead (Dia de los Muertos in Spanish) is one of Mexico's most important holidays, celebrated annually on November 1st and 2nd with festivals, cemetery gatherings and candies in the shape of skulls in honor of the lives of loved ones who have passed on. Dating back to the Aztecs and Mayans, Mexicans believe the souls of the dead return to earth. In Mixquic, families build altars in their homes, visit cemeteries where loved ones are buried, and decorate graves with offerings such as marigolds, candies, toys and tequila. Families often spend all night beside graves playing cards, eating, drinking and dancing. Locals and travelers share pan de muerto (bread of the dead), a sweet egg bread decorated in white frosting, and dance in colorful costumes with skulls and devil masks in the main plaza.


Velas Resorts has earned numerous prestigious international awards for its services and facilities, among them Conde Nast's "Most Excellent Spa Hotel," AAA's 5 Diamond Award, the American Academy of Hospitality Sciences' 5 Star Diamond Award, and more. For more information and reservations, please call Velas Resorts at 1-888-210-9591 or visit Velasresorts.com.
Tell a Friend
•
Site Map
•
Print this Page
•
Email Us
•
Top