Editorials | October 2009
The New Drug Czar Pays Us a Visit

El Espectador
go to original
October 07, 2009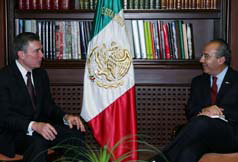 The US Drug Czar Gil Kerlikowske meets with Mexican President Felipe Calderón Hinojosa. (Gobierno Federal/flickr)
Translator's note: This editorial, published in the Colombian-based daily El Espectador, was written in response to comments made by Gil Kerlikowske, Obama's new "Drug Czar," prior to Kerlikowske's recent three-day visit to the South American country. The article assesses what kinds of changes, if any, the people of Colombia might expect from the new American administration.

In his recent remarks to the press, Gil Kerlikowske, the former chief of the Seattle Police Department and the current head of the Office of National Drug Control Policy, stated that his country intended to implement "a more balanced approach" in the fight against drugs, an approach that consisted of more than just prisons and soldiers. "We want to take a look at methods that are helping people leave drugs behind and become productive members of society," Kerlikowske said. Under the new administration, he indicated, the United States will be paying increased attention to curbing demand at home. He also stated that America will be providing more medical assistance to drug addicts who get caught up in the judicial system.


This sounds like good news: a shift in policy that places greater emphasis on treatment programs for users. But it should be noted that the United States needs to devote more resources to prisoners because, owing to the devastating consequences of their drug laws, they have so many people in prison in the first place - addicts and casual users alike. Professor Peter Reuter, a leading authority on the subject, has pointed out that while fewer than 50,000 people were in US jails in 1980 for drug-related charges, by 2007 the number had soared to 500,000, and this figure does not include prisoners who committed violent crimes against people or property while under the influence of drugs.


As far as Colombia goes, Kerlikowske stated that those who are watching our nation from the United States believe that Plan Colombia has been successful "on a variety of fronts." Kerlikowske did not commit to the plan's continuation, but he made it clear that, whatever policy may be adopted in the future, the United States would be respectful of the methods espoused by the Colombian government. The word "legalization," he added, "is not in my vocabulary, nor is it in President Obama's."


In other words, the implementation of a more balanced approach does not promise many changes for us here in Colombia, where the government happens to espouse the belief that it should be fighting its drug battles on moral grounds, a strategy that runs contrary to the recommendations of experts and analysts who insist, with statistics in hand, that the drug problem requires more practicality and less ideology.


In this regard, President Uribe has attacked, on more than one occasion, the moral double standard of those who criticize the ravages of the narcotics trade while consuming drugs themselves. "It is very convenient for hypocrites to get together at social gatherings and rail against the evils of drug trafficking while taking coke at the same time," he recently said in an effort to support the criminalization of minimum consumption, a proposal that is currently making its way through Congress.


The outlook for the future, then, is not especially bright. The changes proposed by the United States are still not on par with the risk-reduction policies that some European countries have developed and successfully implemented. These latter approaches are not merely "balanced"; they are unabashed and direct in their intention to treat the drug problem primarily as a public health issue. Although Kerlikowske has notably and, thankfully, decided to distance himself from the chest-thumping "War on Drugs" rhetoric of previous administrations, he has rebranded the conflict as a "matter of public security," rather than a matter of public health, and, in doing so, he continues to reinforce the puritanical notion that drugs weaken the moral fiber of the people.

Translation: Ryan Croken. Ryan Croken is a freelance writer and editor based in Chicago. His essays and book reviews have appeared in The Philadelphia Inquirer, Z Magazine, and Religion Dispatches, among others. He can be reached at ryan.croken(at)gmail.com.
Tell a Friend
•
Site Map
•
Print this Page
•
Email Us
•
Top