Editorials | Environmental
Wildlife Trafficking

Charles Bergman - Smithsonian.com
go to original
January 10, 2010


Smithsonian magazine, December 2009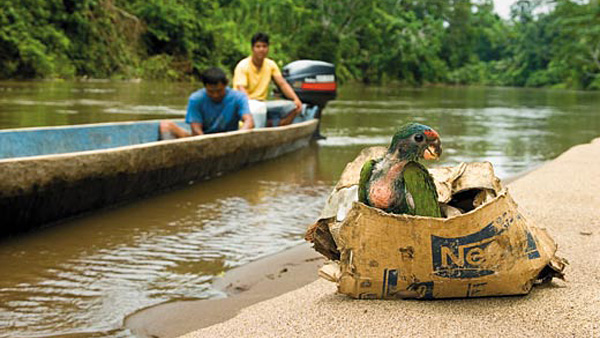 In the Ecuador wilderness (guides Nelson, at the helm, and Paa), Charles Bergman sought the roots of the illegal animal trade (a blue-headed parrot chick). (Charles Bergman)
Two fire-red birds swooped screeching through the forest, flared their yellow and blue wings and alighted on the upright trunk of a dead palm tree. In the green shadows, the scarlet macaws were dazzling; they might as well have been shot from flamethrowers. One slipped into a hole in the tree, then popped its head out and touched beaks with its mate, whose long red tail pressed against the trunk. The birds eyed us suspiciously.


As well they should have.


I was with hunters who wanted the macaws' chicks. We were in the Amazon Basin of northern Ecuador, where I had gone to learn more about wildlife trafficking in Latin America. I wanted to get to the source of the problem. I wanted to learn what its consequences were—for people and wildlife. These two macaws would serve as my lens.


Wildlife trafficking is thought to be the third most valuable illicit commerce in the world, after drugs and weapons, worth an estimated $10 billion a year, according to the U.S. State Department. Birds are the most common contraband; the State Department estimates that two million to five million wild birds, from hummingbirds to parrots to harpy eagles, are traded illegally worldwide every year. Millions of turtles, crocodiles, snakes and other reptiles are also trafficked, as well as mammals and insects.


Since 1973, the buying and selling of wildlife across borders has been regulated by the Convention on International Trade in Endangered Species (CITES), whose purpose is to prevent such trade from threatening the survival of 5,000 animal and 28,000 plant species. CITES enforcement falls largely to individual countries, many of which impose additional regulations on wildlife trade. In the United States, the Wild Bird Conservation Act of 1992 outlawed the importation of most wild-caught birds. (Unless you're at a flea market on the southern border, any parrot you see for sale in the United States was almost certainly bred in captivity.) In 2007, the European Union banned the importation of all wild birds; Ecuador and all but a few other South American countries ban the commercial harvesting and export of wild-caught parrots.


"We do not lack laws against the trade," María Fernanda Espinosa, director of the International Union for Conservation of Nature in South America, said in her office in Quito, Ecuador's capital city. (She has since been named Ecuador's minister of culture and natural heritage.) "But there is a lack of resources, and that means it is not a conservation priority." In all of Ecuador, as few as nine police officers have been assigned to illegal trafficking.


Latin America is vulnerable to wildlife trafficking because of its extraordinary biodiversity. Ecuador—about the size of Colorado—has about 1,600 species of birds; the entire continental United States has about 900. Accurate data about the illegal trade in animals and plants are hard to come by. Brazil is the Latin American nation with the most comprehensive information; its Institute of Environment and Natural Resources cites estimates that at least 12 million wild animals are poached there each year.


Animals ripped from their habitat suffer, of course. They are smuggled in thermoses and nylon stockings, stuffed into toilet paper tubes, hair curlers and hubcaps. At one market in Ecuador, I was offered a parakeet. I asked the seller how I would get it on an airplane. "Give it vodka and put it in your pocket," he said. "It will be quiet." Conservationists say most captured wild animals die before reaching a buyer. In northwest Guyana, I saw 25 blue-and-yellow macaws—almost certainly smuggled from Venezuela—being carried from jungle to city in small, crowded cages. When I observed a police bust at a market in Belém, Brazil, one of the 38 birds confiscated was a barn owl crammed in a cardboard box hidden under furniture at the back of a market stall. At one rescue center outside Quito, I saw a turtle with two bullet holes in its carapace. Its owners had used it for target practice.


Animals stolen in Latin America often end up in the United States, Europe or Japan. But many never leave their native countries, being installed in hotels and restaurants or becoming household pets. In Latin America, keeping local animals—parrots, monkeys and turtles—is an old tradition. In parts of Brazil, tamed wild animals are called xerimbabos, which means "something beloved." In recent surveys, 30 percent of Brazilians and 25 percent of Costa Ricans said they had kept wild animals as pets.

Tell a Friend
•
Site Map
•
Print this Page
•
Email Us
•
Top