Travel Writers' Resources
I Want a Job Naming Cars

Ed Schwartz - PVNN
January 30, 2010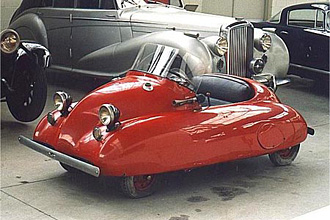 The Italian Valugrafo Bimbo. With this car, you can have a bimbo in your Bimbo.
Writing is a not a bad living. You get a little fame and you get a little pay and so it goes. No complaints.


But, next time around, I want to go into a business where I get to name cars. I will make a lot of money. I will submit a lot of really stupid car names and someone will pay me big bucks for them. Then I will hide out somewhere and laugh myself silly as I count up my loot and buy a very fancy car — a Ferrari will do.


The worst name for a car was likely the Edsel. Ford paid thousands of dollars to writers and poets to come up with a beautiful name but, in the end, Ford executives waved aside all the good names and chose the name to honor one of the Ford boys. The car was a total bust and the dull name certainly helped doom it. It was also ugly as sin, but that's another issue.


It was fine when cars were named Mustang, Thunderbird, Cougar and sobriquets like that. Then the wheels came off. I mean, who would want to drive a car named a Rabbit? Or a Tundra, which means a frozen wasteland. Do I want to drive a Golf when I really like to play tennis? How about the Tourag? What the devil is a Tourag and how to pronounce it? Who wants to drive a car that you can't pronounce? How about a real name like - the all new and very expensive, 2010 Socially Mobile? The car moves in one direction - up!


The name that really jarred me is the one stuck on a Buick few years ago - the Lucerne. What a dumb name. Lucerne is a lake in Switzerland and a city on that lake. It also was a private brand name for Safeway's dairy products. Who would want a car named after cottage cheese? I'd much rather have a car named Sayulita.


Then you have a slew of made up dumb names that don't even mean anything - the Reatta, Superba, Achieva, Astre and Firenza. If you want to name a car after an Italian city, why not call it a Montepulciano? Or the misspelled names like Vue, Aztek and Luv. Dumb and Dumber - that's my opinion, not a car name.


Wait, wait. The Japanese have some really strange names for their cars for the home market. I give you the Daihatsu Naked, Honda Life Dunk, Honda Thats, the Suzuki Cappucino, Mazda's Mysterious Utility Wizard, Mitsubishi Lettuce, Mitsubishi Mum 500 Shall We Join Us, Toyota Cist, Yamaha Pantry Boy Supreme and the Suzuki Alto Afternoon Tea.


China has the Geely Urban Nanny. Finally, the Italian Valugrafo Bimbo. With that car, you can have a bimbo in your Bimbo. My friend, John Lamm, created a car race for junk cars called the 24 Hours of Lemons. Lemons would be a great car name. No? Oh, I see your point. I should stick with Lettuce.


So, in the interest of advancing the breed, I offer to any car manufacturer a sample of some of my zippy names for the new age - The War, French Kiss, Indianapolis, Mortadella, Transplant, French Dip, Retread, Taco, Hammas, Burqa, and Truth.


Ed Schwartz has been involved in many aspects of fine wine for 30 years and has worked with top wineries in California, Italy and France. His writings on wine, food and travel have appeared in the SF Chronicle, LA Times and Image magazine.

Click HERE for more articles by Ed Schwartz
Tell a Friend
•
Site Map
•
Print this Page
•
Email Us
•
Top