Travel & Outdoors
New Course to Play on Punta Mita, Mexico Golf Vacations is a Winner

Craig Better - Golf Vacation Insider
go to original
February 02, 2010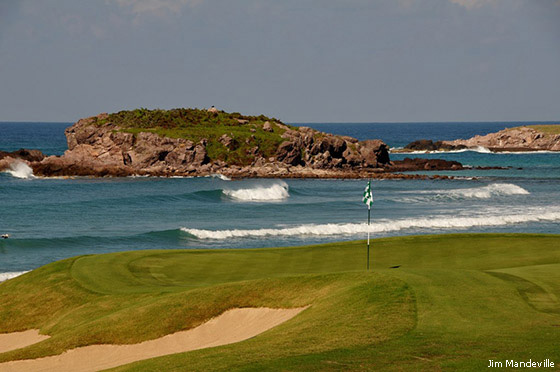 Golf Odyssey reveals how you can play the new Bahia Golf Course on Mexico golf vacations, without staying at the St. Regis or Four Seasons Punta Mita.
How good is the new Bahia Golf Course that opened 90 days ago in Punta Mita, Mexico?


Well, last week, the editors of Golf Odyssey dropped in to play it and they walked away quite impressed with the much-anticipated Jack Nicklaus Signature Design, a sister course to the original, Pacifico course.


Even better, they discovered a little-known way you can play both courses on Mexico golf vacations without being a member or overnight guest of the Four Seasons Punta Mita, something previously thought impossible.


Past visitors to Punta Mita, the ultra-luxurious paradise located about an hour north of the Puerto Vallarta airport, probably have fond memories of playing the Pacifico golf course on their Mexico golf vacations.


Pacifico is resort golf course at its finest, with fairways like football fields and enough eye candy to satisfy any golfer's sweet tooth (including hole 3B, or the "Tail of the Whale," a par-three whose green is completely separated from land at high tide).


While Pacifico makes for an ego-boosting round, it is not a particularly difficult test of golf. Those in search of greater challenges on Mexico golf vacations have always had to seek other venues.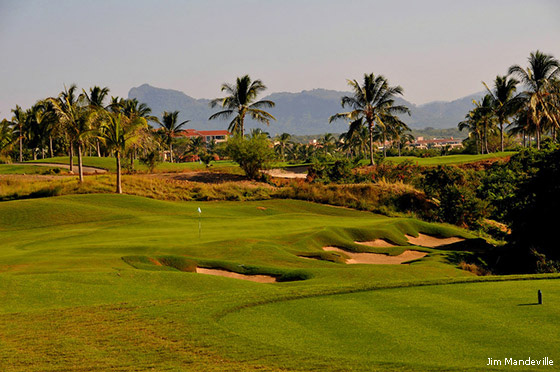 The new Bahia Golf Course, a Jack Nicklaus Signature design, is the more challenging one to play on Punta Mita, Mexico golf vacations.
But with the debut of the new Bahia Golf Course, Punta Mita now has a layout that can hold up to most any player, regardless of their golf handicap.


While you won't find it on listed in the GHIN database, the course is rated 10 strokes tougher than Pacifico, and it plays every one of them in practice.


Like other new Jack Nicklaus creations reviewed recently in Golf Odyssey, (Cabo's Puerto Los Cabos and New Zealand's Kinloch come to mind), the fairways are so rumpled you will undoubtedly be faced with all sorts of uphill, downhill and sidehill lies. Likewise, the various churns, swales, and ridges on the greens make putting a true challenge.


And while not overly penal, one may go though a few balls while negotiating various hazards around the golf course, including abundant water and very tall grass lying just outside the fairways.


All in all, Bahia Golf Course is a delightful experience and the perfect complement to Pacifico, which is more player friendly and better suited to those seeking relaxing rounds on their Mexico golf vacations.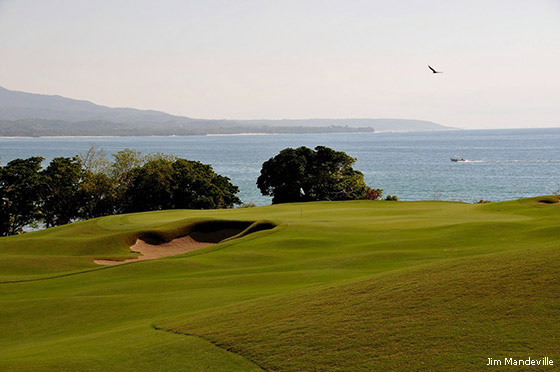 Punta Mita's Bahia Golf Course, hole 15.
A complete review of Bahia (and Pacifico), the Four Seasons Punta Mita, the year-old St. Regis Punta Mita, and some can't-miss local restaurants will be published in an upcoming issue of Golf Odyssey.


That's where the editors will reveal the secret to playing these top-notch courses on Punta Mita, Mexico golf vacations, without being a member of the Punta Mita Golf Club or an overnight guest of the Four Seasons Punta Mita.
Tell a Friend
•
Site Map
•
Print this Page
•
Email Us
•
Top