Travel Writers' Resources
Reforma CEO Says Journalists Hunted in Mexico

David Hendricks - Express-News
go to original
March 25, 2010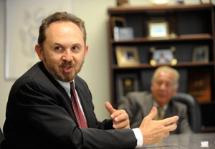 Alejandro Junco de la Vega, president and CEO of Mexico's Grupo Reforma, which publishes newspapers in Monterrey, Mexico City and Guadalajara, answers questions about the drug-related violence in Mexico. (Billy Calzada)
"Perdimos fe." "We lost faith."


With those words in a letter to the Nuevo León, Mexico, governor in July 2008, newspaper chief executive Alejandro Junco de la Vega uprooted his wife and children and moved to Austin.


Journalists, editors, executives and all other types of media workers in Mexico face danger.


"Intimidation is the most frequent form of what takes place in the media," Junco said Wednesday, explaining why he moved his family to Texas.


By 2008, the security landscape for journalists already had been risky for a decade as Mexican drug cartels and affiliated gangs had killed, kidnapped and beaten many reporters writing about cartel activities. The danger had escalated by 2008 and has grown worse since.


"We lost faith in the local authorities. I was telling the governor, 'I lost faith in you.' In order to pursue our editorial policy, we needed to get innocent women and children out of the way," he said in an interview in San Antonio before his sold-out speech today titled "Mexico: What Went Wrong."


The event is being held by the World Affairs Council of San Antonio.


Junco, 61, had just returned to Texas from 10 days in Mexico. For security, he flies his own airplanes. He follows other rules that apply to his newspaper employees, such as changing daily routines.


He didn't say whether he uses bodyguards as he travels. Bodyguards, he said, often attract attention of gangs and are counterproductive.


Junco is president and CEO of Latin America's largest print media company, Grupo Reforma. The company's holdings include the newspapers El Norte in Monterrey, Reforma in Mexico City and Mural in Guadalajara. It publishes additional dailies in those cities, plus in Puebla and Toluca. Combined daily circulation is about 1.4 million copies.


Although recent media attention had focused on the violence along the border, the threats to journalists are the same everywhere in Mexico.


None of Grupo Reforma's 4,000 staffers has been killed, but some have been kidnapped and beaten. Most kidnappings have occurred on the nonnewsroom side of operations, such as a member of an advertising team.


Nevertheless, Grupo Reforma reporters wear bulletproof vests. Their beats are rotated, and bylines often are dropped off articles related to violence, Junco said.


He recalled a recent assassination near the Reforma building in Mexico City. As reporters and editors rushed to the scene, a "television cameraman" was taping the journalists to make them targets.


"The cameraman later was found dead, killed by a rival cartel. In Mexico, the sad reality is that the truth is never pure," he said.


Junco is wealthy enough to have moved his family to Austin, and he wishes he could do more to assure the safety of his employees.


"We are morally obligated to do what is possible. ... I would like to do more," he said.


A report issued earlier this week by the Inter American Press Association states that in the past few months, six journalists were murdered and five remain missing in Mexico. Another died from wounds he suffered after being kidnapped.


The report goes on to say that from Feb. 18 to March 3, eight journalists from print and electronic media in Tamaulipas were abducted. Their identities were not disclosed and formal complaints were not lodged with authorities out of fear of reprisals and putting the victims' lives in danger. Three of them were freed.


The report also cites figures from the National Human Rights Commission that since 2000, the commission has recorded 60 deaths and 11 disappearances of journalists. The root of Mexico's security problem has evolved far beyond the drug trade, he said. Even if U.S. consumption of drugs stopped, Mexico still would have the problem of "nonviolent violence," which he defined as the disappearance of hope and the possibility "of a joyful life."


The drug trade no longer is the main problem for Mexicans. Protection rackets are, Junco said.


While the drug trade requires laboratories, warehouses, guards, airplanes and boats, the easier crime in Mexico is selling "protection," either in cash payments or requiring that business buy their supplies from the criminal element. It also affects families, whose members are made to pay to stave off kidnappings or beatings.


A recent poll of 4,600 students in the state of Chihuahua revealed 40 percent of them aspire to be hit men.


"They would rather live a week like a king than have 70 years of misery," Junco said. The students believe poverty is their destiny unless they become hit men.


That's why Junco is working with the University of the Incarnate Word in San Antonio to develop a program for UIW doctoral candidates to encourage them to focus on micro-issues plaguing Mexican life, from the legal systems to education, health and energy.


Mexico has pursued macroeconomic policies to free up trade and capital flows, but that has proved insufficient, he said. Micro-issues are the ones the Mexican government should pursue to improve the country's outlook.


"You can shoot down gang members, but if there is no hope, there will be more of them," Junco said.


A 1969 graduate of UT-Austin, Junco gradually took over the family business based in Monterrey. He revolutionized the reporting profession in Mexico by forbidding gifts to journalists from politicians and advertisers, making the reporting more independent.


Grupo Reforma's newspapers also broke Mexican tradition by publishing multiple points of view on their editorial pages.


Junco has won numerous U.S. awards from top journalism schools for his accomplishments, including the 2009 Columbia Journalism Award from New York's Columbia University, the University of Missouri Medal for Distinguished Service in Journalism in 2006 and the Distinguished Alumnus Award from UT-Austin in 2000. He also received an honorary doctorate degree from the Michigan State University in 2000.


Junco hopes that one day, he again can live in Mexico with his family.


"We think Mexico is a beautiful, idyllic land. If not for all these sad realities, we certainly would be back. We are a close-knit family," he said. "I was just in Mexico for 10 days. I miss them. I wish I could be there more. I feel myself alone, and it's painful."
Tell a Friend
•
Site Map
•
Print this Page
•
Email Us
•
Top