Editorials | Environmental
Recicla Parque Projects in Nayarit

Nicole Majewski - peacemexico.org
April 23, 2010

During the upcoming weekends, the PEACE team will join forces with the incredible nonprofit organization, Entreamigos, hundreds of volunteers and the local community, to build four children's parks/playgrounds made almost entirely out of recycled materials at four different schools in the Punta Mita area.


Come and help us build recycled parks! We will build the first park on Saturday, April 24th, from 9 am to 6 pm, at the Corral del Risco Primary School.


If you can't make it on April 24th, come and join us on May 8th, anytime from 9 am and 6 pm, when we will be building THREE Recycled parks in ONE day at three different schools in Emiliano Zapata.


Not able to join us in person? Join us in spirit by making a Green Donation. See below for some awesome Green Donations that reduce your ecological footprint while supporting the construction of Recycled Parks.


$25 USD = Sponsor a "green-chair" made from recycled wood, plastic and sand-filled drainage tubes along with the colorful design of your choice.


$50 USD = Sponsor a recycled table made from a huge cable spool and painted with eco-friendly designs.


$75 USD = Sponsor an ecology-inspired mural, and we'll put your name on it!


$100 USD = Sponsor a slide made from tires and we'll paint the image of our choice on it.


$200 USD = Donate Shade! Help us provide much needed shade for the children to play and eat.


$2500 USD = Sponsor a much needed rain water harvesting system in a local school.

Click HERE to make your Green Dontation.

Entreamigos primary focus is to increase educational opportunities for the children of San Pancho in Nayarit Mexico. To achieve these goals Entreamigos runs an art collective non-profit store, a library, a computer center and a collection of educational and community based workshops and initiatives. Entreamigos is entirely funded by donations and almost completely run by volunteers. To learn more about our programs and activities please visit entreamigos.org.mx.
---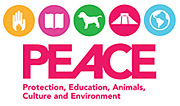 PEACE: Protection, Education, Animals, Culture and Environment, is a nonprofit organization established in 2005, made of four main programs which focus on education, entrepreneurship, animal well-being, and community engagement in the coastal regions of Nayarit, Jalisco and Quintana Roo, Mexico. Through innovative and community based programs, PEACE is working to improve the quality of life in local communities throughout the Bahía de Banderas. For more information, please visit PeaceMexico.org or click HERE to read more about PEACE
Tell a Friend
•
Site Map
•
Print this Page
•
Email Us
•
Top