Editorials | Issues
Canada Obliges a New Level of U.S. Paranoia

Calgary Herald
go to original
July 06, 2010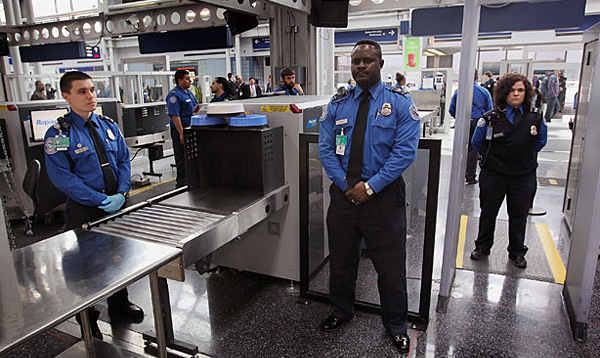 Transportation Security Administration (TSA) officers staff a checkpoint at O'Hare International Airport on March 15, 2010 in Chicago, Illinois. (Scott Olson/Getty Images)
quiet acquiescence. Bill C-42, introduced by federal Transport Minister John Baird on June 17, would hand over passenger information to U.S. authorities for all non-stop Canadian flights over U.S. territory to a third country. This, despite no international agreement or consensus on the vertical extent of a state's sovereignty.


Anyone on a no-fly list, or anyone with the same name as anyone on a no-fly list, could thus be denied a winter vacation to Cuba, Mexico, the Caribbean or Central or South America. Currently, passenger lists are provided to U.S. authorities only if a flight lands in the U.S.


The thought of the U.S. government denying boarding passes to travellers on outbound Canadian flights direct to Puerto Vallarta, Cancun, Jamaica or Havana is another example that the terrorists have won. We already frisk grandmothers. We comply with body scanners. We take off our shoes. There are bans on liquids. Aircraft have locked and reinforced cockpit doors. Undercover air marshalls are on select flights. But all of this is still not enough for U.S. authorities.


"There doesn't seem to be a limit on what they want to have," Sophie in 't Veld, a Dutch member of the European Parliament, told Canwest News Service.


The ever increasing demands by Washington for passenger information, and the Harper government's willingness to comply, should be troublesome for all Canadians. Bill C-42 should be killed.
Tell a Friend
•
Site Map
•
Print this Page
•
Email Us
•
Top