Editorials | Issues
Vote Shows Mexicans Have Little Faith in Any Party

Olga R. Rodriguez & Alexandra Olson - Associated Press
go to original
July 06, 2010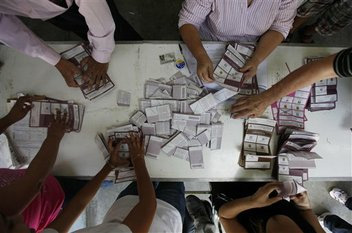 People count votes during local elections in Ciudad Victoria in Tamaulipas state, Mexico, Sunday July 4, 2010. (AP/Eduardo Verdugo)
Ciudad Victoria, Mexico — After a Super Sunday of elections across Mexico that was widely seen as a test for the 2012 presidential race and the nation's future, the winner turns out to be - well, not really anyone.


President Felipe Calderon's party is weak, the left is in collapse and the Institutional Revolutionary Party that is on a tentative path to recapture the presidency it held for 71 years was shown to be vulnerable. Drug cartel intimidation dissuaded many from voting at all.


The mixed outcome in elections across 15 states showed no party has won the faith of Mexicans desperate to bring their country out of a quagmire of economic stagnation and relentless gang wars that have killed more than 23,000 people since Calderon took office three years ago.


Calderon's conservative National Action Party won not a single state on its own, and lost two it had held, according to results Monday, and needed desperate alliances with leftists to wrest strongholds from the old ruling party.


That party, known as the PRI, demonstrated it remains Mexico's most important political force, won nine of 12 governorships Sunday.


Still, that was no change from the number it had before the ballot. And its defeat in three longtime bastion states indicated many Mexicans are still repulsed by the party that ruled through patronage and corruption from 1929 to 2000 - a system that Peruvian novelist Mario Vargas Llosa once called the "perfect dictatorship."


Sunday's elections also displayed the intimidating power of drug cartels in the most embattled states. Only a third of voters showed up in the country's most violent state, Chihuahua, where drug gangs hung four bodies from bridges on election day. Less than 40 percent voted in Tamaulipas, where gubernatorial candidate Rodolfo Torre was assassinated last week.


It's not where Mexicans thought they would be when National Action's Vicente Fox ousted the PRI in 2000 and promised a new era.


"I still remember the celebration when Vicente Fox won the presidential elections 10 years ago. It was as if Mexico had won the World Cup," Mexican political scientist Leo Zuckerman wrote Monday in Excelsior newspaper. "Where are we 10 years after the historic triumph of Fox?"


"I see multiple threats to democracy, which has not yet consolidated itself in Mexico. I think organized crime is the biggest challenge," he said. "The stamp is very clear: crime has exercised its veto power over the power of the vote."


The PRI, a party that was created by the nation's rulers to tame the complex forces of the Mexican Revolution, was widely seen as doomed after its loss to Fox, and it was a battered afterthought in the 2006 presidential election, when Calderon narrowly defeated a resurgent leftist Democratic Revolution Party.


Four years later, Calderon's approval ratings are slumping amid mass shootings, corruption scandals and kidnappings that remind Mexicans daily of the resilient power of drug cartels he has vowed to defeat.


"He has reverse coattails," said George Grayson, a Mexico expert at the College of William & Mary in Virginia. "The economy is quite weak ... and the narco-traffickers have been on a binge."


Democratic Revolution - the PRI's biggest competitor for the working class vote - has largely imploded amid internal wrangling, four years after nearly winning the presidency. It lost the only state it controlled on its own among the 12 up for grabs Sunday.


In a sense, the left and right are back to where they were in the days of PRI rule: forced into uncomfortable alliances to tackle a powerful opponent. In 1988, National Action joined leftist parties in protesting the allegedly fraudulent presidential victory of Carlos Salinas.


On Sunday, neither the left nor the right were able to beat the PRI alone.


Democratic Revolution joined Calderon's party to win Sinaloa and Puebla behind coalition candidates who only recently bolted from the PRI. A similar coalition won in Oaxaca behind a minor-party candidate who quit the PRI a decade ago.


Though the results were largely due to local issues and local scandals, they were a blow to the PRI's hope that Sunday would help propel it back to the presidency. The party had ruled those states for 80 years.


Many saw the result as evidence that voters are skeptical about PRI promises that it has learned from its past mistakes and abandoned the strongman politics that kept in power for so long.


In Sinaloa, the cradle of Mexican drug trafficking, PRI candidate Jesus Vizcarra long faced allegations of ties to the cartel led by Joaquin "El Chapo" Guzman, Mexico's most-wanted drug lord. The newspaper Reforma recently published a photograph of Vizcarra attending a party years ago with El Chapo's No. 2, Ismael Zambada. Vizcarra, the mayor of state capital Culiacan and a distant relative of slain drug trafficker Ines Calderon, dodged questions about whether Zambada is the godfather of one of his children, saying only that he had never committed a crime.


In the heavily indigenous state of Oaxaca, outgoing Gov. Ulises Ruiz alienated many voters with his heavy handed approach to a five-month deadly uprising in 2006 over allegations that he stole his election victory.


In Puebla, the outgoing PRI official was widely ridiculed as "Precious Governor" because of a sycophantic comment made during a leaked conversation he had with a local businessman who complained about a reporter who was crusading against child molesters. Puebla police later seized the reporter in another state and hauled her halfway across Mexico. She was eventually freed.


"To a large extent this gives some breathing room to President Calderon, who expected to be faced with a resurgent PRI," said Andrew Selee, director of the Washington-based Woodrow Wilson's Mexico Institute.


Voter turnout was robust in Sinaloa and Oaxaca and very low in two states where the PRI easily won: Chihuahua and Tamaulipas. National Action leaders touted this as a promising sign, insisting the PRI can only win where turnout is low.


"We won in places where people came out and voted," said Jose Sacramento, the defeated National Action candidate for governor in Tamaulipas, where the PRI fielded the brother of its assassinated candidate.


But then, what's the party plan for states where Calderon has failed to root out the cartels since launching his drug war at the end of 2006? In Tamaulipas, party leaders said they couldn't even find candidates who dared to run for mayor in some gang-plagued towns.


"It was an election that began with blood and ended with blood and that was a factor because citizens were afraid to participate," Sacramento said.

Associated Press writers Olga R. Rodriguez reported this story from Ciudad Victoria and Alexandra Olson from Mexico City.
Tell a Friend
•
Site Map
•
Print this Page
•
Email Us
•
Top