Editorials | Issues
Elections Send Message of Rejection of Violence: President Calderón

Suzanne Stephens Waller - Presidencia de la República
go to original
July 07, 2010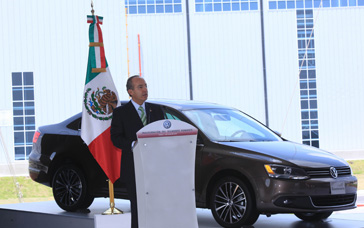 President Calderón inaugurates West Segment of VW Plant in Mexico in Puebla. (Presidencia de la República)
Cuautlancingo, Puebla - After admitting that Sunday's voting took place in at atmosphere of peace, order and civility, President Felipe Calderón said that the elections sent a clear message about society's rejection of violence and those attempting to act outside the law, as well as an expression of plurality.


"Federal government will have to go on working with all the country's authorities, without distinction, on plans, projects, programs and works that will benefit Mexican families and promote national development.


Because I know that above and beyond any political or ideological difference, all democratically elected governments support the same flag, the Mexican flag and that of Mexicans' well-being," he said.


During the inauguration of the West Segment of the Volkswagen Factory in Cuautlancingo, Puebla, where the Bicentennial Car was presented, the President said that now is the time to leave the stage of contrast and confrontation behind and begin a new stage of collaboration and dialogue, in order to cope with the nation's challenges, which require unity of purpose.


"We will work in conjunction with state and municipal governments, and with the best will. We will work without reservations to meet the main demands of Mexicans to promote economic growth and the creation of jobs and especially, to reinforce the institutions in charge of public security and the administration of justice, which constitute one of Mexicans' demands, a demand we all share," he said.


Accompanied by State Governor, Mario Marín Torres; Economy Secretary, Gerardo Ruiz Mateos, and Volkswagen executives, the President remarked that the elections were also a vote for institutions, legality, democracy and peace, meaning that it is now the responsibility of the recently elected authorities to set their differences aside and seek the changes and transformations required by the country.


"Federal Government will always be willing and able to dialogue, to work together to find the best paths and alternatives for the benefit of Mexico and Mexicans," he said.
Tell a Friend
•
Site Map
•
Print this Page
•
Email Us
•
Top