Editorials | Issues
Arizona Immigration Law Stokes Fear in Mexico Village

Julian Miglierini - BBC News
go to original
July 29, 2010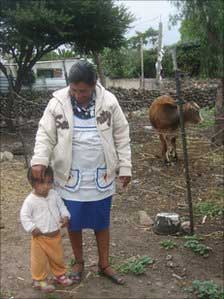 Rosa Casas with her granddaughter Rosa Casas depends entirely on money sent from Arizona.
---
ARIZONA LAW - SB1070

• Requires state and local officers to question the immigration status of people stopped for a legitimate reason who arouse suspicion of being in the US illegally


• Requires foreign nationals to carry immigration documentation, even if they are legal residents.


• Takes effect 29 July


• Being challenged in the courts, including by US federal government
Loma de Buenavista, Guanajuato - Life moves slowly in Loma de Buenavista, a small rural community in the central Mexican state of Guanajuato.


But residents fear their lives may be about to be turned upside down by the new immigration law taking effect in the US state of Arizona.


Almost everyone in the community has a close relative who lives illegally in Arizona, where it is estimated that some 60% of the town's original population has emigrated.


Residents fear that their relatives could lose their jobs, be forced to start over in another US state, or even be arrested and deported back to Mexico.


And if the crucial flow of money that migrants send back home starts to dry up, the economy of Loma de Buenavista, which relies almost entirely on remittances, could be brought to the brink of collapse.


"People here are very worried," says Cristina Mata Martinez, 22, a community leader in the village.


"Everyone says 'there's nothing we can do'. We can only pray, and that's what we do."


Tradition


Migration for people living here is a practice passed on from generation to generation, says Ruben Galvan Parra, a local government spokesman.


"It's almost a tradition that runs in the families. Kids in primary and secondary schools start to visualise the possibility of going to the US," he said.


As soon are they are young adults, they pack up, cross the border illegally as "mojados" (wetbacks) and start their adult life in Arizona, in places like Tucson, Phoenix or Mesa, Mr Galvan Parra explains.


Authorities here worry that Arizona's new law could lead to hundreds of migrants returning home.


For an area where unemployment is already at 30%, a mass return of people could be catastrophic.


Loma de Buenavista has benefited from having its residents in Arizona.


The few streets that are paved and the roof over the primary school's courtyard were only possible thanks to donations from migrants.


Building that infrastructure also created jobs for local people.


That is why people here resent measures like the immigration law, SB1070, passed by the Arizona legislature and signed into law by Governor Jan Brewer.


"It's people that go there (to the US) with no intention to steal or bother other people. They just want to have a job, grow, and generate jobs for those us here," said Ms Mata Martinez.


'Something to eat'


The uncertainty created by the passing of SB1070 has affected some people here directly.


Rosa Casas has six children, two of whom live illegally in Arizona.


The money they send her is her family's only income. And the increasing difficulties that they are encountering in Arizona to find work are showing.


"We depend on what they send to have something to eat," she said.


"They used to send money every eight days, now since they have less work there, it's every fortnight."


To receive that money, Rosa travels to an ironmongers-cum-remittances office in Doctor Mora, a nearby town.


Maria Hortensia Arbiz, the owner, says that over the past few months, numbers have been dwindling.


"They are sending less and less," she says. "There are fewer remittances, and the amounts they send are lower and lower."


Dreams


Another Loma de Buenavista local, Evelia Cardenas, shows me pictures of her wedding day, two years ago.


Just weeks after that happy day, she says, her husband Guadalupe crossed the border illegally and has since lived and worked in Arizona while she lives here with her stepdaughter.


With the monthly remittances sent by Guadalupe, they are slowly building a house.


But the uncertainty over what could happen to people like her husband in Arizona is affecting their plans.


"With this new law, we don't know what can happen. And since he was deported once in the past, he could be imprisoned for a long time," she says.


Everyone in this Mexican village seems to fear that turbulent times are just beginning.
Tell a Friend
•
Site Map
•
Print this Page
•
Email Us
•
Top