Editorials | Issues
US Funds Life Imprisonment, Forced Labor, and Death Penalty For Gays

Zimmer Barnes - t r u t h o u t
go to original
July 13, 2010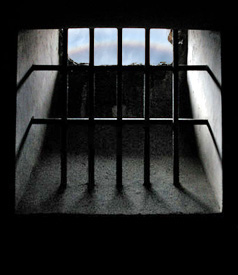 (Jared Rodriguez/t r u t h o u t)
Gay Americans experience only mild homophobia compared to their peers in many other countries, where governments choose to persecute, criminalize, arrest, jail, and, in the worst cases, execute gay citizens. In essence, these nations are engaging in state-sponsored homophobia, and many of them receive millions of aid dollars from the US in some cases in excess of $1 billion. Thus emerges the ironic reality that gay Americans are being taxed to support foreign governments that imprison, torture, and kill gay citizens for no other reason than their expression of homosexuality.


Of the 93 states that sponsor homophobia, 30 of them were receiving economic aid from the US as of 2007. Gay citizens in places like Zimbabwe, Uzbekistan, and Nepal, are subject to heavy fines or even months or years of imprisonment. In other countries, such as Bangladesh, Uganda, and Tanzania, punishment can include imprisonment for decades or for a lifetime. In the worst cases, these US-funded governments send prisoners to hard labor camps and even impose the death penalty against gay citizens, regardless of whether the offense is a sexual act or a commitment ceremony.


Homosexuality is punishable by death in seven countries: Iran, Maurituana, Nigeria, Saudi Arabia, Sudan, United Arab Emirates and Yemen. While most of these nations do not receive economic or military funding from the US, two of them, Nigeria and Sudan, do; in 2007 alone, they received over $1.5 billion in aid.


Although much of this funding went to education, medicine, food, water, and shelter for some of the poorest people on the planet, not all of it was for humanitarian purposes. Sudan alone received $254 million in 2007 for military aid, and Nigeria received $2 million in military aid for the same year.


Westerners may be surprised to learn that countries like Jamaica, a popular travel destination and a mainstay among US tourists, is among the nations whose laws endorse homophobia. Jamaica imposes a penalty of 10 years in a forced labor camp for convicted gays. In 2007, the Jamaican government received $34 million in humanitarian aid and $2 million in military aid from the US.


Jamaica isn't alone as a nation that sentences gays to forced labor camps. Angola and Mozambique practice the same punishment, but, unlike Jamaica, do not limit the length of labor sentences. In 1976, Mozambique was reported to have forced labor camps that torture and starve prisoners. While current, firsthand accounts of these camps were not available for this publication, what is known is that conditions in forced labor camps can vary widely. Collectively, Jamaica, Angola and Mozambique received $345 million from the US in 2007 alone.


In Bangladesh, Guyana, Sierra Leone, Tanzania and Uganda, homosexuality is punishable by life in prison. Bangladesh, Tanzania, and Uganda all receive foreign aid, at a combined total of over $700 million in 2007.


Ethics may be difficult to enforce among distinct nations, but international treaties still make human rights legally, if not morally, relevant. The International Covenant on Civil and Political Rights of 1966 was signed by 72 nations, and includes text protecting citizens from inhumane treatment from governments. Articles 7 and 18 in the Covenant apply most closely to anti-gay laws.


Article 7 protects against torture and cruel or inhumane punishments. It states:

| | |
| --- | --- |
| | No one shall be subjected to torture or to cruel, inhuman or degrading treatment or punishment. |

Countries that include forced labor camps as punishment may be in violation of Article 7.


Article 18 establishes that religious practice may be limited to protect the rights and freedoms of others.


It states:

| | |
| --- | --- |
| | Freedom to manifest one's religion or beliefs may be subject only to such limitations as are prescribed by law and are necessary to protect public safety, order, health, or morals or the fundamental rights and freedoms of others. |

Countries that make homosexuality illegal on observance of Islamic law may be in violation of Article 18.


The US State Department recently made public its goal to promote gender equality and individual liberty around the world. In March 2010, US Secretary of State Hillary Clinton spoke at the UN Commission on the Status of Women. She stated, plainly and boldly, "President Obama and I believe that the subjugation of women is a threat to the national security of the United States. It is also a threat to the common security of our world, because the suffering and denial of the rights of women and the instability of nations go hand in hand."


While Clinton has been highlighting the link between nations that sponsor terror and nations that oppress women, she has yet to mention the similar correlation between terror and countries with strict laws against homosexuality. In 1993, Sudan appeared on the State Department's list of "state sponsors of terrorism." Although it has since been removed, the Sudanese government is connected to the Darfur conflict, which many regard as genocide.


Iran, on the other hand, is still on the list and is perhaps the most notorious country accused of sponsoring terrorism. Iranian gays can face the death penalty. Afghanistan, where homosexuality is still punishable by prison time, was a center of terror activity before and during the US occupation. In Iraq, terrorist militia groups were known to murder citizens suspected of being gay.


It remains to be seen whether the new presidential administration and a Secretary of State who is a vocal gender rights activist will rectify the financial relationship between the US and homophobic foreign governments.
Tell a Friend
•
Site Map
•
Print this Page
•
Email Us
•
Top