Travel & Outdoors
Carlos Velazquez Enjoys World-Class Golf Courses in Riviera Nayarit

rivieranayarit.com
go to original
July 14, 2010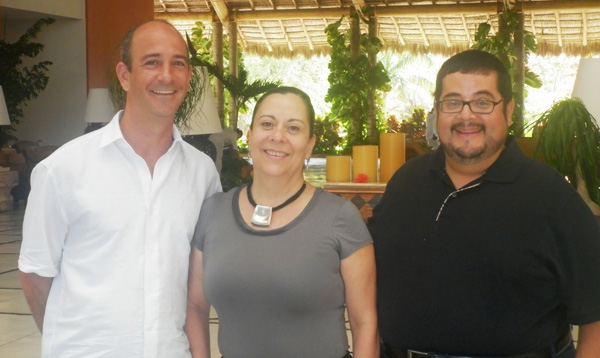 Carlos Velazquez, editor of Excelsior's travel supplement, Bon Voyage, traveled to Riviera Nayarit last weekend to enjoy world-class golf courses.
Carlos Velazquez, editor of Excelsior's travel supplement Bon Voyage made his own personal golf tour through Riviera Nayarit last weekend, looking for the hot leads that make this world-class tourist destination an essential one for travelers in 2010.


While Velázquez practiced his swing, Laura Rodriguez, a journalist specializing in Spas and spa treatments, sought out each and every reason that Riviera Nayarit is the ideal location to unwind and release the spirit.


These two journalists, whose columns, reports and radio shows have nationwide coverage, were invited by Riviera Nayarit's Convention and Visitors Bureau to unwind from the hectic lifestyle of Mexico City, and to get up to speed on the news of this travel destination.


Carlos Velazquez decided to make his personal golf tour, and three out of the six golf courses in our destination were chosen for this objective. They constitute an important part of the touristic offer in Riviera Nayarit, which not only has variety, but also the highest quality PGA golf courses and high-end hotels.


Laura Rodriguez chose to explore both specialized Spa treatments with novel techniques, as well as the more traditional therapies based on ancient knowledge from the indigenous Mexican cultures.


The outcome of their visit will be great public relations and publicity. Both journalists have already devoted their weekly nationwide radio shows on Grupo Imagen to Riviera Nayarit, and they will certainly publish more articles covering Riviera Nayarit in the future.


The promotional work being done by Riviera Nayarit's CVB includes, amongst other strategies, tours for opinion leaders so that they get acquainted with the destination. This is possible because of the vision of the State Governor Ney Gonzalez Sanchez, who has set the direction that the touristic industry must follow through the State Development Plan, placing tourism as the main drive in the State's economy.


The visit of journalists as important as Carlos Velazquez and Laura Rodriguez, who had the chance to get to know the high-level touristic offer that Riviera Nayarit has to offer, contributes to the positioning of Riviera Nayarit's brand, according to the plan established by this State's Administration.
Tell a Friend
•
Site Map
•
Print this Page
•
Email Us
•
Top