Travel & Outdoors
Headlines Hurt Mexican Tourism

Bill Bell - North Shore News
July 07, 2010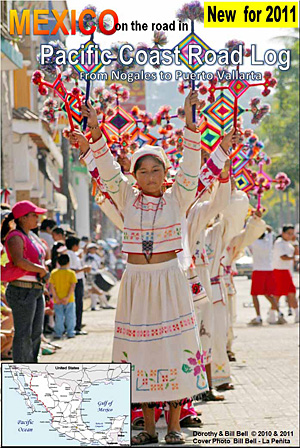 Driving in Mexico just got a little safer with the release of Mιxico Road Logs - A comprehensive compilation of road logs of the Mexican Highway system researched and created by Bill and Dot Bell, available at OnTheRoadIn.com.
I often get asked the question "Is it safe to travel in Mexico?"


Up until a few weeks ago my answer was a solid yes, with a few small considerations: never drive at night (animals on the road - not bandidos), drive through the border cities as quickly as possible, and don't do anything you wouldn't do at home. Fairly simplistic advice, but the statistics proved me right; tourists who drove into Mexico either by car or recreational vehicle were as safe as if they were driving in their own country.


Yes, there was the very occasional horror story, but more likely than not, the problems were more cultural (bribing a traffic cop, or "mordida," is still common practice) or geographic (your OnStar and car insurance does not work in Mexico). And then there was obvious sage advice: one should not flaunt wealth in a poor country.


Having circumnavigated and crisscrossed Mexico numerous times over the past 20 years, I felt safer than I did at times driving through many neighborhoods in Los Angles, New York or other major U.S. cities. Yet when I pick up a Canadian or U.S. newspaper, the headlines read:


• Mexico's Homicide Rate Skyrocketing;


• 12 Decapitated Bodies Found in Mexico;


• Cancun Police Officer Latest To Be Gunned Down in Mexico;


• Police Discover 6 Charred Bodies in Tijuana


The recent headlines are truly frightening, and when the headlines are about tourists they get worse.


American and Canadian media reports of dreadful - but isolated - tragedies with tourists in Mexico are easily put into context when placed against the backdrop of gang-related public shootouts in the suburbs of Vancouver, Burnaby, Surrey and Abbotsford. The point is that headlines about gang violence in the Vancouver area certainly did not stop tourists from visiting here, nor should it have.


As late as two months ago, my wife Dorothy and I felt safe enough to drive the highway between Puerto Vallarta and the border, and then back down the entire length of the Baja. The trip was uneventful except for a few car breakdowns in the middle of the Sonoran Desert. There, Mexicans families, truck drivers and even single female drivers would pull off of the highway and ask if we needed help. Stopping to help someone rarely happens on highways north of the border.


Recently things have been getting a little more "interesting" with shootouts in the capital of Nayarit, the state where I spend a great deal of time, and road blocks by phony federal agents on highways that I drive on a regular basis. When former North Vancouver member of Parliament Ted White wrote me asking for my opinion on travel safety in Mexico I had to stop and rethink my pat answers.


"The increasing number of media reports of RVers getting involved in nasty experiences with Mexican drug criminals has us thinking twice about returning to Lo de Marcos for the winter of 2010/11," White wrote.


"Of particular concern are reports of criminals dressing as police or armed forces and randomly blocking roads so that they can steal and terrorize travellers."


The truth is that Whites concerns are real but the circumstances are somewhat exaggerated and one needs to look at the facts.


Violence in Mexico has been building since President Felipe Calderon took office in January 2007 with a mission to crack down on traffickers who ferry drugs through Mexico to the United States. The traffickers' response has resulted in an estimated 7,300 drug-related killings in the past two years.


While these disturbing numbers aren't overstated, the risk to tourists visiting Mexico certainly is. "The latest comprehensive data available from the United Nations Survey of Crime report Mexico's overall murder rate as 13 per 100,000 people, compared with 4 per 100,000 in the United States. An estimated 90 percent of Mexico's murders are specifically drug-related -- not US-style mall shootings, schoolyard massacres or road rage -- and concentrated in five of its 31 states, leaving the rest of the country freer of crime than most of the United States," says a report in San Francisco Chronicle.


The report goes on to state "While alarmists admonish travellers to avoid Mexico at all costs, people actually returning from vacations in Mexico tell a different story. Last month, Funjet Vacations surveyed more than 900 tourists who visited between October 2008 and March 2009; 97 per cent said they would return and 90 per cent said they felt "safe and secure."


As a traveller with 2* decades of highway driving under my belt, there are many severe changes to the tourist landscape. Of the three borders I recently visited, Nogales and Mexicali were virtually empty of tourist traffic and Tijuana's was very light compared to other years.


Towns on the Baja that rely on the driving tourist were suffering the most. "No one wants to drive through Tijuana anymore" lamented one hotel owner. "We made it through the swine flu and then the economic crisis. I don't think we can survive the media reports of the drug wars." Hotel owners, desperate for cash have dropped their prices, and accommodation is a bargain.


Dorothy and I will be leaving this week for another month-long road trip. We will be driving from the west coast to the centre, and circle the east side of Mexico City on a brand new highway. We will then drive to the east coast and down to the Yucatan. We will return via Chiapas and back up the entire Pacific coast. Likely we will drive 3,000 to 4,000 kilometres on this journey.


Is Mexico safe to travel? I will let you know what I think when I get back.

Bill Bell and his wife Dorothy have been living in the Jaltemba area for over five years with their son, Adam and daughter Dylan. Originally from North Vancouver BC, they have been actively traveling and writing about Mexico since 2001 when they circumvented Mexico for the first time to develop the leading website for road travel in Mexico OnTheRoadIn.com. You can reach Bill via email at bill(at)ontheroadin.com.
Tell a Friend
•
Site Map
•
Print this Page
•
Email Us
•
Top