Travel Writers' Resources
Calderón Hails Maximiliano Cortázar's Work

Suzanne Stephens Waller - Presidencia de la República
go to original
July 19, 2010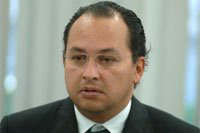 Maximiliano Cortázar Lara
The Presidency reports that over the weekend, President Felipe Calderón accepted Maximiliano Cortázar Lara's resignation as the Presidency's Director of Media and Communications.


The President hailed his work as director of the Communication offices for the past 7 years; in the Energy Secretariat, during the National Action Party's Internal Campaign for the Presidential Candidacy, during the 2006 constitutional campaign and in the Presidency as from December 1 of that year.


The President said that during this period, Maximiliano Cortázar's work was characterized by his loyalty, professionalism and openness to dialogue with the media.


Cortázar Lara's commitment and dedication were crucial in publicizing the President's actions, events and tours and the main programs and public policies of Federal Government.


His democratic convictions meant that the Presidency's Media and Communications department was characterized by transparency and respect for freedom of expression.


The President highlighted Maximiliano Cortázar's work in arranging the communication process at the Federal Public Administration level and expressing government's message to Mexican society.


President Calderón also wished Maximiliano Cortarázar every success in his future projects.


As part of the process of reorganizing the President's office announced by the President on July 14, President Calderón appointed Alejandra Sota Mirafuentes, who had served as Coordinator of Government Strategy and Messages, as Director of Media and Communications.


Alejandra Sota studied Political Science at the Instituto Tecnológico Autónomo de México (ITAM). During her career, she has acted as Political Analysis Coordinator in the Media and Communications Department and Director of Research and Political Analysis in the Secretariat of Electoral Affairs of the National Action Party.


She was Director of Research and Analysis of the PAN Parliamentary Group in the 58th Session of the Chamber of Deputies.


In Federal Public Administration, she served as Coordinator of the Advisors to the National Women's Institute, Director of Media and Communications at the National Bank of Public Works and Services and advisor to the Energy Secretary.


Alejandra Sota also served as Director of Image and Public Opinion for Felipe Calderón's pre-presidential campaign. During the electoral campaign and in the President Elect's Transition Team, she was head of the Public Opinion and Discourse Office.
Tell a Friend
•
Site Map
•
Print this Page
•
Email Us
•
Top