Travel & Outdoors
Nayarit is Nirvana for Golfers, Surfers

Mark Conley - San Jose Mercury News
go to original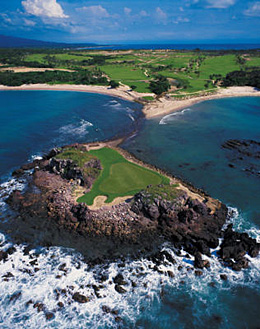 An aerial shot of hole 3B, known as the 'tale of the whale,' at Punta Mitas Pacifico course in Mexico. (Four Seasons)
"If the tide pushes up, punch it," said my seafaring golf guide, Arturo Castro, one early July day in Punta Mita, Mexico.


The statement could've just as easily been uttered a few miles down the coast at Castro's favorite surf spot, La Lancha, while helping this visiting surfista negotiate the unfamiliar elements.


But at this moment the head pro was speaking of my golf cart, which was straddling an eight-foot wide cobblestone isthmus leading to the green of hole 3B at Punta Mita's Pacifico course - known as the world's only island green carved from natural topography.


Like some of the surf spots I had already sampled on my first visit to Mexico's Riviera Nayarit, a 40-minute drive north of Puerto Vallarta, hole 3B was tantalizingly hazardous. A beauty that could quickly turn beastly.


And for me, now sitting in my nonamphibious Club Car, midisthmus, ocean creeping, it already had. My Titleist ball had been meekly donated to Poseidon and his warm, crystalline Pacific off the tee box. I had resigned myself to enjoying the spectacular scenery and just hitting another from the drop zone when we got to the green.


Sure enough, there came the tide. It was time to punch it.


There are myriad Southern Hemisphere destinations to indulge in surf-and-turf nirvana (Hawaii, for starters). But there may not be a more enjoyable combo locale than the largely untapped 190-mile stretch of coast that lines the Mexican state of Nayarit.


It is a comfortable, mellow-vibed land of uncluttered surf lineups and wide-open fairways, with amenities ranging from posh to funky and everything in between.


It begins with Punta Mita, a 10-year-old, 1,500-acre private community at the north end of Banderas Bay. Its gorgeous peninsula is surrounded by ocean on three sides, which made it a desirable home to the luxurious Four Seasons and recently opened St. Regis - and their accompanying Jack Nicklaus designed golf courses.


And while you've got to be a guest of one of the resorts (let's say, um, not exactly recessionary challenged) to play the otherwise private courses, a good public option sits right up the road at Litibu Campo de Golf, a new Greg Norman course set to host a Canadian Tour tournament in October.


The places to seek out surf, any time of the year, from swells northerly in the winter and southerly in the summer, are vast. But they can also be elusive. Many, such as Castro's favorite spot, La Lancha, require one to park just past a particular sign marker off the main road, locate a well-placed hole in the chain-link fence and wander down a dirt path cut into the jungle.


Some of the best spots in southern Nayarit - such as El Faro, Monuments and The Cove, all visible right off the Punta Mita golf courses - are only accessible via boat. Fortunately, several outfits catering to surfers have sprung up in recent years, and the most knowledgeable of them know exactly where it will be good - even when seemingly nothing else is breaking.


But Nayarit also has a perfect option for surf newbies, 20 minutes through the bumpy jungle road from Punta Mita in the arty, hippie expat haven of Sayulita. The crescent-shaped stretch of beach is littered with surf schools, family restaurants, ambitious ware peddlers and gringos tucked under rented palapas with their buckets of Tecates, soaking in the sights.


And the water - the rare spot crowded even by California standards - can indeed be a sight, They range from twentysomething Americano girls riding tandem to local hot dogs showing off their headstands to first-timers trying to corral the giant foam beast they were handed at the rental kiosk.


Further up the coast, to the quaint town of San Pancho and well beyond into the heart of Nayarit, lie many other consistent breaks with nary a soul populating them. Beach breaks. Point breaks. Reef breaks. Breaks that require either a knowledgeable boat skipper or a four-wheel vehicle, a good map and a bit of gumption.


But, on this trip, I needed only to go as far as hole 3B to find my most memorable aquatic adventure.


Double addiction


Castro, 37, is the head golf pro at Punta Mita Club de Golf, which last year added a second Nicklaus course to the mix. He is also a San Francisco transplant who got his start as a golf pro at Harding Park while studying at San Francisco State.


He developed his love of surfing in the chilly beginner waters off Linda Mar in Pacifica, working his way up the coast to take the inevitable winter lumps doled out by Ocean Beach.


Ultimately, the surf/golf addiction and a bit of good luck led Castro here, where the water is warm and the living easy.


"I get to surf and golf just about every day of the year - what more could I want?" said the rare PGA golf pro who goes nowhere without a surfboard strapped to the roof of his vintage VW Beetle.


"Just in case. You never know," he said.


As I punched the golf cart accelerator back on the isthmus at 3B, I wished I had Castro's Al Merrick quad fish strapped to my roof - just in case I needed a flotation device to paddle back to shore.


The worst-case scenario (the cart's battery could get flooded by seawater and stall out) really wasn't too daunting. More embarrassment than despair.


In the past, with the tide pushing higher than it was for us, others had been stuck out there and had to wade back through knee-high water, golf bag, spikes and all, Castro said.


Though the tide was sending seawater a few inches over the path's surface in rhythmic pulses, it wasn't high enough to reach the poor Club Car's inner recesses and make 3B any more damning for me.


With a bit of creative accelerator punching, we made it out and back with no mishaps - save for a shanked pitch from the drop zone leading to double bogey for a certain visiting surfista.


Awed and humbled by one of those golf holes that simply must be seen, I was ready to return to the more conventional water hazards of the Riviera Nayarit. A few jagged rocks here, a hefty south swell there and a pack of Portuguese Man 'o War floating through the surf zone to spice things up.


All good stuff that would have nothing on this.


If You Go


GETTING THERE: There are flights to Puerto Vallarta from all three major Bay Area airports, but going direct from San Francisco is the best way to get from the rat race to relaxation in a hurry. (Most airlines charge from $30-60 each way for golf and surfboard travel bags.) From Puerto Vallarta, you rent a car - or grab a cab or shuttle - and head 40 minutes north. Some of the roads remain a bit rustic - confirmation that you're leaving the beaten path.


WHERE TO STAY/PLAY: Four Seasons Punta Mita - 011-52-329-291-6000, www.fourseasons.com/puntamita. The lap of luxury is not cheap (rooms in the $400-500 in the summer offseason), but the resort if offering a credit on stays of three nights or more that make it cheaper than $300 a night to stay. Part of that credit can be directed to a round at the Bahia or Pacifico courses ($265) and a date with hole 3B. They're also currently working on putting together a "Surf-n-Turf" package hosted by head pro Arturo Castro. Palladium Vallarta Resort & Spa - 011-52-329-226-9900 www.fiestahotelgroup.com. Affordably priced beachfront all-inclusive that is very family friendly. (Best demonstrated by the zoo that resides in the middle of the property.) It's a five-minute drive from Litibu Campo de Golf ($100-150) and sits right in front of one of the area's most consistent surf spots, called Burros. Guests can rent surfboards on the beach, when they're not sipping cervezas under a palapa.


SURF EXPLORATION: Beginner options aplenty on the beach at Sayulita. El Tigre Surf School is a good place to start. More advanced surfers will want to consider finding a boat driver to explore some of Nayarit's hidden nooks and crannies. The folks at Mictlan Surf School near Anclote beach (info(at)mictlansurf.com) and Accion Tropical near La Lancha (www.acciontropical.com) are both good bets for finding a knowledgeable boat driver who will find you the goods. (Having a few surf compatriots that will split the $50-100 cost - and also share the best waves discovered - is key.)
Tell a Friend
•
Site Map
•
Print this Page
•
Email Us
•
Top